The editors at Sleepopolis tried and tested several new products and strategies rising in popularity on social media during Mental Health Awareness Month (MHAM), in an effort to find solutions for the many people whose sleep struggles have a clear connection to mental health. Note that these methods should not be interpreted as endorsements or referrals; our goal is to report honestly on our own experiences.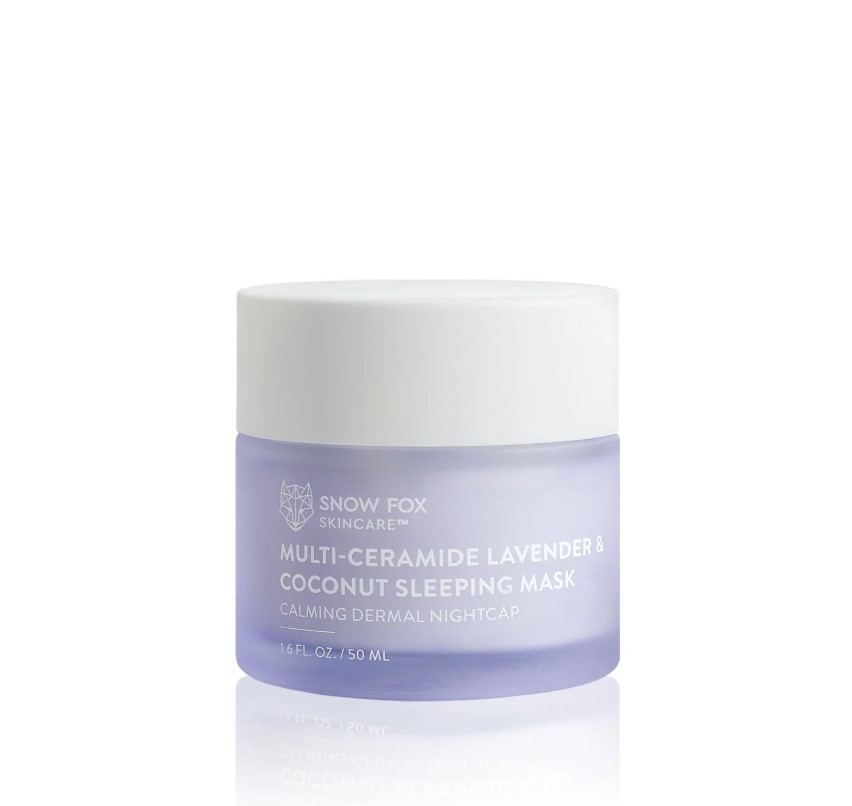 The first time I noticed a pair of Frownies, I was watching an episode of Yellowjackets. It doesn't matter if you've never seen the show because all you need to know is this: Christina Ricci's character puts on a set of thick, golden, skin-like patches just under her eyes while getting ready for bed. 
After some internet sleuthing, I discovered Frownies are actually an old-fashioned secret weapon popular among starlets that date back to the 1950s, and even appeared on-screen in Sunset Boulevard. So our good friend Christina Ricci isn't the first to sport these popular patches on camera, but she definitely inspired a deeper dive into something similar that's sleep-related and trending more than ever: overnight skincare masks.
Google searches for "sleep mask" have risen 15% in the past year, confirming my suspicion that people like me have a growing interest in enhanced skincare — especially the kind you can literally do in your sleep. I think of it as leveling up your nighttime skincare routine, optimized for people without much of a routine to begin with.
What Is an Overnight Skincare Mask?
I tried out the new Snow Fox Multi-Ceramide Lavender & Coconut Sleeping Mask ($110, amazon.com) just as spring was starting. 'Tis the season for sweating more, which for me means extra oil on my skin and the potential for acne or clogged pores. Snow Fox's formula includes a megadose of ceramides, which are naturally produced molecules in our skin that generate moisture. Some dermatologists think of ceramides as the glue that keeps our skin intact, preventing dry, flaky skin.
It might seem counterintuitive to attack oily skin with more moisture, but well-moisturized skin is the key foundation that every skincare routine must begin with. TL;DR: This mask promises a tidal wave of moisture overnight, helping skin in seasonal distress. 
Who Is an Overnight Skincare Mask For?
Splurging on skincare like this is definitely a choice, especially when you're not buying something prescribed by a dermatologist. We're talking about an indulgence, an investment in self-care with no guaranteed results. With that in mind, anyone with a joint interest in fun and beauty products could absolutely try this out.
Who should try this:
If you're looking for a mini-wellness escape but can't afford a full-blown White Lotus vacation, this might satisfy the craving.
Fans of lavender-scented things
Skincare veterans and beauty obsessives who might be looking for new things to try
Who should not try this:
Anyone with confirmed skin issues, such as eczema or psoriasis, that are already being addressed by a dermatologist or doctor
People who are not fans of lavender! And those who are extra-sensitive to its scent.
Anyone currently undergoing treatment for a skin condition (prescription creams or pills) should just check with their doctor first.
My Experience Using the Mask
First of all, I love the fact that the Snow Fox mask's description on the container is a "calming dermal nightcap." That's exactly what using the mask feels like: part of a luxurious nightcap routine designed to relax you, almost like a key component of turndown service. I'm a fan of lavender-scented products, especially in the bath, so the scent is welcome in my house around bedtime.
The mask is creamy, adding to the luxe feel, and the mask comes with a little white spoon for application in case you're feeling especially decadent. As for the skincare benefits, the formula is packed with skin-smoothing ceramides, wrinkle-tackling hyaluronic acids, plus ingredients like rice ferment and allantoin, the latter of which is helpful in healing scars and thus, healing skin in general, with a massive dose of moisture.
For anyone like me, who worried the mask might drench their pillowcases, I used the mask on a silk pillowcase and a standard cotton/polyester one too, and there was no leftover residue in the morning. The mask absorbs into the skin relatively quickly, so as long as you give it about ten minutes in between applying and hitting the pillow, no need to worry about stains.
Mental Health Benefits
Indulging in an extended bedtime routine once in a while can do wonders for your sleep health and for putting the mind at ease exactly when it should be. So adding the Snow Fox mask to the end of, say, a twice-a-week exfoliation routine, or after any much-needed bubble bath, just feels good. Lavender is a natural sleep aid, which also helps get you in a sleepy mood. Overall, the mask is a nice little mental health boost and an act of self-care. Who couldn't use more of that?