You may have seen The Bamboo Grand Pillow on TV; it's an infomercial product that became pretty popular after promising things like "guaranteed to not get flat," "100% satisfaction or your money back," and "the best pillow for cervical neck support." Additionally, the Bamboo Grand says it's both hypoallergenic and self cooling—keeping people allergy free and comfortable every single night.
It also helps that this pillow doesn't come with a hefty—or even medium-sized— price tag. Their pillows start at a modest $18.99, giving people the opportunity to own a memory foam pillow without emptying their wallets.
I'm a fan of memory foam pillows. As a side sleeper who typically moves positions throughout the night, I like that they're on the firm end of the spectrum and can support my body. But is the Bamboo Grand all talk? I slept on this pillow for a week to find out.
Continue reading for the full story, or click to jump straight to the summary.
Bamboo Grand Memory Foam Pillow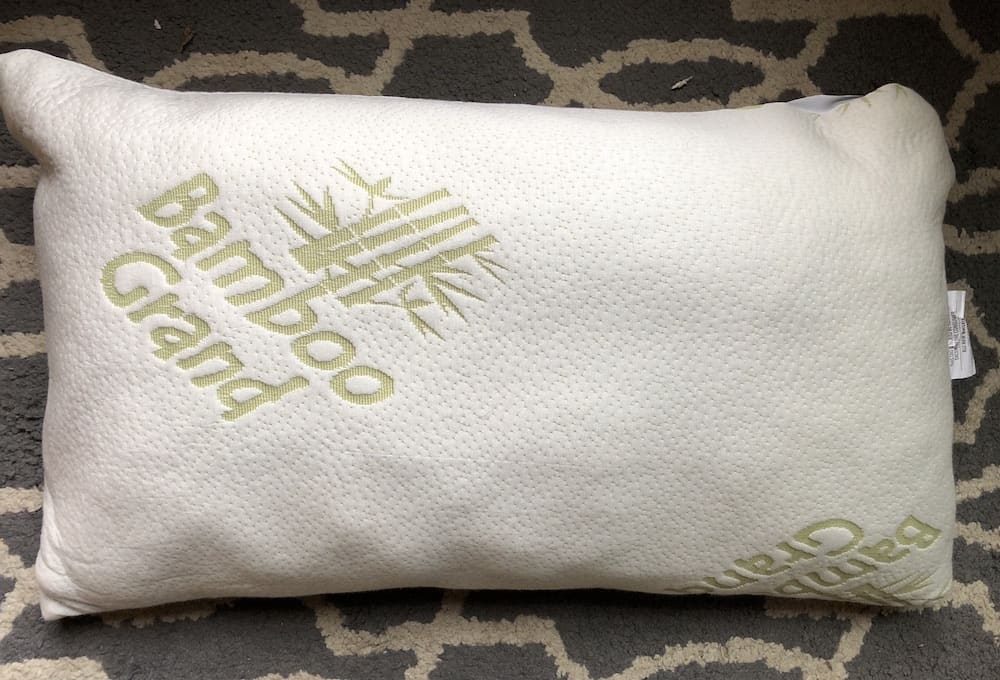 Hypoallergenic and self-cooling, the Bamboo Grand pillow could be great for those sleepers that overheat at night.
Sleepopolis Score
4.30 / 5
Read Full Review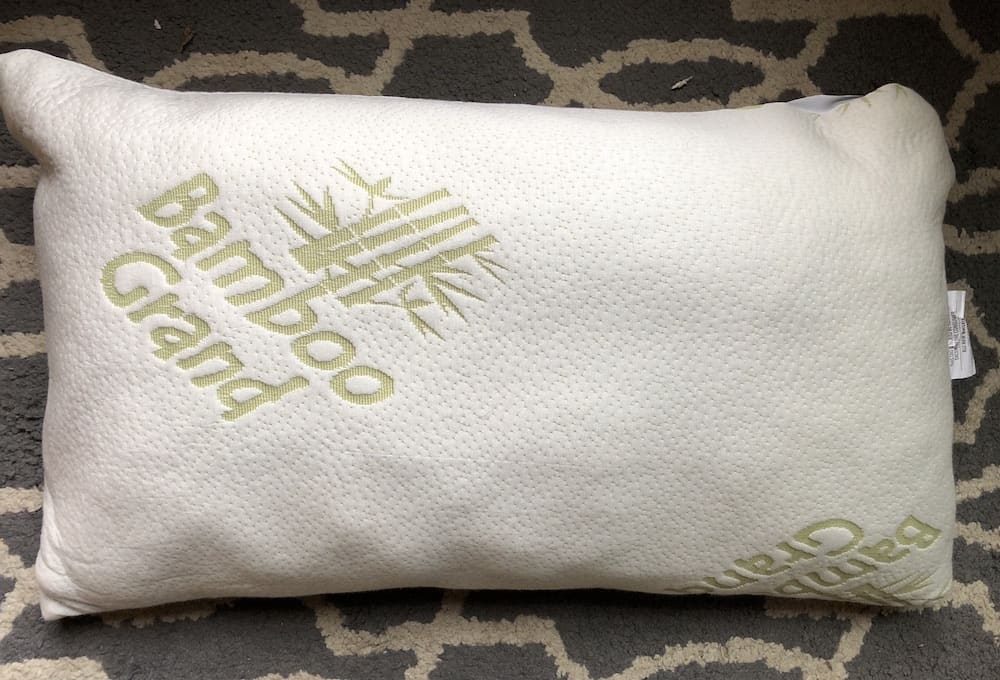 Construction & Feel
The Bamboo Grand cover is made from 40% bamboo fiber—hence the bamboo in its name. Bamboo is known for being both porous and breathable, promoting air flow throughout the pillow. Bamboo is also naturally hypoallergenic and repels dust mites. The rest of the cover is made from polyester that provides a soft and plush feel. The cover is removable and machine-washable, too—a really nice perk.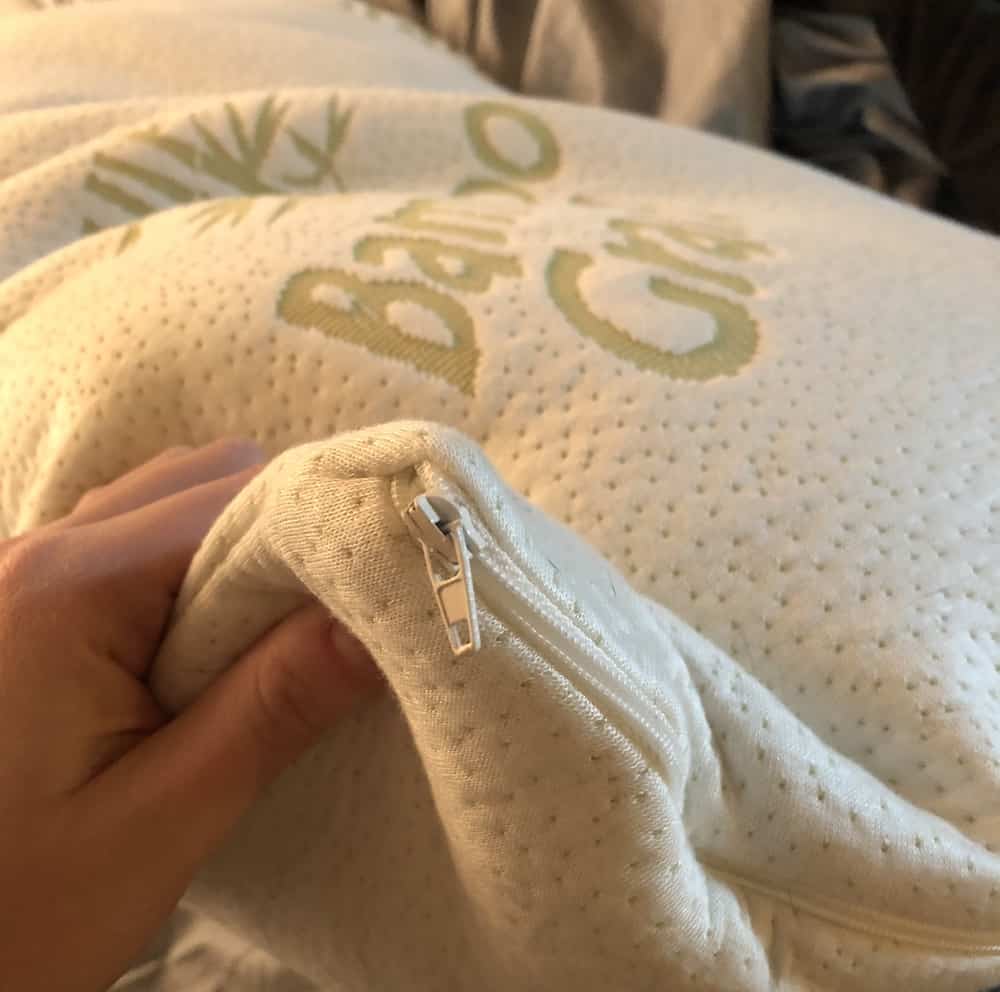 The inner lining (what holds the shredded memory foam) is also made from polyester and has a convenient zipper to easily get to the shredded memory foam itself. Just like the outer cover, you can machine wash it, but you need to remove all of the shredded memory foam in order to do so.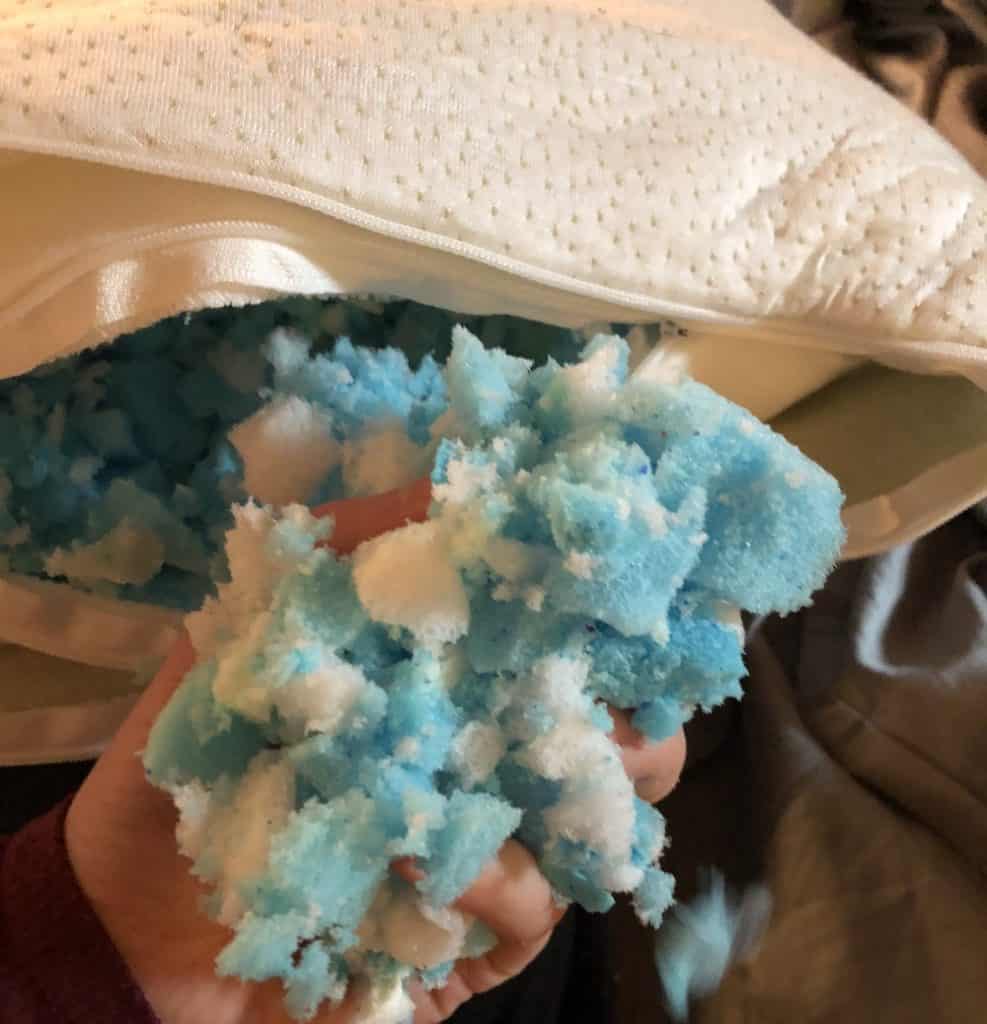 The shredded memory foam filling in the Bamboo Grand claims to provide proper contouring to your body while still being plump and soft—creating the right balance of comfort and support. You can add or remove the filling, making this pillow adjustable and hence able to adapt to any type of sleeper. (If you like pillows firm, keep all the foam in; if you like them softer, take some out. Easy as that.)
Many reviews talk about the pillow having an odor, which is natural for memory foam. In fact, there was a warning that came with that pillow that said it might have a subtle scent that would quickly fade over time. However, I actually found the scent to be quite nice! (It smelled like natural bamboo and pine, unlike over memory foam pillows that tend to have a more chemical-like scent.)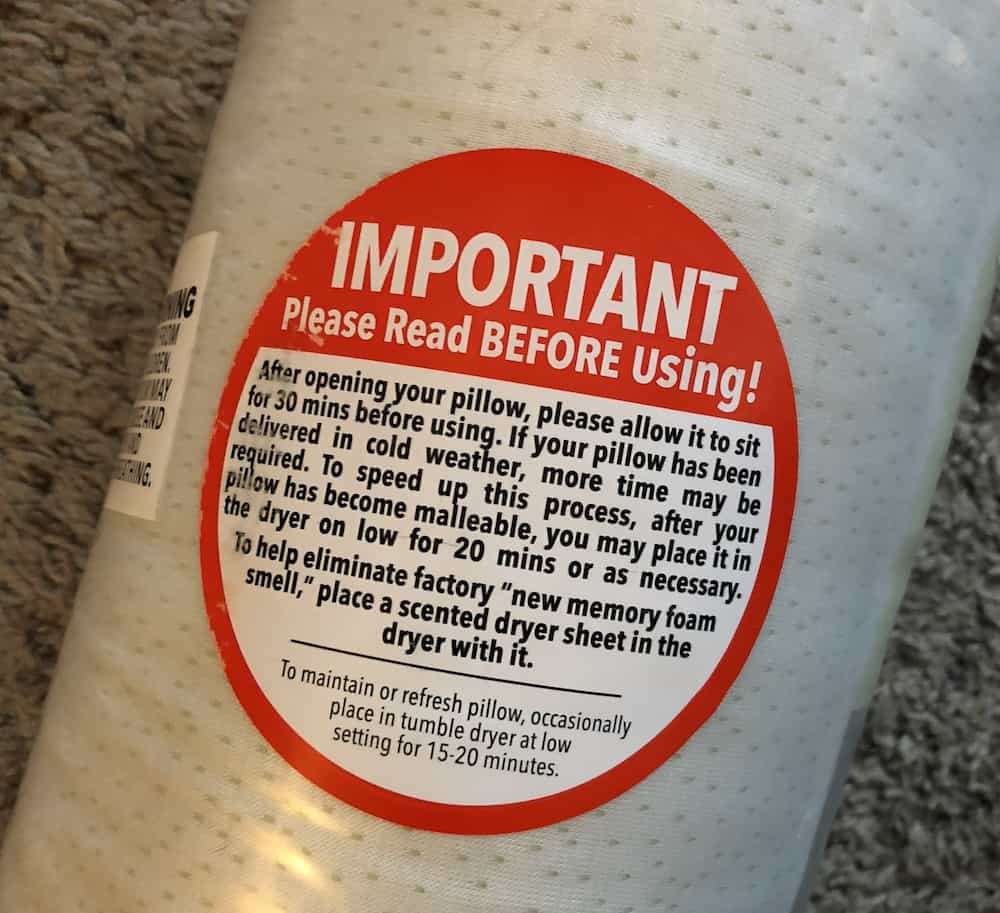 Other details
Available in Standard (17"x23"), Queen (17"x29"), and King Sizes (17"x34")
100% money back guarantee
Comes in vacuum sealed packaging
Bamboo Grand Memory Foam Pillow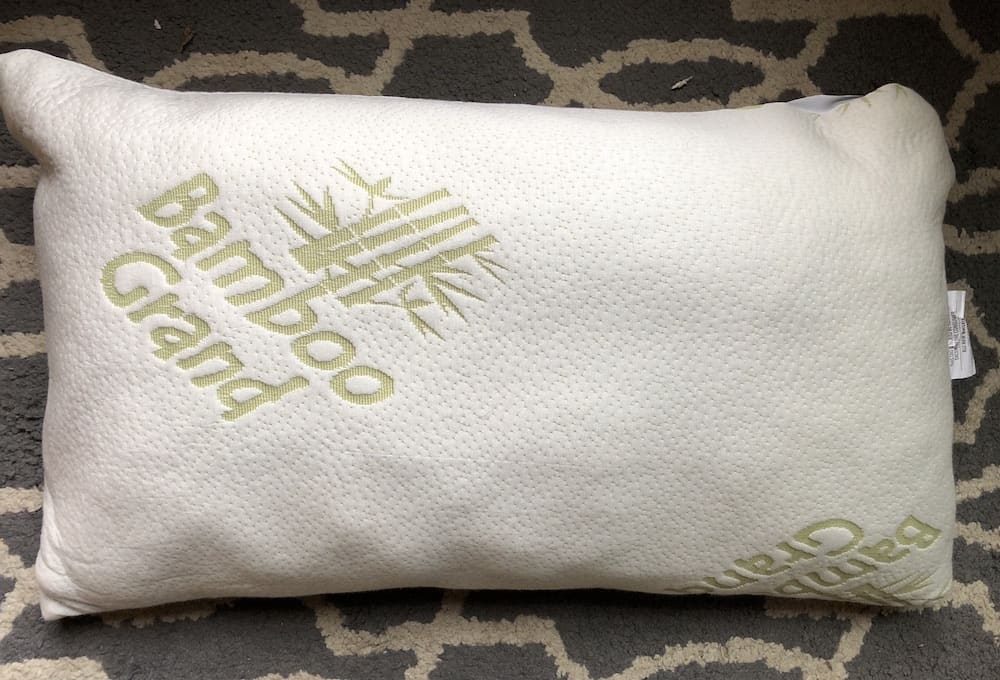 Hypoallergenic and self-cooling, the Bamboo Grand pillow could be great for those sleepers that overheat at night.
Sleepopolis Score
4.30 / 5
Read Full Review
My experience
My Bamboo Grand Memory Foam pillow came vacuum sealed. This isn't the first time I've received a pillow like this; the benefit is that it's way easier to ship and doesn't use excess material, yet this also means it takes some time for the pillow to build back its shape after being rolled up.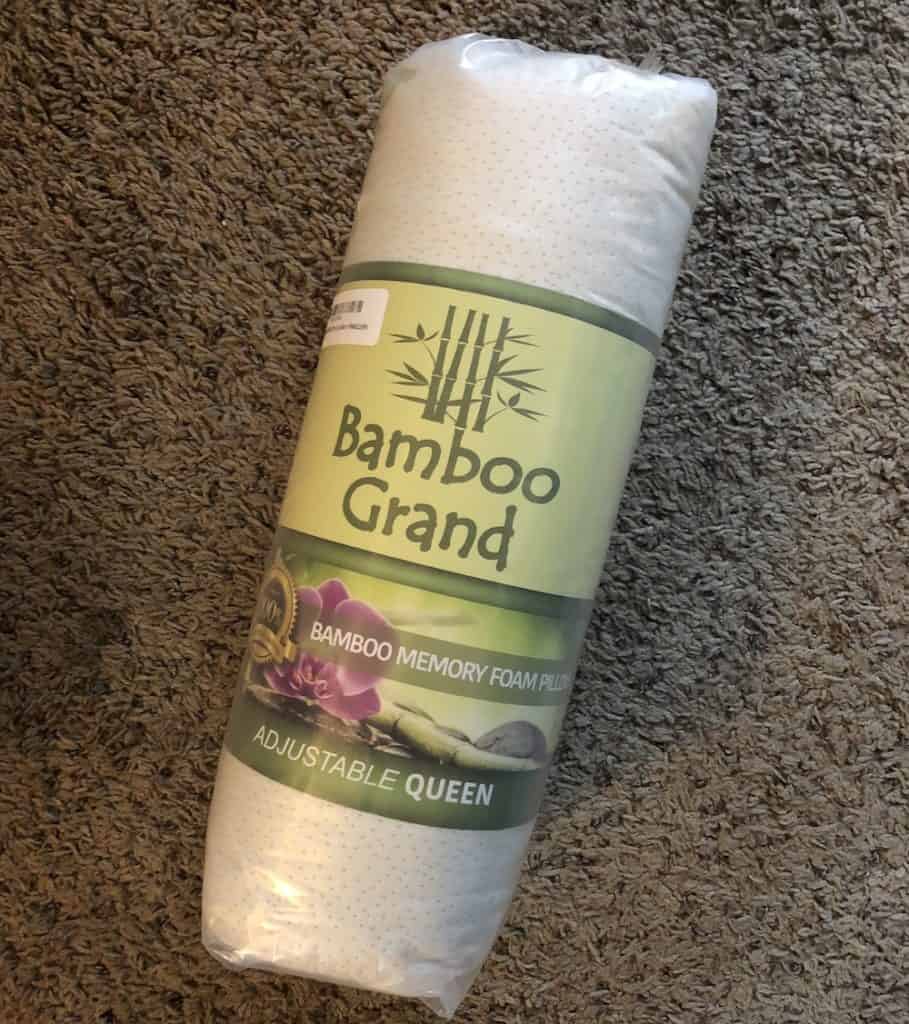 Given that I'd rather reduce waste than have a pillow that was instantly ready to use, I was happy to see it come vacuum sealed. That said, this pillow took a while to fluff up (so don't be alarmed if it looks extra flat). A piece of reading material that came with the pillow said to wait up to four hours, and if it still wasn't fluffed, to toss it in the dryer for 20 minutes.
After four hours, my pillow reached its full shape, which … is not that full. I noticed right away that this pillow doesn't have a ton of lift, raising a red flag right away. Would this be able to support my neck while being on the flatter side?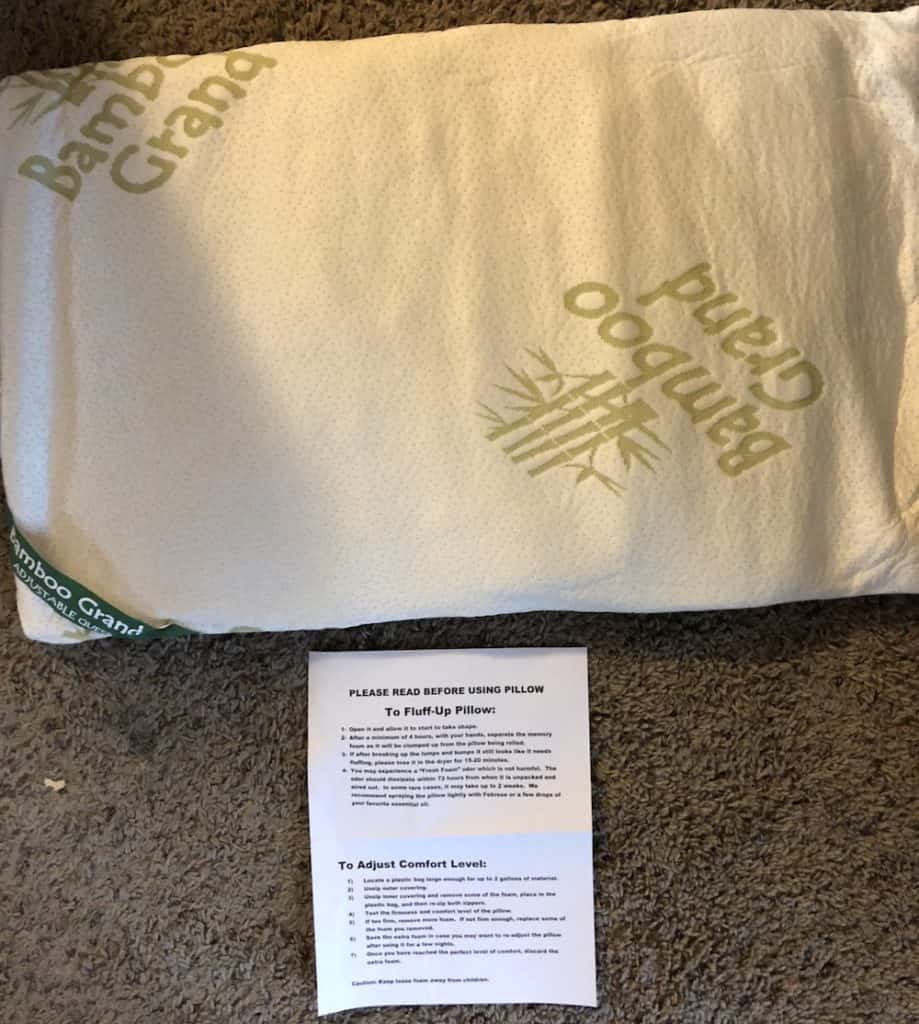 The short answer is no, not really. Unfortunately, this pillow is pretty flat, and I think needs more foam filling. (I could not find any options from Bamboo Grand to order more memory foam, but realized I could order from other companies if I wanted more support. However, there goes the small price tag).
When I slept on it, I found that my head was decently supported—the memory foam itself is comfortable to sleep on, and the outer and inner cases is good quality. But the pillow did not have enough filling to angle my neck well enough as a side sleeper. I found myself tossing and turning a handful of times, while trying to fluff the pillow up for extra support. Moreover, the shredded foam makes this pillow feel lumpy, so I had to move around the foam to smooth out some of the kinks.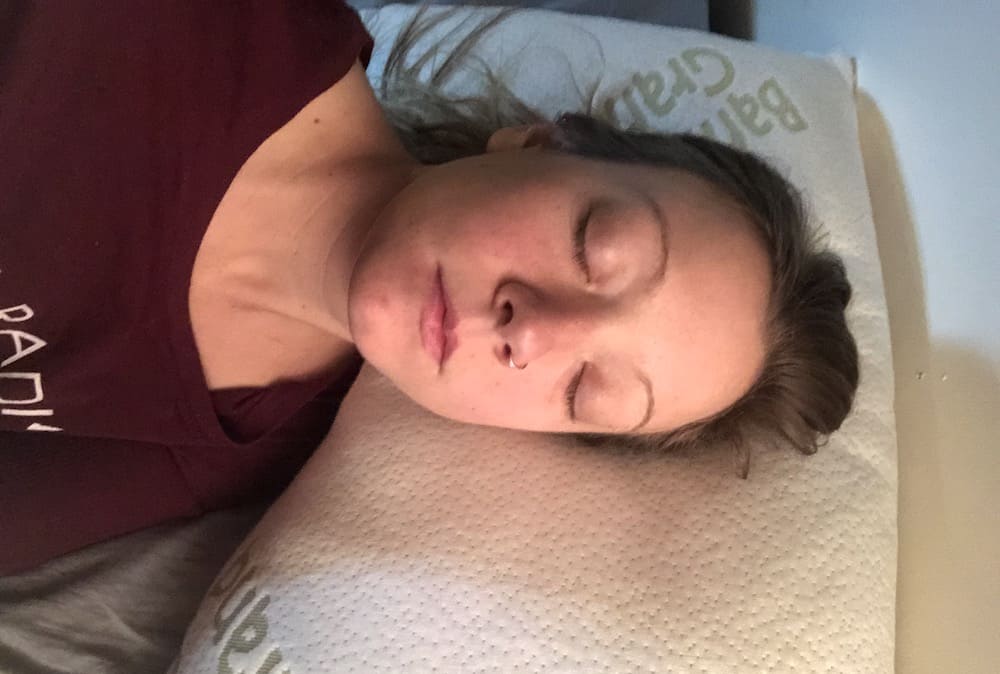 I did find this pillow worked better if I moved to my stomach, so if you're a stomach sleeper, this could be a viable option for you. This pillow also does a great job at regulating temperature and I did stay cool throughout the night.
Bamboo Grand Memory Foam Pillow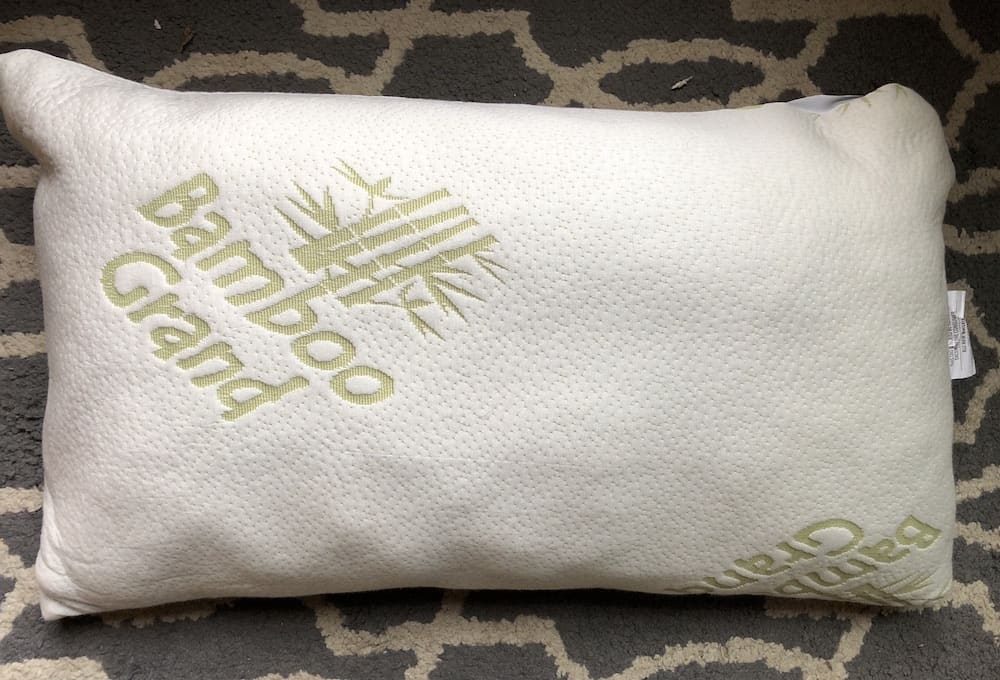 Hypoallergenic and self-cooling, the Bamboo Grand pillow could be great for those sleepers that overheat at night.
Sleepopolis Score
4.30 / 5
Read Full Review
Common Praises & Complaints
This pillow has mixed reviews, but people on the positive end of the spectrum did have great things to say when it came to head and neck support:
"Very very comfortable pillow. I suffer from neck pain caused by a minor cervical injury some months ago. As a result, sleeping comfortably has eluded me since then. I have gone through 4 or 5 different pillows to seek some relief. Not until this pillow have I had any luck. The shredded memory foam really does make a difference. Moreover, its adjustable – in the sense that you can actually take out however much of the foam you need from the zippered inner lining of the pillow to suit your personal needs. For me the pillow had the right amount of shredded foam without the need to make any adjustments"
"Loving them! Bought 4 out of habit of stacking, shifting etc., and have not adjusted the size in any of them, and love them all. Stays fluffed, easy to fluff if needed, great support but soft enough for comfort. Not sure which to give credit to, my new mattress or these pillows, but have some serious damage in my neck that causes nerve pain, and since getting these, it has all subsided and was going through a fairly severe and long spell."
However, not everyone was thrilled. Many referred to the quality and the fact the pillow couldn't hold its shape and contour well:
"The price was right the product was not. I loved the existing memory foam pillow that I had and wanted to purchase another in the king size. I have learned that not all memory foam is created equal. While this pillow is described as adjustable it really doesn't make a difference, if it is half filled or all the way filled the foam packs down to a point that leaves me feeling like I am sleeping on a rock."
"I had high hopes for this. I need a pillow that is firm, but is still soft. This started out just perfect, but three hours after sleeping on it the first night, I woke up with a headache because it does not hold its shape. Thinking I hadn't properly fluffed the inside, I tossed it in the dryer (as per the instructions) and it came out beautifully…. only to repeat the previous night's experience. I gave it a few more nights, and I'm up tossing and fluffing every few hours. The second morning of waking with a pillow-induced headache this morning finally did me in. It's being returned."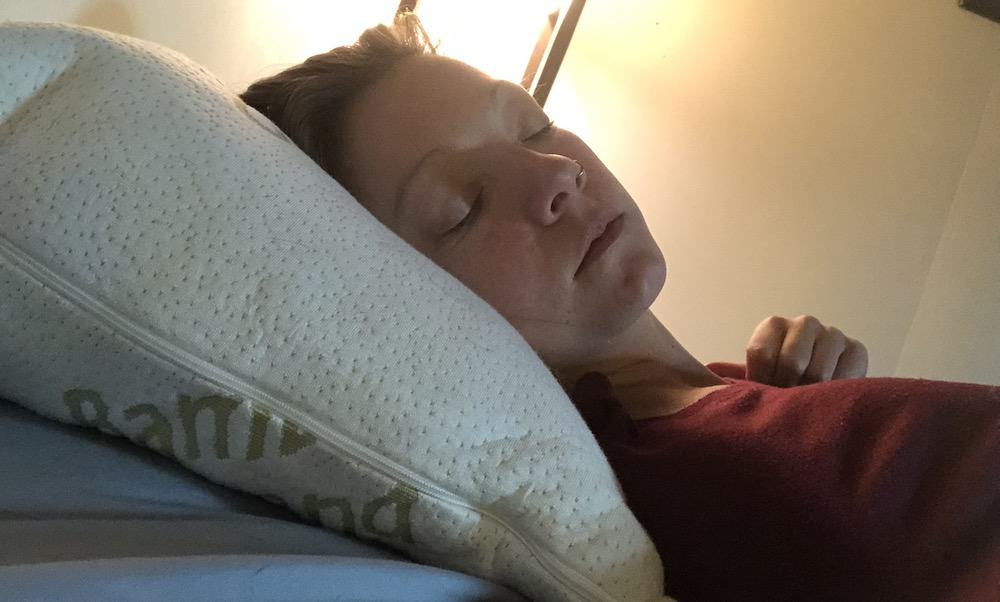 Who Should Buy It
If I had to score this pillow out of 10 (10 being the best) I would probably give it a 5. Here's why you might want to give it a go:
You're on a budget – You can't beat the price of this pillow. For less than $20, you can experience a memory foam pillow with adjustable filling. It's also hypoallergenic and easy to machine wash.
You like your pillows hard – This pillow is definitely on the firm side of things. You can make it a little softer by removing some foam, but then it loses a lot of its lift. Because of that, I would recommend this mainly to people who know they enjoy sleeping on pillows that are on the harder side.
You want to try something adjustable – If you've never used a pillow with adjustable foam, it is quite fun. For curious sleepers, this pillow is a nice option to see if the removable, shredded memory foam works for you.