Here at Sleepopolis, we're pretty familiar with DreamCloud Sleep, having reviewed their luxury bed-in–a-box mattresses: the DreamCloud, the DreamCloud Premier, and the DreamCloud Premier Rest. So I'm super excited to be reviewing their Best Rest pillow!
The Best Rest pillow is a memory foam pillow with lots of cooling features. I took this pillow home to test it out and I'm ready to give you the lowdown. Could the Best Rest pillow help you get your best rest? Let's find out!
In a rush? Skip to the end for my review summary!
Is DreamCloud Best Rest a Good Pillow for You?
Not every pillow is the right fit for everyone! Factors like your sleeping position and whether you sleep hot or cold can determine whether or not a pillow will suit you. Here's my quick recommendations of who will like the DreamCloud Best Rest pillow and who should consider another pillow.
Who should try the DreamCloud Best Rest pillow
I think

back sleepers, side sleepers, and back/side combo sleepers

will all enjoy the

Best Rest

pillow! It offers nice support in these positions.

I also think that

hot sleepers

will love the

Best Rest

pillow. I was seriously impressed with it's cooling abilities.

Also, if you prefer a pillow with a

more flat, even shape

, I think you'll like the rectangular

Best Rest

pillow.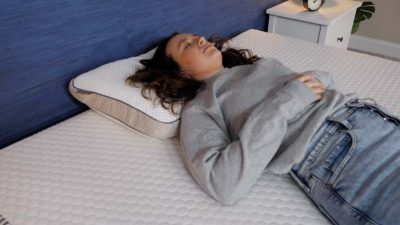 Who should not try the DreamCloud Best Rest pillow
I

wouldn't recommend this pillow to stomach sleepers

, as the loft is too high to keep their neck and spine in proper alignment.

I also wouldn't recommend this pillow for anyone who strongly prioritizes easy cleaning, as this pillow is

not machine washable

.

Additionally,

if you want a queen size pillow

, the

Best Rest

isn't the best option, as it is only available in standard and

king sizes

. For reference, a queen size pillow is typically about 4 inches longer than a standard size pillow.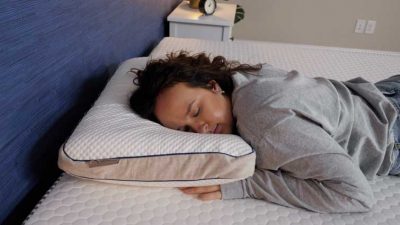 What Does the DreamCloud Best Rest Pillow Feel Like?
I'm sure the biggest question on your mind is, "What does this pillow feel like?" If you're shopping for pillows in a brick-and-mortar store, you can squish them a bit or even try to pretend to lie on them to get an idea of what they feel like. But when you're shopping online, it's harder to tell. That's what I'm here for!
I'll give you my thoughts on the feel, based on my experience of sleeping on this pillow. Just remember that feel can be subjective, so your experience may differ from mine based on our sizes and preferences!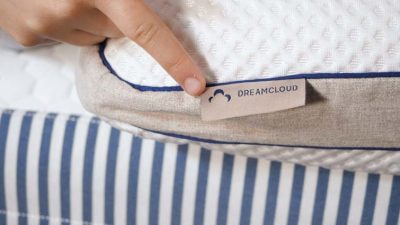 DreamCloud Best Rest Pillow Firmness
One of the first things to consider with a pillow's feel is firmness. Different sleeping positions will generally want different firmnesses: side sleepers should go for a firmer feel, back sleepers do well with a medium feel, and stomach sleepers should steer towards a soft feel.
I thought the Best Rest pillow had a solidly medium feel. It feels pretty bouncy and responsive — when you press into it, the pillow quickly reforms to its original shape. There's enough give that your head will sink in a bit, but at the same time, will still feel very supported. The Best Rest pillow definitely is not moldable, like a traditional down pillow might be, since its fill is a solid block of high-density foam.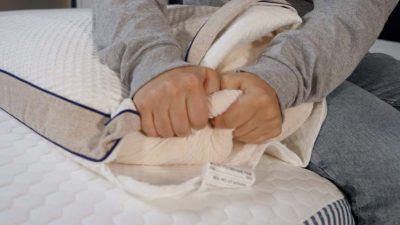 DreamCloud Best Rest Pillow Loft
In addition to firmness, it's important to consider your pillow's loft. Loft refers to the height of a pillow and each different type of sleeper will do best with a different loft. Side sleepers generally need a higher loft, back sleepers are best with a medium loft, and stomach sleepers will be most comfortable with a lower loft. The Best Rest pillow comes in one loft: 5.5 inches, which is on the higher side.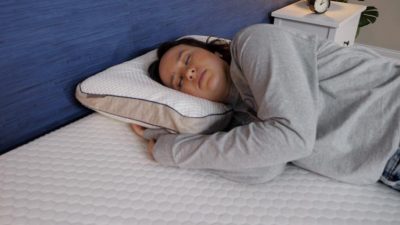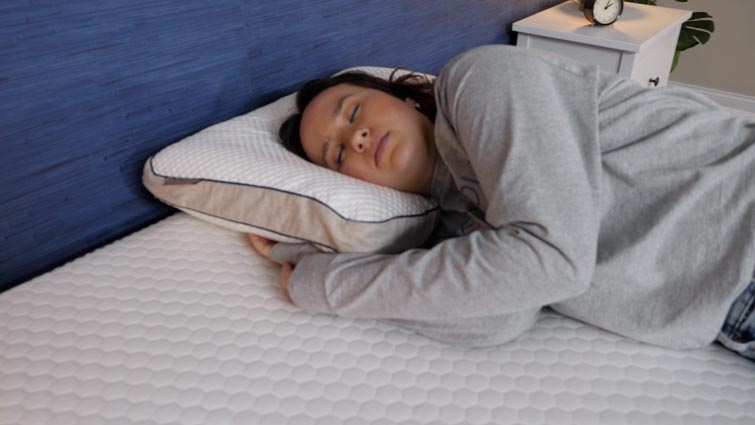 Side — I found the Best Rest pillow to be quite comfortable for sleeping on my side. The loft is great for side sleepers and the supportive foam kept my head and neck properly elevated. While side sleepers are generally better off with a firmer feel, I think the medium firmness of this pillow still works for side sleepers.
Back — I also found the Best Rest to be really comfortable for back sleeping. I primarily sleep on my back and I thought that the medium feel was just about perfect. While the loft is a bit on the higher side for a back sleeper, I think it works well because the pillow is more rectangular in shape — it's flat across the surface, so I didn't feel that my neck was craning upwards.
Stomach — The Best Rest was not super comfy for stomach sleeping, in my opinion. I think the loft is a bit too high and could cause your neck to crane. If you very occasionally sleep on your stomach, I think you might be okay with the Best Rest, since the surface is so even and flat, but I wouldn't recommend it if you are spending the night on your stomach 80% of the time or more.
Under the Arm — I think the Best Rest pillow can work pretty well for sleeping with it under your arm. It does have some give and some squish-ability, even though it's not moldable, so I think it could be pretty cozy to hug as you sleep.
Between the Legs — The Best Rest pillow would be a solid choice for sleeping between your legs, as it has such a flat surface. I think that will ensure that your hips stay properly aligned and the medium feel should be pretty comfortable.
What is the DreamCloud Best Rest Pillow Made Of?
Now that we've gone over what the Best Rest pillow feels like, let's talk about what it's made of. The pillow basically has two layers: an outer cover and a memory foam fill.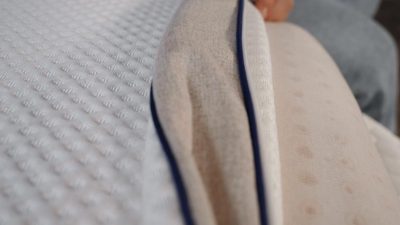 Cover: The Best Rest has a 53 percent polyethylene, 46 percent polyester, and 1 percent spandex blend cover with a cool-to-the-touch feel. This cover is removable, but not machine washable.
Fill: The inner fill of the pillow is a solid piece of memory foam. DreamCloud uses CopperGel infused memory foam, which is great for cooling. Copper is an excellent heat conductor, meaning that the heat from your body will pass through the copper quickly. That'll prevent the pillow from retaining too much heat. The foam also has perforations in it, which allow for airflow within the pillow.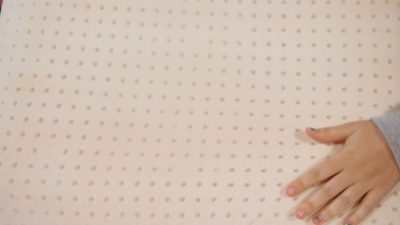 Is the DreamCloud Best Rest Pillow Good for Hot Sleepers?
If sleeping on the cool side of the pillow is your personal heaven, you're probably wondering if the Best Rest pillow is good for hot sleepers.
I was seriously impressed with the Best Rest pillow's temperature regulation! When I first picked up this pillow, the first thing I noticed was how cool it felt, even just to the touch. And while I was sleeping on the pillow, it maintained that super cool feel. The CopperGel foam with perforations does well to keep the interior of the pillow cool and the cover keeps the exterior cool to the touch.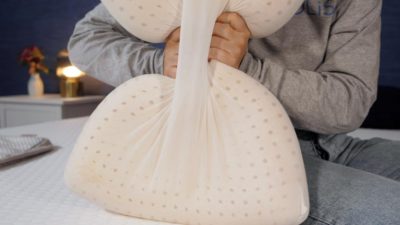 I'd definitely recommend this pillow to hot sleepers! If you're interested in other cooling pillows, check out our top picks in our best cooling pillows roundup. And don't forget to take a look at our best cooling sheets, as well!
DreamCloud Best Rest Pillow Sizes and Prices
Of course, price is always a factor when it comes to shopping. Here are the prices of the DreamCloud Best Rest pillow listed by size. All prices are listed before discount. Be sure to use the coupons throughout this article to get the best deal on the Best Rest pillow if you decide to buy!
| Size | Dimensions | Price |
| --- | --- | --- |
| Standard | 16" x 25" | $99 |
| King | 16" x 32" | $129 |
My Final Thoughts About the DreamCloud Best Rest Pillow
Overall, I really liked the DreamCloud Best Rest pillow. It's definitely a pillow that I'd love to sleep on! I thought the cooling capabilities of this pillow were really impressive and I really liked the feel.
I thought the rectangular shape of the pillow was very comfortable, as I'm not a big fan of pillows that have a more ballooning, rounded shape. I think back/side combination sleepers will love this pillow, as it's comfortable for both sleeping positions and easy to switch between! The foam is just soft enough to allow for some contouring, but is still supportive and keeps your head properly elevated.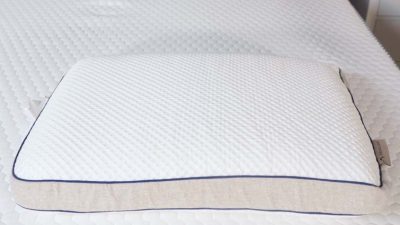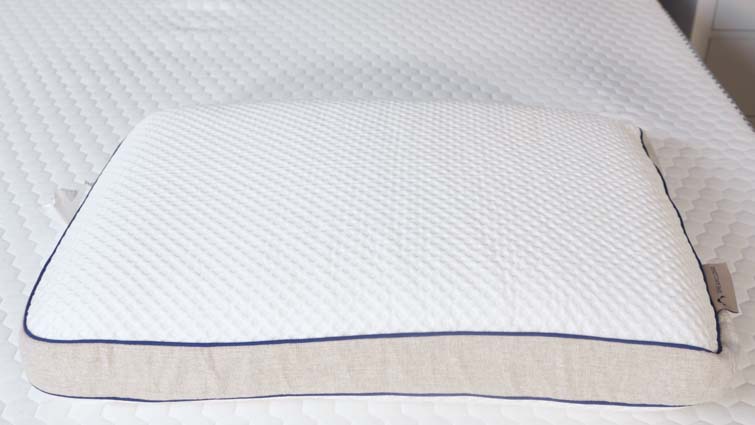 However, my biggest disappointment for this pillow was that the outer cover isn't machine washable. I always appreciate that feature in a pillow, as it just helps to keep the pillow cleaner. I also wouldn't really recommend it for stomach sleepers, as I think the higher loft will cause their necks to crane.
DreamCloud Best Rest Pillow Policies and FAQs
How does the DreamCloud Best Rest pillow ship?
The DreamCloud Best Rest pillow ships for free within the contiguous United States. Customers in Hawaii and Alaska will have to pay an additional shipping fee. DreamCloud does not ship internationally.
Does the DreamCloud Best Rest pillow come with a sleep trial?
Yep! This pillow comes with a 50-night sleep trial. During that trial period, you can test the Best Rest pillow out at home and if you decide it's not the right pillow for you, you can return it for a full refund.
Does the DreamCloud Best Rest pillow come with a warranty?
No, the DreamCloud Best Rest pillow does not come with a warranty.
Is the DreamCloud Best Rest pillow machine washable?
No, the DreamCloud Best Rest pillow is not machine washable. The exterior cover can be spot-cleaned only, so I would recommend using a pillowcase or pillow protector with this pillow.
DreamCloud Best Rest Pillow Vs
Now that we've gone in-depth on the DreamCloud Best Rest pillow, let's compare it to one of its competitors: the Pillow Cube Pro.
DreamCloud Best Rest Pillow vs Pillow Cube Pro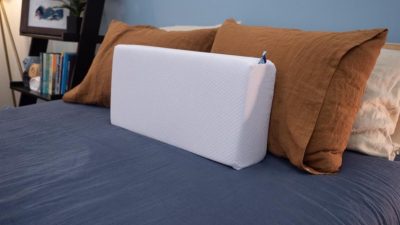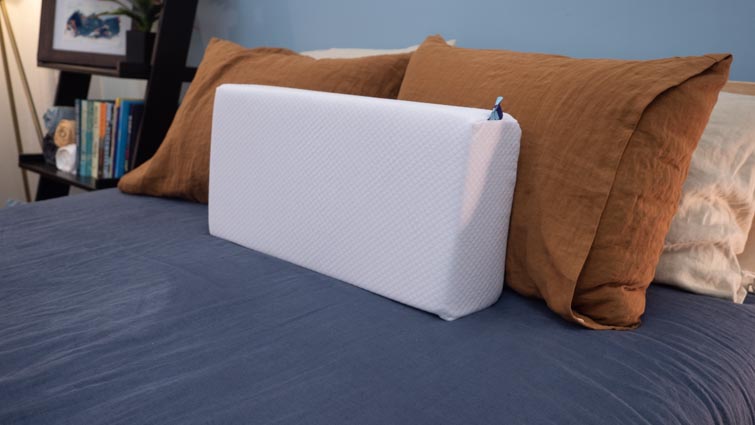 The Pillow Cube Pro is similar to the

Best Rest

pillow in that it

also has a rectangular shape

. This ergonomic design is meant to be

more comfortable and supportive to side sleepers

, specifically.

It's available in

three different lofts: 4-inch, 5-inch, and 6-inch

. That gives you some more options than the

Best Rest

, which is only available in one loft. Smaller people with narrower shoulders may prefer the lower loft, while larger people with broader shoulders may like the higher lofts.

The Pillow Cube Pro is

also designed to be cooling

, with its 60 degree foam core. Hot sleepers should enjoy either of these two pillows.

Want to learn more about this pillow? Check out our full

Pillow Cube Pro review

.
Other Products from DreamCloud
Here are my star ratings for the DreamCloud Best Rest pillow!
Cooling

Materials

Comfort

Value

Durability

Trial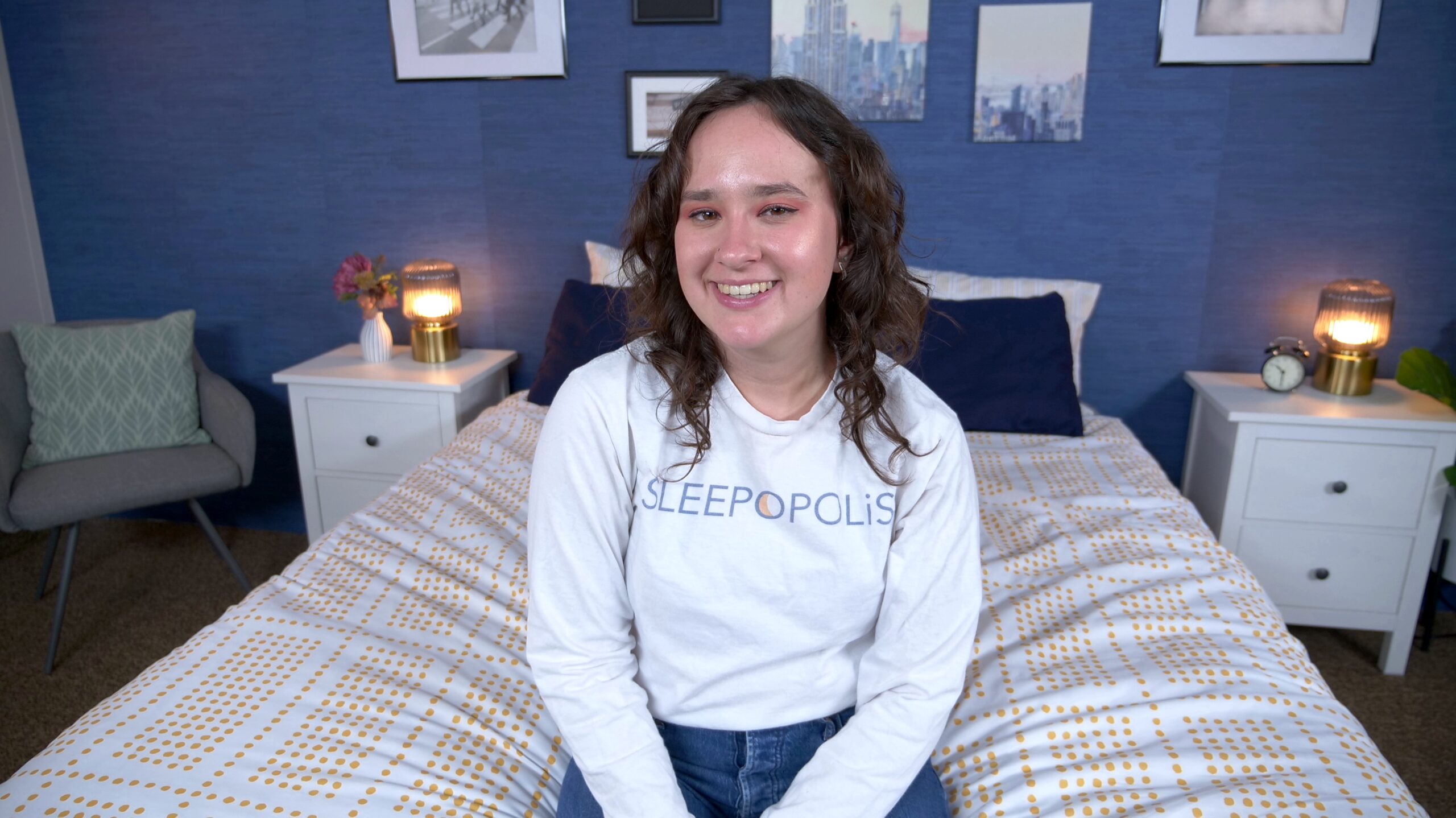 Amelia Jerden
Amelia is a Senior Staff Writer for Sleepopolis. She primarily covers bedding and sleep accessory products in reviews, how-to guides, and more. You can also find her over on the Sleepopolis YouTube channel. Amelia is a graduate of the University of North Carolina at Chapel Hill, with double majors in media and journalism and in dramatic art. Outside of work, Amelia can usually be found on a hike, traveling to a new city, or at her local thrift store.