Down pillows are among the most popular sleep accessories on the market, and have been used throughout history. However, down-alternative pillows (which swap feathers for synthetic or natural fibers) have become increasingly trendy, particularly among sleepers who don't want to sleep on animal products. But how does real down compare to the alternative? Keep reading to learn about the Luxe Down Pillow and the Luxe Down Alternative Pillow!
Brand Snapshot
Luxe Pillow was founded in 2016 by Matt and Annie Potter, a married couple looking to alleviate neck pain. After months of experimenting with all kinds of different sleep accessories, they concluded that if they wanted the perfect pillow, they'd have to make it themselves.
By 2017, the Luxe Down and Down-Alternative pillows were officially introduced to the public (and Matt Potter was the brand's first happy customer!). Now, the company exclusively sells down and down-alternative pillows for sleepers of all styles… But the only way to determine which one is best for you, is by taking a close examination of each one!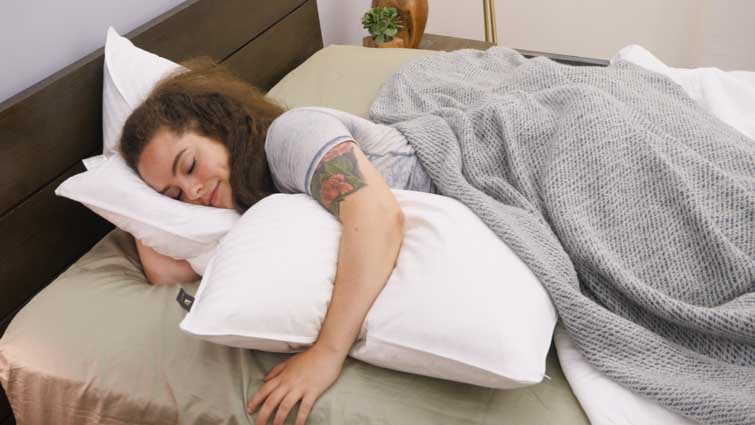 What are the Luxe Pillows Made Of?
The cover fabrics of these pillows are both made from 100% cotton, and woven into a high thread count of 300. Thread count refers to the individual yarns per square inch of fabric, and the higher the count, the smoother the feel! Of course, sleepers can use dress these pillows with shams if they choose, but the cover fabrics are quite cozy on their own.
As far as what's inside these pillows, you might have already guessed that the Luxe Down pillow is filled with down, and the Luxe Down-Alternative pillow is filled with down-alternative. But let's take a closer look at what that all means, shall we?
The Luxe Down pillow is filled with a combination of white duck and goose feathers, and features a fill power of 600. Fill power is a term used to the measure of loft (or fluffiness) of a down product, and usually ranges from 300-900. When it comes to pillows, a 600 fill power offers a luxuriously fluffy feel, and this pillow is no exception. It's got a lofty build of about 5 inches and, in my experience, does a great job of maintaining its shape.
Real down does tend to be a bit lighter in weight as compared to down-alternatives, and typically doesn't need to be fluffed as frequently. Because of this, many sleepers prefer real down to an alternative material. However, some folks can't (or won't) sleep on animal products, and that's when a good down-alternative pillow comes into play!
The Luxe Down-Alternative pillow is amply stuffed full of 100% polyester gel fiber, a fluffy material that feels very similar to real down. It's got a slightly lower loft as compared to the real down pillow, measuring in at about 3.5 inches high. It offers a plush feel, soft support and, of all the down-alternative pillows I've ever tested, feels the most like real feathers.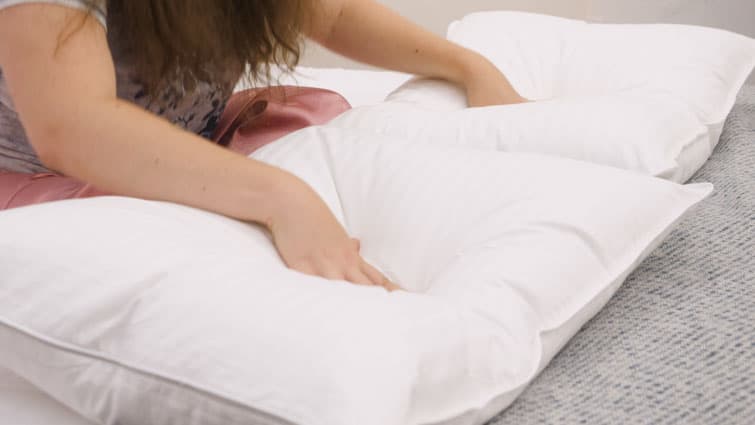 Eco-friendly sleepers might be glad to know that both pillows are hypoallergenic, and the real down pillow is certified by the Responsible Down Standard. This means that Luxe Pillow exclusively sources its down from organizations that meet certain criteria surrounding the ethical treatment of animals. For example, the RDS certifies that animals must be allowed to roam cage-free, have food and water available at all times, and are never subjected to "unnecessary suffering."
Now that we've taken a close look at what these pillows are made of, let's talk about how they feel and which sleeping positions they're best for.
More: Looking to sleep green? Check out our guide to the best organic mattresses!
How Do the Luxe Pillows Feel?
Firstly, I'm very impressed by how similar these pillows feel. In my experience testing pillows, I can usually tell right away which one is filled with real down, and which is filled with an alternative material. But I'll admit I had a tough time figuring out which Luxe Pillow was which! Sleepers who love the feel of down but don't want to sleep on real feathers should definitely look into the Luxe Down-Alternative pillow.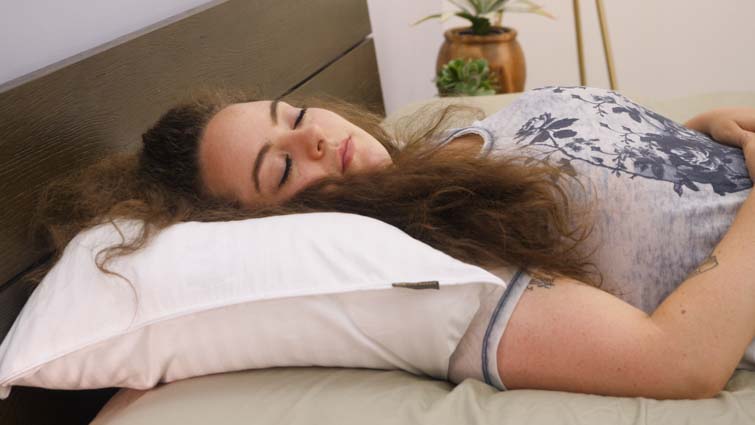 That said, I found the real down pillow to be great for all sleeping positions, while the down-alternative was best for back and stomach sleeping. When I tested these pillows on my side, the high loft of the Luxe Down pillow kept my spine in alignment and relieved pressure at my shoulder, while the down-alternative flattened under pressure. As I said, real down does tend to be better at maintaining its shape and loft, which is particularly beneficial for side sleepers.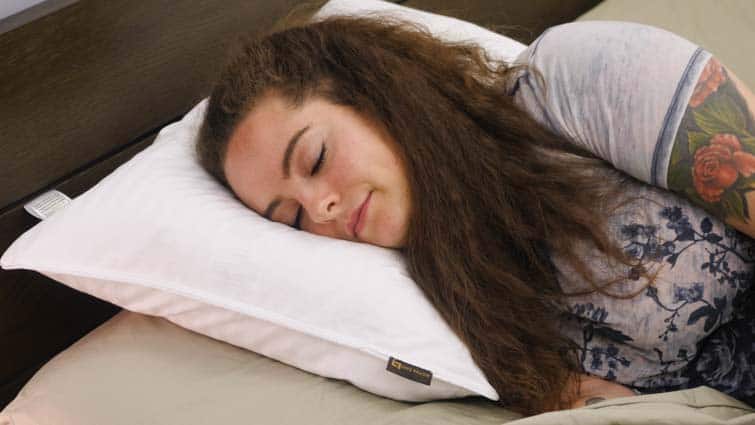 However, both pillows were great for back and stomach sleeping. In fact, because the down-alternative pillow provides a lower loft, I found it to be even better for stomach sleeping than the real down pillow. Don't get me wrong — real down is compressible enough to help stomach sleepers keep a neutral spine, but the down-alternative pillow can achieve a very low loft of less than one inch. If you're a stomach sleeper, you should always aim for a pillow with a low profile and soft support.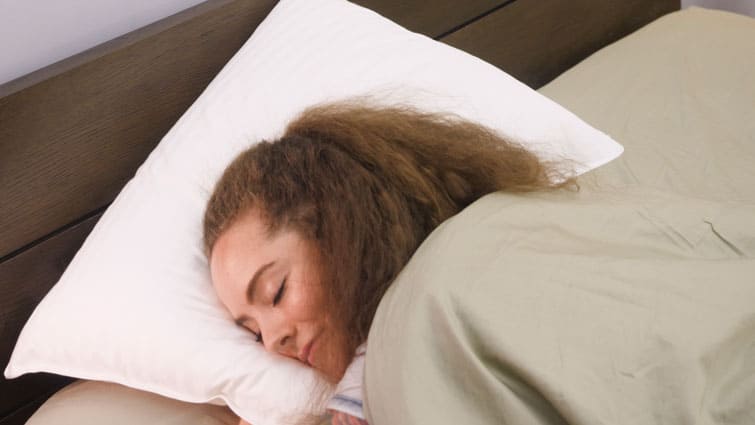 Back sleepers can take their pick between the down and down-alternative Luxe pillows, as both served to comfortably cradle my head, and hold my neck in neutral alignment with my spine. Just remember: the real down pillow is a bit loftier so if you prefer a very fluffy pillow, you might be better off with this one. I'm also pleased to report that neither pillow trapped my body heat, so hot sleepers should be compatible with both Luxe pillows.
Ultimately, I really enjoyed testing these pillows. And while they do feel surprisingly similar, back and stomach sleepers will be most compatible with the down-alternative, while sleepers of all styles can benefit from the real down pillow.
The Verdict: Sleepers of all styles will be compatible with the Luxe Down Pillow while back and stomach sleepers are best suited to the Luxe Down-Alternative Pillow!
Which Luxe Pillow Should I Buy?
Okay sleepers, let's recap the highlights of these pillow so you can determine which is the best fit for you!
Feel & Positions – Sleepers who love the uniquely fluffy feel of down would likely be compatible with both pillows. As I said, they have a very similar feel, despite being stuffed with different materials. Just keep in mind that the down-alternative pillow has a slightly lower loft, which makes it better for back and stomach sleepers. The real down pillow is quite lofty and does a better job of maintaining its shape, which makes it great for all positions!
Machine Washable – If you've been thinking, "I love real down pillows but they're never machine washable," I've got good news for you. While it's true that real down pillows are often dry-clean only, both Luxe pillows are machine washable and dryable! Just wash on a warm, gentle cycle with mild detergent, and tumble dry on low heat. Pretty simple, right?
100 Night Trial Period – Not sure which pillow is the right fit for you? Well, you've got 100 nights to make up your mind! Return your Luxe pillow within 100 days, and you'll be fully refunded (Luxe Pillow pays for shipping too).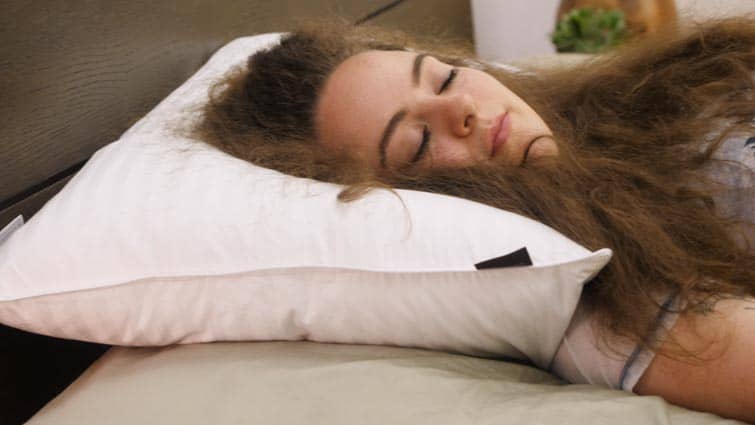 Luxe Pillow Complaints
Of course, there are a few things about these pillows that some sleepers might consider to be drawbacks.
Not Vegan – Sleepers who are strictly vegan are probably going to want to stick with the down-alternative pillow. But remember: the real down pillow does come with a Responsible Down Standard certification, which means Luxe Pillow only works with organizations that raise its ducks and geese humanely and responsibly.
Side Sleepers – Side sleepers are better off with the real down pillow as it's got a loftier profile, and does a better job of maintaining its shape over time. In order to maintain neutral spine alignment and relieve pressure in the shoulders, side sleepers need a pillow with a lofty build of at least 4 inches tall, and the down-alternative falls a bit short of that.
Pricey – Real down is almost always going to come at a higher price point than down-alternative, and the Luxe Pillows are no exception. That said, with the Luxe Down ranging from $130-$150 and the Luxe Down-Alternative ranging from $79-$99, neither is necessarily going to be in everyone's budget.
Anything Else I Should Know?
Free Shipping – within the U.S.
Returns – you have 100 days to return any Luxe Pillow product
Pricing – the Luxe Down costs $130-$150, and the Luxe Down-Alternative ranged from $79-$99
Wash Care – Remove cover fabric and wash separately on gentle cycle with mild detergent. Dry in low-medium heat. Wash the pillow itself in warm gentle with mild detergent, tumble dry on low heat.
Well, sleepers, we've reached the end of my review and (hopefully) you're that much closer to finding the pillow of your dreams. As you carefully weigh your options, be sure to follow us on Facebook, Twitter, and Instagram, and subscribe to our YouTube channel as we're always on a mission to help you live your best sleep life!