Head over to Magnolia Organics' website, and you'll see their passion for organic, environmentally friendly products front and center. "Low impact on the environment, high impact on your day-to-day," is a common tagline throughout; when it comes to pillows, they care about sustainability just as much as they care about comfort.
I tested Magnolia's buckwheat pillow out, excited to see how this pillow fared amongst the others I've tried over the past few weeks. Buckwheat hull pillows are known for their therapeutic qualities, which differentiate them from other foam and feather pillows that often collapse in the middle of the night. The buckwheat hull filling molds to the contours of your head and neck while retaining heat and keeping you cool.
Organic cotton—a value prop for Magnolia— seemed like a great perk of this pillow, but would the construction, hulls, and structure be just as good as its eco-conscious build? Read on for my full review!
Looking for a quick read? Click here to jump to the summary.

Magnolia Organics Buckwheat Hull Pillow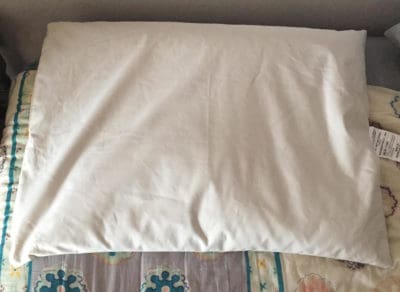 The buckwheat hull filling molds to the contours of your head and neck while retaining heat and keeping you cool.
Sleepopolis Score
4.30 / 5
Read Full Review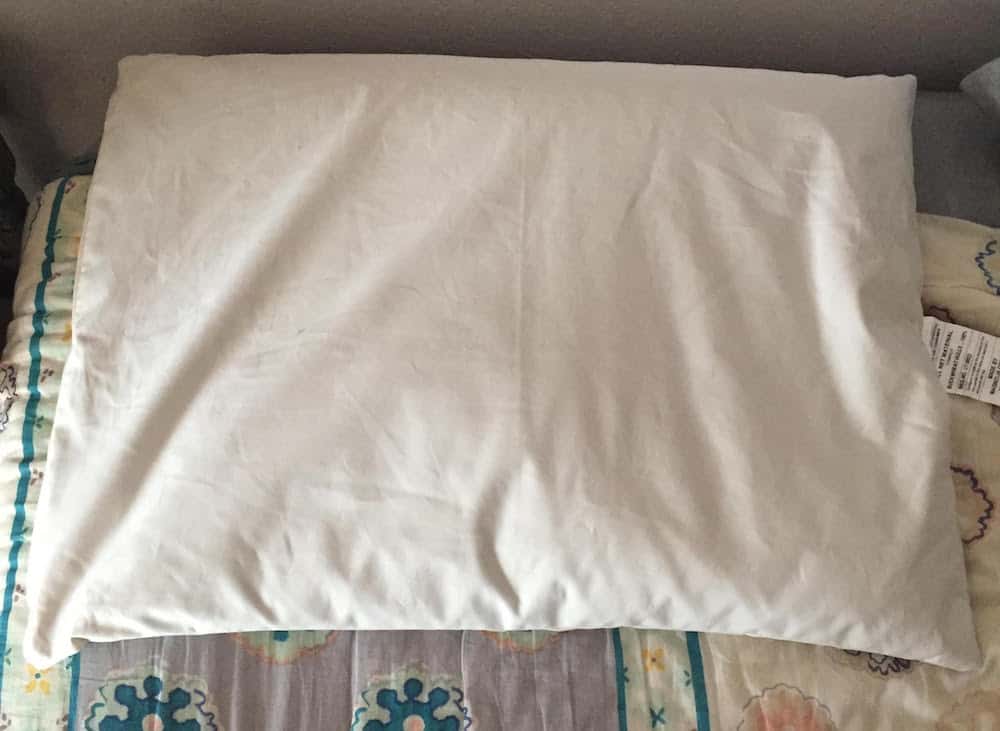 Construction & Feel
This first thing I noticed about the Magnolia Organics buckwheat pillow was indeed its soft, cotton case. After doing a little research, I learned that Magnolia works with a long-staple length cotton that is super durable and will stay feeling smooth for longer than other types of cotton. They also use ring-spun cotton yarn (versus open-end yarn) which means the cotton fibers are twisted! Stay with me: Twisted yarn, rather than wrapped yarn, also creates more durability and is overall very high-quality.
Lastly, their team works only with GOTS-certified (The Global Organic Textile Standard), low-impact, and fiber-reactive dyes, which is where the eco-friendly part comes in. Low-impact dyes need less water when being rinsed, and do not contain any heavy metals. Fiber-reactive dyes do not require any chemicals either. An eco-conscious haven for your head!
Looking for the right pillow? Check out my top buckwheat pillows picks!
While it's impossible to know all of that by simply resting your head on this pillow, it is a nice feeling when you understand how much conscious care goes into creating a product. (You can tell the case is super-densely woven, too, which helps protect from bed-bugs, dust mites, and pet allergens.)
The Magnolia Organics case comes in an all natural color with a zippered opening that is also natural in hue. This pillow looked quite big for a standard size, but didn't seem as heavy as other buckwheat pillows.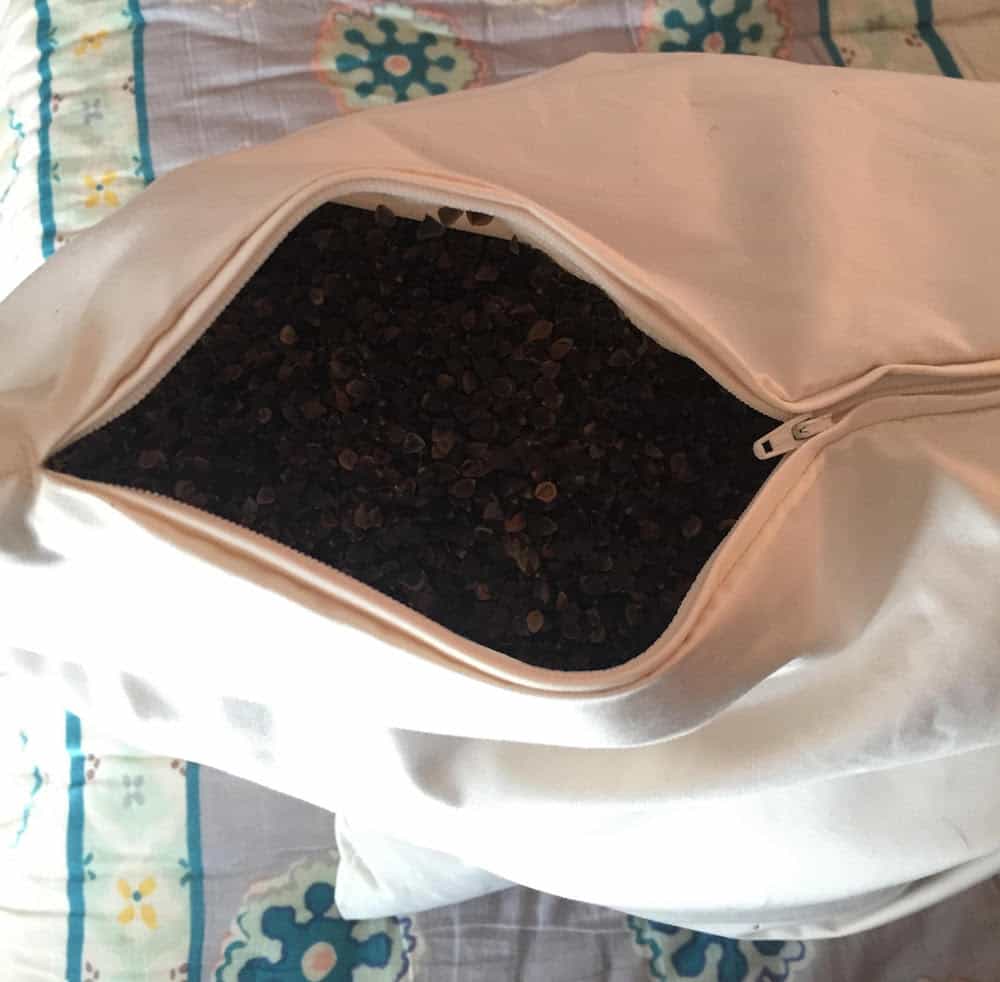 Other details:
Made with 100% organic cotton barrier-cloth case
Stuffed with buckwheat hulls from a farm in North Dakota
Made in the USA
Comes in four sizes: Small, Standard, Queen, King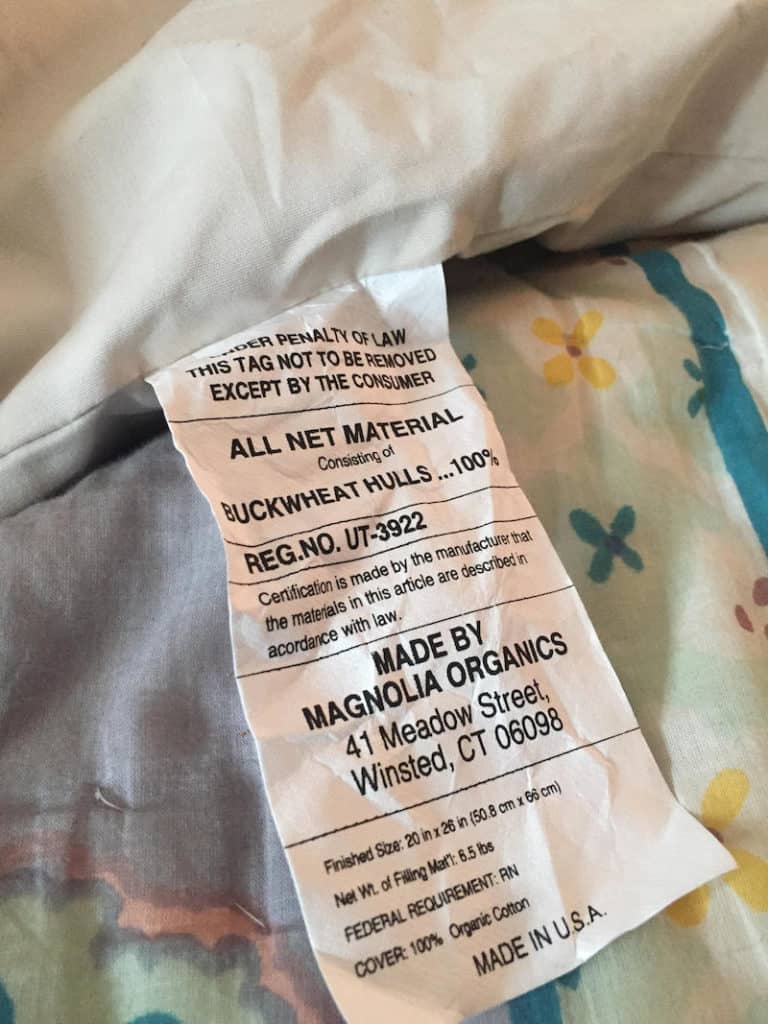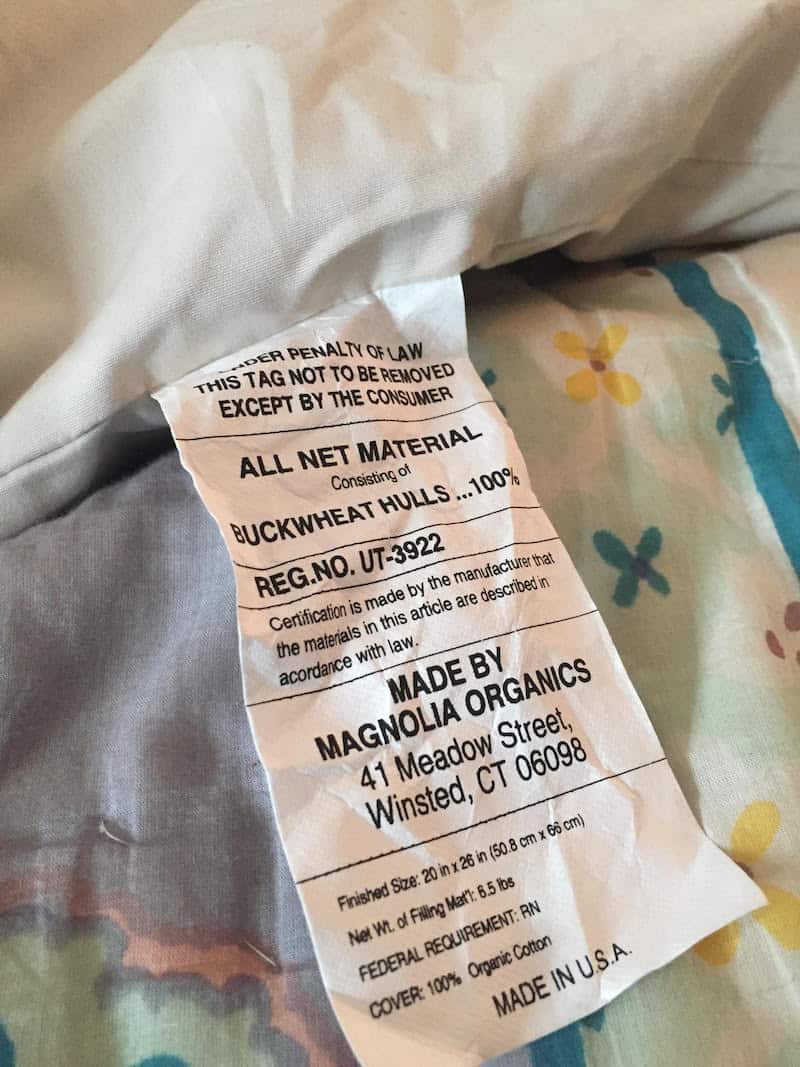 My experience
I'll admit it: My first impression of the Magnolia Organics buckwheat pillow wasn't a great one. It came in a simple, plastic bag, which surprised me considering how much emphasis they put on eco-friendly products. There were also some buckwheat hulls loose in the bag, due to the zipper being slightly open, letting a few hulls free during the shipping process.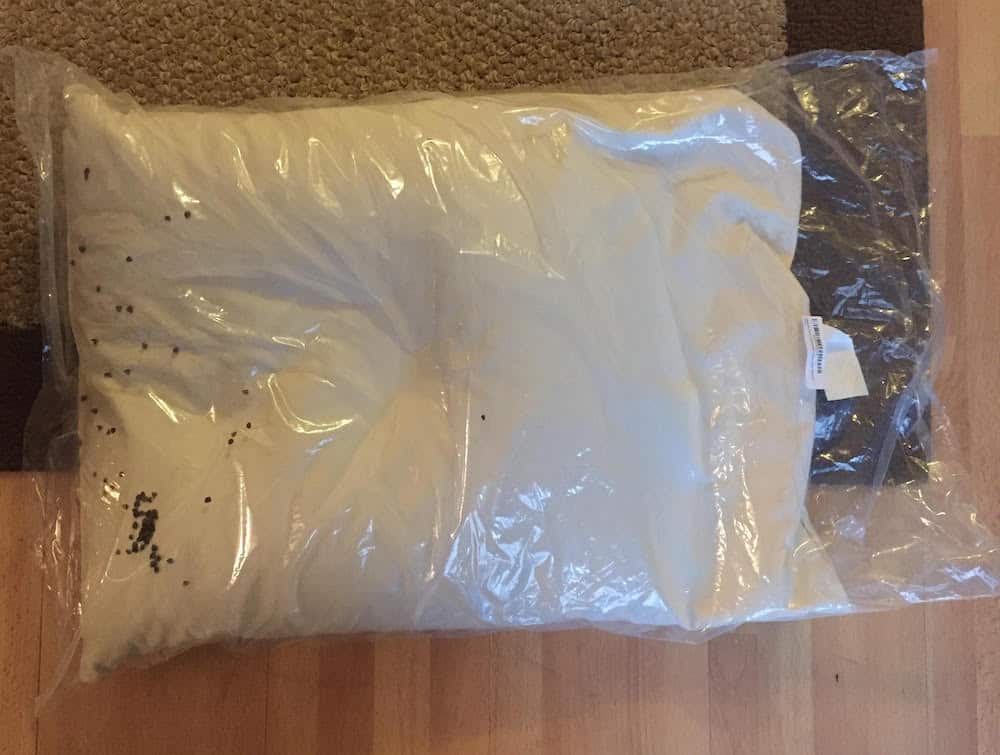 Still, I didn't want a first impression to bias me immediately. Once I opened it (and tightly closed the zipper!) I noticed how soft and smooth the case was. The close care their team puts on quality fabrics definitely shone through.
When I first put my head down, I was surprised to feel less buckwheat filling than I'm used to. My immediate reaction was "I've been skimped!" but I soon realized that with a little more breathing room and space in the pillow, I had a good ability to move the hulls around and create the perfect shape for my head.
And then there was the scent! Most buckwheat pillows I've tried are odorless, but Magnolia Organics has a faint but really nice woodsy smell. It's a little hard to describe, but it is very soothing and subtle.
As for my sleep, I had to get used to the noise at first while I moved around to find the perfect shape. (All buckwheat pillows are susceptible to being a little loud, but I got used to this very quickly.) After a minute or so of adjusting, I felt great, and enjoyed a comfortable and restful night's sleep. When I woke up the next morning, I was in the same exactly position—a nice bonus considering I tend to toss and turn a lot in the middle of the night.
In short: this buckwheat pillow held it's shape, didn't get hot, and had a nice scent to boot.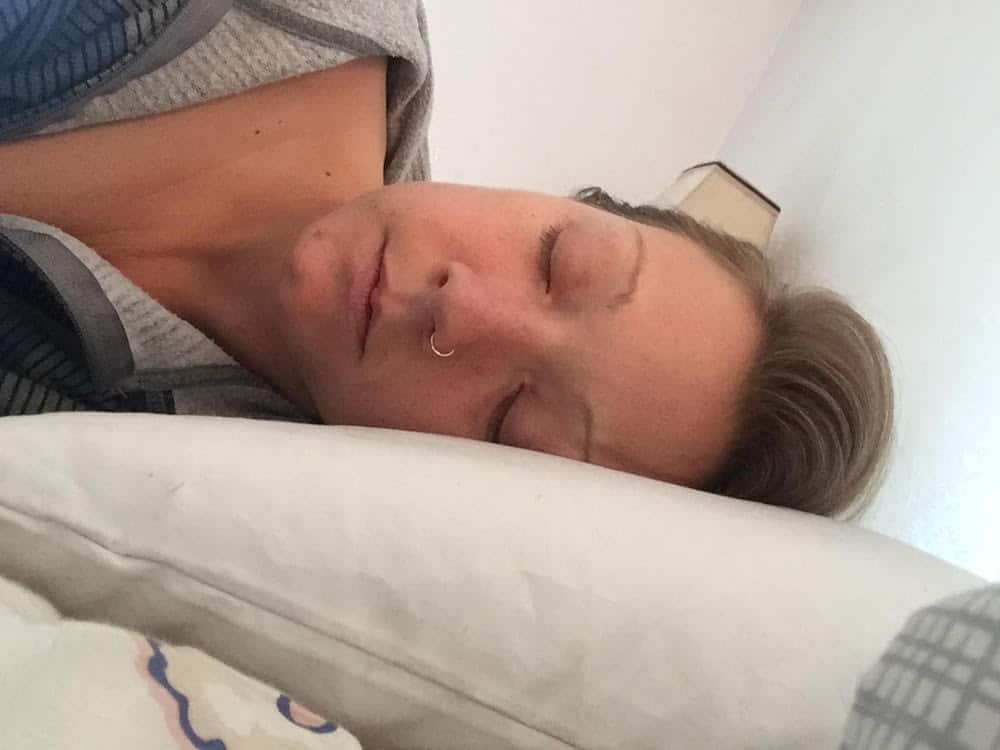 Common praise and complaints
This pillow did not have many reviews online, yet most of them (17 in total) were very positive, and often were about how this pillow helped ease chronic pain:
"Due to some severe morning headaches and neck pain, I decided to give the buckwheat a try. This time I bought a more expensive one. I was very skeptical. Imagine my surprise that both headaches & neck aches disappeared after the 2nd night! And haven't reappeared. I thought the crunch would bother me, but I don't even notice it now. Moral is to stay away from cheap ones. This one was worth the price."
and:
"After waking up with severe headaches every morning that last throughout the day i got this pillow. My headaches are much better though not gone completely. I like that my head doesn't sink all the way down and it supports me. It doesn't flatten like a cotton fill pillow does. I was nervous about the size but i don't even notice it- it is perfect actually."
The negative reviews were mainly around the amount of hulls and the size of the pillow (it sounds like the "small" or "standard" size is the way to go for most—you'll save money, too!)
"I think I need to remove some hulls from mine. As it came, it was far too full and gives me a head and neck ache when lying on it." And: "Too big, wish it were half the size. But it works and solved my morning sore neck."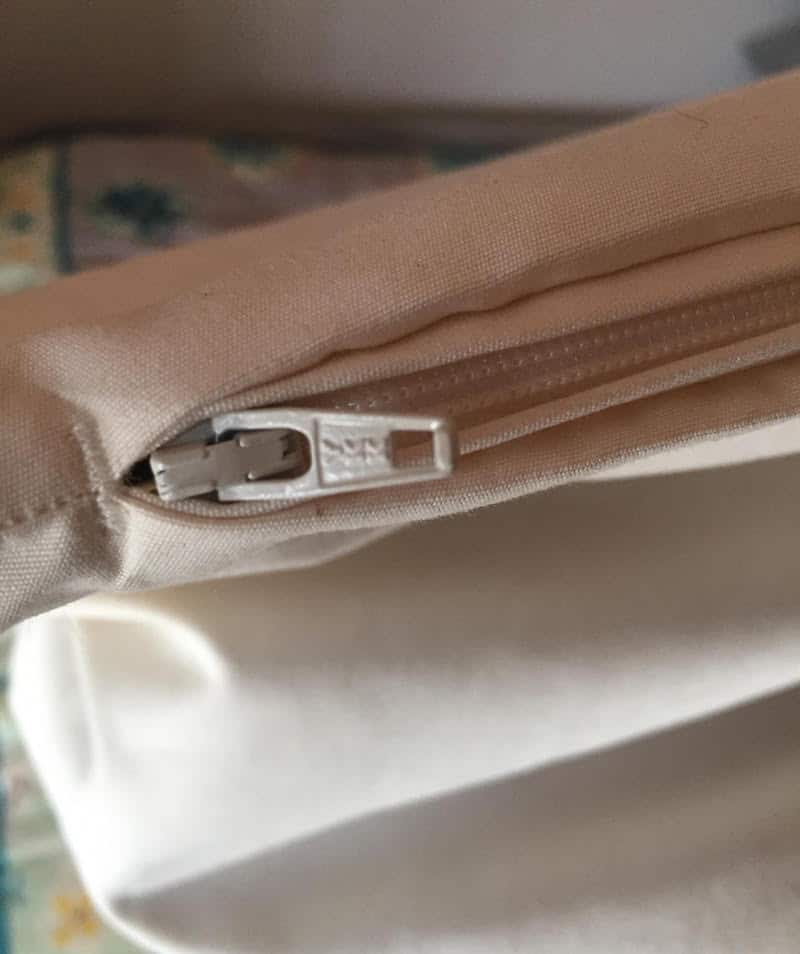 Who should buy it
In the world of buckwheat pillows, you're pretty much in the Yes or No camp. Enjoying and benefiting from a buckwheat pillows really comes down to preference. So if you know you like to sleep on firm things, buckwheat could be a great option.
This pillow is a little bit on the pricey side (currently $45.75 – $75.95) but if you sign up for their newsletter, you get 10% off your first purchase! Here are some other reasons why Magnolia Organics might be right for you:
You care about the environment (a lot): Magnolia Organics takes sustainability seriously, using the best fibers, ethical partners, and organic everything. You can tell they really care about being eco-friendly. According to their site, they "live and breathe natural fibers so that we can provide the highest ethically produced products at the most affordable prices for you."
You want to support a family business: Magnolia is a family-run company that has been in business with organic cotton for over 10 years working. If you like to buy local and support small, family businesses, Magnolia is a great choice.
You have chronic headaches: Many of the reviews about Magnolia Organics explained how the pillow helped cure headaches and other types of chronic pain. If you also suffer from head and neck issues, this could be your ticket to recovery.