Side sleepers—listen up! This innovative pillow could be your ticket to one of your best night's sleep. The Tri-Core Cervical Pillow claims to be good for all people, but especially beneficial to side sleepers.
The pillow conforms to the natural curvature of the neck through an indentation in the middle of the pillow, which is called a trapezoid design. This ergonomic (a fancy way of saying "well-designed") shape keeps the head, neck and spine in alignment throughout the night. It also creates two tall side lobes on each side of the pillow and two different neck rolls on top and bottom—all great tools for sleeping on your side. The head position the pillow promotes also helps open obstructed airways, reducing snoring (your partner can thank us later), and could even aid people who suffer from sleep apnea and COPD.
Tri-Core Cervical Pillow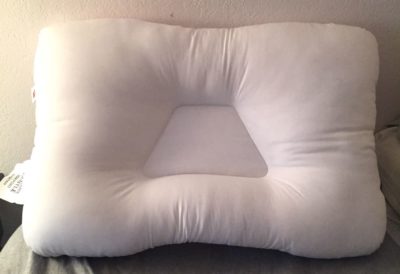 The Tri-Core Cervical Pillow was designed to relieve back and neck pain, particularly for side-sleepers!
Sleepopolis Score
4.30 / 5
Read Full Review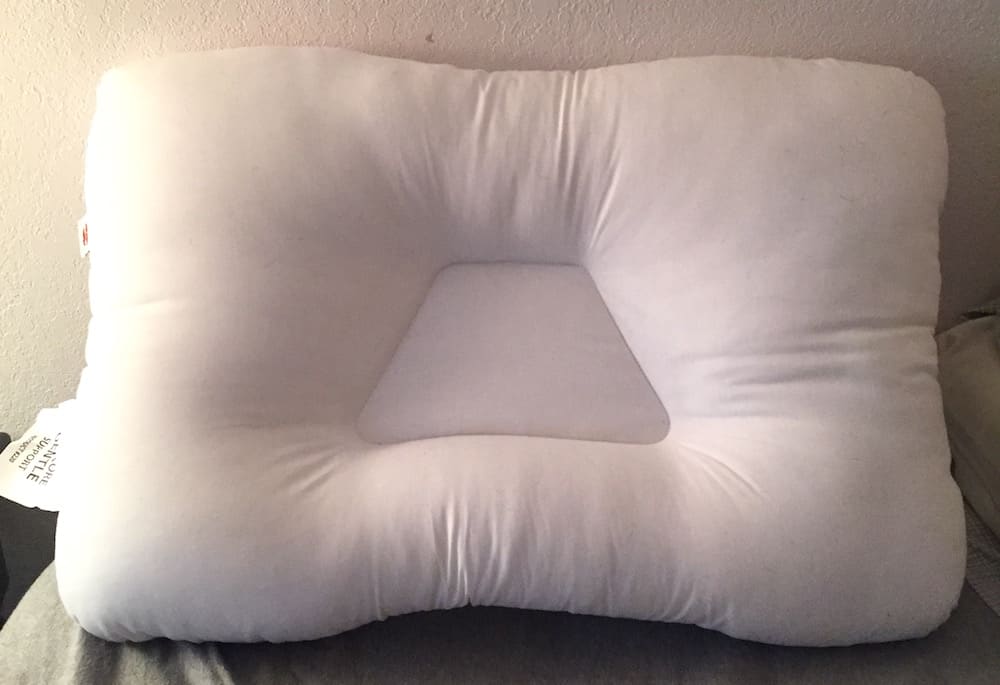 This pillow was originally designed and constructed to help orthopedic patients who were recovering from muscle and joint pain. The success of their sleep led to the pillow emerging on the market for everyone, since the support it provides can benefit all sleepers; a proper sleep position can reduce neck pain, back pain, headaches, and general sleepless nights.
Being a side sleeper myself, I decided to give the Tri-Core Cervical Pillow a test to see if I could get used to its unique shape and actually have a restful night's rest!
The Pillow: Construction and Feel
The Tri-Core Cervical Pillow is filled with a unique hypoallergenic and anti-microbial fiberfill. It claims to have a "down-like feel" to it though it's filled with fiber. My initial reaction to that was, "well, sort of." The pillow stuffing to me felt very firm, versus a down-like feel that has more cushion and softness. It took some time getting used to the firmness since I wanted it to feel softer. Alas, I decided to wait until sleeping on it for a few nights to truly judge.
In addition to its simple plastic packaging, the Tri-Core Cervical Pillow comes with a handy pamphlet with instructions for how to clean it properly. Since the pillow is made of high density fiber, the cleaning process is pretty straightforward: Simply hand wash it with mild soap, and lay it out flat to dry. The cover, made of soft cotton, also claims to be easy to spot clean if you accidently spill anything on it. However, this pillow fits all standard-sized pillow cases, so I recommend putting one on immediately to protect the inner casing and avoid any unnecessary stains.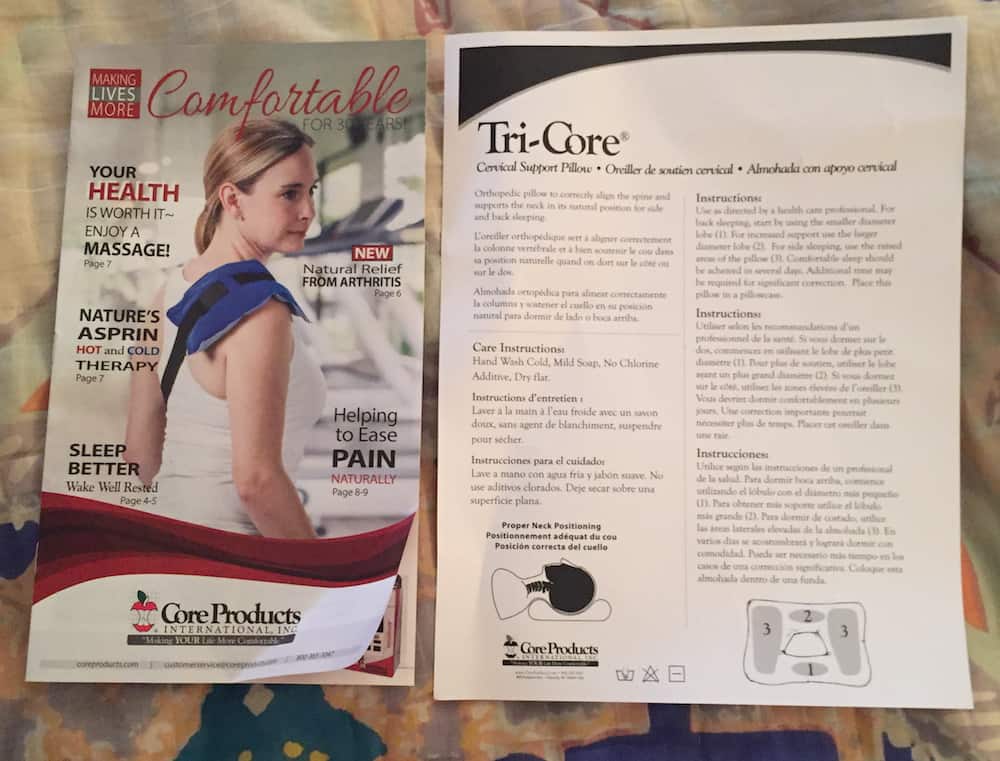 Other details
Made of a hypoallergenic, anti-microbial fiber
Hand-washable
Made in the USA!
Available in three sizes: Standard (24"x16″) Midsize (22"x15″) Petite (19"x12")
My experience
The pillow arrived in a simple plastic bag with two pieces of reading material: a small pamphlet describing how to clean the pillow, and another booklet from CoreProducts that sells other sleep products and includes some wellness articles. I appreciated both pieces of literature, especially the easy cleaning instructions.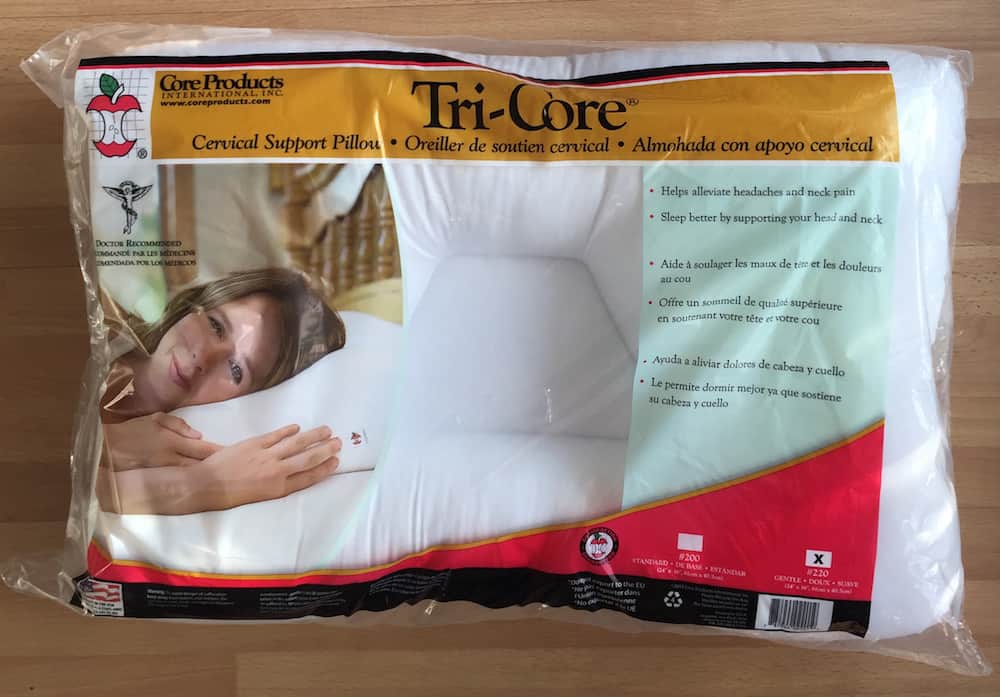 When I first held the pillow, I noticed how firm and thick it was. The fiber filling doesn't have much fluff to it; it felt like a very taut cushion. I also smelled the pillow to see if it had any curious scents, since I read some reviews that mentioned this, but couldn't smell a thing!
I was sleeping on Tri Core's standard size (24"x16") which would be a generous size for most people (However, it's pretty affordable, at $42 for this size). There is ample space in the indented part of the pillow for my head, so I was able to move my head around to either side before making contact with the side-sleeper edges.
Even though I'm a side sleeper, this pillow took a few nights to get adjusted to it. Even then, I'm not convinced this pillow is right for me. This unique shape is not something I've slept on before, so at first it felt like my head was simply sinking into the small hole in the middle of the pillow.
My neck was craned at an angle I'm not used to, and the stiffness of the filling meant the pillow did not have much give. When sleeping on my side, I noticed that my ear felt sore the next morning from pressing into the sides of this pillow, which are not soft. My neck was also stiff upon waking up.
I continued to give this pillow a chance for about a week, but could never really get used to the pillow's design (although the neck stiffness did go away). Maybe it's not the right size for me, or maybe it takes longer to break in. But I concluded that the pillow is such a unique shape that my body wasn't going to get used to it and sleep freely right away.
Last thing to note: I'm personally not a stomach sleeper, but if you are, this pillow is most likely not for you. It's specifically made for side and back sleepers, and doesn't do as good a job supporting people who sleep on their stomachs.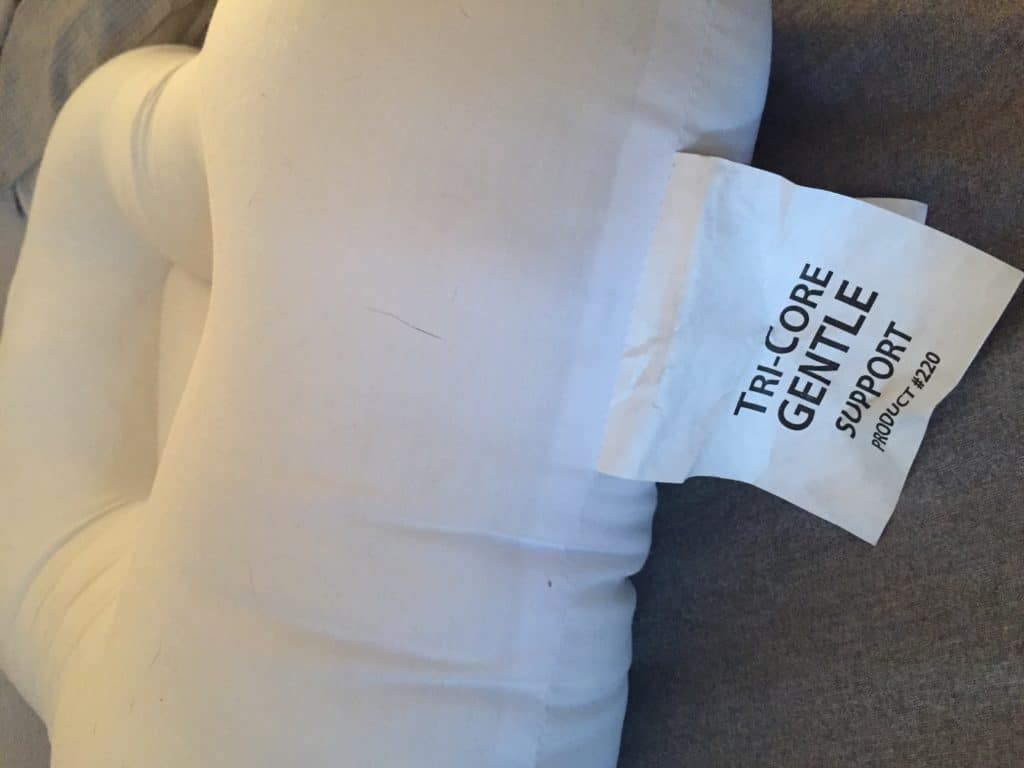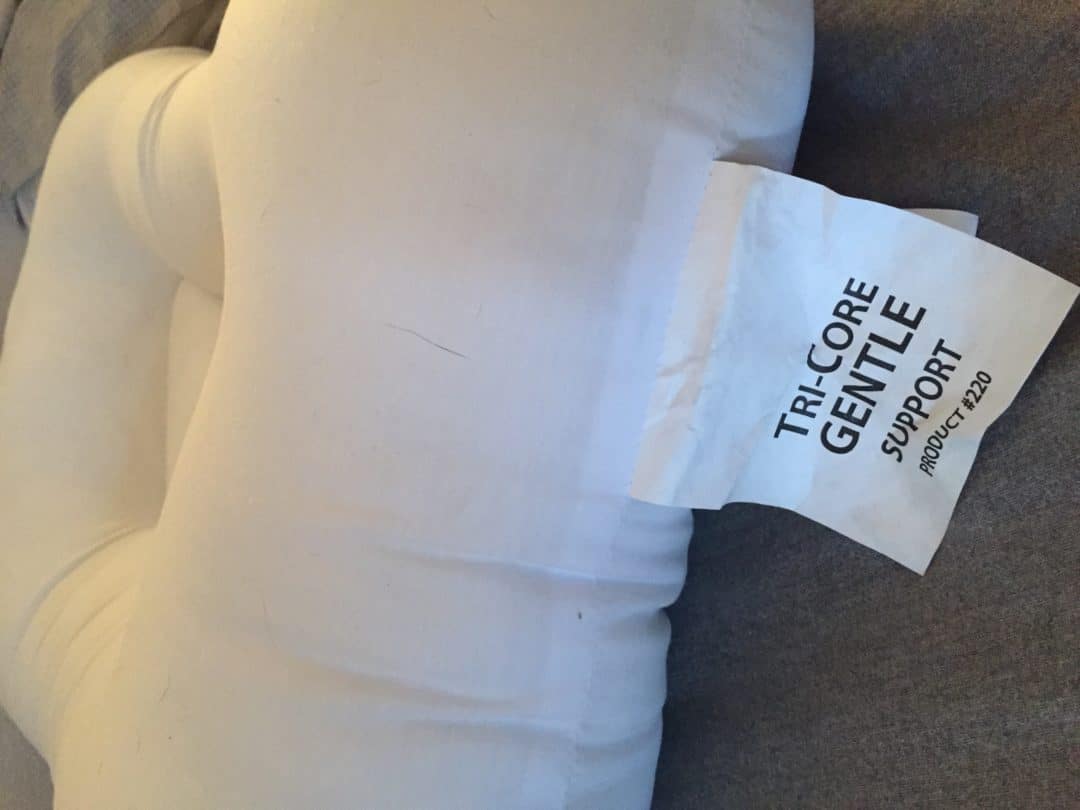 Common praise and complaints
Despite my experience, a lot of people had great things to say about the Tri-Core Cervical Pillow, especially when it came to head and neck pain:
"I can tell you that I am waking up a lot less at night and after a few weeks of use, my neck feels a whole lot better."
"I have had chronic back pain for more than twenty years and this pillow seems to have solved that problem. I am used to falling asleep in pain, waking up in the middle of the nights and being so uncomfortable that I'd have to shove another pillow on one side of my body to get through the night. Not anymore! I've only had this pillow for less than a month but I feel the drastic difference! I cannot say enough about how much it has helped me."
There were also many who identified as side sleepers, and made a point to say it worked for them, but might not work for everyone:
"Being a side sleeper, I started my quest by narrowing down the search to pillows that claimed support for someone like me. I can tell you that I am waking up a lot less at night and after a few weeks of use, my neck feels a whole lot better. I can't say that I'd recommend this pillow…because we are all different sleepers…but I can say that it worked for me."
However, there was another camp of people who actually claimed the pillow made their aches and pains worse:
"I have issues with my (cervical) neck to shoulders and tried chiropractor, massage therapy, changed my mattress, stretch, yoga, etc. Moreover, I was recommended to change my pillow. I chose this cervical pillow to keep my spine alignment correct. However, this pillow is very uncomfortable. The pillow stuffing feels like basic stuffing similar to a dog toy. I tried the pillow for 7 days, on the 4th day it made my back ache in different areas then what I started with. On 4th day I could not bare another night."
"I've never experienced neck pain like I experienced the first night of sleeping on this pillow. I had the worst headache of my life when I woke up."
Needless to say, if you suffer from a medical condition, you should consult your doctor to find the best pillow for you.
Who should buy it
Due to many positive reviews, despite my own experience, this pillow could be worth it—especially if you're curious and want to try something different. This pillow could especially be a fit if:
You're a side or back sleeper – This pillow was specifically made for side and back sleepers due to the ergonomics and four sides created through the trapezoid design. The two thick sides are supposed to support for side sleepers, and the wide, top and bottom neck rolls help people who sleep on their backs. I'm not a back sleeper so I can't attest to this, but maybe you can!
You've had chronic sleep issues – This pillow was originally designed for patients suffering from chronic pain due to sleep alignment. If you've had any history of soreness, pain, discomfort, or even insomnia, the Tri-Core Cervical Pillow could help soothe many of your symptoms.
You want to try something different – The unconventional design of this pillow is a curiosity for some and a drawback for others. If you want to make the leap and try something new to see if it leads to a better night's rest, and if you have patience and are willing to let your body really adjust to this overtime, you are in luck.
Ready to buy? Grab the Tri-Core pillow on Amazon!
Tri-Core Cervical Pillow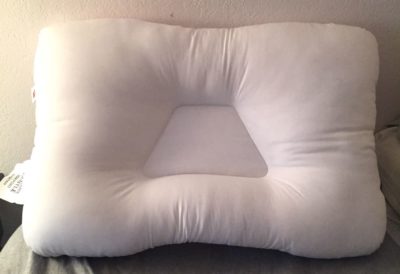 The Tri-Core Cervical Pillow was designed to relieve back and neck pain, particularly for side-sleepers!
Sleepopolis Score
4.30 / 5
Read Full Review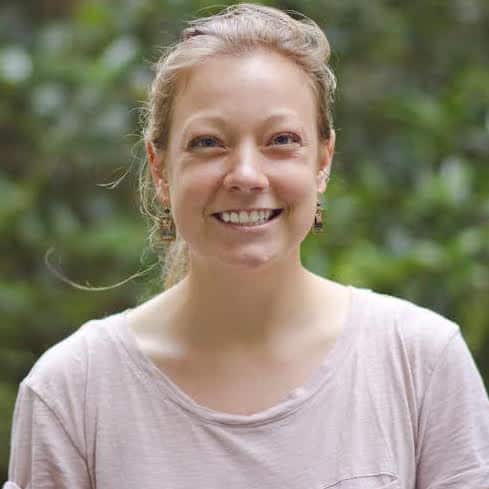 Laura Schwecherl
Laura is a journalist with nearly a decade of experience reporting and covering topics in the health, fitness, and wellness space. She is also a marketing consultant, where she works with impact-oriented startups to build marketing and editorial strategies. Outside of work, you can find her reading Murakami novels, writing amateur poetry, or trail running in her hometown, Boulder, Colorado.