A sleeping bag is one of the most important elements of a great camping experience, particularly in colder weather. Whether you're sleeping out in the backyard with your kids or backpacking in the wilderness, the right sleeping bag keeps you comfortable and helps you get a great night's sleep. If you love sleeping outdoors even in chilly conditions, take a look at my top 4 picks for sleeping bags that keep you warm down to 20 degrees Fahrenheit. I've tested some great models in different price ranges and materials to help you find a sleeping bag that'll keep you nice and toasty when the temperatures dip.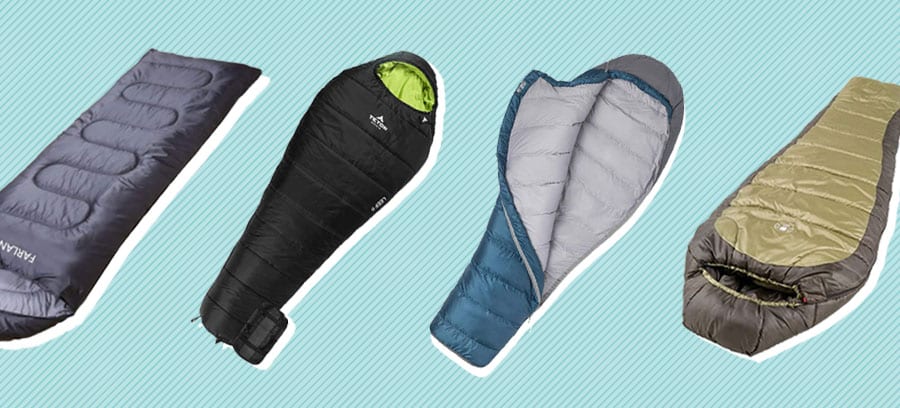 Editor's Pick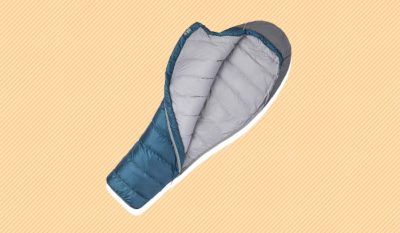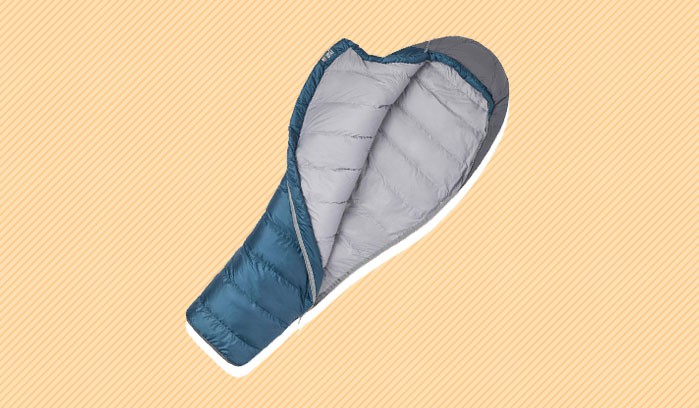 Marmot Ironwood 20 Mummy Lightweight Sleeping Bag
If you're in search of warmth, lightweight loft, and water resistance, check out the Marmot Ironwood 20 Mummy Lightweight Sleeping Bag. 650 fill power down makes this sleeping bag a great choice for folks who like 3-season camping and staying cozy.
Pros:
Breathable material. If you're used to feeling overheated in other sleeping bags, the Marmot Ironwood's airy insulation helps campers sleep warm but not hot
Warm when wet. This sleeping bag is treated with Down Defender, which keeps the down from clumping or losing its loft when wet
Shape. The Marmot Ironwood allows enough space to move around comfortably without sacrificing warmth
Cons:
Price. The price tag on this sleeping bag may be high for folks who only camp on occasion
Color options. For this price, I would expect a few more color choices
Best Lightweight Sleeping Bag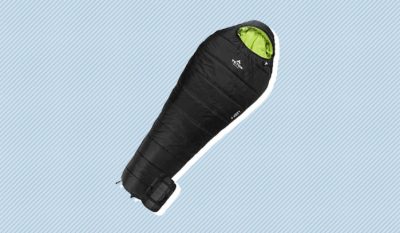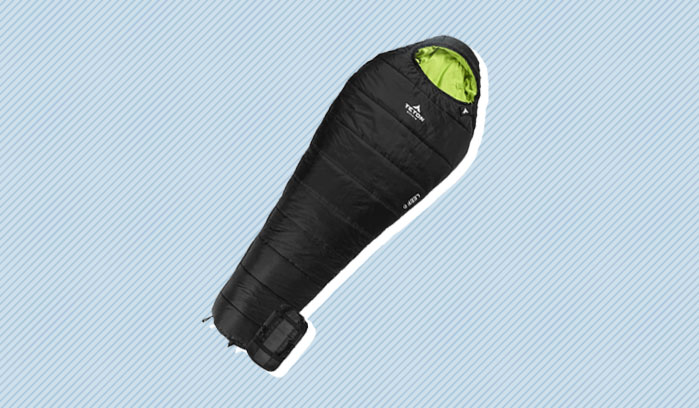 TETON Sports LEEF Lightweight Mummy Sleeping Bag
My choice for best lightweight sleeping bag is the Teton Sports LEEF Lightweight Mummy Sleeping Bag. This black and lime green model includes extra insulation in the footbox and a 3 piece hood to keep your head cozy. The Teton Sports sleeping bag weighs only 4 pounds and comes in kids' sizes, as well.
Pros:
No rolling. This sleeping bag comes with a stuff sack for quick and easy storage
Light. The Teton Sports model packs a lot of lofty warmth into a very lightweight package
Affordable. This model offers a lot of valuable features for a very reasonable price tag
Cons:
Stuff sack. After a few uses I noticed frayed stitching on the stuff sack, which could be a bit more durable
Velcro patch. The patch that covers the zipper is about as sturdy as the stuff sack, which is to say, not very
Best Down Alternative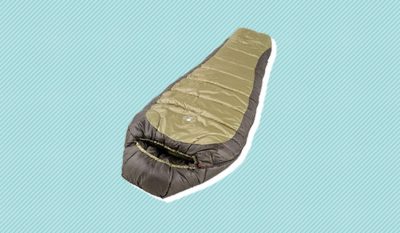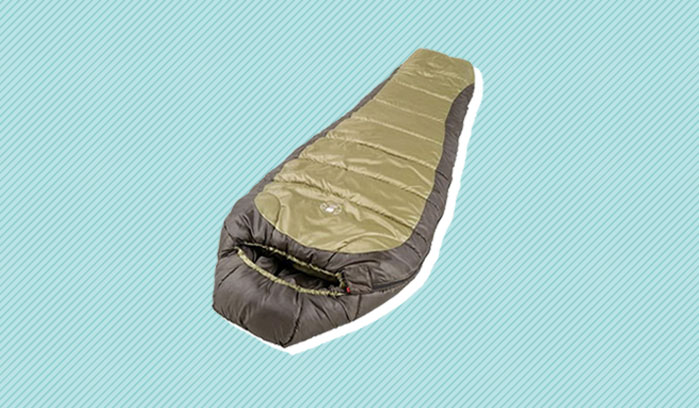 Coleman 0°F Mummy Sleeping Bag
My pick for best down alternative sleeping bag is the Coleman 0°F Mummy Sleeping Bag. This sleeping bag features quilted construction and an insulated footbox to keep feet warm on frigid nights. The bottom can be unzipped to provide additional ventilation for folks who sleep hot.
Pros:
Hood. The shaped hood fits the head nicely and tightens with a drawstring for warmth
Zipper. Unlike many sleeping bags I've tried, the Coleman zipper doesn't catch the lining when opening or closing
Width. If being able to easily change sleeping positions is important, this sleeping bag is a good option
Cons:
Tough to store. This sleeping bag doesn't crush down as easily as many other models I tested
On the small side. The Coleman may be a little too short for folks over 6 feet tall
Best Budget Option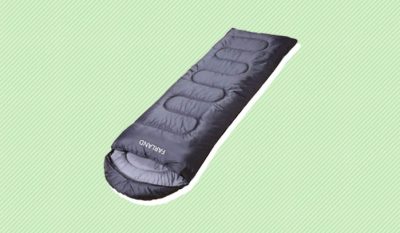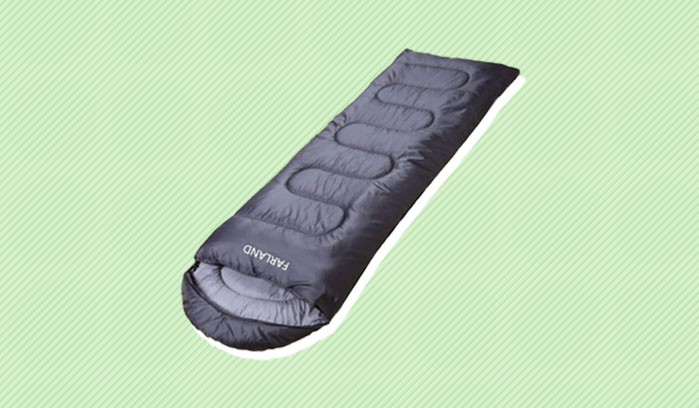 My nod for affordability goes to the Farland Sleeping Bag. This down alternative sleeping bag feels warm down to 20 degrees Fahrenheit and fits campers up to 6'10". Comes in multiple color and pattern options and your choice of right or left-side zipper.
Pros:
Colors. The Farland bag comes in neutral colors and brights as well as camo and charcoal with red, and is a great choice for kids and teens
Price. This sleeping bag is one of the most attractively priced of all the models I tried
Roomy. The rectangle shape is a good option for folks who find mummy bags too confining
Cons:
Not as warm as expected. I put this sleeping to the test on a cold early spring night and was chilly. This feels more like a 35-40 degree bag to me, but that will work just fine for most campers
Durability. One seam looks a bit frayed after a few trips through the washing machine. Time will tell how this bag holds up to more use and laundering
How We Picked
Your choice of sleeping bag will be influenced by material, warmth, and weight. Price is also a factor for many folks. When choosing sleeping bags to review, I focused on a few key metrics that are important to consider regardless of the brand or model. These metrics can guide you through the buying process and help you select the perfect sleeping bag for your next camping trip.
Insulating Material
The materials used in a sleeping bag determine how warm it will be, how much it will weigh, and to some degree how much it will cost. The most common materials used in sleeping bags include:
Down – Down is a light, highly insulating natural material typically harvested from geese. It takes up little space and can be compressed easily. Down is rated by fill power, a measure of its loft and insulating value. The down used in most sleeping bags is rated between 500 and 900 fill power. As a general rule, higher fill power equates to a lighter, warmer, and more expensive sleeping bag. Down is typically the lightest insulating material available in sleeping bags. It does not insulate well when wet, however, and may not be the best choice for rainy or damp weather
Synthetics – Synthetic-fill sleeping bags use polyfill, fiberfill, or down alternative for insulation in place of down. Synthetic fill is less compressible and may be heavier than down, but is often machine washable and insulates better when wet
Liner Material
A sleeping bag's interior liner determines how it feels against the skin and, in some cases, how well it insulates and wicks moisture. Popular sleeping bag liner materials include:
Nylon and polyester – Nylon and polyester are used to line the vast majority of sleeping bags on the market. Both materials feel smooth and slippery, and add little if any warmth or insulation. Nylon and polyester are typically inexpensive fabrics and are easy to care for
Fleece – Fleece is a fluffy synthetic fabric often used in bedding and outerwear. As a sleeping bag liner material, it adds a soft, insulating layer that can increase a sleeping bag's overall warmth
Flannel or Cotton – Flannel and cotton are natural, breathable materials that are typically used in traditional-style rectangular sleeping bags. Cotton and flannel may be heavy when wet and are not suggested for use in wet or humid conditions
Shell Material
A sleeping bag's exterior is known as the shell. The following are the some of the most common sleeping bag shell fabrics:
Nylon and polyester – Nylon and polyester are typically used as shell materials in less expensive sleeping bags, and are best suited for dry conditions or car camping
Ripstop – Ripstop is a type of nylon or polyester that includes heavier reinforcing threads to make it stronger and more impermeable. Ripstop is more appropriate for outdoor and colder-weather camping than traditional nylon and polyester
DryClime – As its name implies, DryClime is a water-resistant shell material appropriate for camping in wetter or more humid weather
DryLoft – DryLoft is similar to DryClime but with added breathability. DryLoft can help reduce condensation or moisture inside the sleeping bag, making it feel less humid and more comfortable
The shell of most sleeping bags is waterproof or water-resistant to keep the bag's insulation warm and dry in rainy conditions. Durable water repellent, also called DWR, is a fluoropolymer based coating that may be added to the shell of certain sleeping bags during the manufacturing process. This coating can help fabric repel water but tends to wear off or become less effective over time.
Weight
The weight of a sleeping bag is an important metric to consider if you'll be backpacking or carrying your bag for more than a few minutes. If weight is a factor for you, look for lighter insulating materials and sleeping bags described as light or ultralight. Light bags are generally around 2 to 5 pounds, while ultralight models weigh 1 pound or less. And remember, lighter bags tend to be made of premium materials such as down that may come with a higher price tag.
Sizing
Sleeping bags are available in different sizes to accommodate different weights and heights. A sleeping bag should feel sufficiently roomy but not so open that its ability to keep you warm will be impacted. Women's sleeping bags may include more hip space and less shoulder space, but many bags may be used for either gender. Focus less on labels and more on the right shape and size for you.
When shopping for a sleeping bag, choose an appropriate length for your height, and size up if you're in between sizes. Think about sleep position, as well. Side sleepers may need less space than stomach and back sleepers or those who sleep with one arm or leg raised.
Temperature Rating
The temperature rating of a sleeping bag describes how the bag typically performs at a particular ambient temperature. A bag that is rated 20 degrees can be expected to keep the average sleeper warm if the outside temperature is 20 degrees or above. The rating may vary according to manufacturer, and does not take into account weight, metabolism, or clothing.
Many sleeping bag makers now use European Norm (EN) ratings, which are based on a camper using a foam sleeping pad and wearing a hat and base layer made from synthetic material. Bag ratings are certified by independent labs and are as follows:
EN upper limit – Upper limit refers to the highest air temperature at which an average man can sleep comfortably
EN comfort – Comfort refers to the lowest air temperature at which an average woman can sleep comfortably.
EN lower limit – Lower limit refers to the the lowest air temperature at which an average man can sleep comfortably
When looking for a sleeping bag that can stand up to colder weather, check out the materials and buyer reviews in addition to the warmth ratings for a fuller picture of the warmth and comfort you can expect.
And remember — upper and lower limits may not refer to temperatures at which a camper will sleep comfortably. A bag rated 20 degrees might prevent freezing but not allow for comfortable sleeping. When in doubt, choose a sleeping bag designed to keep you warm in temperatures colder than those you expect to encounter.
Buying Tips
Still not sure which sleeping bag is right for you? Keep these helpful hints in mind while browsing:
Consider care – If being able to toss a sleeping bag into a washing machine is important to you, look for a durable model with synthetic insulation that can stand up to repeated laundering
Don't forget style – Like bedding intended for the home, sleeping bags come in a plethora of styles and colors. To make camping even more fun, choose a sleeping bag color or pattern that's both practical and appealing to the eye
Factor in budget – If price is a factor, shop during sales events or choose a lower-priced sleeping bag model from a brand you know and trust
Last Word From Sleepopolis
When selecting a sleeping bag that can stand up to cold weather, know the weight and temperature rating that will work best for your needs. Choose material designed for chilly conditions and pick a size that suits your sleep position and body weight. And if price is a consideration, try to time your purchase for sales season or choose a cost-effective model from a reputable brand.
Rose MacDowell
Rose is the former Chief Research Officer at Sleepopolis. An incurable night owl, she loves discovering the latest information about sleep and how to get (lots) more of it. She is a published novelist who has written everything from an article about cheese factories to clock-in instructions for assembly line workers in Belgium. One of her favorite parts of her job is connecting with the best sleep experts in the industry and utilizing their wealth of knowledge in the pieces she writes. She enjoys creating engaging articles that make a difference in people's lives. Her writing has been reviewed by The Boston Globe, Cosmopolitan, and the Associated Press, and received a starred review in Publishers Weekly. When she isn't musing about sleep, she's usually at the gym, eating extremely spicy food, or wishing she were snowboarding in her native Colorado. Active though she is, she considers staying in bed until noon on Sundays to be important research.