A baby blanket is a childhood essential, a symbol of warmth and peaceful sleep. The right blanket can become a well-loved favorite that comforts your baby and lasts for years. Blanket fabrics include airy natural fibers and cozy microfleece, while colors range from classic pastels to cute and colorful patterns.
From materials to style to price, baby blankets come in a wide array of options. With so many to choose from, how do you pick the perfect one? Read on. I've rounded up four of my top selections to help you find a cuddly baby blanket you and your child will love.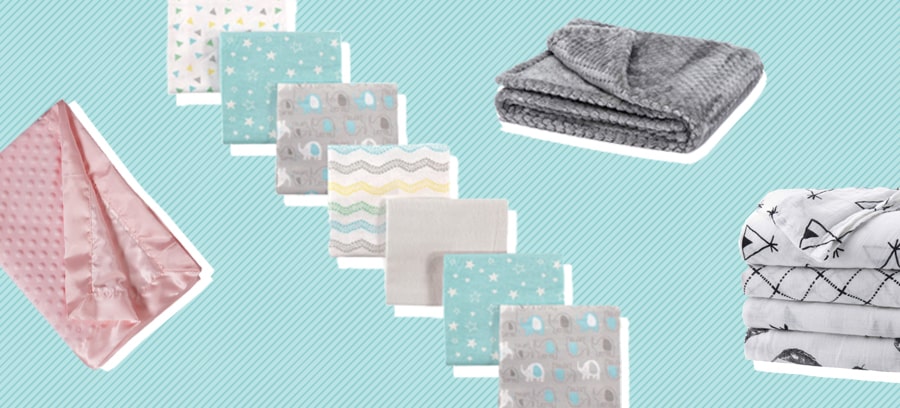 Editor's Pick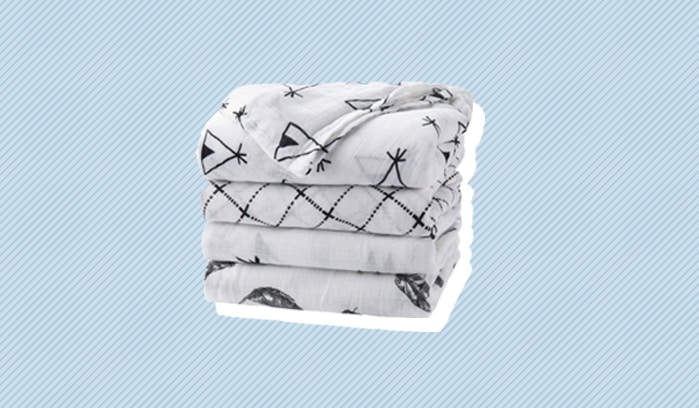 upsimples Baby Unisex Swaddle Wrap
The upsimples Baby Unisex Swaddle Wrap is my choice for overall quality, value, and design. This blanket's cooling, all-natural muslin is machine washable and a must-have for warmer weather. The upsimples blanket is a generous 47×47 inches and is made from 70% bamboo and 30% cotton.
Pros:
Design. The classic pattern can be used for any child and has a fun, whimsical look
Fabric. This blanket is soft, made of natural material, and double-layered for comfort and durability
Breathable. The upsimples swaddle wrap is airy and moisture-absorbing, essential fabric features for babies who tend to feel too warm under heavier materials
Cons:
Delicate. The light muslin is ideal for swaddling but fragile — air-drying may help it last longer
Stretchy. The fabric's natural stretch may make it difficult to maintain a secure wrap for swaddling
upsimples Baby Unisex Swaddle Wrap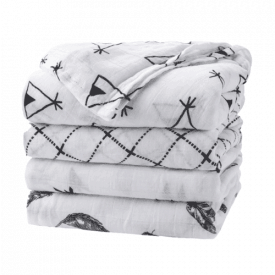 The upsimples Baby Unisex Swaddle Wrap has soft breathable fabric in a whimsical design.
Sleepopolis Score
4.80 / 5
Best Flannel Blanket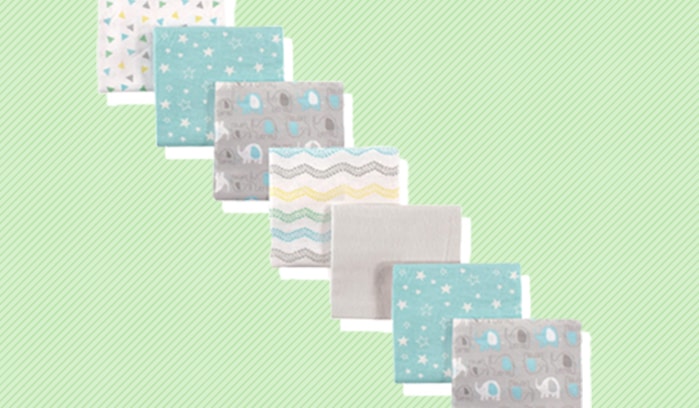 Luvable Friends Unisex Baby Cotton Flannel Blanket
Flannel fans, rejoice. The Luvable Friends Cotton Flannel blanket is a cozy throwback to a time when flannel was durable, soft, and made from 100% natural fibers. This machine-washable cotton blanket comes in 23 adorable colors and patterns and measures 30×30 inches. Best of all, each set includes 7 blankets so you'll always have a clean spare.
Pros:
Lightweight. This blanket is great for summer months and warmer sleepers, and the airy fabric is a cinch to throw in the washer and dryer
Pattern options. The bright, fun pattern choices include birds, elephants, smiling clouds, and hearts
Affordable. This blanket offers adorable designs and 100% natural material at a budget-friendly price
Cons:
Too small for swaddling. This blanket is a bit too small for swaddling, but makes a great warm layer  
Durability. The seams appear fragile and may not hold up to repeated washings and heavy use 
Luvable Friends Unixex Baby Cotton Flannel Blanket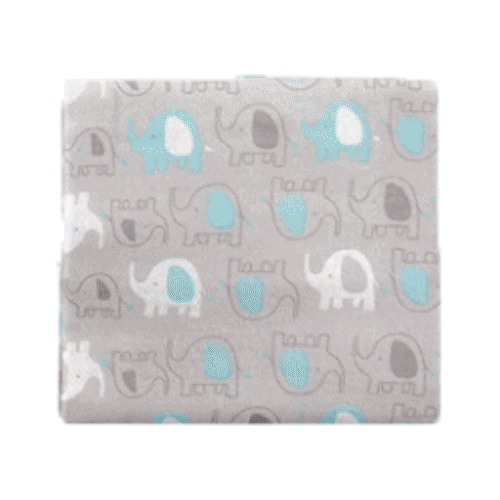 The Luvable Friends Unisex Baby Cotton Flannel Blanket is lightweight and comes in an array of fun pattern options.
Sleepopolis Score
4.70 / 5
Best Budget Blanket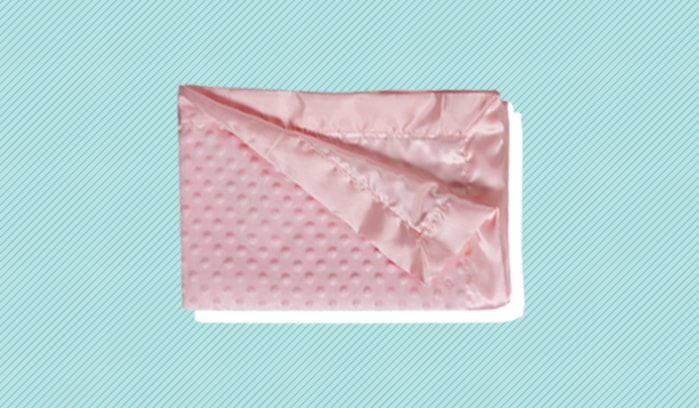 Hudson Baby Unisex Plush Mink Blanket
The Hudson Baby Unisex Plush Mink Blanket is a solid choice for parents on a budget who value softness and style. This satin-trimmed dotted blanket is made from 100% polyester microfiber and comes in 13 colors and patterns. The Hudson Baby blanket measures 30×40 inches and is machine washable.
Pros:
Design options. The Hudson MInk Blanket comes in classic colors like light blue and pink as well as 10 cheery patterns
Price. This blanket would be a great buy at twice the price
Fabric. The microfiber material felt smooth and cozy on my skin and still looks bright and brand new after several washes
Cons:
On the small side. This blanket is a great option for infants but may not be generous enough for older babies
Thin. The fabric is soft but feels a bit on the lightweight side — we'll see how it holds up over time
Hudson Baby Unisex Plush Mink Blanket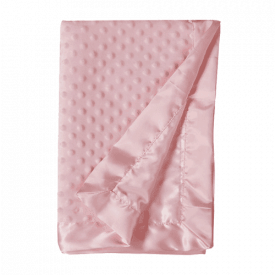 The Hudson Baby Unisex Plush Mink Blanket uses a cozy microfiber fabric and comes in at a great price.
Sleepopolis Score
4.80 / 5
Best Fleece Blanket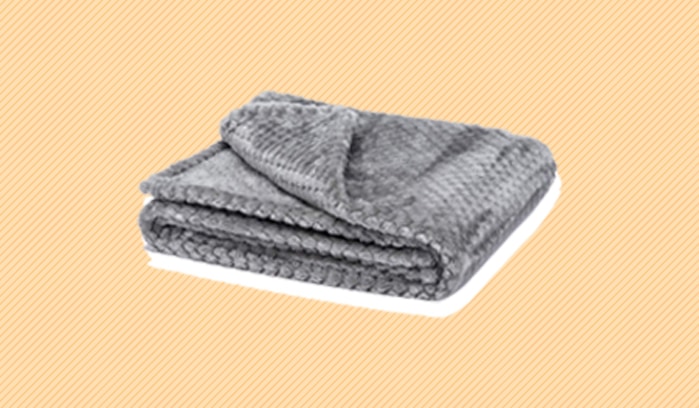 Wonder Miracle Cozy Fleece Blanket
If your baby loves the warm, plush feeling of fleece, check out the Wonder Miracle Cozy Fleece Blanket. This 28×40 inch blanket features warm textured fleece on one side and luxuriously fuzzy sherpa fleece on the other. Available in 15 colors and patterns, including plaids, purple, and gray.
Pros:
Hypoallergenic. The Wonder Miracle blanket is made without phthalates or other potentially harmful chemicals. This could be a great pick for babies with sensitive skin or allergies
Durable. I put this blanket through its paces with plenty of use and rounds in the washing machine, and it came through without loose threads, tears, or wrinkles
Size options. This blanket is also available in 40×50 inches, 40×60 inches, and throw size for older children, pets, or parents
Cons:
Lint. The Wonder Miracle is big on warmth, softness, and lint. Hopefully the shedding will decrease with a few additional washes
Warm. This blanket's natural warmth will be a pro for some babies, but could be a downside for infants who need a little more breathability
Wonder Miracle Cozy Blanket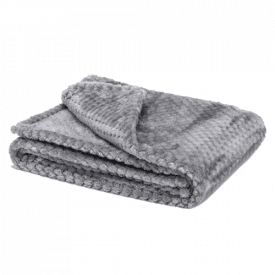 The Wonder Miracle Cozy Fleece Blanket is durable and hypoallergenic.
Sleepopolis Score
4.60 / 5
How We Picked
In choosing baby blankets to review, I looked closely at a few important metrics. These are common to all baby blankets, no matter the material, design, or cost. When selecting a blanket for your child, consider the following:
Types of Baby Blankets
The most common types of baby blankets include:
Swaddling blankets – These types of blankets are designed to wrap a baby in a firm bundle, also known as a swaddle. Swaddling can make babies feel calmer and more secure. Some studies show that swaddled babies sleep longer and more deeply and feel less anxious. Swaddling may mimic the feeling of being touched, which most babies find soothing
Receiving blankets – A receiving blanket is a lightweight blanket that is typically 1 square yard long. These all-purpose blankets are designed for putting under a baby on a changing table or carpet, or for catching spills during feedings
Thermal baby blankets – These types of blankets are intended to keep a baby warm when in a stroller, hanging out in a baby swing, or during supervised sleep sessions. These blankets are typically around 20-30×40 inches in size and come in a wide array of materials, colors, and designs
Fabric
The fabric used for a baby blanket helps to determine how it feels and how long it will last. Common blanket fabrics include:
Cotton – Baby blankets may be made from 100% cotton or a cotton blend that includes materials such as bamboo or polyester. Cotton blankets typically have a breathable, airy feel and may be quite long-lasting depending on weave and quality
Microfiber – Microfiber is made from fine strands of polyester and is known for its smooth hand-feel and moisture-wicking properties. Microfiber baby blankets may be less breathable than those made from natural fibers and are a better choice for babies who tend to feel cold. Microfiber is often a less pricey blanket material and one of the most durable
Polyester – Polyester is used in baby blankets as a primary material or part of a fabric blend. Polyester is a lightweight synthetic that often costs less than natural fibers such as cotton or bamboo. Other benefits of polyester include durability and resistance to wrinkling
Design
Baby blankets come in a huge range of colors and styles. Pastels are popular color choices, as are fun patterns that include flowers, animals, and cartoon or film characters. Darker colors made from easy-care fabrics may be less likely to stain. Solid colors can coordinate with any outfit or bedding, making them a practical and classic buy.
The weave of a baby blanket varies, as well. Tighter weaves often feel warmer and may be less breathable depending on the fabric. Looser weaves are appropriate for warmer days and babies who feel too hot under denser material. Blankets may also feature design details such as scalloped edges and raised patterns.
Price
When choosing a baby blanket, I looked at options in a number of different price ranges. Synthetic fabrics such as microfiber have made many blankets more affordable and put cozy, durable options in reach of almost any parent.
The cost of a baby blanket varies depending on size, design, and material. Blankets made from organic or chemical-free fabrics are often pricier, as are those manufactured in factories that have received OEKO-TEX certification or use environmentally sensitive production methods. Luxury fabrics such as cashmere or silk blends will typically come in at the top of the price range.
Buying Tips
Still not sure which blanket is best for your child? Consider the following tips to help you decide:
Keep your baby's needs in mind – Cool sleepers may prefer a warmer material like microfiber, flannel, or a wool blend, while warm sleepers may do best with an airy natural fabric such as cotton
Know how you'll use it – Will the blanket be your baby's primary cozy layer or one you reserve for travel or trips to the park? The more you plan to use a particular blanket, the more durable and easy-care it should be
Check the return policy – Many blankets can be returned or exchanged if your baby doesn't respond well to the fabric or you prefer a different material or design. Know the manufacturer's policy on returns before you buy
Make sure to measure – Baby blankets vary in size by model and manufacturer. Before purchasing, know how many inches of fabric you need to fully cover or swaddle your baby
FAQs
Are baby blankets safe to use in a crib?
Due to dangers from Sudden Infant Death Syndrome (SIDS) and suffocation, pediatricians recommend that no blankets or bedding of any type be used in cribs. Baby blankets can be used for swaddling and when a baby is awake, and should only be used under supervision.
Which blanket is best for a baby with allergies or asthma?
Look for hypoallergenic and/or organic materials that are manufactured without chemicals or other respiratory irritants. Blankets from manufacturers that have received OEKO-TEX certification for textile safety are good options for sensitive little ones.
How often should a baby blanket be washed?
A thorough washing 1-2 times per week is the general recommendation for baby blankets and bedding. Soiled blankets and bedding should be washed immediately.
Last Word From Sleepopolis
A baby blanket can help your child feel more secure and comfortable any time of day. The right blanket can serve a number of functions, from swaddling material to thermal layer during an outing in the stroller. To choose the right baby blanket, keep material, price, and durability in mind, and let your baby's needs and preferences inform your decision.