A bassinet is a bed built specifically for babies from birth to about four months (at which point they're typically transferred to a traditional cradle). It's often a mobile structure, designed to sit bedside so parents never have to be too far away from their kiddos. Though the bassinets of yore were typically made of simple wicker baskets, nowadays, these accessories are souped up with music capabilities, night lights, motion features, full-on swivel technology, and much, much more! But do you need a lot of tech to snag a lot of comfort for your little one? Well, I'm so glad you asked.
In this guide, I'm going to introduce you to the best bassinets on the market. They range from the classic to the ultra-modern, employing an array of different features to lull your newborn to sleep. After we explore my picks, I'll also be sharing the methodology I used to select them, so you know exactly what factors to consider when shopping for your own. Plus, I'll be rounding out this guide with a few expert tips to improve your buying experience.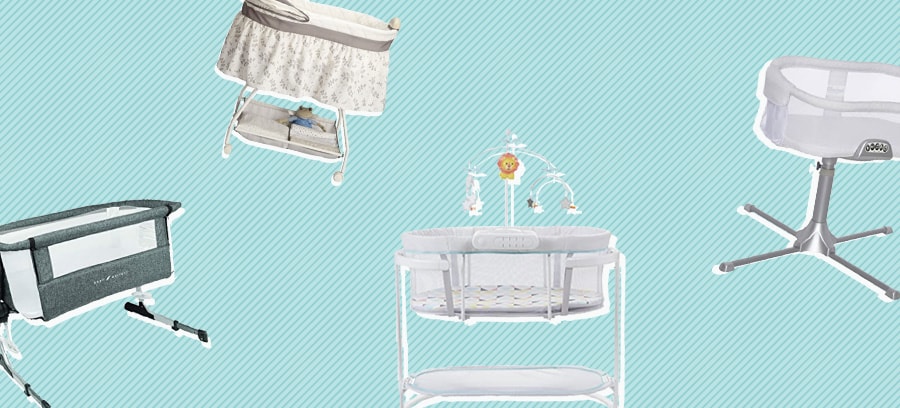 Best Motion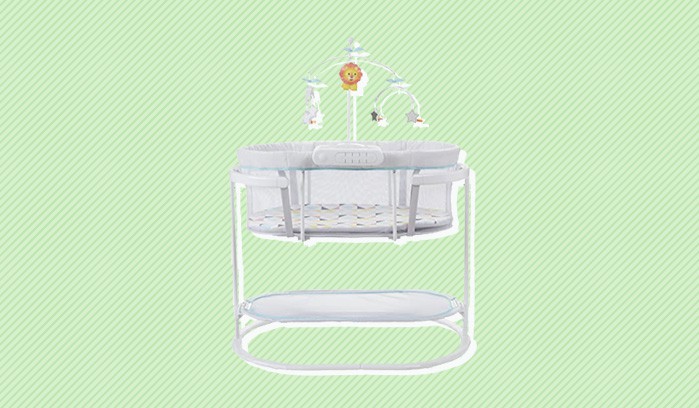 Fisher-Price Soothing Motions Bassinet
If you're looking for a bassinet that will rock and sway your little one to sleep, you may want to consider the Windmill Bassinet from Fisher-Price. This accessory is outfitted with a lot of cool features, including not only the soothing rocking motion, but nature sounds, gentle music, and dual mode lighting. Definitely a solid pick for those in need of a little extra tech. 
Pros
Parents who want a teched out bassinet could find a lot to love in this Fisher-Price model, as it's built with music, lights, and motion. 

It's also priced fairly well, especially when compared to other bassinets on the market. 

In general, this is a great, simple option that could satisfy folks looking to really stretch their dollar. 
Cons
Some commenters complain that the rocking motion is a little jerky, so may be something for you to take notice of once you purchase. 
Fisher-Price Soothing Motions Bassinet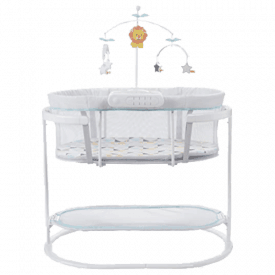 Fisher-Price Soothing Motions Bassinet
The Fisher-Price Soothing Motions Bassinet has built in music, lights and motion capabilities and comes in at a fair price.
Best Swivel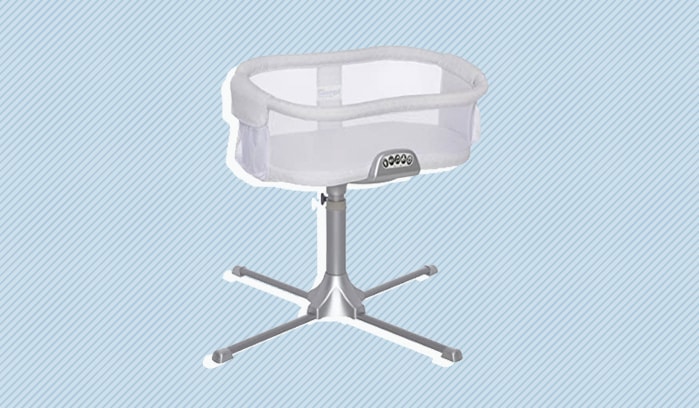 Halo
Though most bassinets are stationary, there are a few whose main baskets can actually swivel in place for easier use. And of those mobile options, my personal favorite is this bassinet from Halo. Meant to be placed bedside, this accessory can rotate 360 degrees, a range of motion that's unlike anything else on the market. Could be especially useful for nursing parents! 
Pros
If you're looking for a swivel bassinet, this could be a great fit for you! 

The bassinet also features a polyester cover, which means it's easy to clean. 

I also like that there are two storage pockets attached to the bassinet, so you can safely secure all your newborn essentials. 
Cons
Some folks complain that the bassinet causes babies to turn onto their sides, which can be dangerous.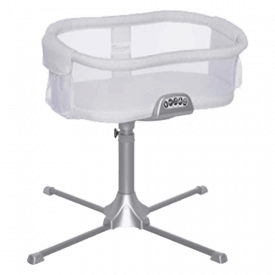 The HALO Bassinest Swivel Sleeper features an easy to clean polyester cover and features two storage pockets to safely secure you essentials.
Best Bedside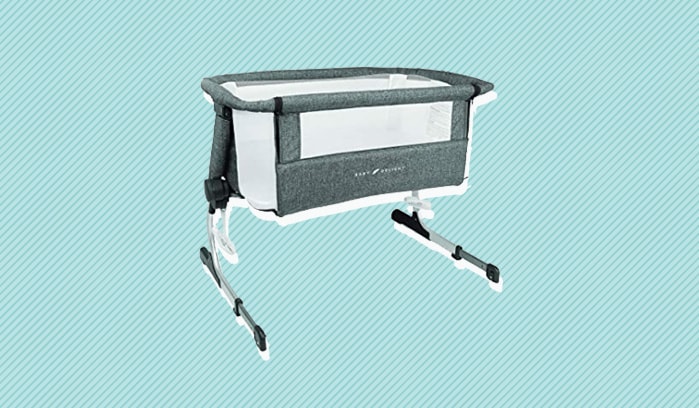 Baby Delight Beside Me Dreamer Bassinet
In need of a simple bassinet that will sit snuggly next to your bed? Well then, this beauty from Baby Delight might be the one for you. A straightforward, sturdy design keeps the baby secure while allowing you to access them with little more than a turn to your side. Plus, the bassinet has six height adjustments, so can be modified to fit all different sorts of beds and surfaces. 
Pros
I think this bassinet could be great for folks who want something basic, well-made, and easy to assemble. 

It's also priced fairly well, marking it as a solid option for folks on a tight budget. 

All in all, this is a nice, lightweight option for parents who simply want a bassinet to keep their little one safe. 
Cons
There aren't a lot of bells and whistles to this bassinet, so may not be the best fit for folks in need of something a little more souped-up. 
Baby Delight Beside Me Dreamer Bassinet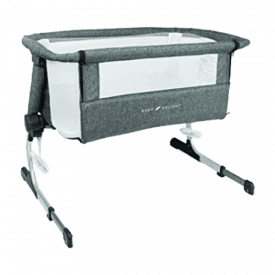 Baby Delight Beside Me Dreamer Bassinet
The Baby Delight Beside Me Dreamer Bassinet is easy to assemble and has a nice lightweight design.
Most Affordable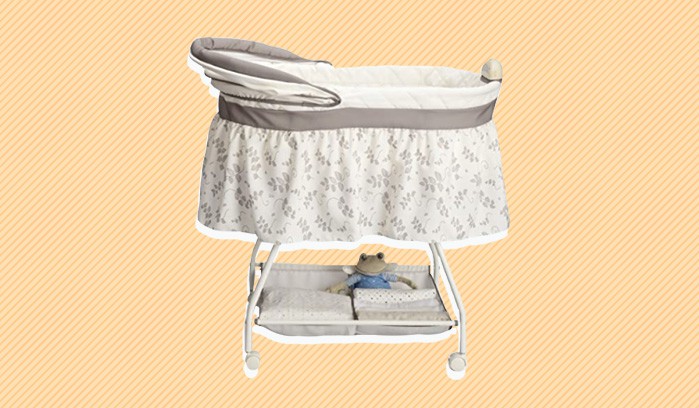 Delta Children
Bassinets can be quite expensive, but you don't have to spend an arm and leg to land on a good one. Take the Sweet Beginnings Bassinet from Delta Children, an affordable model that brings a lot of comfort (and support!) to the table. Here, you'll find a classic hooded design, music features, night lights, and a below deck storage caddy, all at a wallet-friendly price point. 
Pros 
Budget shoppers could find a lot to love in the relatively low cost of this bassinet, especially when compared to other options on the market. 

It doesn't get more classic than this design, which features a top hood and below deck storage caddy. 

In general, this could be a solid, no-frills pick for parents looking to snag a more traditional bassinet. 
Cons
Some customer reviews suggest that this bassinet is a little wobbly, which could be a big problem for some folks.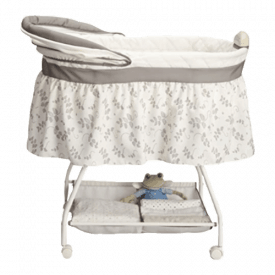 The Delta Children Deluxe Sweet Beginnings Bedside Bassinet has a solid, no-frills design for those looking for a traditional bassinet.
How We Picked
Now that we've gone over my picks, let's chat a bit how I picked them! In this section, I'm going to detail all the factors I consider when searching and shopping for a bassinet.
Use
Firstly, you'll want to consider how you're going to use the bassinet. Do you want it to be right beside your bed or tucked away in a corner? Do you want it to rock, make noise, play songs, flash lights? Or, do you simply want a standard design that'll keep your little one snug and secure? Once you've figured out how you're going to use this accessory, you'll be able to hone in on exactly the kind of bassinet you need.
Support
Regardless of the bassinet you go with, you'll need to make sure that it's able to support your newborn in a healthy position. A bassinet is meant to be used during some of the most vulnerable months of your baby's life, so it's crucial to find one that will keep your child safe.
To that end, you'll want to land on a bassinet that prevents your baby from rolling onto its side. This can cause the face to turn onto the cover, resulting in life-threatening suffocation. Obviously this can be incredibly dangerous, so you'll want to avoid this at all costs.
One way to do this is to choose a bassinet with an ultra-firm sleeping pad. The firmer pad, the more supportive it will be. An even, flat surface will further help to keep your baby on its back while they snooze. Also, try to avoid any spaces between the walls of the bassinet and the sleeping pad. These spaces can prove dangerous for young kiddos.
Weight
When shopping for a bassinet, you'll also want to think about the weight of the overall structure. If you want to be able to use this device in multiple rooms, you'll need a lightweight option either made of plastic or a lighter metal. This way, you can lift the bassinet into the bedroom, living room, or kitchen, depending on your needs.
To find out what the bassinet is made of, simply toggle over to the "details" or "construction" section of the item. There, it should list all the materials used along with the weight and overall dimensions of the bassinet.
Durability
Durability is another major factor to think about when shopping for a bassinet. You want this to be a super stable structure, so skimping on the durability is not something I would recommend. Take a look at how the joints of the device are connected together and whether or not any users have complained about wobbles or creaks.
I'd pay extra close attention to the description of the bassinet here. Buzzwords like "reinforced" are going to indicate that the structure is a little more secure than your run-of-the-mill bassinet.
Certifications
Another way to ensure that your bassinet is safe and stable is to look out for any certifications it might have. A JPMA certification is a popular one that signifies that the bassinet passes certain safety credentials as laid out by the Juvenile Products Manufacturers Association. You may also see a CertiPUR-US certification, which tells you that the materials used are chemical and toxin-free.
But not all certifications are created equal, so make sure you do a little research beforehand to make sure the credentials are legit.
Sleepopolis Tips
To round out this guide, I'm going to provide you with a few tips and tricks you can use to improve your search!
There's a big difference between making a one-time bassinet purchase for a single child and investing in a bassinet for multiple generations of children. So, keep that in mind as you search. If you're planning to make this an investment piece, you may want to spend a little more money on a higher quality product.
You'll also want to keep warranties in mind! The truth of the matter is that not every bassinet is going to work for every kiddo, so I recommend going with a brand that's backed by a strong warranty.
If you're not a particularly handy parent, you'll want to go with a bassinet that's easy to set up. Read user comments to learn about assembly and opt for a bassinet that can be built without tools!
FAQs
How long can you put a baby in a bassinet?
Most experts agree that a baby can stay in a bassinet until it starts to move around and pull up, which is generally around four months.
Is it safe for a baby to sleep in a bassinet?
Definitely! If the bassinet is sturdy, stable, and supportive, it can be a great sleeping environment for a newborn. Once they get bigger, though, they'll want to move to a crib.
What is the best bassinet for a newborn?
The best bassinet for a newborn is one with a firm sleeping pad and stable base. This will help to prevent the baby from rolling over, which can cause suffocation.
Is a crib safer than a bassinet?
Both a crib and bassinet are safe for newborn babies. However, most experts agree that a bassinet should only be used for babies from birth to about four months.
Wrapping Up
Well folks, you've officially made it to the end of this guide! When shopping for a bassinet of your own, make sure to think about how you're going to use it, what you want to be made of, and whether or not it's safe for your newborn baby. Then you'll be well on your way to securing the bassinet of your dreams.