So you're looking for the perfect bean bag, but you're not sure where to start. Well, these unique pieces of lounge furniture come in all different shapes, sizes, and materials, and finding the right one can be tricky! That's why I'm presenting up the top four best bean bags right here in this guide. Plus, I'll let you in on my personal tips and tricks behind bean bag shopping so you've got all the information you need to make the best buying decision.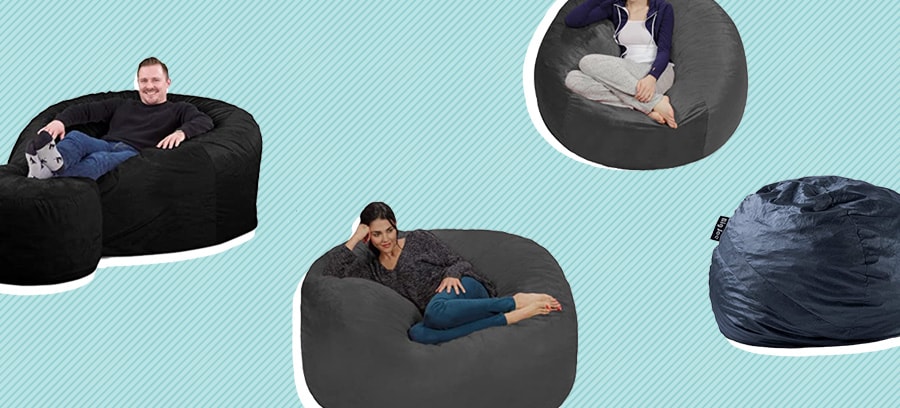 Editor's Choice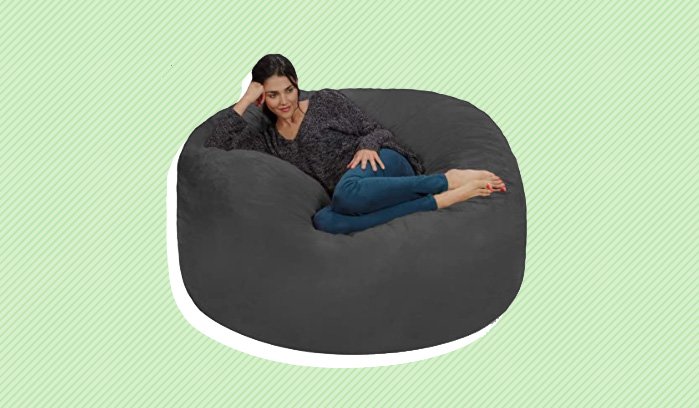 Chill Sack Memory Foam Bean Bag Chair
Stuffed with shredded memory foam and covered in microfiber, this big bean bag is super soft and supportive. Plus, its oversized design is perfect for adults, or a couple of kids looking to cuddle together.
Pros
Its shredded memory foam fill is plush yet supportive, and does a great job of maintaining its loft over time.
This bean bag is oversized, and can be enjoyed by kids or adults. Plus, it comes in a variety of fun colors for folks looking to get creative with style.
Its microfiber cover fabric is soft, removable, and can be washed and dried by machine.
Cons
If you're looking for something small or just for kids, this bean bag is probably going to be a bit too big for you. 
While its dimensions are big enough for tall adults, keep in mind that this bean bag doesn't come with a foot stool.
Chill Sack Memory Foam Bean Bag Chair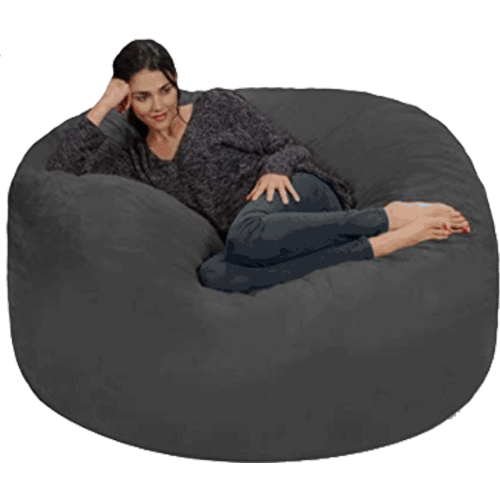 The Chill Sack Memory Foam Bean Bag Chair uses memory foam for a plush yet supportive feel!
Sleepopolis Score
4.20 / 5
Best for Couples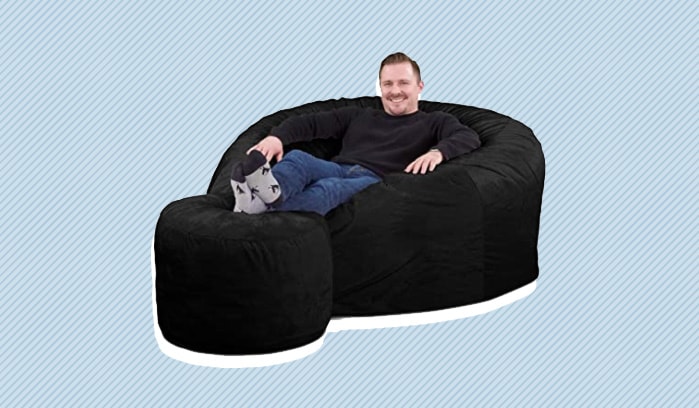 Ultimate Sack Bean Bag Chair with Foot Stool
Couples looking to cozy up in a big, plush bean bag should definitely give this one a try. It's stuffed full of foam, covered in soft microfiber, and measures at about 6-feet in diameter.
Pros
Whether you're sharing it with a partner or prefer to lounge solo, this bean bag is big enough to meet your needs. Not only is it about 75-inches wide, but it comes with a footstool too!
Its microfiber cover fabric feels velvety-soft on the skin, and is easily removable and machine washable.
It has an all-foam filling that's plush, cushiony, and supportive, perfect for folks looking to sink into their bean bag.
Cons
While it's a good deal for its size, this bean bag is not going to fit within everyone's price range. 
Folks shopping for smaller spaces might find that this bean bag and footstool combination is too big and bulky. 
Ultimate Sack Bean Bag Chair With Foot Stool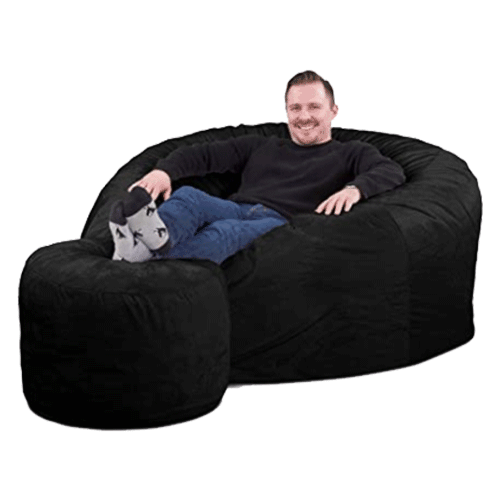 The Ultimate Sack Bean Bag Chair has plush all-foam filling and is big enough to share with a partner!
Sleepopolis Score
4.30 / 5
Most Affordable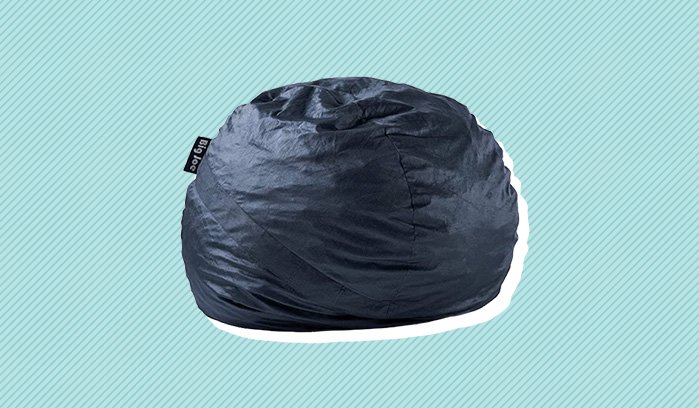 Big Joe Fuf Foam Filled Bean Bag Chair
This bean bag is covered in a proprietary fabric that's silky-smooth to the touch, and filled with supportive shredded foam. Additionally, it comes at a very reasonable price, and is ideal for shoppers on a budget.
Pros
This bean bag is filled with upcycled foam and covered in an eco-friendly fabric, both of which are made here in the U.S.A.
If you're looking for a standard size and circular design, this bean bag is probably the right fit for you. It's not big or bulky, and can easily be moved from room to room.
Shoppers on a budget will be glad to know that this bean is very affordable, especially considering its high quality.
Cons
Couples looking to share a bean bag should search elsewhere, as this is only big enough for one person at a time. 
This bean bag can take up to a full week to completely expand and reach its full loft. 
Big Joe Fuf Foam Filled Bean Bag Chair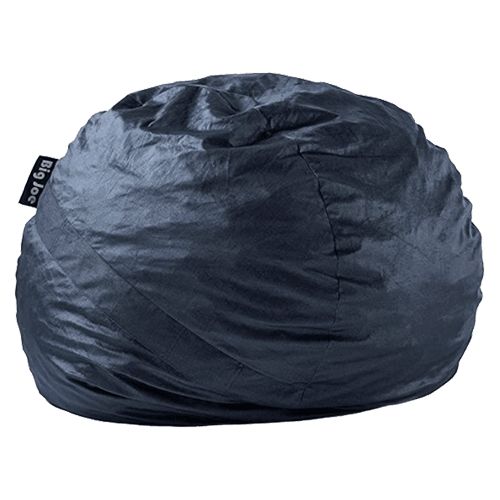 Big Joe Fuf Foam Filled Bean Bag Chair is a great affordable option for shoppers on a budget!
Sleepopolis Score
4.60 / 5
Best for Kids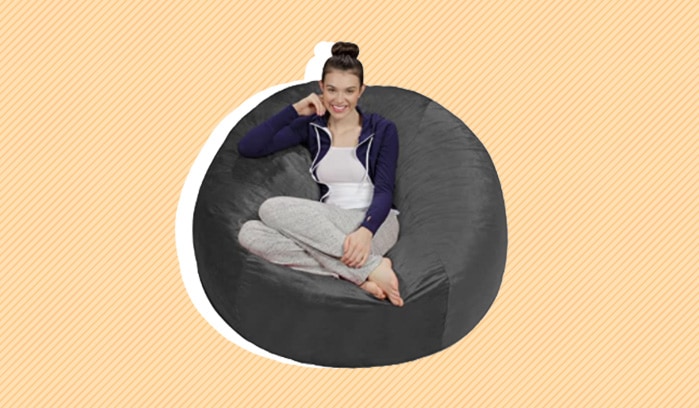 Sofa Sack Memory Foam Bean Bag Chair
This medium-sized bean bag is filled with memory foam, covered in microsuede, and perfect for a kid's room. Plus, it comes in over a dozen vibrant colors for those looking to experiment with style.
Pros
This bean bag is a bit less than 5 feet in diameter, and has a sleek, circular design that's ideal for small spaces or kids' rooms.
Kids and teens are sure to enjoy the variety of fun colors from which to choose. Plus, the cover fabric is made from microsuede, a material known for its velvety-soft feel.
If you shy away from bead-filled bean bags, you'll probably love this one's supportive memory foam feel.
Cons
Keep in mind that this is a medium-sized bean bag that's probably too small for most adults. 
This might be a bit more than some shoppers are looking to spend on a kid's bean bag.
Sofa Sack Memory Foam Bean Bag Chair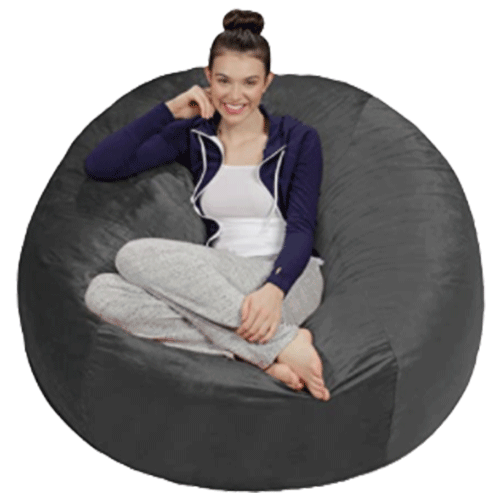 The Sofa Sack Memory Foam Bean Bag Chair comes in a variety of colors and is a great choice for kids and teens!
Sleepopolis Score
4.40 / 5
How We Picked
Okay, folks, now that we've seen my personal favorite bean bags, let's dive into the methodology behind my picks. A lot comes down to personal preference, but there are a few key factors to consider when you're searching for the one that'll meet your wants and needs. Let's take a look.
Fabric & Filling
It might seem obvious, but the first things to consider when you're shopping for a bean bag are the materials used to make it! From the cover fabric to the internal filling, the material details tell you a lot about its overall feel and support. And in the world of bean bag furniture, there are a few main players:
Memory Foam – Memory foam is known for its dense, moldable feel, and is one of the most popular bean bag fillings. Many shoppers look specifically for memory foam because it tends to offer firmer support, and does a great job of maintaining its shape over time. If you're looking for a bean bag that feels more supportive than plush, memory foam might be the right pick for you.
Shredded Foam – Shredded foam is another material you'll frequently encounter, but it's important to note that it's not the same as memory foam. Memory foam is a specific type of foam, whereas "shredded foam" is a generalized term that could refer to polyfoam, or even a proprietary blend of materials. Typically, bean bags filled with shredded foam are softer and cushier as compared to memory foam, but it's important to check the listed "materials description" to get the best sense of the exact construction.
EPS – When you think of bean bag filling, you might immediately picture little Styrofoam-like beads. Those beads are made from a material called expanded polystyrene, also known as EPS. They offer that classic, sink-in feeling that you may be familiar with, but can also be less durable as compared to foam.
Each bean bag filled has its own perks and pitfalls, so take some time to determine which one might be the right fit for you. Personally, I prefer memory foam because it's super supportive and lasts a long time.
Meanwhile, the cover fabric is what you'll feel directly on your skin. Microfiber, cotton, and polyester are the most common, but you might occasionally find fleece and faux fur options as well. So, again, take time in determining which fabric feels best to you!
Size & Weight
Once you've landed on the fabric and filling that work for you, it's time to consider size and weight. As I said, each bean bag comes in a different size, and it's important to pick the one that's going to accommodate your body best.
For example, if you're shopping for a small child, you might want to save on space and go with a kid-sized bean bag. On the other hand, adults should make careful note of the bean bag's exact dimensions before making their purchase. In fact, I suggest opting for the "oversized" bean bags, as those are usually built for at least one adult.
Couples or those planning to use their bean bag as a substitute for a couch should definitely aim for larger models that are at least 60-inches wide. Personally, I have a bean bag that's about 67-inches wide, and it comfortably seats two people. Just keep this in mind — the bigger the bean bag, the heavier it'll be. So if you pick a big one, make sure you've got a friend to help you carry it into the house!
Construction & Versatility
Another important detail to consider is versatility, as each bean bag's construction offers a different function. For example, some come with armrests, while others are simply circular. Some bean bags come with foot stools, while others are more rectangular and couch-like. So when you're shopping, just remember that not every bean bag is designed the same way.
Taller or heavier folks might want to aim for bean bags that offer a foot stool or armrest, as these features allow you to stretch out a bit more. But if you live in a small apartment and space-saving is your biggest concern, you might want to stick with the traditional, circular construction.
Wash Care
One of the tricky things about bean bags is they're never machine washable, which means you need to spot clean them as needed. However, bean bags usually have removable cover fabrics that can be washed and dried right at home. So, while you're not going to be able to just throw the whole bean bag in the washing machine, take comfort in the fact that you can keep its cover fresh and clean.
That said, certain cover fabrics may require special wash care (like faux fur, for example) so it's important that you follow the exact care instruction as given by the manufacturer itself. And, when in doubt, allow your cover fabric to air dry rather than dry by machine (just in case high heat might damage the material).
Pricing
Finally, I consider pricing. As with all furniture, bean bags vary in price, and cost is influenced by materials, size, and popularity of the manufacturer itself. That's why I recommend comparing prices across several brands before making your purchase. But, ultimately, it's safe to assume that larger bean bags are going to cost more than smaller bean bags.
However, memory foam-filled bean bags tend to be a bit more expensive, in my experience (regardless of size). Of course, they also tend to last longer and offer better bang for your buck, so it might be worth the extra dough. Conversely, EPS-filled bean bags are usually much more affordable, but they also might not last as long. So, take some time to sort your priorities alongside your spending budget before you start shopping.
Sleepopolis Buying Tips
Okay, folks, we're almost at the end of my guide. But before you start shopping, let's recap a few helpful highlights that'll guide you in your search:
Dimensions – If you're planning to share your bean bag with a partner, make sure it's big enough to accommodate both of you! I suggest aiming for bean bags that are at least 60-inches wide.
Cover Fabric – To make wash care easier, aim for bean bags that have a removable cover fabric that can be washed and dried from the comfort of your home.
Style – Bean bags come in many different colors and printed patterns, so take some time to pick the style that best reflects your personal aesthetic!
Final Thoughts
Now that you're all experts on bean bags and you've seen my personal favorites, you're well on your way to picking the one that's best for you. Just be sure to keep a close eye on materials, dimensions, and all the little details that appeal to your personal preferences. Happy shopping!