If you're in the market for a new bed canopy, then you may have noticed there are a lot of options — and they all look pretty darn similar and cost about the same. So how do you navigate your way through a sea of lookalikes?
It's helpful to start by deciding whether you want a rectangular or conical bed canopy. After that, you'll want to clarify why you want a bed canopy in the first place. Are you looking to sleep beneath ethereal draping? Are you trying to create a barrier that keeps mosquitoes from crawling into bed with you? The answers to these questions will help guide your search, and so will this roundup of some of the best bed canopies on the market.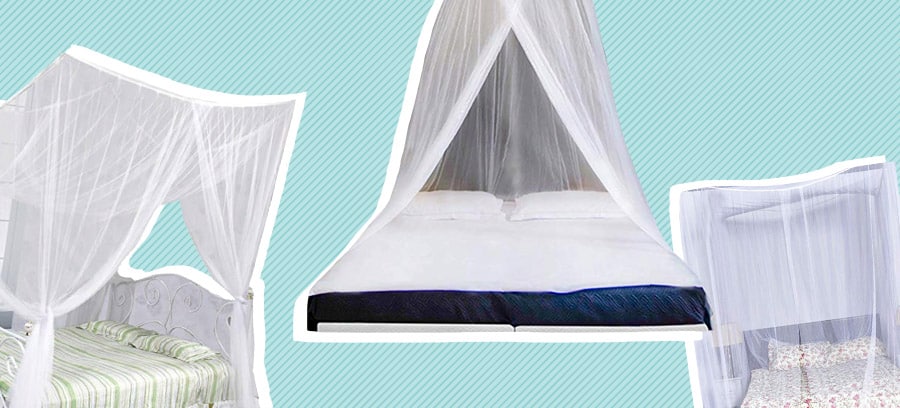 Best Rectangular Canopy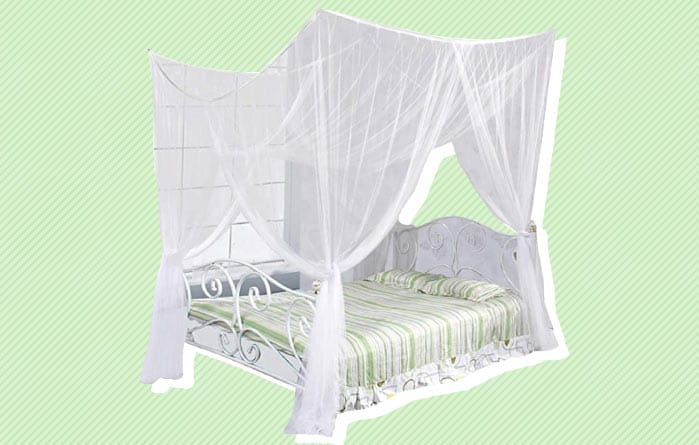 Just Relax Four Corner Post Elegant Mosquito Net/Bed Canopy Set
Pros: 
Two setup options make this more versatile than other canopies. Use the provided hooks to install the canopy directly into the ceiling, or hang it from the corners of a four-post bed frame. 

Fine, lightweight mesh and overlapping openings lend this canopy an elegant appearance. 

The canopy comes with all the accessories you're likely to need, including four hanging hooks and four tie-backs — all for less than $20. 

The canopy is large enough to hang around a King-size bed (without fabric crowding in on the edges of the mattress). 
Cons: 
The soft, thin mesh tears fairly easily and can fall out of place unless it's hung securely. 

If your bed is smaller than a King, you might find yourself frustrated by extra fabric. (It's 98.4 inches in height, 86.6 inches in length, and 78.7 inches wide.) 
Rectangular Contender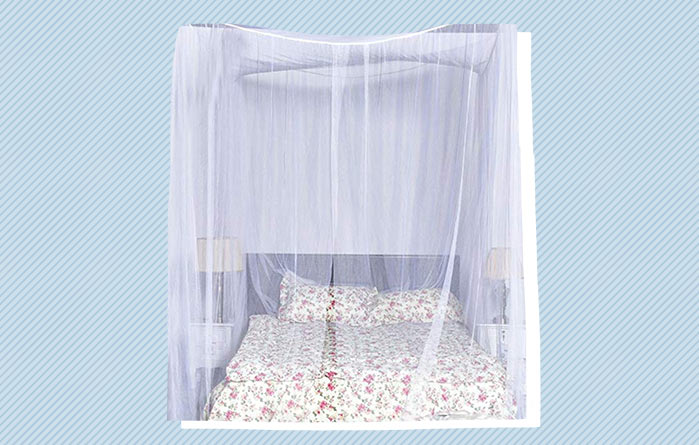 Goplus Mosquito Net/Corner Post Bed Canopy
Pros:

At less than $20, this is a super-cheap way to add a little elegance to your bedroom. 

The durable fabric should hold up to people and pets getting in and out of the bed, making this a longer-lasting bed canopy. 

The installation process is easy, and the canopy should come with all the materials you need to hang it. 

The rectangular design means you can move around in your bed without bumping up against the canopy. 
Cons: 
If you're looking for a functional mosquito net, this may not be your best option. It effectively has eight openings, which makes it hard to create a barrier that keeps out biting insects. 

Depending on the size of your bed, you'll need to fiddle with the arrangement. If you have a Queen-size bed, you might have to deal with some extra fabric. If you have a King-size bed, you might not have as many draping options.
Best Conical Canopy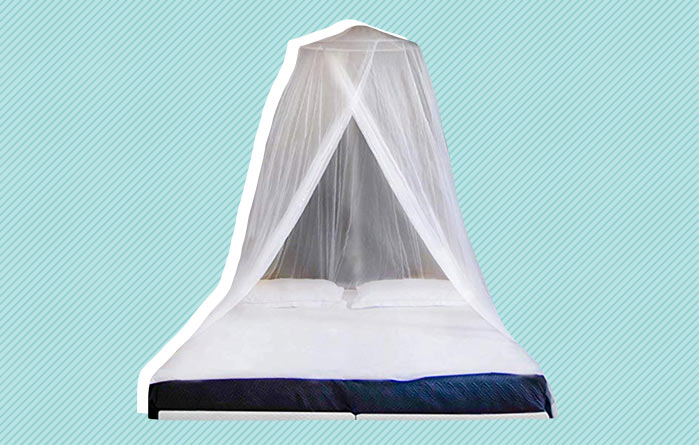 EVEN NATURALS Luxury Bed Canopy/Mosquito Net
Pros: 
The conical design creates a fairy-tale aesthetic for a more whimsical bedroom. 

It's large enough to fit even a King or California King-size bed. 

The tiny holes and minimal openings make this a functional mosquito net if you need it to keep out creepy-crawlies. 

The one-point hanging system makes setup super easy and includes an internal loop from which you can hang a light — so you don't have to crawl out of the canopy to turn off lights at night. 
Cons: 
Because the canopy arrives folded down into a small packing pouch, it can pop out quickly when you first open it. So be ready and keep your eyes away from the pouch! 

Even though the net is marketed as travel-friendly, the one-point hanging system might not be ideal for temporary or unfamiliar settings that don't have a hook from which to hang the net. 
Conical Contender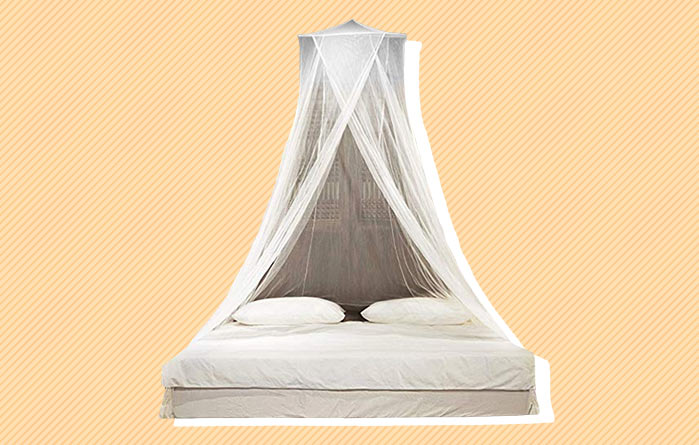 TIMBUKTOO Luxury Mosquito Net
Pros: 
Soft fabric, finished edging, and overlapping entrance points ensure a pleasant drape. 

The pre-installed hanging kit makes setup a breeze. 

The canopy comes with a compact travel bag and (with a little effort) packs down into that bag. This could be a good option if you're looking for a canopy that can travel easily. 

The internal loop lets you hang a light or a small, battery-powered fan in the center of the net, so you can tailor the canopy to your needs. 
Cons: 
Because of the conical shape, the netting lies close to the edges of the mattress, so you might bump into it in your sleep. If you're trying to avoid mosquitoes, this could be an issue because they'll be able to get to your skin if the netting is pressed against it. 

When you first remove it from the packaging, the canopy can have an unpleasant odor. You'll want to let it off-gas for a day or so before setting it up in a sleeping space.
How We Picked
Truthfully, there's not a ton of variation in the bed canopy world. There are a lot of options around a similar price range, and it can be tough to identify exactly what makes these choices different from each other. To narrow down our search, we took the following into account.
Aesthetics
This is all about personal preference, so we can't say that any one of these looks objectively better than another. We selected several different design options so you can choose the one that most appeals to you. As you'll see, differences in aesthetics mostly come down to whether a canopy is conical or rectangular as well as the color, fineness, and weight of the mesh.
Cost
Because canopies look different on every bed and in every setting, purchasing one can be a bit of a gamble. Even if it looks great in pictures, it might not look quite the same in your space. For that reason — and because fine mesh isn't the most durable of materials! — it may be a good idea to minimize your financial investment in a canopy. All of these choices are around $20, so they offer great value for the price.
Function
Many people purchase a bed canopy just because they like the elegant, fairy-tale look that it adds to their bedroom. But some people are also looking for protection from mosquitoes and other biting insects. Depending on which camp you fall into, you'll have different considerations.
In the first case, you'll just want to find a canopy that looks great to you. In the second case, it's a good idea to look for an option with extra-fine mesh and fewer entry points. We included options that should satisfy both types of bed canopy shoppers.
Also, some people might want a canopy that can function in different spaces, from indoor to outdoor and possibly while traveling. In this case, you might want to choose one of the options with a travel case and/or more durable mesh.
Shape
One of the primary distinctions between different bed canopies is whether they're conical or rectangular, which affects both look and function.
Conical options hang from a central point above the bed and open outward from a circular ring. Rectangular options hang either on or above all four corners of the bed, which creates a little more space between the canopy, the bed, and the person or people sleeping in it.
Neither option is technically better than the other; it's just a matter of personal preference. We included a couple of options from both categories to suit different tastes.
Sleepopolis Buying Tips
To help you find the right bed canopy for your needs, consider the following before you buy:
Do you prefer conical or rectangular? This is probably the single biggest distinction that you'll find between different bed canopies. It all comes down to personal preference: Which aesthetic do you like better? Would you be bothered by the canopy mesh touching your skin? (If "yes," you'll probably want a rectangular option.) Do you want the option of hanging a light or fan from the center of the canopy? (If so, then you'll probably want to choose a conical option.)
Where will you hang the bed canopy? Some people use bed canopies on outdoor hammocks or tents, while others want them exclusively for indoor use. In the latter case, you probably won't need to worry too much about durability. But if you want to travel with your canopy or take it outside, then look for a durable option. Also, consider your bed frame and bedroom layout: Do you have a four-post bed that would make using a rectangular canopy a breeze, or do you prefer to hang the canopy from a single ceiling hook?
Are you concerned about creepy crawlies? Many people purchase a bed canopy purely for aesthetic reasons, while others want the canopy to double-up as an insect or lizard deterrent. If you fall into the latter camp, you'll want to choose a canopy with as few entrance points as possible.
There's not a ton of variation between different bed canopy options — and that could make choosing a canopy easier or harder, depending on how you look at it. To narrow down your search, determine whether you prefer conical or rectangular canopies, think about where and how you want to hang the canopy, and consider whether you want the canopy to keep out insects or you just want something that looks pretty. Then give any of these options a try — at just around $20 each, they're pretty risk-free!