Bed risers pack a lot of utility into a small package. If you have a health issue that makes it challenging to get in and out of bed, raising the height of your bed can make things easier. If you're cramped for storage space, elevating your bed by a few inches can open up new storage options. Or maybe you just like the elegant look of a taller bed, or you're sick of your bedding dragging on the floor.
No matter your reasons for wanting to raise your bed, the bed risers on this list should give you some great options to choose from. To find the right risers for you, consider your personal needs alongside safety concerns, budget constraints, and aesthetic preferences. Then, do your research to make sure the options you're considering will fit your bed's feet. Happy hunting!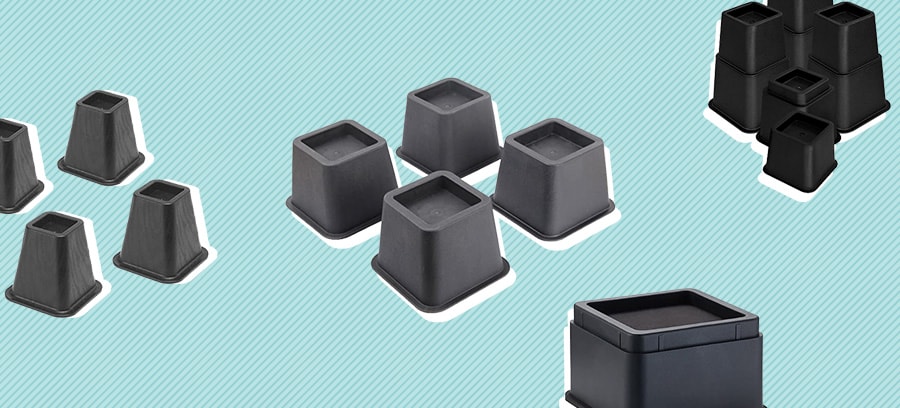 Editor's Pick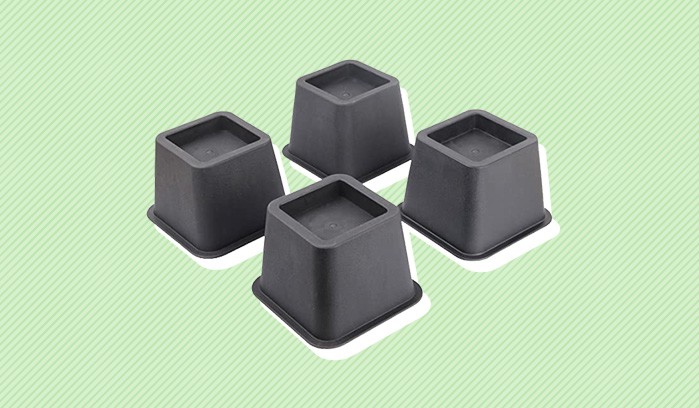 Ryehaliligear
My top choice for best overall quality and value are the Ryehaliligear Easygoing 3 Inch Height Bed Risers. These durable, polypropylene risers are available in black and can support 5720 pounds. Each riser accommodates a bedpost up to 2.75 inches in diameter. Package includes a set of 4.
Pros:
Easy on floors. These risers didn't scratch my hardwood floor, even after sliding them a few inches to make adjustments
Price. The Easygoing bed risers were some of the most affordable of any of the models I tested
Sturdy. These risers are made from a thick and durable polypropylene that easily supported my queen size bed and extra-thick mattress without budging
Cons:
Recess cup size. The recess cup accommodates a bedpost of 2.75 inches, which may not be large enough for the legs of some beds
Metal bed compatibility. Though solid, the polypropylene material may not be durable if used with metal legs with sharp edges
Ryehaliligear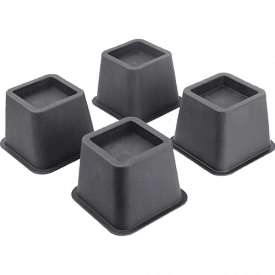 The Ryehaliligear Easygoing 4-Pack 3 Inch Height Bed Risers are affordable and easy on floors.
Sleepopolis Score
4.50 / 5
Best Value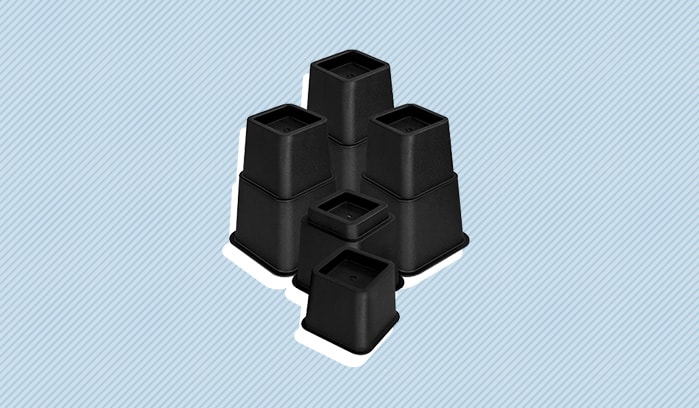 Utopia Bedding Adjustable Bed Furniture Risers
If you're looking for a riser that's both durable and affordable, check out the Utopia Bedding Adjustable Risers. With a maximum weight capacity of 1300 pounds, these risers can support most beds without cracking or sliding. The Utopia Bedding risers are available in black, white, and brown, and are made of a durable, heavy-duty plastic.
Pros:
Color options. Many risers are available only in black. Utopia Bedding risers also come in both white and brown to accommodate more furniture finishes
Great for under-bed storage. These risers create a lift of 3, 5, or 8 inches, which allows almost anyone to utilize under-bed space for additional storage
Value. These risers offer stable construction suitable for many types of beds and finishes at a bargain price
Cons:
Conspicuous. These risers might stand out a bit too much if you don't use a bed skirt or other bedding to disguise them
May slide. These risers shifted a bit under the weight of my queen bed and extra thick mattress. This product may work best with lighter or smaller bed frames
Utopia Bedding Adjustable Bed Furniture Risers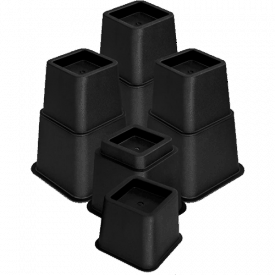 The Utopia Bedding Adjustable Bed Furniture Risers are super affordable and provide great under-bed storage.
Sleepopolis Score
4.50 / 5
Best 5 Inch Riser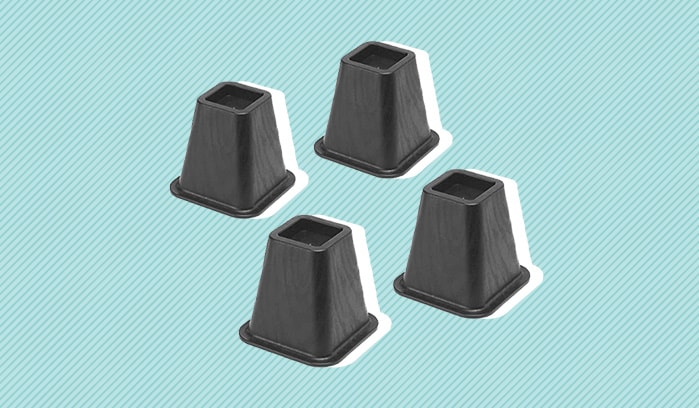 Whitmor Bed Risers
If you're looking for a 5 inch riser that doesn't require stacking multiple pieces together, check out the Whitmor Bed Risers. These black plastic resin risers fit bedposts up to 2.63 inches and come in a pack of 4.
Pros:
Single component. These risers provide a nice 5.25 inch lift without the need to combine multiple pieces
Low-profile. I found these risers to be less visible than some of the other models I tested, a plus for folks looking for a riser that blends in
Solid. The Whitmor risers are weighty and solid and felt stable under the weight of my bed
Cons:
Small recess cup. Bed legs with a small surface area may not distribute weight evenly across the surface of these risers and could potentially cause damage 
No additional colors or sizes. These risers are available in one color and size only 
Whitmor Bed Risers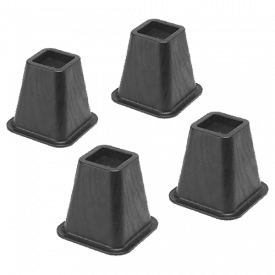 The Whitmor Bed Risers have a low profile and a solid build.
Sleepopolis Score
4.50 / 5
Best Heavyweight Riser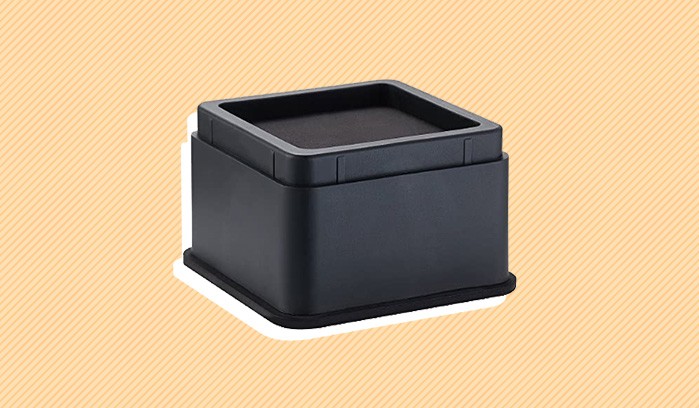 iPrimio Bed and Furniture Risers
If you're looking for a riser that can handle some serious weight, take a look at the iPrimio Bed and Furniture Risers. These risers can take on up 10,000 pounds without breaking, shifting, or cracking. The recess cup's foam pad prevents rolling of furniture legs or wheels. This riser is available in black and creates a nice 2 inch lift.
Pros:
Heavy-duty. This riser can support plenty of weight, including California king-size beds and hefty bed frames
Safety features. The padded foam cup made my bed feel stable and secure
Stackable. This riser can easily be stacked for a few inches of additional (but still secure) height
Cons:
Pricey. The iPrimio riser cost a bit more than other risers I tested, but the quality and stability are worth the higher price tag
No color options. These risers would be even better in some other color options like brown and gray
iPrimio Bed Furniture Risers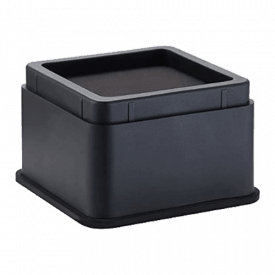 The iPrimio Bed and Furniture Risers are a great sturdy and stackable option.
Sleepopolis Score
4.60 / 5
How We Picked
When you research bed risers, you'll probably notice there are a lot of options around a similar price range. And we mean a lot of options. So how do you narrow in on the right risers for you? While compiling this list, we took the following factors into account.
Aesthetics
Most bed risers focus on function over form. Within a certain budget, you're unlikely to find effective risers that don't look like plastic, utilitarian items. But the good news is you can always add a bed skirt to cover them up.
The risers on this list do vary in terms of the size of their footprint, and that can affect how bulky they look. If size is an issue, select your bed risers accordingly.
Cost
All of the bed risers on this list are less than $40; some are as cheap as approximately $15. This price range can accommodate a variety of budgets.
That said, it's important to know that you often get what you pay for. The pricier options on this list are also more likely to be sturdy and durable, while the bargain options may not remain intact over the long-term.
Customization
People raise their beds for different reasons. Maybe they have a health issue that makes it challenging to get in and out of a lower bed. Perhaps they want just enough space to store flat items. Or maybe they're looking for some seriously enhanced storage space.
Because height requirements will vary depending on your needs, we chose bed risers of different heights (as well as risers that offer customization options) so you could pick the right option for you.
Safety/Sturdiness
In our view, this is the most important factor when it comes to picking a bed riser.
Sturdier options might cost more, but they also protect you from the risk of your bed crashing through the risers and causing damage to family members, pets, and/or physical belongings.
All of the risers on this list have decent reviews when it comes to safety, but there's also a clear trend: The more expensive options tend to be more reliable.
Scratch Risk
Nobody wants their bed risers to destroy their floors, so we focused on options that were designed with floor protection in mind. Each of the bed risers on this list claim to protect carpets from snags and wood floors from scratches or dents.
Sleepopolis Buying Tips
Before purchasing a set of bed risers, ask yourself the following:
Why are you raising your bed? This will help you figure out how high the risers need to be. For instance, if you're planning to store shoe boxes under the bed, then you'll want to buy risers that are tall enough to accommodate the height of those boxes.
Which matters more: cost or sturdiness? You get what you pay for when it comes to bed risers. Cheaper options are more budget-friendly, but they may not last as long or be as reliable as pricier options. Choose accordingly.
How big are your bed's feet? This measurement will help you filter out risers that don't accommodate the type or size of your bed's feet. Before purchasing any bed risers, make sure you're confident that they'll fit the base of your bed.
Once you consider why you want to raise your bed, whether you're more concerned with cost or stability, and the dimensions of your bed's feet, you'll have made it a lot easier to find the best bed risers for your needs. Before you know it, you'll be enjoying more storage space and/or easier access while getting in and out of your bed.