Getting into bed should be a breeze—when it's not, bed steps are a practical solution. They're especially helpful with an extra high bed or for someone recovering from (or trying to avoid!) an injury. Overall, a good set of bed steps should be sturdy, safe, and the right height for the user and the bed. Aside from that, designs vary widely and optional features such as handles or storage are also available.
For those who want to match bedroom furniture, there are sleek wooden steps. For the utilitarian, there are plenty of no-frills options that get the job done. When selecting steps for a little one or a family member with mobility issues, it's a good idea to pay special attention to the size and consider a product with support handrails. With the variety of products out there, we've rounded up a list of several top picks to help you find what best suits your needs.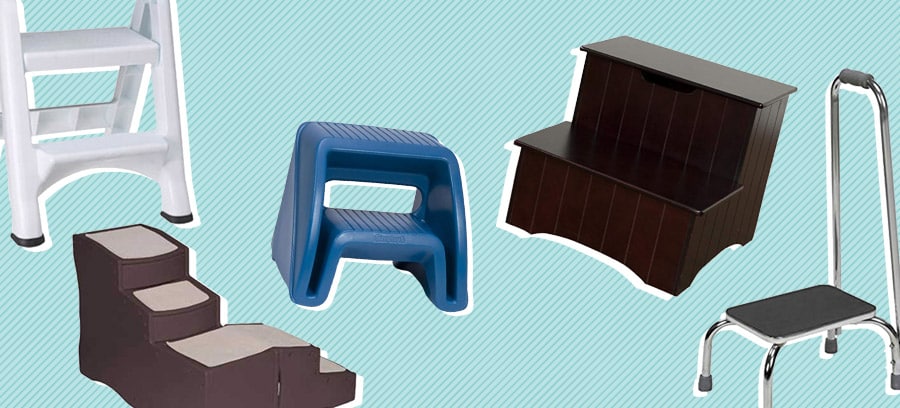 Editor's Pick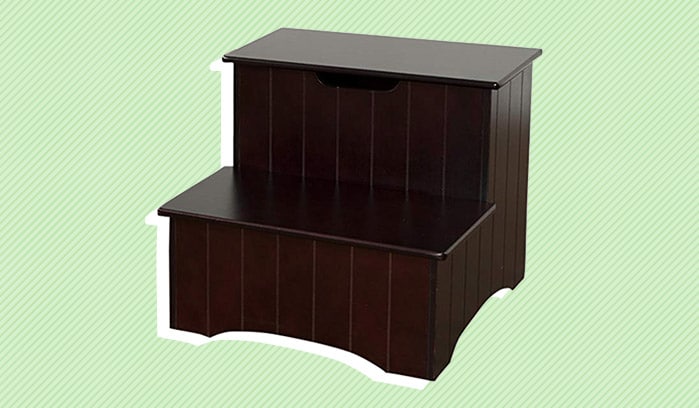 King's Brand Wood Bedroom Step Stool
Pros
The heavy build provides stability. Unlike foldable step stools or lighter weight options, choosing this product by a home furniture brand provides a sturdier construction capable of supporting the average weight of an adult.
The steps are furnished with a bit of storage space, conveniently within reach of your bed. Keep slippers, bedtime reading material, or extra pajamas nearby.
Ideal for people with good balance who don't need the extra support of handrails or the highly textured grip of step pads.
Cons
The smooth finish means it's best to step up with care—especially when wearing socks.
It's on the heavier side, especially if you make use of the storage compartment, so if you anticipate needing steps you can move around easily, this may not be your best choice. 
King's Brand Wood Bedroom Step Stool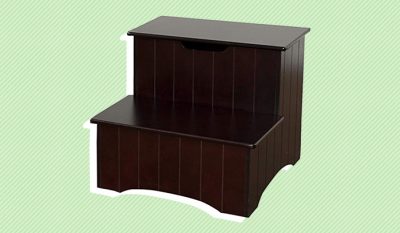 The classic wooden look of this step stool is a good choice when you want something functional to enhance your bedroom decor. It also comes in a white finish that would complement a lighter color scheme. Lots of step stools are suitable for use all over the home, but this product has an aesthetic that is especially for the bedroom.
Sleepopolis Score
4.50 / 5
Best Value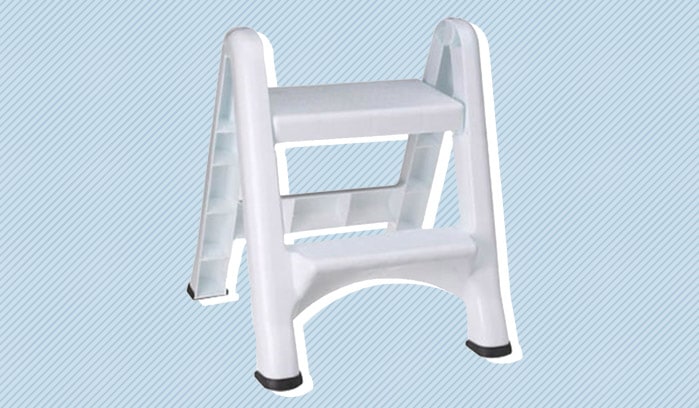 Rubbermaid 2-Step Molded Plastic Stool
Pros
It's lightweight yet strong, boasting a 300-pound capacity. No need to worry when using it on a smooth floor, since its feet have rubber grips. Plus, both steps have non-slip grooves that ensure added safety for climbing into bed.
With underside handles, it's easily portable from one side of the bed to another, or for putting it away between uses.
This is a good choice for people who are looking for a dependable product that's made to last.
Cons
There's no doubt that this step stool is a practical choice, but it won't match everyone's style.
Rubbermaid 2-Step Molded Plastic Stool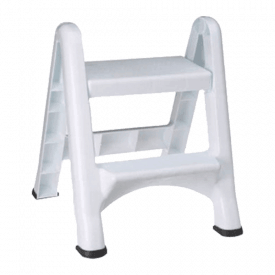 Combining several key features at a reasonable cost, this step stool is highly versatile, making it a great value for the price. It's made from molded plastic, and at 5 ½ pounds it's light enough to be portable without being flimsy.
Sleepopolis Score
4.80 / 5
Best for Added Support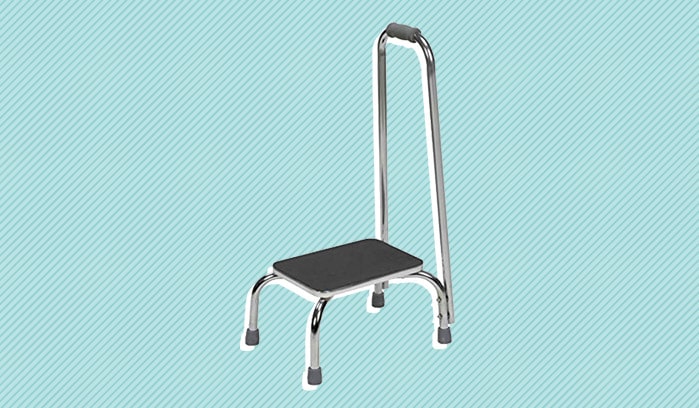 Mabis DMI Foot Stool with Handle
Pros
This stool was designed with multiple safety features: textured matting, slip-resistant rubber tips, and a sturdy steel frame with a handrail for support.
The handrail helps make sure you can locate where to step down onto the stool, which is particularly useful in the middle of the night.
It can be assembled with or without the optional handrail.
This stool is great for those who could use the added benefit of the handrail to help them safely get on and off the bed.
Cons
This stool has only one step, so we recommend measuring to make sure you don't need the added height from a second step.
Some users have concerns about the clarity of the assembly instructions.
Mabis DMI Foot Stool with Handle
This heavy-duty one-step stool offers balance support with an optional handrail that has a padded foam grip. Stools with this design are commonly found in doctor's offices to help patients get onto the exam table, but they are also incredibly useful in the home.
Sleepopolis Score
5.00 / 5
Best for Kids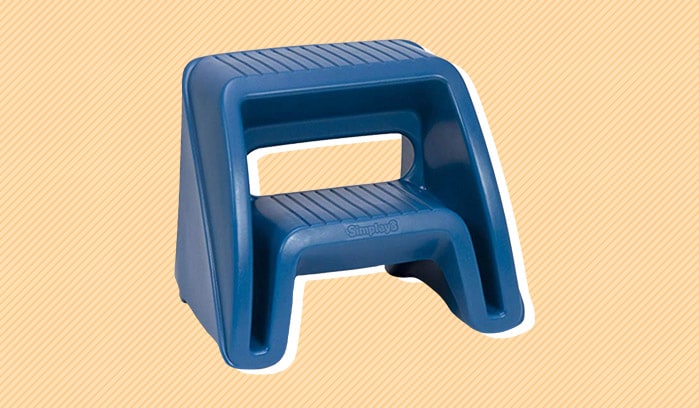 Simplay3 Handy Home Step Stool
Pros
Very sturdy with grooves for traction; suited for both children and adults.
The fun design comes in bright colors (red and blue) as well as neutral tones (gray and tan).
As many users have affirmed, this is a good choice for helping small children get into their regular-sized beds independently.
Cons
Note that there are no handrails, which may be a consideration if intended for a child who could use more balance support.
Sturdy enough for most adults, although the surface areas for stepping are not as big as other comparable stools, particularly the bottom step.
Simplay3 Handy Home Step Stool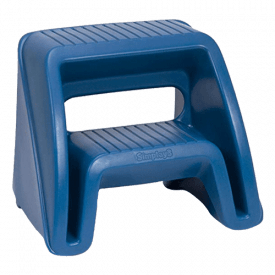 While not explicitly a children's stool, many users love this product for helping their young ones get into their big kid beds. The steps are designed with a curved 'infinity' look so it has no moving parts and requires no assembly. This durable 2-step stool is perfect for adult use as well. 
Sleepopolis Score
4.60 / 5
Best for Pets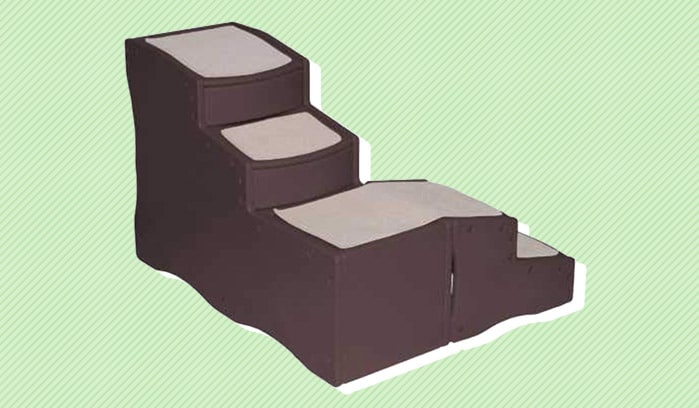 Pet Gear Easy Step
Pros
The removable carpet tread makes for convenient cleaning.
Training your pet to use the steps helps eliminate stress to their joints from jumping on and off taller surfaces.
A nice option for pet owners who want to prevent stress and injury to their pet with a product equipped for daily use and convenient cleaning.
Cons
Not all pets will be comfortable with the slight incline of the steps, though you may just need to give them time to get used to it.
Not the best for large dogs. Depending on the exact model, product descriptions list capacities from 75 to 200 pounds, but some pet owners have concerns about the stairs bending under heavier weight. 
Pet Gear Easy Step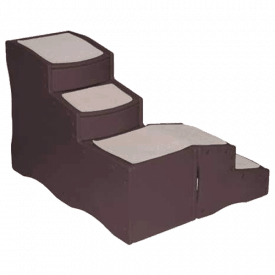 Pet Gear's Easy Step product line makes easy-to-clean stools for furry friends. The Easy Step has 2-, 3-, and even 4-step options to help pets who are smaller, older, or have health needs get onto a bed or sofa.
Sleepopolis Score
4.40 / 5
How We Picked
The reasons people buy bed steps vary, so we surveyed a range of products to find ones that address different needs. We honed in on step stools that were made of strong materials and fell within a moderately affordable price range. We also considered an assortment of styles and designs for different users. Here's a breakdown of the criteria we used:
Safety
A requirement we looked for in every product is that it offers a safe way for users to get on and off the bed. People are commonly barefoot or in socks In the morning and at bedtime, so it's important that bed steps minimize chances of slipping.
Design
We chose a variety of design styles to appeal to different tastes. In general, we found non-foldable steps to be sturdier, and picked mostly two-step stools for height and ease of use.
Users
Our list is inclusive of different ages, from children to adults to pets, as well as those with health concerns or limited mobility. Each type of user benefits from particular features, and we wanted our recommendations to reflect that.
Price
By focusing on relatively affordable products, we hope to represent a price range that's realistic for most buyers.
Buying Tips
When searching for the right bed steps, here are a few important questions to think about.
Who will be using the steps?




Depending on who the steps are for, think about weight capacity, ease of cleaning, non-slip reinforcements, and other particular features.

Will the steps be in a permanent location or moved around a lot?




Heavier options won't be ideal for those who want something that can be easily used around the house, or for multiple beds. For that, there are stools with handles for carrying.

What type of floor will the steps be used on?




On carpeted floors, there shouldn't be much of an issue, but for smoother surfaces like hardwood floors the best stool will be a product that has anti-slip features on its legs/underside. Otherwise, a simple solution is to add grip strips or pads.
For most of us, getting in and out of bed is something we can take for granted, but for those who could use some extra help, it's good to know there are options. Choosing the right bed steps to meet particular needs makes getting in and out of bed is as easy as possible—like it should be!