Lying comfortably in bed can be one of the best feelings, especially after a long day or week. Sometimes it can be hard to stay in bed though, because it is time to eat or because some work needs to get done. Bed trays offer a way to stay in bed and still enjoy food, drinks, or even take care of some work.
There are many types of bed trays that people can choose from that can be a great fit for certain situations. For example, those who are looking to use a bed tray to work on will have different qualities in mind than someone who is looking to have breakfast in bed. To help discern between various offerings, we have picked our favorites based on how they stack up against the field. Here are our suggestions: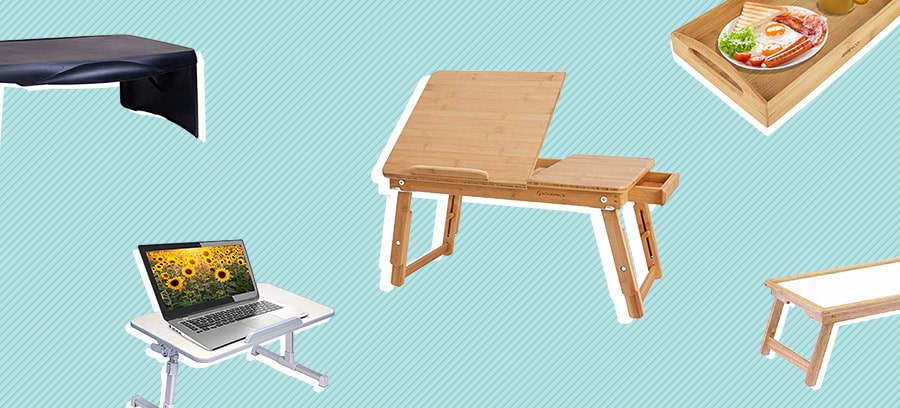 Editor's Choice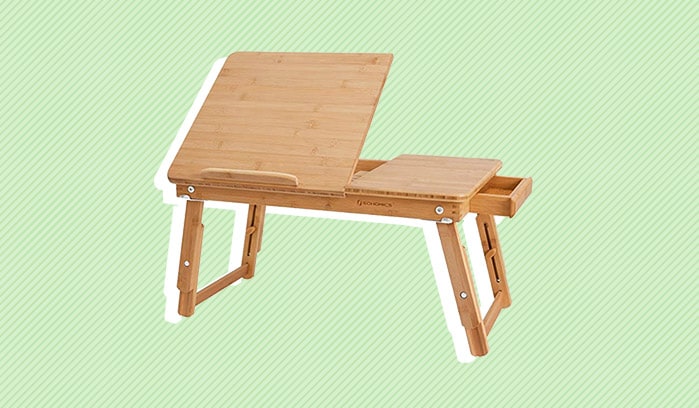 SONGMICS Laptop Desk for Bed
Pros:
5 angles. One side of the top surface of this tray can be angled at 5 different inclinations. This makes it easier to sit or lay in different positions while eating, reading, or working.
3 colors to choose from. This bed tray is available in three different colors; black, brown wood, and natural (light) wood. This makes it easier to match existing furniture and style.
Height range. A nice thing about this tray is the ability to adjust the height. It has a range between around 9 and 14 inches.
Cons:
Heavy. Though this is a tray that can handle a large weight capacity, it does mean that the tray itself weighs more than other options. Most people may need two hands to maneuver it.
Folding can be cumbersome. In order for the tray to be folded up neatly for storage or transport, the legs have to be set to the default position. It can make it a bit of a process to take care of.
SONGMICS Laptop Desk for Bed
This laptop and breakfast desk by SONGMICS is made of durable bamboo wood and can handle up to 17 pounds of stuff on it. It has an surface with an adjustable angle and has adjustable height.
Sleepopolis Score
4.50 / 5
The Contender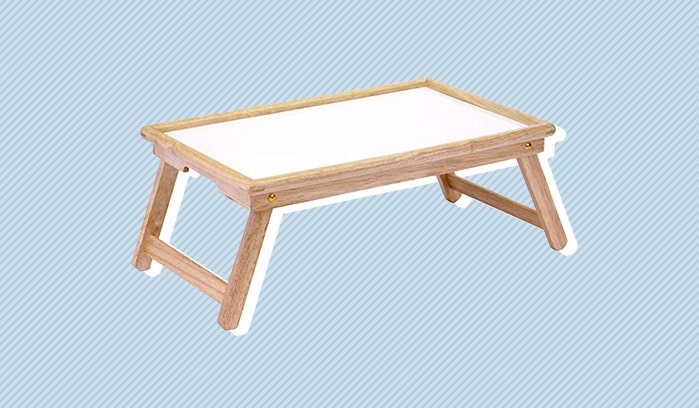 Winsome Ventura Wood Bed Tray
Pros:
Melamine top. This tray has a melamine-coated surface as the main component of the tray. This is a type of material that is durable and easily cleaned, so it is perfect for breakfast in bed.
Already assembled. While some similar bed trays will require assembly at home, this product is typically available already assembled. This makes it a great gift option.
Tilts. This tray, though designed as a food tray, can double as a tray for work, drawing, or reading. Though many food-specific trays have a similar design, not all will be adjustable like this one.
Cons:
Splinters. The underside of this tray has wood that isn't as smooth as the outer surfaces. It is advised not to run your hands across the undersurface, as there is a possibility of getting a minor splinter.
Can't move much. This bed tray works best when the person using it is immobile. The more the person moves, the more unstable the tray becomes.
Winsome Ventura Wood Bed Tray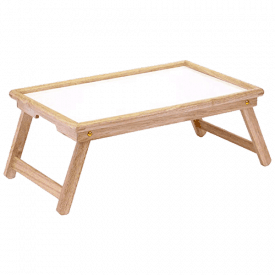 This bed tray from Winsome is made of wood and works well for food as well as for work. It has a sturdy coating that is an appropriate surface for food and it can tilt at an angle for other activities.
Sleepopolis Score
4.60 / 5
Best for Food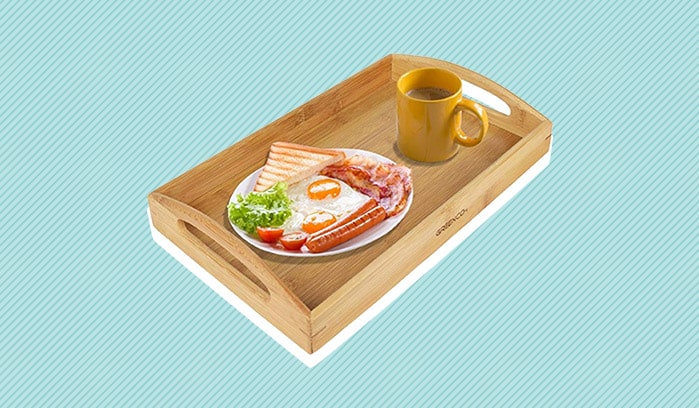 Greenco Rectangle Bamboo Butler Serving Tray
Pros:
Wide handles. This tray not only has handles that are conveniently placed at either end, but the handles themselves have a wide berth. This makes it easier to maneuver, especially when holding a heavy load.
Raised sides. Those that are serving food will enjoy the raised side walls on this tray. This makes it easier to keep plates and other objects safely on the tray, especially when changing positions.
Lightweight. While some trays weigh upwards of 10 or more pounds, this one only weighs just over a pound. This makes it easier to handle, especially if trying to move with a single hand.
Cons:
Not the largest tray. This tray measures 16.5 inches by 10.5 inches. Though this is large enough for smaller plates, a large dinner plate may not fit.
Basic. Though this tray is great for lots of uses, it doesn't have many of the trappings of more complex trays. Good value, though, for what you get.
Greenco Rectangle Bamboo Butler Serving Tray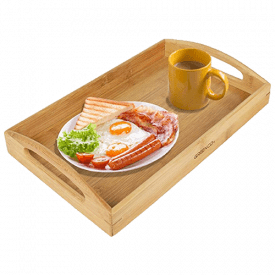 This serving tray from Greenco is made out of bamboo with an elegant finish. The sides are raised and the handles are wide, making it easy to safely transport food and other items on it.
Sleepopolis Score
4.40 / 5
Best for Students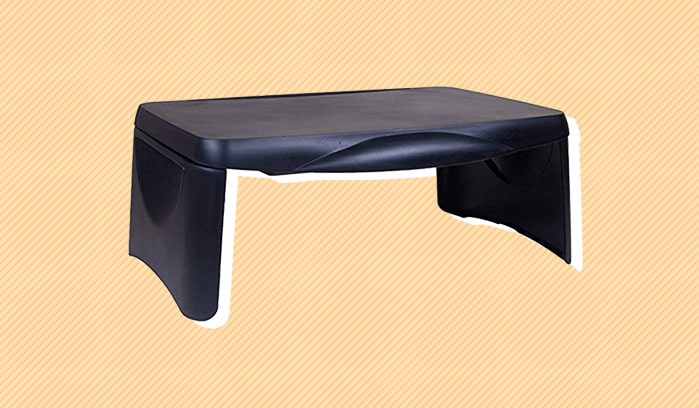 Mavo Craft Folding Lap Desk
Pros:
Storage space. This tray has a conveniently located storage compartment right under the top surface of the tray. This space has different compartments to help organize school gear, for example.
Sturdy. Because of the rugged plastic material used to make this table tray, it is suitable for the rigors of frequent use. Students won't need to worry about denting, scratching, or staining it as much as they would with a wood tray.
Portable. This tray folds up for easy storage and transport. It is lightweight and has storage space, so it is great for packing up a workstation and moving it elsewhere.
Cons:
Compartment dividers. Though some may find that the compartment dividers are a nice touch, others may wish it were just one area that could fit larger items.
Legs can be loose. While the legs are tapered for extra structural support, they don't lock into place. This can make it unstable if it is knocked.
Mavo Craft Folding Lap Desk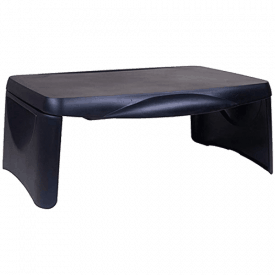 This folding lap desk from Mavo Craft is great for students. It is durable and has a substantial storage drawer with compartments for various supplies.
Sleepopolis Score
4.20 / 5
Best for Laptops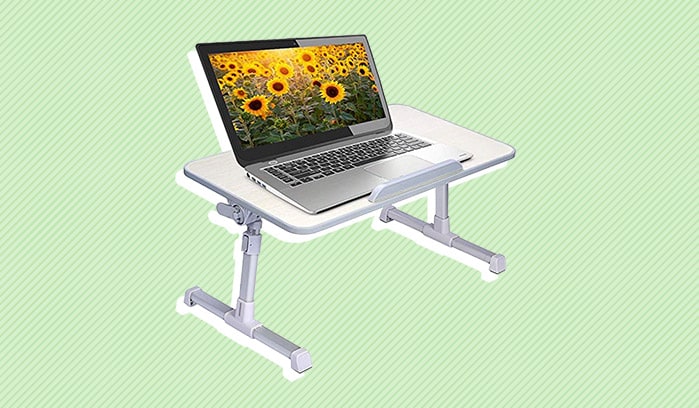 Avantree Neetto Laptop Bed Table
Pros:
Doubles as a standing desk. This product, while being very convenient for use on a bed, can double as a standing desk by just placing it on a table. It is also well-sized for using while sitting on the floor as well.
Adjustable angles. This bed tray can be adjusted to up to a 30 degree angle. People using this tray can adjust it to any point in that range, making it one of the most customizable options available.
3 sizes. While most bed trays have similar dimensions, this offering from Avantree is available in three sizes, the biggest one coming in at a whopping 24" by 13". This will fit even the largest laptops.
Cons:
Not great for left-handed people. The bottom bumper that is meant to protect a laptop from sliding off is positioned to the left to make room for right-handed people. Those hoping to write or use a mouse with their left hand may get irritated by the bumper.
Too tall. Though the height range of the product is nice for certain situations, some may find it too tall to be used comfortably while laying down even at the lowest height (about 8.5 inches).
Avantree Neetto Laptop Bed Table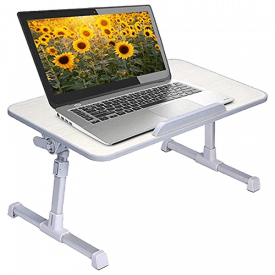 This laptop tray is designed specifically with laptops in mind, with the capability of turning into a standing desk (by placing it on a table). It's inclination and height can be easily adjusted and it is available with "American Cherry" or "Honeydew" coloring.
Sleepopolis Score
4.50 / 5
How We Picked
Bed trays can be a fun treat to use when sleeping in or surprising a loved one with breakfast in bed. For others, it can be a vital piece of home equipment that helps make recovering from illness or injury more pleasant. Because bed trays are used in a wide a variety of ways, we've outlined ways of looking at various offerings to better evaluate them:
Purpose
While most bed trays are quite versatile, they usually have an intended purpose in mind as to how they will be primarily used. So, for example, even though some bed trays can probably be used for breakfast in bed, they were primarily designed to be laptop trays. The slight variances can create change the calculus a bit when evaluating different bed trays.
Trays that don't have legs to support themselves are typically meant for food consumption. These usually have the trappings of a food serving tray; they will have handles for bringing heavy loads, will have food-safe surfaces, and may even have slots for drinks. Trays that are intended for laptop use will have bumpers to keep laptops from falling, storage compartments for office gear, and will typically turn at an angle.
Portability
Again, a big difference between different options will depend on if they are meant for food or work. Food bed trays may be heavier (due to the wood they are constructed of) and will typically not have features for travel that laptop trays will have. This is all well and good, as most people probably won't be traveling with a food serving tray. Laptop trays, however, are often used in a variety of settings, such as the living room, a hotel, or the office. Laptop bed trays will usually fold up neatly and lock into place. Some have storage compartments to help keep paperwork and supplies in one place. They are also typically rather lightweight to make transport more convenient.
Stability
One of the most salient qualities of a tray is the stability it provides as a make-shift or portable surface. That is to say trays should above all be a sturdy and dependable place to put food, drinks, a laptop, tablet, or even artwork. While most trays have some features that ensure their stability, some may be lacking in certain areas when compared to others.
Trays that have legs provide more versatility in how a tray can be used. However, the legs themselves may not always be secure, and if they wobble, it can lead to a damaging spill. If using the tray for delicate work or as a standing desk, it is important to find a product that has sturdy legs and durable locking mechanisms.
Tips
Not sure which bed tray is right for you? Take a look at some tips we've compiled below:
Will you be mostly using it for food or work?

If you know you will be mostly using it for food, there are trays that have durable handles and stain-proof surfaces that are great for transporting and serving food.

Trays for work will typically be able to lock into different angles to aid in work and study and have other safety measures to keep laptops from sliding off.

Will you be using it in bed or in other situations?

Trays for bed do not need too high of a profile if they have legs, as they will only need to clear the height of your thighs.

Some bed trays can double as standing desks or can be used while sitting down. These may need to have a greater range of adjustable heights to accommodate those positions.
FAQs
How big are bed trays?
Bed trays can measure anywhere from about 10" deep and 16" wide to about 16" deep and 24" wide. If using a laptop, make sure to double-check the measurements of your device first.
Will I have to assemble it myself?
Most bed trays come pre-assembled. More complex bed trays with adjustable legs may need to be assembled at home, but usually with only a few components that need to come together.
How much will I have to spend for a bed tray?
The price range can vary. Simpler products can cost less than $15, though more sophisticated or designer trays can cost up to $200 or more.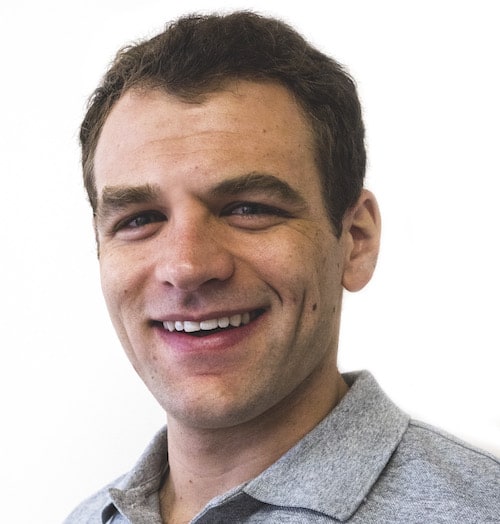 Logan Block
Logan is the former content director of Sleepopolis. As content director, he reviewed new mattresses every week and curated the comparisons, best of pages, and video guides on the site. Logan perfected his method by personally testing over 200 different mattresses, so he's not only able to discern the overall vibe of a specific bed, but to contextualize its feel within the bed-in-a-box market as a whole.