Finding a bedtime story to read to toddlers can be a challenge. Books that are too complex can confuse children and divert their attention. Texts that are too simple can have the same effect; children's minds can wander as they lose interest in something that may be beneath their comprehension level.
The best bedtime stories for toddlers utilize engaging artwork and rhyming to help tell the story. Kids can pore over the imagery to help get their imagination going while the rhyming stanzas can pull the children into a dreamy cadence that leads to sleep. While most books for toddlers use these methods, there can be big differences in how each author and illustrator executes them. Here are some of our favorites: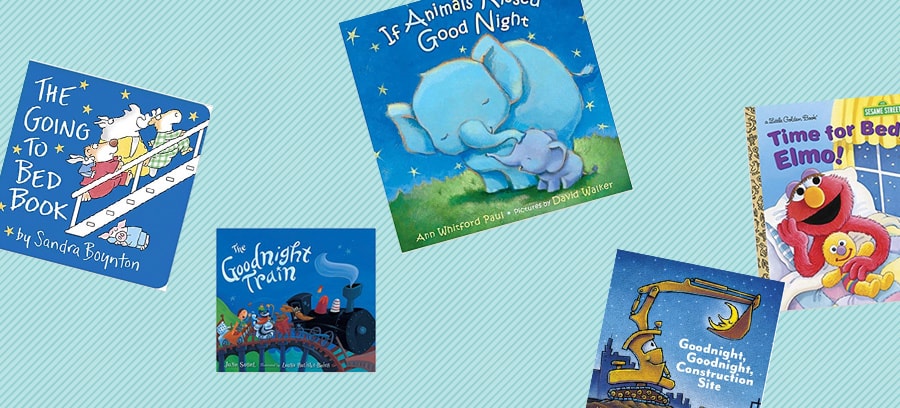 Editor's Choice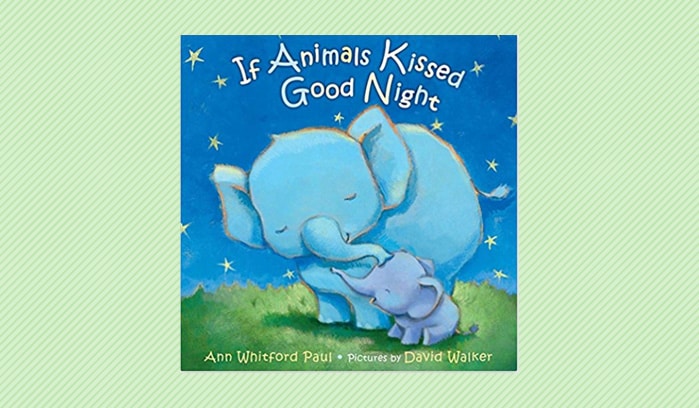 If Animals Kissed Good Night
Pros:
Part of series. Young children love getting acquainted with a new world or pattern of learning and play. This book is part of a series of "If Animals…" books, so kids can develop a new favorite series.
Creative rhymes. The author has fun with rhymes and takes stanzas to unexpected places. This can help children enhance their language skills.
Long book. This book doesn't skimp on the content; it is over 30 pages, which is rather lengthy for a board book. It allows for more reading time in a family.
Cons:
Durability. This particular board book has weaker binding that may degrade with heavy use, making the pages come undone quicker than other books.
Story doesn't pop. The story in this book employs many sweet rhymes and imagery, but the narrative isn't very engaging, even for a toddler book.
If Animals Kissed Good Night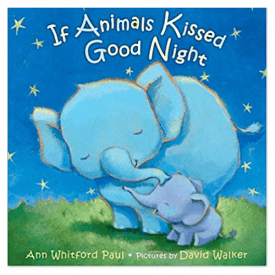 If Animals Kissed Good Night by Ann Whitford Paul conveys sweet imagery of different animals saying goodnight to each other. This board book is great for reading to toddlers at night and for them to read on their own.
Sleepopolis Score
4.80 / 5
The Contender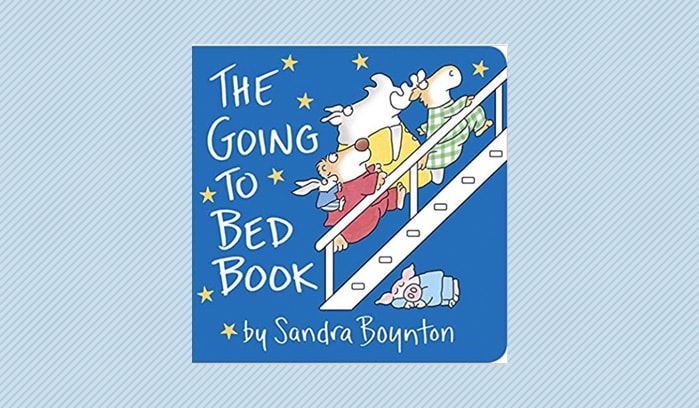 The Going-To-Bed Book
Pros:
Anthropomorphization. The series of books that this book is a part of does a wonderful job of taking human issues and playing with them through the use of animals. It is a fun way for parents to instill responsibilities like getting ready for bed.
Teaches responsibility. Children reading or listening to this book will learn some of the steps it takes to get to bed and see how that routine applies to everyone.
Collaboration. By using a series of animals to all get ready together in tandem, the book fosters a nice sense of teamwork and solidarity.
Cons:
Unusual routine order. While the book is quite cute, the order of bedtime routine is a bit unusual. The animals exercise after brushing teeth and donning pajamas, for example.
Short text. If reading this to go to bed, it will be quick. This book is not very long.
The Going-To-Bed Book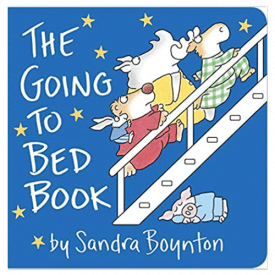 Sandra Boyton's board book series use animals to explore a variety of topics. This cute book about going to bed has a whole set of animals on a boat going through a bedtime routine.
Sleepopolis Score
4.80 / 5
Best Bargain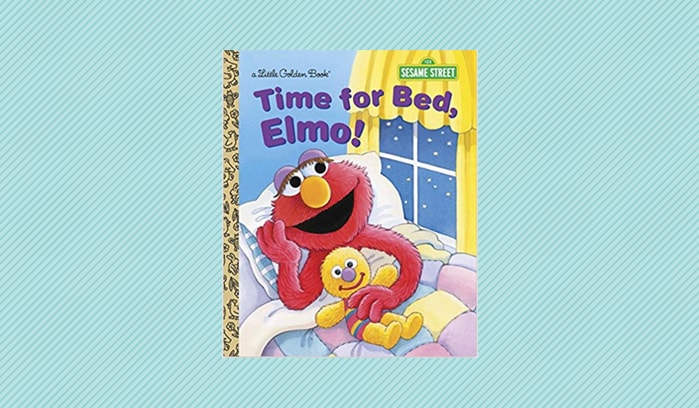 Time for Bed, Elmo!
Pros:
Funny. A great aspect about this book is that adults may find it as amusing as their toddlers do. Elmo's silly excuses for not wanting to go to bed are quite laughable.
Elmo. Using such an iconic (and lovable) character to tell a bedtime story is a great way to keep kids engaged. Children who like Elmo may want to hear this story over and over again.
Cost. While books for toddlers tend to be rather inexpensive, this is still one of the more affordable options. This book can be found for just a few dollars.
Cons:
Not a board book. This book is not in the board style, meaning it has paper pages. It may not be as durable when toddlers are flipping through the pages.
Resisting bedtime. Though the book is entertaining, those with children who resist bedtime may be encouraged by Elmo's similar plight.
Time for Bed, Elmo!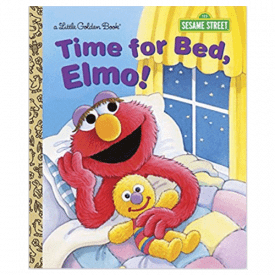 This rhyming story by Sarah Albee revolves around Elmo and his resistance to bedtime. With loads of cute and clever moments with Elmo and many common household objects and tasks covered, toddlers can have fun and get acquainted with the wider world at the same time.
Sleepopolis Score
4.80 / 5
Most Fun to Read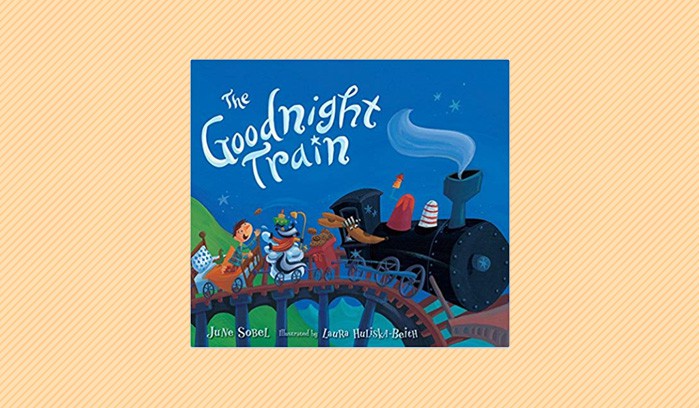 The Goodnight Train
Pros:
Dreamy rhymes. The stanzas in this book feature a pleasant series of rhymes that continues through the whole book. The rhymes flow easily from page to page with expositional detail and vibrant imagery that can help ease a child into sleep.
Detailed and colorful. The illustrations in this book are not only vivid and rich in color, but offer lots of details on every page. Children can explore each page's art for unseen surprises from the artist before moving on in the story.
Fun to read. The text is punctuated by imaginative and rhyming train noises and exclamations. The reader can be imaginative and have fun while performing these moments.
Cons:
Font. This book can be rather hard to read in low light due to the embellished font.
Repetitive. The story repeats itself a bit when going through various train noises. This may not capture the attention of children as they age.
The Goodnight Train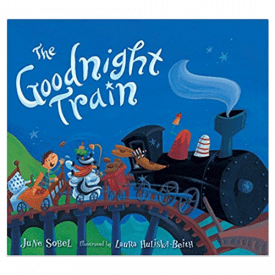 This book from June Sobel is a flowing book of rhyming stanzas that employ the noises associated with trains to help lull children asleep. The artwork is rich and detailed enough to examine time and again.
Sleepopolis Score
4.80 / 5
Cutest Characters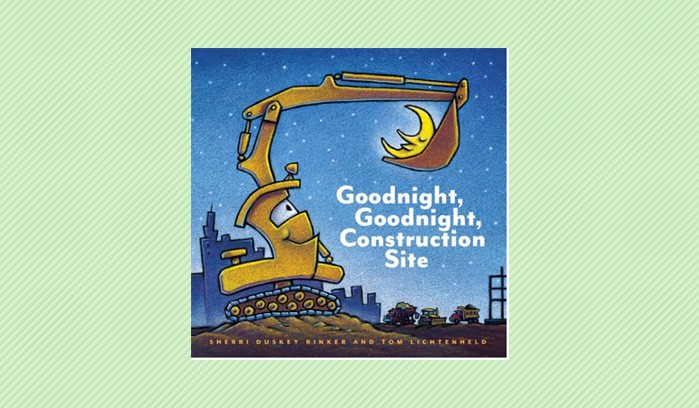 Goodnight, Goodnight Construction Site
Pros:
Nice sequence. This book takes turns wishing each truck good night across a construction site. This naturally leads to the reader and listener wishing each other good night at the conclusion of the book.
Series. Children who respond to this book can find other offerings from the author featuring cute construction vehicles.
Realism. A nice part of this book is that it combines fantasy with elements from the real world. Children get to learn about the environment of a construction site, dirt and all.
Cons:
Lots of text. Each page has a moderate amount of text. Some younger toddlers may need to see the pictures often to stay engaged. 
Colors not vibrant. As this book takes place at a construction site at night, it is filled with earthtones and other subdued colors. Other books are more colorful.
Goodnight, Goodnight Construction Site
This book, part of a series by Sherrey Duskey Rinker, explores a construction site as the smiling vehicles each go to bed in turn. It combines young children's interest in trucks with a simple bedtime rhyme.
Sleepopolis Score
4.90 / 5
How We Picked
Children's books that parents or guardians will be reading need to be engaging for the kids and give the parents ample room to connect with the listeners. Books that spark curiosity, instill good habits, and broaden the horizons of kids can help not only prepare a child for sleep but help educate them as well. Here is what we found most important when evaluating bedtime stories for toddlers:
Rhymes
One method of lulling a child asleep is the use of rhyming couplets. Some – if not most – bedtime stories for toddlers have rhymes that last the duration of the book. Many books have pages that will all end with the same rhyming sounds, which provide a nice, relaxing cadence and can help children learn patterns.
There are authors who have more fun with the rhymes than others. Using sounds, names, and exclamations as the end of a rhyme can be surprising and fun for children to look forward to. The best rhymes are memorable and elicit imagery that goes beyond the illustrations.
Colors
The illustrators for bedtime stories have a difficult task at hand; how to make a book about going to bed or evoking sleepiness bright and colorful? Many children's books that are meant to get children asleep will take place at night, the title characters going through the process of going to bed.
Books that take place inside a home can still have lots of bright colors illuminated by the lights that are still on in the home. Another way authors get around drawing art that takes place at night is by using the moon. Not all bedtime stories need to take place at night, but the majority do, and illustrators can use creative ways to keep the visuals fresh and vibrant.
Form
Books for toddlers come in a variety of forms. The two most common are typical hardcover books and board books. Hardcover books can be more inexpensive, but through play and continue use, toddlers may accidentally damage or even rip out pages.
Board books are made of a uniform cardboard, both for the cover and the pages. The thicker pages can make the books more durable while reading them and even as kids play and organize their toy and book collections. The binding of these sorts of books can become undone easier, however, as the pages each weigh a bit more and children may not treat them as gently.
Tips
Not sure which bedtime story for toddlers is right for you? Read below for some helpful tips:
Will the book be shared?

If this book is to be shared with multiple children, perhaps in a classroom, it might be valuable to get a board book. These will usually be more durable over time.

Books that have longer stories can be more useful for entertaining more than one kid at a time. With more visuals and longer stories, there is more to capture each kid's attention.

Does the child have a hard time going to bed?

Several bedtime stories have plots that focus on the process of going to bed. Many times this involves simply saying a kind goodnight wish to various friends and family members.

Some books have explicit explorations of bedtime routines. This can help normalize tasks such as brushing teeth for young kids.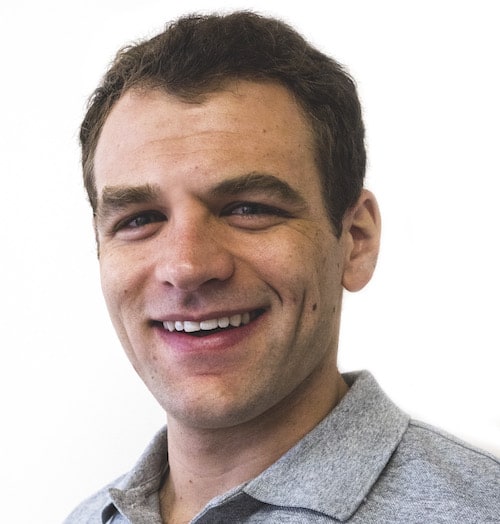 Logan Block
Logan is the former content director of Sleepopolis. As content director, he reviewed new mattresses every week and curated the comparisons, best of pages, and video guides on the site. Logan perfected his method by personally testing over 200 different mattresses, so he's not only able to discern the overall vibe of a specific bed, but to contextualize its feel within the bed-in-a-box market as a whole.