Sometimes all that is needed is a little break from the daily grind, a respite from the honking horns and text alerts of social and work life. Camping is an activity that allows a change from the everyday routine and a chance to gain some fresh perspective. First and foremost when camping, however, is the need for a comfortable tent that will make the experience worth the while.
Depending on how many people will be camping and how much room they need, any number of tents are available that can fit from 1 to 12 or more people. In addition to the space provided, tents can offer other comforts like organization, weather relief, and a good view. To help sort through the market, we've examined some of the leading brands of tents. This is what we learned:
Editor's Choice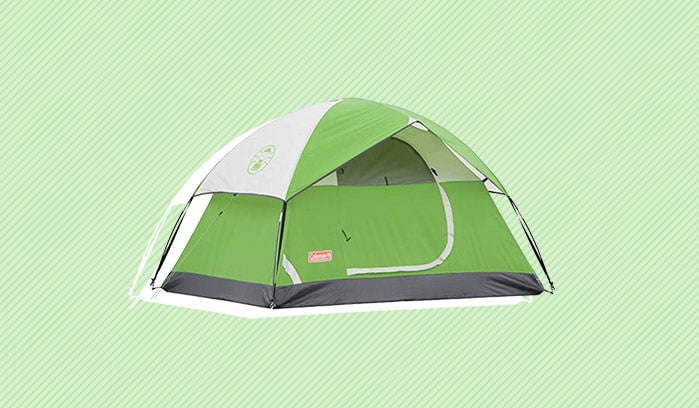 Coleman Sundome Tent
Pros: 
Inverted seams. This type of stitching helps keep all of the exposed needle holes inside of the tent. This is meant to prevent water from entering the tent even during rain.

Size options. This popular tent from Coleman is available for two, three, four, or six people. The pricing goes up with each size, though not exponentially, so even the largest tent remains fairly affordable.

E port. Each of these tents includes a small zippered opening at one corner designed to let electric cords through. This is a convenient way to get power inside of a tent without being a tripping hazard.
Cons:
Large windows. A defining feature of this line of tents are the large ventilation windows. While these may be nice in good weather, if there is a strong wind or rain, it will need to be covered with the rain fly as there is no way of closing the windows.

Not the sturdiest. This tent is easy to set up and lightweight, making it appropriate for many situations. During windy weather, however, there are probably sturdier tents available.
The Contender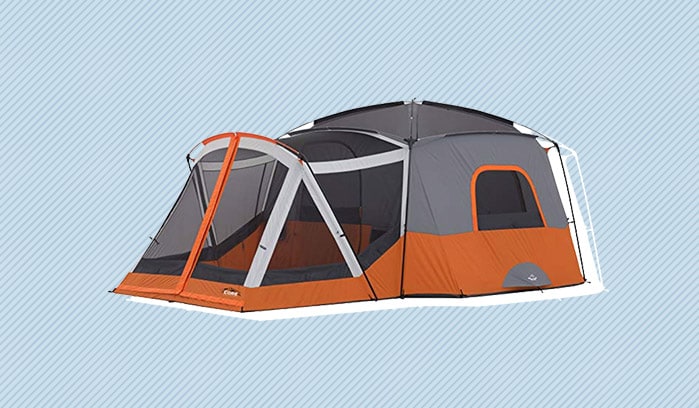 CORE 11 Person Family Cabin Tent with Screen Room
Pros:
Large. This line of tents from CORE can fit 11 people and 3 queen-sized air-mattresses. This space can be utilized by less people to have room for storage and socializing.

Gear loft. Even though there is a lot of space on the tent floor, this line of tents has a gear loft and lantern hook for additional storage. This is great for those filling the tent to capacity with the full allotment of 11 people.

Screen room. This tent actually has two rooms. The front screen room has three screen walls and a screen roof for a nice panoramic view.
Cons:
Floor can rip. The material used for the floor can rip if placed over a rock or other sharp object. It is advised to put an additional tarp and to screen the area for potential hazards before pitching the tent.

Ventilation between rooms. It is almost impossible to get a full enclosure between the two rooms. If the front room is used for lounging during the day and insects get in, they have a good chance of getting into the main room as well.
Best Bargain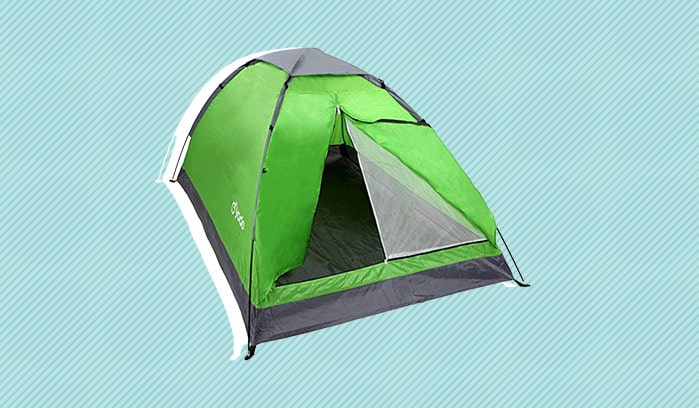 Yodo Lightweight 2 Person Camping Backpacking Tent
Pros: 
Available in 3 colors. This camping tent is available in orange, blue, and green. This is great for helping to find a tent that can be easily identifiable amongst a crowd.

Carry bag. A great aspect of this tent is that it can be folded up into a convenient and compact carry bag. This is great for hiking trips.

Price. This tent can be purchased for about the price of two movie tickets. With a tent this affordable, there is no excuse not to go out camping! 
Cons: 
Not totally water resistant. This tent may not be the best suited for rainy weather. Water can soak through the floor of the tent and through the roof in heavy rain.

Could use more zippers. Some users may be disappointed that only the inner layer of the front door has a zipper. This can make it difficult to keep out insects.
Best for All Seasons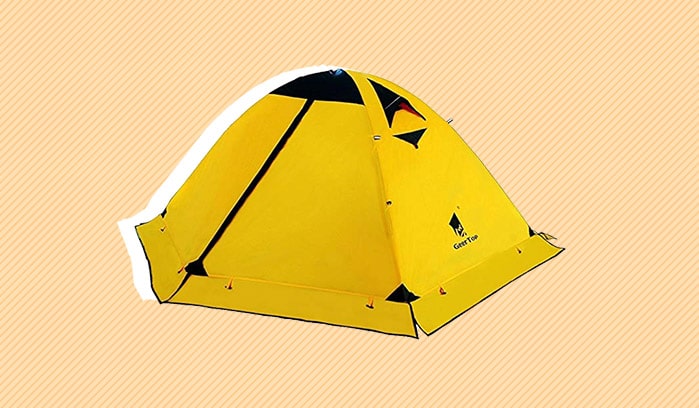 GEERTOP 4 Season Camping Backpacking Tent
Pros: 
Snow skirt. Along the perimeter of this tent resides a snow skirt, which is meant to keep snow and other elements at bay by keeping the corners of the tent unexposed.

Lightweight. This tent only weighs about six and a half pounds. It can be folded up into a backpack and is compact enough to be stored in another bag.

Rain proof. The material this tent is comprised is rated for 3000mm of rain. It has a sleek surface to let rain and snow slide off and not accumulate.
Cons: 
Hard to set up. It is advised that campers do a test run of setting up this tent before setting off on a camping trip. The installation can be somewhat confusing due to lacklustre instructions.

Zippers not sturdy. The zippers themselves don't seem like the highest quality. Campers should use them with care to avoid them jamming or breaking off.
Best for Quick Set-Up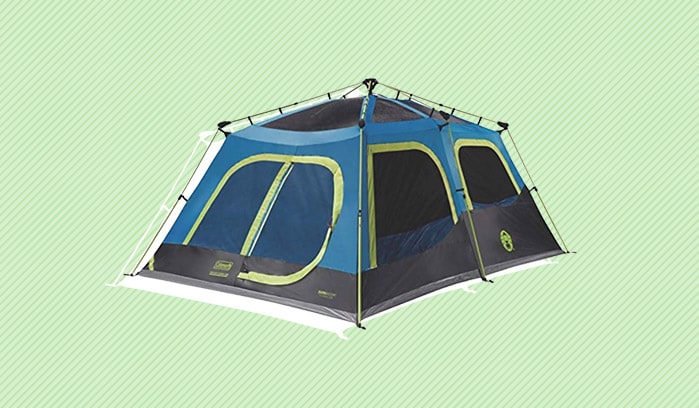 Coleman Cabin Tent with Instant Setup
Pros: 
1 minute set-up. The manufacturer of this line of tents promises a one minute duration installation time. This is great for those who need to set up camp quickly before other activities.

Darkroom options. This tent comes in "darkroom" varieties, meaning it is designed to block out more sunlight than the average tent. This is helpful for sleeping in during the summer when the sun rises are early.

Reflective. The guy lines provided with this tent have a reflective surface, which makes them easier to be seen at night or in inclement weather.
Cons: 
Heavy tent. This tent weighs upwards of 20 pounds. It may be too heavy for some people to carry for long hikes.

Corners can leak. During rain, the corners are a spot where water can leak in. Rain flys are recommended (and may need to be purchased separately).
How We Picked
Picking out an appropriate camping tent can be a challenging task. Not only is it important to gauge how the weather and environment could potentially play a role, but also the circumstances in which one may be using the tent. To help make sense of all the variables, we looked at a few key aspects that had wide application:
Weather resistance
There is nothing worse than getting drenched while camping, expect perhaps having gear and tents soaked too. That is why it is so important to find camping gear that will fit the needs of a trip or a series of trips. Those who will be in dry climates and are not expecting rain during a camping trip can be a bit less discerning than everyone else in this regard.
However, those who may need to account for rain should keep this at top of mind when choosing a camping tent. Features like rain flys, inverted seams, and water-resistant tent materials can make a big difference when out in the elements. For those hoping to camp in even more extreme temperatures, it is wise to look out for features like snow skirts and insulated tent walls.
Travel-preparedness
One thing almost all tents have in common is that they are meant to be portable. While most tents can be folded up into a compact shape, not all are suitable for long trips. Some may have advanced features, like a built-in mattress. The chief difference between some lines of tents is their weight.
Tents for four people can weight as little as 3 or 4 pounds as as much as 20 pounds. Those tents that are lightweight and can be packed up into a travel bag may be preferable for those going on long hikes. Heavier duty tents that are meant for extreme conditions may by nature be a bit heavier, so keep that in mind when making camping arrangements.
Assembly
Setting up a tent does not need to be a complicated affair. While an older tent with some dents and missing pieces may be a nightmare to build, most new tents are designed to be assembled within about 10 minutes. That can be an optimistic promise, however.
Tents that come with clear instructions and pictures may be the best option for beginners. Those setting up a tent alone should definitely test out assembling the tent ahead of time. While the steps tend to be similar between brands, there will probably always be some differences that have to do with the order of assembly or specifications of a certain tent component.
Tips
Not sure which camping tent is right for you? Before making your choice, consider the following:
Are you an avid camper?

If you've gone camping more than a few times, you will probably know what to expect when setting up a tent.

Those new to camping may want to consider getting some advice from an experienced camper or at least finding a tent that has clear instructions.

Where will you be camping?

Though tents can last a long time, lots of times people are getting a tent for a specific trip or series of trips.

It is wise to check the weather of the place you will be camping during that season. Places that experience rain or humidity may necessitate specific tents.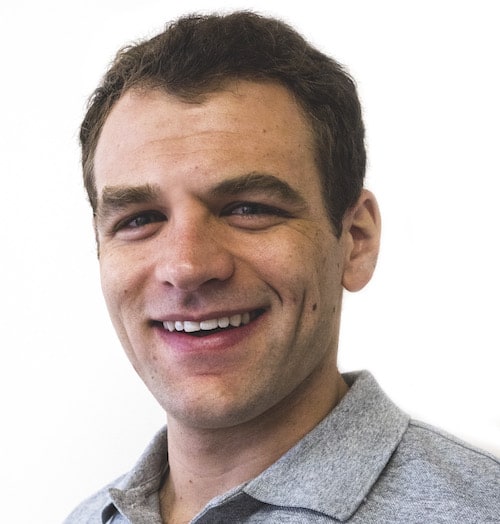 Logan Block
Logan is the former content director of Sleepopolis. As content director, he reviewed new mattresses every week and curated the comparisons, best of pages, and video guides on the site. Logan perfected his method by personally testing over 200 different mattresses, so he's not only able to discern the overall vibe of a specific bed, but to contextualize its feel within the bed-in-a-box market as a whole.