Air quality can be a huge factor in the quality of sleep we get. Even if you sleep soundly otherwise, excessive dryness in the air can leave you waking up with a scratchy throat, or excessive moisture can be a catalyst for mold or other harmful airborne bacteria (not to mention leaving your bedding musty). Balancing the amount of moisture in the air through the use of a dehumidifier can help create a comfortable atmosphere for sleep which can reverberate across your waking hours as well.
No matter what climate you live in, or what size your home is, there is a dehumidifier you can deploy to help manage your air quality by adding or removing moisture. In this list we'll cover some of the most effective dehumidifiers for all different types of homes that can prove to be a real game-changer in your quality of air and the general atmosphere in which you sleep.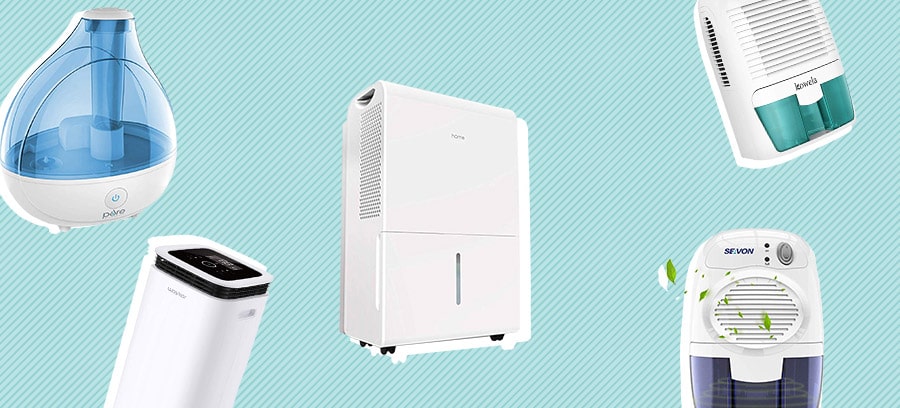 Editor's Pick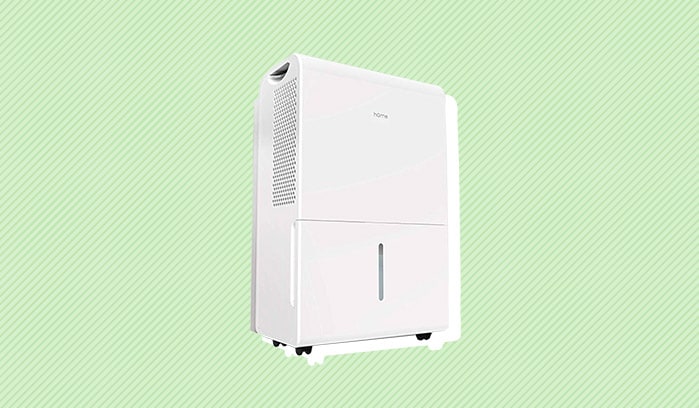 hOmeLabs 1,500 Sq. Ft Energy Star Dehumidifier
Pros:
This dehumidifier houses a large-capacity 22-pint tank which is suited to cover 1,500 square feet, making it perfect for managing moisture in an entire apartment or a large bedroom or basement.
With Energy Star certification, this efficient dehumidifier can run for 24 hours at a time without racking up huge costs on your electric bill.
Even though the dehumidifier is larger than bedside or small room models, its sleek design doesn't make it stand out in your home decor.
Cons:
The collection tank doesn't cut off the dehumidifier until it's nearly overflowing, which is great for functional purposes, but can make removing the water somewhat of a challenge and a spill risk.
hOmeLabs 1,500 Sq. Ft Energy Star Dehumidifier
hOmeLabs 1,500 Sq. Ft Energy Star Dehumidifier Perfect for medium to large-sized rooms (including basements), the hOmeLabs dehumidifier is a sleek and efficient way to manage moisture in the air so you sleep soundly. Featuring an uncomplicated interface, all you need to do is set the dehumidifier to your desired air moisture level and let it do its thing. The device will shut off once it reaches its 22-pint limit, or it can be fitted with a drainage hose to run constantly. However you use it, this simple, effective dehumidifier will get the job done.
Sleepopolis Score
4.50 / 5
Top Contender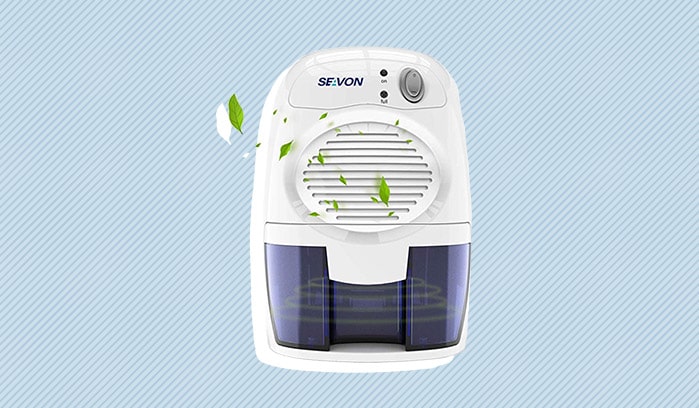 SEAVON Electric 2020 Mini Dehumidifier
Pros:
This dehumidifier is portable and powerful, packing an impressive capacity and functionality in a small package.
Not only does the dehumidifier automatically cut off when the tank is full, but a built-in LED will glow red to alert you that it's time to empty.
The device is whisper quiet, which makes it perfect for use as a nondisruptive bedside dehumidifier.
Cons:
Because of the size of the device, it's best deployed in small, sealed environments; if you're looking for a heavy-duty dehumidifier to manage moisture in a large space this may not be the best option.
SEAVON Electric 2020 Mini Dehumidifier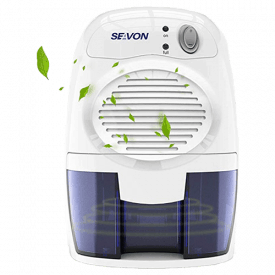 If you're looking for a dehumidifier for a small space like a bedroom or an RV, this SEAVON model is the choice for you. Portable and highly efficient, this dehumidifier runs so quietly you'll barely notice it's there. With a 16 fluid ounce or 500 milliliter capacity, it's perfect for a smaller room; with the optimal room size being approximately 150 square feet. The dehumidifier features a simple one-switch on/off function, and automatically cuts off when the tank is full.
Sleepopolis Score
4.20 / 5
Best Large Space Dehumidifier for Sleep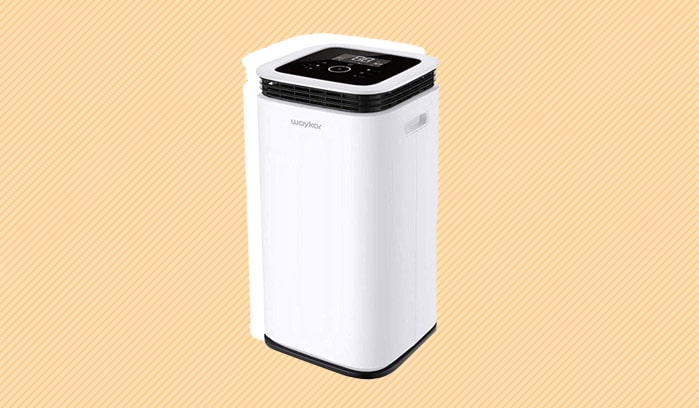 Waykar 70 Pint Dehumidifier
Pros:
Weighing in at 30 pounds, this solid-build dehumidifier is a best-in-class device for controlling humidity in large spaces like basements.
With an intuitive touch screen interface, you're able to control humidity levels, and its automatic shutoff and power control turns off device function if the tank is full or it's overheating.
Even though the device is high-capacity, it maintains a sleek design and a quiet operating noise so it won't ruin the atmosphere or decor of your home.
Cons:
Because of the device's size, it can be a bit bulky when placed in a smaller bedroom, and because of its weight, it might be difficult to move from room to room.
Waykar 70 Pint Dehumidifier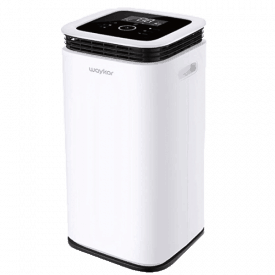 Built to accommodate a space up to 4,500 square feet, this heavy duty, high-capacity dehumidifier is a great option for basement bedrooms or larger homes in humid climates. Featuring an intuitive touch screen interface, this Waykar dehumidifier autocontrols humidity levels based on your settings. Even though it comes with a 4.5-liter tank, it can also be fitted with the included 6.5-foot drainage hose to automatically discard collected water.
Sleepopolis Score
4.50 / 5
Best Small Space Dehumidifier for Sleep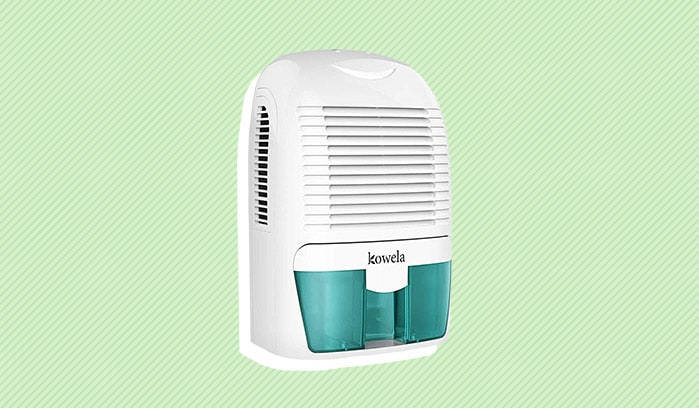 Kowela Electric Dehumidifier
Pros:
Quiet, power conserving, and high efficiency, this dehumidifier is great for running unnoticed throughout the night.
Its one-button control and automatic stop function when full makes the device as easy to use as possible.
With its light weight and top handle, it can easily be transported from room to room.
Cons:
Because of the device's lower capacity, it may not be the best option for space that need a heavier-duty dehumidifier.
Kowela Electric Dehumifier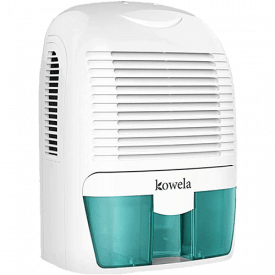 This high efficiency dehumidifier from Kowela is a perfect option for controlling air moisture in small areas. Simply set it in the corner of a bedroom or other small space, hit its simple one-button control, and watch it pull moisture from the air. The device extracts up to 18 ounces of water per day into its 52-ounce tank, and automatically shuts off when it hits capacity. Its super quiet operation noise makes it ideal for any bedroom.
Sleepopolis Score
4.10 / 5
How We Chose the Best Dehumidifiers for Sleep
Choosing a dehumidifier for sleep can be a tough proposition given how many variables there are for you on an individual basis and how wide the range is in products on the market. If you're looking to add humidity or remove it, if you're hoping to install it in a small space or cover a large area, or if you need additional features like a drainage hose, the type of dehumidifier you choose will be totally different. There are some universal factors, however, that we took into consideration when determining our favorite dehumidifiers.
Fill Capacity
It shouldn't matter if you're looking to control humidity in a small space or a large space, the dehumidifier you choose should maximize its fill capacity. Many smaller dehumidifiers have a maximum amount of water it pulls out of the air to manage tank capacity, whereas larger capacity dehumidifiers give the additional option of adding a drainage hose that takes away the need for a tank entirely. Regardless of how the dehumidifier is used, it was important to us that you weren't required to empty the tank more than once a day.
Ease of Use
While dehumidifiers are increasingly advanced pieces of technology, they shouldn't be overcomplicated. Even ones that feature touch screens or more intricate programming settings, they shouldn't be difficult to use. We favored dehumidifiers that could be easily set and managed, with special considerations made to ones with simple one-button functionality.
Noise Control
Let's face it, these dehumidifiers are designed for sleep. Having a device in your bedroom humming and rattling throughout the night is counterintuitive, even if it is performing the desired function of controlling the moisture in the air. The dehumidifiers we selected take extra strides to run as quietly as possible so as not to disturb your sleep during the night.
Tips for Selecting the Best Dehumidifier for Sleep
Deciding which dehumidifier will work best for you is largely dependent on a number of specific factors unique to your environment. When you pick the perfect one, however, it can make all the difference in your air quality, and help provide a comfortable atmosphere conducive to sleep. Here are some considerations to make when choosing a dehumidifier:
Room Size:

The size of dehumidifiers runs the gamut from smaller-capacity bedside devices to large, heavy-duty devices capable of controlling humidity in entire basements. When choosing your dehumidifier, it's imperative to consider the size of the room in which you need to control air moisture. Not only that, but it might be in your best interest to opt for a larger capacity device. If you think your room is on the verge of necessitating between a small or a medium dehumidifier, choose the medium size; having more capacity is always better than having less.

Climate and Humidity:

The environment in which you dehumidifier will be installed will play a huge factor in the device you choose. If you live in a dry environment, consider devices that are better at adding humidity to the air, and vice versa if you live in much more humid climates. No matter where you live, there is a device best suited to your level of humidity.
Recapping the Best Dehumidifiers for Sleep
When you land on the perfect humidifier for your needs, not only can it lead to waking up feeling more refreshed, but it can generally help your overall health; controlling humidity can help control airborne pathogens and bacteria. There are a number of high-quality dehumidifiers on the market for every environment and space, it's just a matter of finding the right one for you.
FAQs
Can you use a dehumidifier while sleeping?
Yes! Dehumidifiers, especially in musty or humid environments, are a great way of removing moisture from the air which can increase overall air quality. Leaving them on throughout the night is typically safe, as many have automatic shutoff functions when the water collection tanks are full, and shutoff functions if the device overheats.
How big of a dehumidifier do I need for a bedroom?
There are dehumidifiers at all size levels, and most are rated based on square footage they serve. When selecting a dehumidifier, approximate the size of the room you need it for, which will help determine the best size for you. If you want to be on the safer side, select one that has a slightly higher capacity than the space calls for to ensure its efficacy.
When should you run a dehumidifier?
Ideally, your dehumidifier will be running while you're sleeping to control air quality when you're spending the most amount of time in the bedroom. Beyond that, depending on your climate, you may want to run the dehumidifier in seasons of increased precipitation to keep humidity down when you need it most.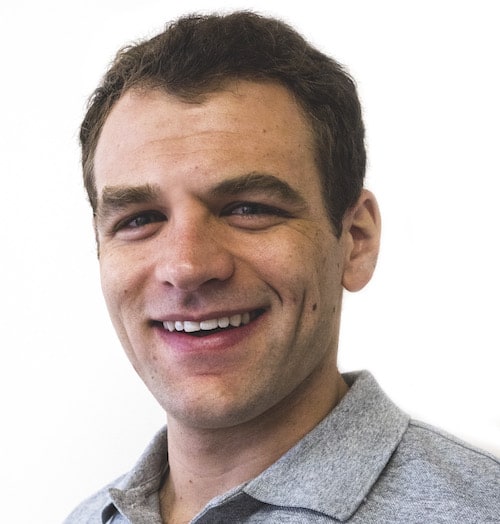 Logan Block
Logan is the former content director of Sleepopolis. As content director, he reviewed new mattresses every week and curated the comparisons, best of pages, and video guides on the site. Logan perfected his method by personally testing over 200 different mattresses, so he's not only able to discern the overall vibe of a specific bed, but to contextualize its feel within the bed-in-a-box market as a whole.