Walk into any athletic training room, whether high school or professional, and you will see athletes tending to their injuries with heating pads. While this is an effective way for athletes to get back on the mend, why not use that same technology to help out the aches and pains of everyone else? Thankfully there are several companies that are making heating pads that are available directly to consumers. These can alleviate pain, help blood flow, and generally calm tight areas of tissue and muscle.
When trying to figure out which heating pad to purchase, you are usually already in a bit of pain, so we have tried to make the process as easy as possible. We tested out the top offerings to gather some valuable information about them. Here is what we found: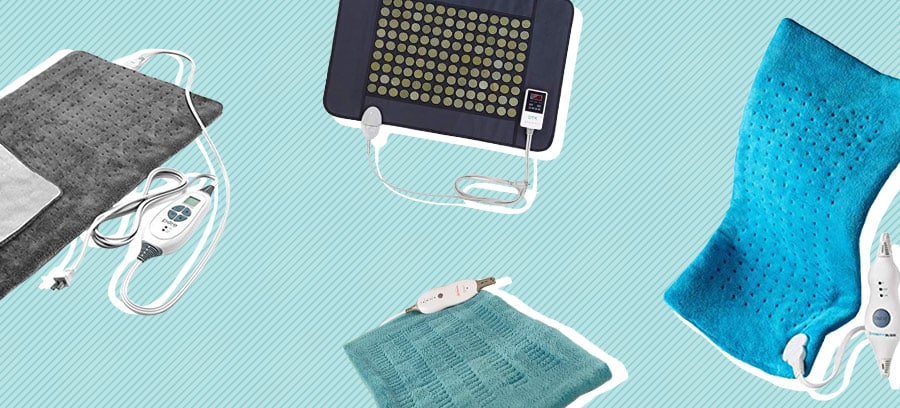 Editor's Choice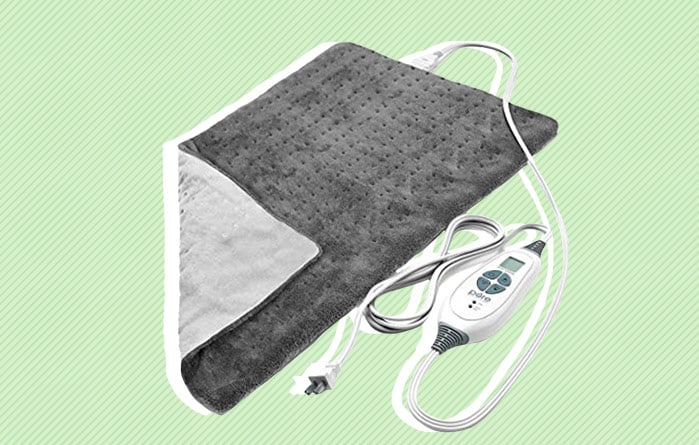 Pure Enrichment PureRelief XL King Size Heating Pad
Pros: 
Temperature options. Some aches and pains are better suited to a warmer temperature, while some users may only need the coolest option. This device has six temperature options – which is more than most competitors -so you should be able to find the temperature that suits your and your needs.

LCD screen. Considering there are six temperature options to shuffle through, one of the great features of this heating pad is the accompanying LCD screen. This screen will communicate to you the temperature level so you will never have to guess.

Color options. While not necessarily a piece of clothing that needs to match your style, a heating pad is something you may be using every day, sometimes at work or even while traveling. Pure Enrichment is unique amongst its competitors in offering both a colorful blue and a more subdued grey option. This is perfect for those who want their heating pad to be more discreet.
Cons: 
Bulky cord connection. The area of the heating pad where the power cord connects to the pad itself can feel a bit bulky. You may notice it when laying flat on the heating pad.

Hottest settings. This won't be a problem for some users, but the warmest two or three levels can feel quite hot. Most users will probably find their sweet spot in the lower half of the temperature range.
Contender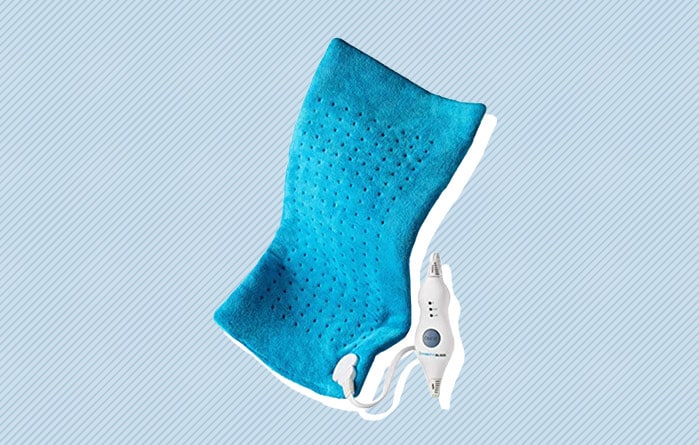 MIGHTY BLISS XL Electric Heating Pad
Pros:
Throw it in the laundry. As a device that a user will be administering to naked skin, sometimes even after a workout, a heating pad should be cleaned with some regularity. It is a relief that this heating pad from MIGHTY BLISS can be easily integrated into a normal laundry routine. Perfect for those who don't have time to hand-wash a new household device.

Soft. The microfibers that make up the plush material on either side are rather soft and comforting on the skin. Designed to feel like pajamas, the heating pad is geared towards making treating your aches and pains a comfortable experience.

Lifetime replacement. MIGHTY BLISS is so confident in their product that you have a lifetime guarantee. If you have a device that falters for any reason, they will replace your heating pad for free, without even needing to send them back the faulty one. 
Cons:
Only three settings. Optionality is of huge benefit when trying to rehab from an injury or tend to general aches and soreness. While this heating pad offers three different temperature options, some users won't be able to find the exact temperature that suits them.

Sensitive controls. Assumedly the controls were designed for easy use, but on the flip-side, sometimes it is easy to bump into the controls and change the temperature – or turn off the device all together.
Best Value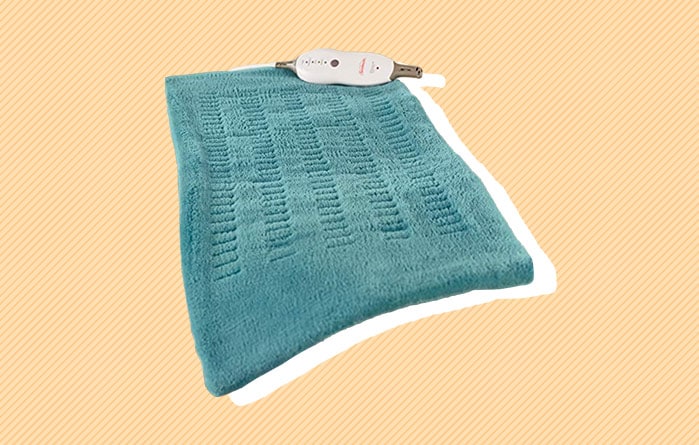 Sunbeam Heating Pad
Pros: 
Auto shutoff. Sunbeam's heating pad automatically shuts-off after two hours. This ensures that you don't fall asleep and keep a hot electric device plugged in. Great safety feature.

9 foot cord. This heating pad comes supplied with a nine foot power cord. This is quite long and is perfect for those who want to have some flexibility with their positioning or stretching while applying the heating pad.

Cost. This heating pad from Sunbeam will cost you less than $30. Considering a single trip to the physical therapist could cost you ten times that, this is a great bargain for a device you can use over and over again.
Cons: 
Power light stays on after shut-off. This isn't the biggest problem, but the power light stays on even after the automatic shut-off. This "standby" mode isn't really necessary and can make sleeping in that room difficult for sensitive sleepers.

Controller gets warm. The attached controller gets warm while using the device, and even stays warm when the device is plugged in. This may be consuming energy from your household, though probably marginal amounts.
Best Infrared Heating Pad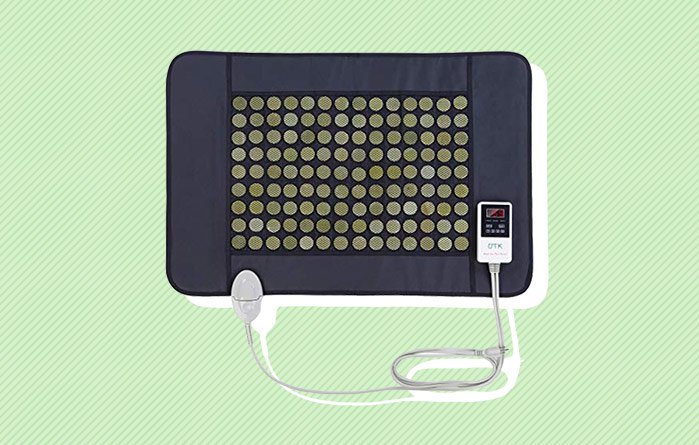 UTK Far Infrared Jade Stone Heating Pad
Pros: 
Adjustable temperature. This heating pad from UTK can be adjusted from 103°F to 159°F by 1° increments. Many electric heating pads max out around 130°F.

Velcro strap. One of this reviewer's favorite aspects of this heating pad is the velcro strap. A user can manipulate the strap to affix the heating pad to several areas of the body that are difficult to maneuver when sitting upright or standing.

Memory function. This heating pad has a clever memory function that allows you to access previous settings. This is perfect for those who are not tech savvy or for those who are trying to fit their muscle relaxation into a tight schedule.
Cons: 
Cost. While this device certainly does the job effectively and can be adjusted to most user's needs, you will pay a hefty price for this heating pad. It retails at around $150.

Not soft. The jade stones do a fantastic job of using far-infrared to penetrate further than other types of heating pads, but the stone discs aren't as comfortable as some soft plush offerings.
Best Moist Heating Pad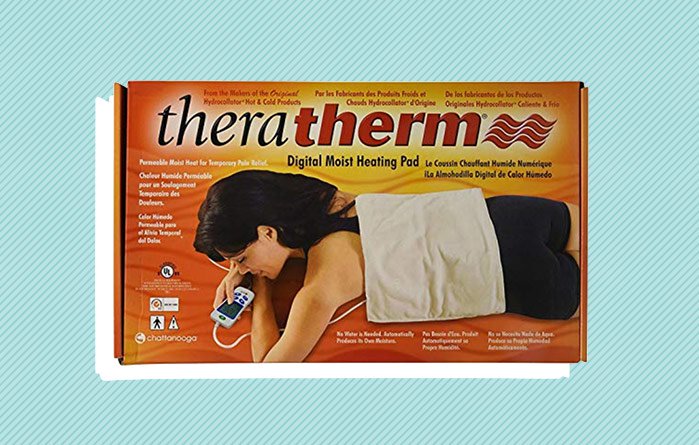 Chattanooga Theratherm Automatic Moist Heat Pack
Pros: 
Flannel covering. One side of the heating pack is made of a flannel material, which serves to absorb moisture in the air. This moisture is then transmitted with heat to your skin, muscles, and deep tissue. This prevents the heat from dehydrating your skin.

Settings lockout. A wonderful feature on this device allows users to effectively "lock" the device settings while use. This is helpful for users who might move around a bit while using and want to prevent accidentally turning the device off or turn the temperature up.

Timer. This Chattanooga heat pack allows users to set anywhere from a one minute session up to sixty minutes. This is ideal for people who are trying to use the heat pack for a very specific, or even medically prescribed, amount of time without having to constantly check a clock. Great for multitasking while you apply the heating pad.
Cons: 
Very hot. Some users will need to turn the temperature higher than average, but the 166°F highpoint is quite hot. Not many users will need that much heat.

Limited warranty. Most people purchasing this heating pack will be very satisfied with the effectiveness of the moist heat technology. Unfortunately, the warranty is pretty limited when compared to other competitors, so if you aren't satisfied or if it wears down over time, you may be out of luck.
How We Picked
Heating pads can supply almost instantaneous relief for certain aches and pains. Using your own home electricity, you can power a heating pad that you can apply to almost all areas of your body. While customers will have a wide array of needs, some heating pads offer functions and features that might appeal to very specific types of customers. We've disseminated these different features for their relative value with regards to several different categories. Here are the aspects of heating pads we used to make our evaluations:
Heating options
No two injuries are ever alike, nor should the way you treat them. Most of the leading heating pads on the market will allow some variation in the heat level. Some offer a wide range of temperatures, even allowing users to adjust it per temperature Fahrenheit. Other offerings have preset temperature levels, which accommodate the average spectrum of user's heat needs. If you feel like you may need more sensitive heat regulation, look for the devices that are more adjustable.
Comfort
Heating pads are almost always going to be flush against customers' bodies, often for an extended period of time. Users will want heating pads that are comfortable not just because of their material, but also their shape, sturdiness, and places where component parts are connected or charged. Users with specific injuries or areas of the body with aches and pains should pay attention to the material and shape of heating pads and consider how it may lay comfortably against the affected body region.
Price
Some customers may just need a heating pad because of a strained hamstring from chasing after a dog. These customers may not be willing to fork out a ton of money for a device they may only end up using for a few weeks. However, for those looking to invest in a heating pad that can last and become integrated into a daily routine, there are many high-end products out there. These heating pads offer more options, namely for temperature and timing, but also have added functions that may make them a better long-term option.
Ease of use
These heating pads can have all the trappings a professional physical therapist could ever ask for, but if they aren't comfortable to put on, easy to use, or confusing to shut off, then all might be for naught. Heating pads from most of the leading brands will have controllers attached, through which you can manipulate the temperature, timing, and even recall favored past settings. This may be beneficial to some users, but others may get frustrated with some of the more antiquated analog buttons and displays. If these devices are hard to put on or keep on your body, due to shape or lack of strap, then your muscles will have a hard time getting consistent and helpful heat therapy.
Buying Tips
Not sure which heating pad is best for you? We have listed some questions to ask yourself before making your purchase:
How do you plan on using the heating pad? If you have a nagging injury or a consistent ache, then you may look for a device that can cater to your exact needs. More heat options, a preset shut-off option, or a velcro strap may raise one heating pad to a higher rank than another. If you are just looking for a lower-cost heating pad to help you get through a minor discomfort, then you could probably look for a less technically complex device.
What is your budget? The range of price points for heating pads can vary from under $30 to hundreds of dollars. Professionals or those hoping to replicate the care one would receive at professional physical therapy office at home may opt for expensive devices with a lot of adjustability and safety settings, like a settings "lockout". There are lower cost products available for those who will probably only need one or two different heat settings to accomplish their recovery or relaxation goals.
What type of heating pad is for you? There are dry and moist heating pads, and there are infrared heating pads that use your home's electricity in a different way. The far-infrared waves can often reach deeper layers of tissue and muscle, which can provide more relaxation and relief. Dry heating pads can leave the skin feeling dehydrated, but may be ideal for some climates and personal needs. Moist heating pads utilize moisture to help the heat penetrate, but not all will like the moist texture of the pad.