King comforter sets help you create a unified look for your bed (and your bedroom) while providing you with the functionality of a comforter. Most king comforter sets include a comforter and two matching pillow shams, while some sets include extra pieces such as a bed skirt or additional pillowcases.
How do you decide on the ideal king comforter set for your needs? Start by considering your aesthetic preferences, budgetary constraints, and the climate where you live. (Why climate? Because that will help you decide if you need a heavy, ultra-warm comforter or a lighter-weight option that won't sleep too hot.) Then, check out our roundup of some of the best king comforter sets around.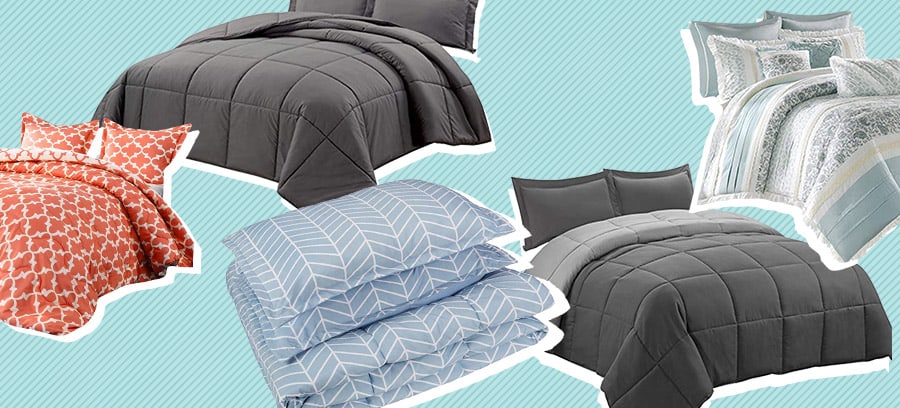 Pros:
The set is available in eight solid, reversible colors, so you can customize the color to your bedroom and you get two colors for the price of one.
This is a relatively budget-friendly king comforter set.
The box stitching helps hold the down alternative fill in place, while the double stitching overlock helps prevent fill from leaking out of the comforter.
If you choose to use a duvet cover, the comforter has four corner tabs to hold it securely in place.
Cons:
The comforter is on the thinner side, so it doesn't have the fluffy feel that some people prefer and it might not keep you warm in extra-cold temperatures.
If you like a lot of overhang, you might find that the comforter doesn't offer enough drape for your preferences.
Pros:
The set is available in 12 solid colors, so you should be able to customize the set to your bedroom decor.
This is a budget-friendly comforter set.
The box stitching helps prevent fill from shifting around, thereby protecting against cold spots.
The fabric is soft to the touch, and the comforter is filled with a hypoallergenic down alternative.
Cons:
The comforter is lightweight, so it may not be warm enough for seriously cold temperatures. It's also not very fluffy.
Some users have reported that certain colors might not match their photos.
Pros:
The set is available in a variety of colors and patterns, and each comforter is reversible. So you can change up your bedroom design without investing in a new comforter or duvet cover.
Each piece of the set is machine-washable.
This is a relatively budget-friendly king comforter set.
Cons:
Some users have reported that certain colors may not exactly match their pictures.
The fabric is brushed microfiber, which feels pretty synthetic. This might not appeal to everyone's feel preferences.
Pros:
While most comforter sets include one comforter and two pillow shams, this one also includes two extra shams, three pillows, and a bed skirt.
The set is machine washable and should hold up to regular washings.
The paisley design, pintucked fabric, and lace taping offer a dynamic, luxurious aesthetic.
Cons:
This is definitely not a budget-friendly comforter set, and it won't be accessible to all price points.
The set is only available in two colors (blue and coral), so there aren't many options for customization.
Pros:
This is one of the most budget-friendly king comforter sets around.
It's available in tons of patterns and solid colors, so you can easily customize the look to your bedroom's decor.
The set is made in an OEKO-TEX Standard 100 factory, which ensures that it meets certain safety and environmental standards.
The comforter is soft and lightweight, so you won't feel suffocated underneath it.
Cons:
Because the comforter is lightweight, it might not be warm enough for super chilly temps.
The fabric and filling are 100% polyester, which isn't the most high-quality fabric around.
How We Picked
There are a lot of king comforter sets out there, so we focused on several factors in order to narrow down our search.
Aesthetics
Every bedroom is different, and everyone has their own personal taste preferences. That means the look of one comforter set will appeal to some people and not others.
We included a variety of aesthetic options — from solid colors to patterned designs, from lace to cotton or microfiber — so you can choose according to your own preferences.
Care
Comforter sets are supposed to provide exactly that: comfort. They're not supposed to make your life harder or more stressful. So we focused on sets that are machine-washable for easy at-home care.
Comfort
"Comfort" is baked right into the "comforter" name, so we had to make this a big priority while searching for the best king comforter sets.
To that end, we focused on comforters that are soft to the touch. We also looked for comforters in a variety of weights so that you can choose an option that will help you stay comfortable in your home climate.
Cost
King comforter sets can range widely in cost from less than $30 to over $400. For the most part, we stayed closer to the lower side of that spectrum to ensure that the options on this list would be accessible to as many people as possible. But if you're in the mood for a splurge, you'll find that here too.
Sleepopolis Buying Tips
Ready to zero in on the perfect king comforter set for your needs? Consider the following:
What's your budget? If you have a strict budget, this will help you rule out a lot of options. If cost isn't an issue, then you'll have your pick of the litter.
What are your aesthetic preferences? Do you like the look of lace, or do you want something more understated? Do you want a patterned comforter, or do you prefer solid colors? What will mesh best with your bedroom's style? The answers to these questions will help you narrow down your options.
What are your functional needs? This comes down to factors such as climate, ease of care, and/or the number of items in the set. For instance, if you have tons of pillows on your bed, you might want to look for a comforter set that includes more than two pillowcases. If you live in a hot climate, you'll want to look for a lighter comforter than someone who lives in the arctic.
It can take some time to research all of your options, but finding the best king comforter set for your needs is well worth it. When you do, you'll enjoy the look, feel, and comfort that help turn your bedroom into a sleep-inducing oasis. Also check out my top picks for the best king size mattresses to complete your room!