When attempting to optimize our sleep, oftentimes we focus on the obvious: the pillows on which we rest our heads and the mattresses we use to support our body. Sometimes we go a step further and examine our diets; maybe we even take supplements to help turn our brains off so we can sleep free of our everyday stressors. But often we forget to examine lighting, which can be a crucial ambient element that keeps us up even if we don't realize it.
Lightbulbs for relaxation can help soften the experience of going to sleep. Calming ambience in the form of colored bulbs or dimming brightness can help our brains transition to night, which reinforces the physiological response of sleep. It's a simple trick, but it can make a world of difference to the quality of sleep you're getting on a nightly basis. These lightbulb options put you in control of light intensity and color, enabling you to optimize what works best for you.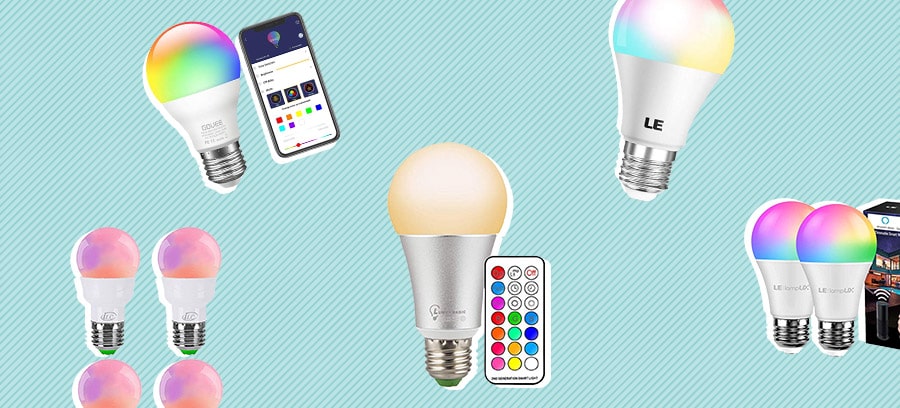 Editor's Pick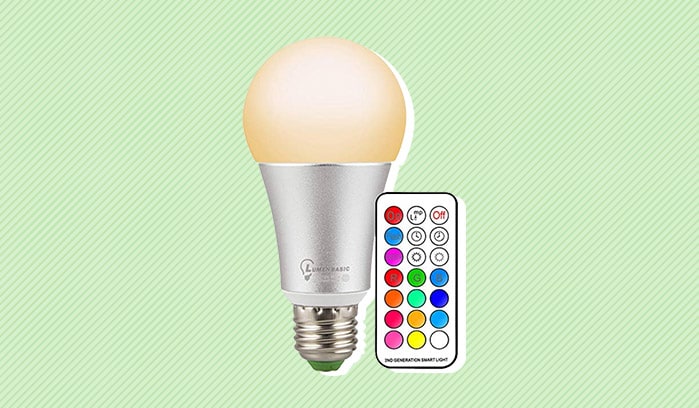 LumenBasic LED Color Changing Light Bulb
Pros:
The bulb is incredibly simple to use—all you have to do is screw it into your favorite lamp—everything else is controlled using the intuitive remote.
Choose from hundreds of settings including 120 color options as well as five dim settings, a timer, as well as dynamic modes that shift through colors.
The remote is great, but the included wall switch means you can use the bulb as a standard-controlled room light as well.
Cons:
The remote is designed for a closer line-of-sight use, which makes it perfect for using in a room, but if you're trying to control the lightbulb beyond ten feet it may not be as responsive.
Top Contender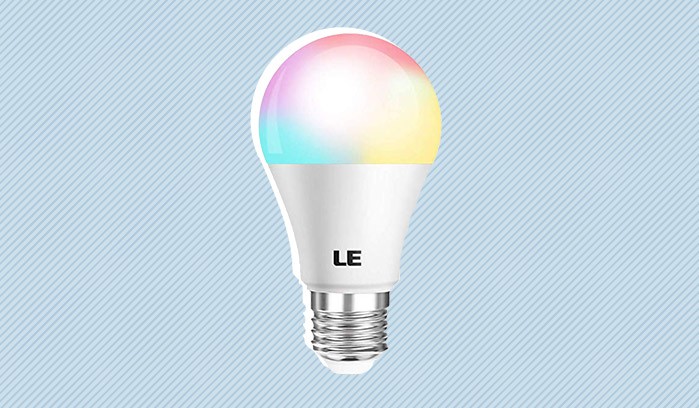 LE Color Changing Light Bulb With Remote
Pros:
The 16 color options as well as the white light gradient make it easy to choose the perfect calming tone for you.
There are additional light modes including flash, strobe, fade, and smooth so you can further control the bulb's function.
This energy-saving six-watt bulb shines with the brightness of a standard 40-watt incandescent bulb on its full white light setting.
Cons:
At its brightest, the bulb only works at the equivalent of 40 watts, which may be too dim if you're relying on it for illuminating an entire room or large space.
Best Relaxation Lightbulbs for Multiple Rooms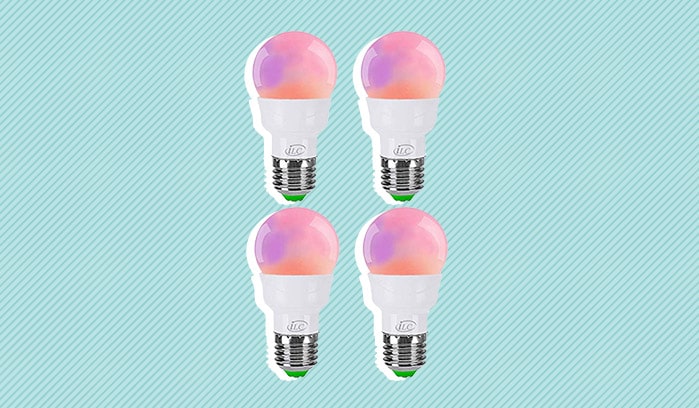 ILC RGB LED Light Bulbs
Pros:
Featuring four bulbs at a competitive price point makes this one of the more economical options on the market, especially if you're looking to have backup bulbs or to outfit multiple rooms.
The lightbulbs can be easily installed in a standard 26 millimeter (1 inch) base and the intuitive remote control makes adjusting color and intensity simple.
The bulb features a night light mode, which controls darkness levels as you go to sleep.
Cons:
The four pack of bulbs comes with two remotes, so if you're hoping to install the bulbs at multiple different sites you may be better off buying individual bulbs with individual remotes.
Best WiFi-Connected Lightbulb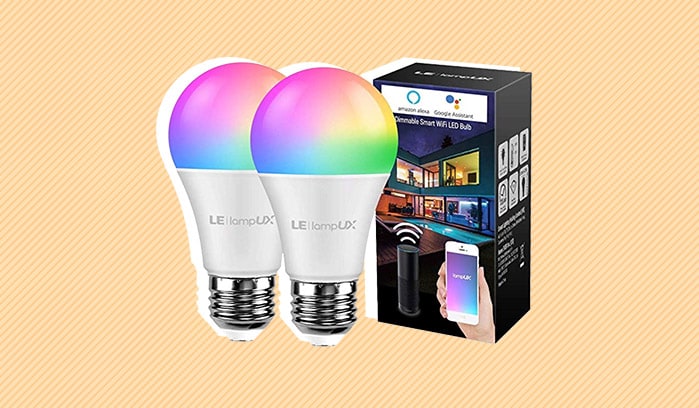 LE Smart LED Light Bulb
Pros:
The ability to control the bulb over Wi-Fi via the lampUX app opens up a whole world of customization not available on standard remote-controlled bulbs; this includes a larger range of color options as well as timers and scheduling options.
Hub integration is a great way to go hands-free; when connected to Alexa or Google Home the bulb can be controlled with simple voice commands.
The standard white light on its brightest has a 60-watt equivalent, which is strong enough to fill most rooms.
Cons:
Because you're working the bulbs over Wi-Fi and through an app (or even further if you're using a hub), there are multiple variables that can affect the bulb's functionality; if one of the intermediary control tools isn't operating properly the bulb may not work as well as it could.
Best Lightbulb With Music Sync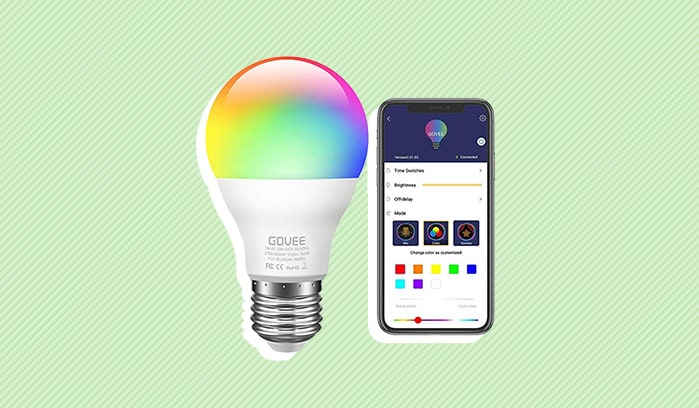 Govee LED Light Bulb
Pros:
The app-controlled bulb allows for much more customization than standard remote-controlled bulbs, and the fact that it doesn't rely on Wi-Fi helps with reliability should you have slower or weaker internet connection.
The Govee bulb features "Sunrise" and "Sunset" modes which can be programmed to increase and decrease in intensity on a schedule to help you sleep and wake up.
The bulb itself has a 60-watt incandescent equivalent, but runs at seven watts which helps with energy consumption.
Cons:
If you're hoping to use this lightbulb with Alexa or Google Home (or if you think you may want to in the future), you may want to look elsewhere; the bulb is not compatible with a hub.
How We Picked the Best Lightbulbs for Relaxation
As the smart home revolution has reached a fever pitch, there are countless options available for smart lighting. While many of these options are ideal for those with specific systems such as Google Home or Amazon Alexa, the fact that the devices are made to suit these systems can render them useless if you don't have one of these hubs in your home. Generally speaking, we tended to favor lightbulbs that could be used universally; set up in any bedroom to help you control your lighting to promote the best sleep possible. Some of our other considerations were:
Amount of Customization
Everyone's sleep habits and lighting preferences are different. Having a lightbulb that offers the most opportunity for customization is a must. We liked bulbs that offered at least a dozen color options, as well as multiple brightness settings. Lightbulbs that could be timed or had additional scheduling options were great because you can set them and forget them.
Brightness of White Light
Just because these lightbulbs are prized for their versatility in brightness and color options, it doesn't mean they shouldn't be able to handle the typical functions of white lightbulbs. Most lightbulbs for relaxation are LEDs, which are much more energy efficient than standard incandescent bulbs, yet that efficiency can affect overall brightness. We favored bulbs that had a minimum equivalent wattage of a 40-watt bulb, though those that boasted an equivalent of 60 watts were even better.
Features Geared Towards Sleep
Being able to customize the color and intensity of lighting is great and all, but having specific features that help you relax as you're preparing to sleep is an excellent bonus. We gave added importance to lightbulbs that featured "sunset" modes, or timed dimming that encourages falling asleep.
Tips for Selecting the Right Lightbulb for Relaxation
Even though they look like everyday bulbs, the lightbulbs best for relaxation or mood lighting feature a lot of intricate technology. And like every gadget, they can get complicated, or have subtle characteristics that make some bulbs much better than others. As you're picking out the best lightbulbs for relaxation, here are some things to look out for.
Longevity:

Smart lightbulbs or bulbs with adjustable lighting settings have a wide variance in their longevity. Some can have an estimated lifespan of 50,000 hours, while some can have as little as 6,000 hours of estimated use time. Make sure to check the estimated use time of the bulb or you may need to replace it after a short amount of time.

Size and Installation:

Every lamp and every bulb is different. While the majority of lightbulbs out there are going to fit a standard E26 base (which is 26 millimeters, or 1 inch wide), your lamp may be a different size. Make sure to double check your lamp's base size and ensure that it matches the base size of the bulb you're buying.
Recapping the Best Lightbulbs for Relaxation
Choosing a smart or customizable lighting option can be a gamechanger in your home. Not only does it add a different element to the ambience of your space, but when installed in your bedroom it can become a great, low-cost way to naturally encourage healthy sleep habits. These bulbs can even be connected to home automation systems, which can integrate them into a larger smart home.
FAQs
What color light is best for relaxation?
Experts are a bit split on the best light color for relaxation. While blue and green tones have proven to help reduce stress, blue wavelengths are also shown to promote alertness and energy. Conversely, red wavelengths are shown to be better for nighttime use because they encourage the production of melatonin.
What kind of light bulb is in a happy light?
The Verilux HappyLight is used for light therapy, and employ full spectrum light boxes which mimics daylight at a high intensity of around 10,000 lux (standard daylight is around 5,500 lux).
What is the best light bulb for a bedroom?
While white incandescent bulbs are the standard, opting for a more soft yellow lightbulb can promote feelings of coziness and relaxation in a bedroom. Choosing bulbs with adjustable colors can also help promote sleep or alertness, with colors on the red end of the spectrum, aiding in sleep and blue lighting encouraging alertness.