Cleaning your mattress is hardly a sexy chore. But it's important to do, because failing to clean your mattress can result in a buildup of odors and/or nasty substances including bacteria, bed bugs, dust mites, and mold. Bet I've got your attention now!
The good news is that cleaning your mattress doesn't have to be a major chore. By investing in a dedicated mattress cleaner, you can spare yourself a lot of elbow grease. These cleaners typically work thanks to the power of steam cleaning. Beyond this similarity, they can range widely in terms of their features, functions, portability, and cost. Ready to find the best mattress cleaner for your needs? Check out our roundup of great options.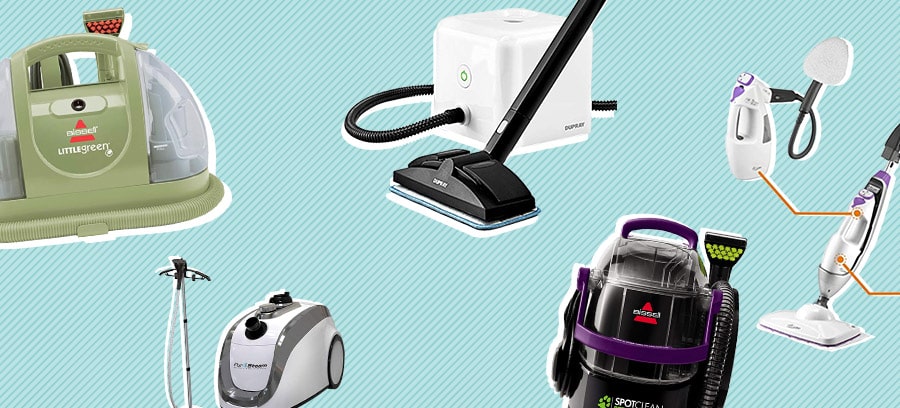 Editor's Choice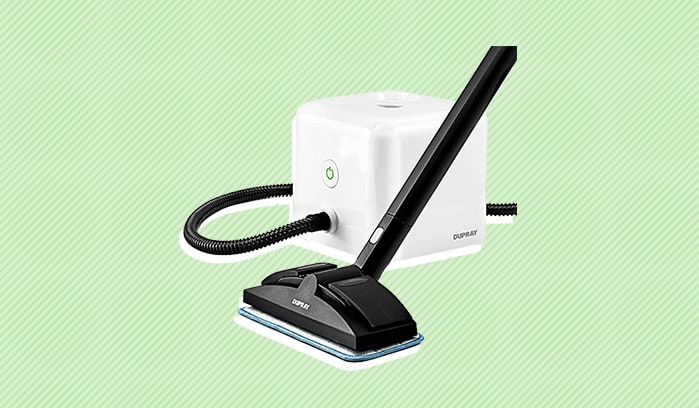 Dupray NEAT Steam Cleaner
Pros: 
This multipurpose, 18-piece cleaner can be used to clean, disinfect, and deodorize everything from floors to your car or mattress.

 

The large-capacity cleaner should last for up to 50 minutes without needing a water refill. 

The manufacturer says the cleaner will kill 99.9% of bacteria, bedbugs, mold, and viruses. 

Thoughtful design features make this extra user-friendly. These include a built-in funnel, retractable handle, long power cord, long hose, and smooth-rolling wheels. 
Cons:
The cleaner is on the pricier side, and it won't be accessible to all budgets. 

Some users have reported that the unit can leave behind a fair amount of wetness.
Contender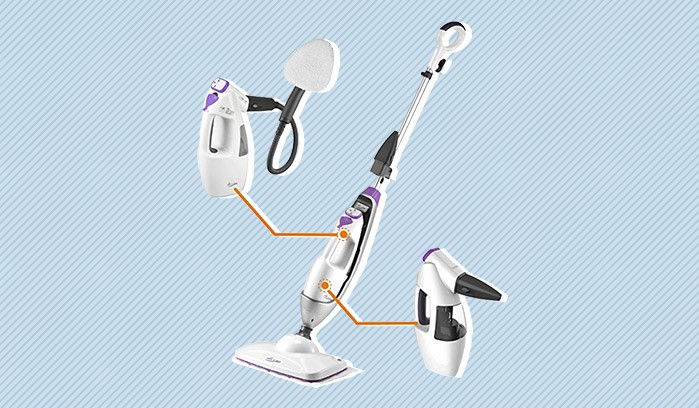 LIGHT 'N' EASY All-In-One Steam Mop
Pros:
The multipurpose cleaner features a detachable handle to tackle your mattress, garments, and other surfaces. 

High, medium, and low steam settings let you customize the output to your needs. 

The detachable handle, long cord, and cord clip make it relatively easy to maneuver this unit. 
Cons: 
The unit is on the pricier side. 

When the unit is in handheld mode, you have to continually depress the sensor with your finger. This can get tiring if it takes a while to clean your mattress. 
Best Portable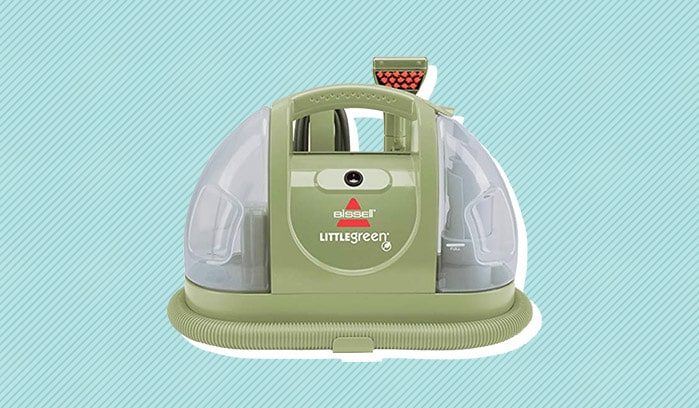 BISSELL Multi-Purpose Portable Carpet and Upholstery Cleaner
Pros: 
The compact, lightweight cleaner is portable and easy to store, and it comes with a special tool that's designed to help you access tough-to-clean spots. 

The removable water tank makes for easy refilling.  

The unit comes with a HydroRinse tool attachment so you can easily clean out the hose after use. 
Cons: 
Because this unit is on the smaller side, it's probably best suited to spot cleaning as opposed to tackling the entire bedroom. You might need to refill the tank during bigger jobs. 

Gunk can accumulate in the hose, so you might want to vacuum the mattress before using the cleaner to cut down on the amount of "stuff" that's sucked up by the unit. 
Best Spot Cleaner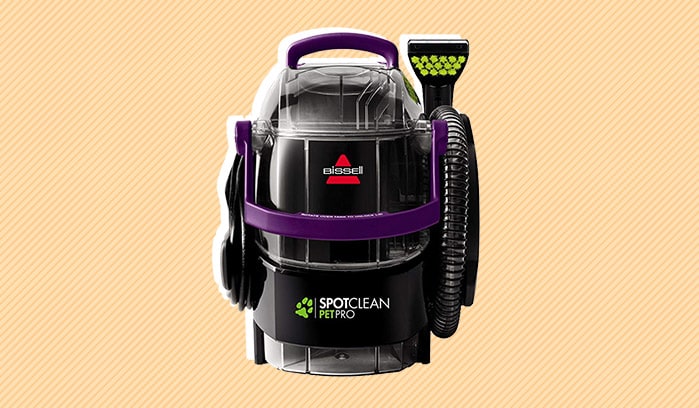 BISSELL SpotClean Pet Pro Portable Cleaner
Pros: 
The cleaner is lightweight and portable without sacrificing cleaning power, thanks to the combination of suction and brushing. The compact size also means it's easy to store. 

The multipurpose unit can be used on upholstery, carpet, rugs, auto interiors, stairs, and your mattress. 

The large tank provides for a decent run time between water refills. 

The long hose and power cord make it easy to tackle cleaning jobs without lifting up the unit or accidentally ripping the cord out of the wall. 
Cons: 
This is pretty expensive and won't be available to all price points. 

Because this works best as a spot cleaner, it might not be as ideal for cleaning a large area. 
Best Bargain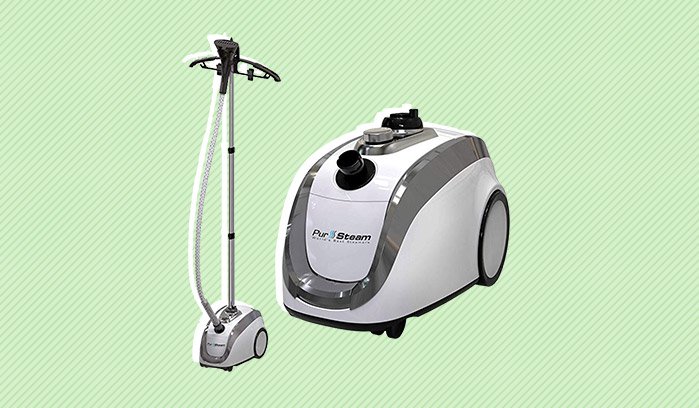 PurSteam Full-Size Steamer
Pros: 
Relatively speaking, this is a budget-friendly mattress cleaner. 

You can choose from four steam levels to customize the clean to the job. 

The manufacturer says this unit produces 30% more steam flow than most other steamers. While we can't vouch for that, it does seem to be especially powerful. 

The unit has a safety cap on the water tank that helps prevent burns. 
Cons:
The hose is on the shorter side, which means you might have to lift up the unit to reach the center of your mattress (especially if you have a tall mattress). 

Some users have reported the unit is prone to leaking. 
How We Picked
When it comes to vetting any mattress cleaner, there's really one driving question: Does it work? We focused on mattress cleaners that are consistently well-reviewed for getting the job done. Beyond this fundamental litmus test, we also took the following into account.
Cost
You're unlikely to find a mattress cleaner that qualifies as "cheap," but some are cheaper than others. You can expect to pay anywhere from around $80 to $200-plus for a decent mattress cleaner.
The options on this list tend to fall into the middle of that range, but you'll also find a choice or two on the lower end of the spectrum. Our goal was to provide options that are accessible to as many people as possible.
Features
This is the factor that can really make the difference between units. Different units will have different design features such as safety functions, multiple steam settings, various tool attachments, and so on.
We included units with a variety of design features to suit different tastes. It's important to think about your functional needs to zero in on which features are most important to you.
Portability
Outside of features, this is probably the factor that most distinguishes one mattress cleaner from another. Some units are upright, while others are much more compact. One isn't necessarily better than the other, but odds are good that one option will be better for you.
For example, if you're tight on storage space, then a compact unit will be less of a headache. If you anticipate using your cleaner for odd jobs around the home (such as cleaning your drapes or car upholstery), then this might also tip the scales in favor of portability. But if you're focused on cleaning floors along with your mattress, you might prefer an upright option. Also, people with back issues might prefer an upright unit, because it might not require as much bending.
Sleepopolis Buying Tips
Having trouble deciding on the best mattress cleaner for your needs? Ask yourself the following:
What are your functional needs? Do you need a unit that's great at spot cleaning (for example, if you have little kids of pets)? Do you need an upright unit that won't make you bend over much? Your needs should determine which features you prioritize.
Do you need a portable option? If you're short on storage space or you're planning to transport the unit both inside and outside of your home, then look for a compact unit with a long cord. If portability isn't a concern, this will open up more options.
What's your budget? Mattress cleaners can range from around $80 to more than $200. That's a big range, so consider whether your budget requires you to stay at a particular price point.
A great mattress cleaner can make your life a lot easier — and a lot safer. It'll help you remove odors and nasty substances from your mattress, which reduces your exposure to potentially harmful bacteria, bed bugs, dust mites, mold, and so on. Take the time to invest in a quality mattress cleaner, use it often, and rest easy knowing that your sleeping surface is squeaky clean.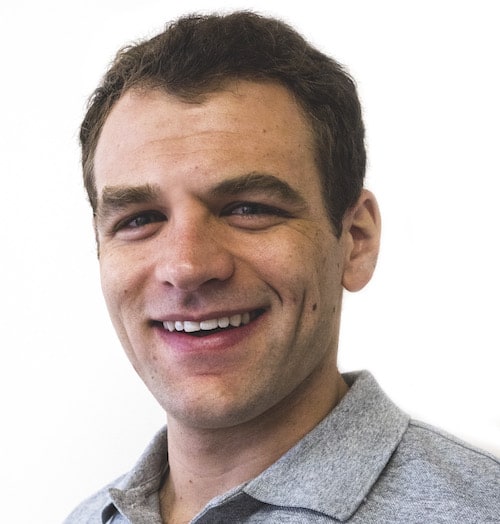 Logan Block
Logan is the former content director of Sleepopolis. As content director, he reviewed new mattresses every week and curated the comparisons, best of pages, and video guides on the site. Logan perfected his method by personally testing over 200 different mattresses, so he's not only able to discern the overall vibe of a specific bed, but to contextualize its feel within the bed-in-a-box market as a whole.