As the calendar rolls forward and the temperature drops, cold weather can serve as a damper on everyday life. Whether it is during expeditions out of the home during chilling nights or even when just relaxing at home, it is important to have clothes that can accommodate cold weather. Thermal underwear are a great way to stay warm in almost any circumstance.
Different brands of thermal underwear choose from a wide assortment of common fabrics, cuts, and colors for their products. This presents lots of options for those looking for the perfect set. To help figure out which thermal underwear may be best for certain needs, we have examined some of the most popular offerings to see what they are all about: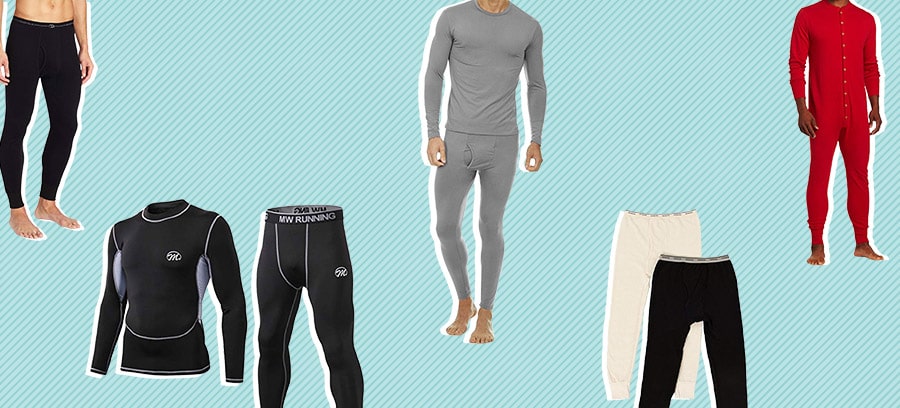 Editor's Choice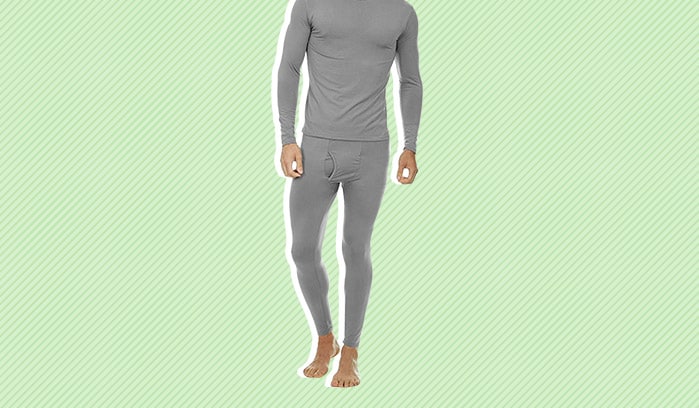 Thermajohn Men's Ultra Soft Thermal Underwear
Pros:
Top and bottom. This brand of underwear offers both a top and a matching bottom layer. The pair can be used as clothing worn underneath other clothes or as pajamas.
Won't bunch. Due to the thin nature of the material these underwear are made from, the sleeves won't bunch up like thicker clothes. This is great for people who like rolling up their sleeves while eating or other activities.
5 color options. This line of thermal underwear has five options for colors, which is more than many competitors. Gray, charcoal, black, navy blue, and white are the available offerings.
Cons:
Tight fit. Some may find that the tops of this underwear set fit rather tightly. This is especially true for those with a larger frame.
Wide collar. The collar on this long underwear set has a rather large collar, which may not cover as much surface area as someone would want in cold weather.
Thermajohn Men's Ultra Soft Thermal Underwear
The Thermajohn Men's Ultra Soft Thermal Underwear is lightweight and stretchy. It is made from a synthetic moisture-wicking material and is available in five colors.
The Contender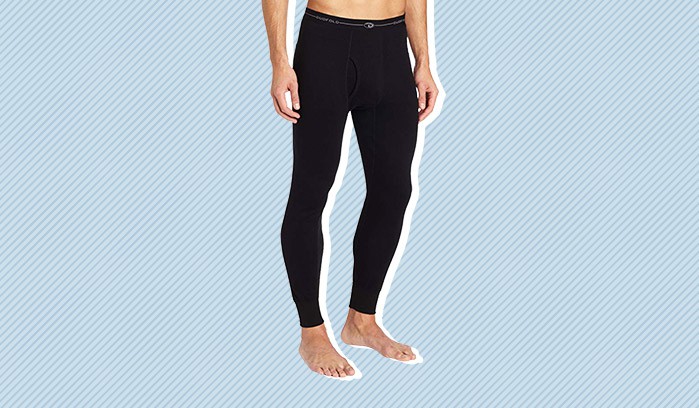 Champion Duofold Men's Mid-Weight Wicking Thermal Pants
Pros:
Flatlock seams. The seams of this line of underwear are sown in the flatlock style. This involves sewing both ends of the fabric flush to the underwear so there is less chance of chafing.
Two layers. The Duofold underwear get their name from the two layers of knit fabric. This provides more insulation and warmth during cold weather.
Tagless. There are no annoying tags that can cause irritation during use. This is great for those who plan on doing physical activities and don't want to be distracted by a tag.
Cons:
Pant legs run short. Though the pants may be the perfect length for some, they could be a bit longer. As these pants are meant to keep legs warm in cold weather, better to have extra length that can be folded than not enough.
Baggy pants. Some may find that there is too much material in the groin region of the pants. This can actually make it more uncomfortable by inviting unwanted folds.
Champion Duofold Men's Mid-Weight Wicking Thermal Pants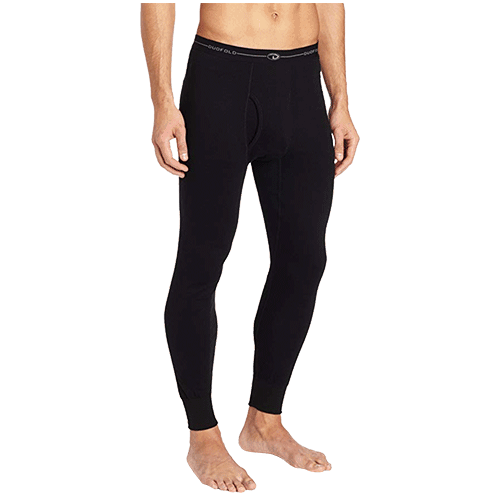 The Duofold Mid-Weight Thermal Pants have comfortable flatlock seams and do not have a potentially irritating tag. Available in four colors, these underwear feature two layers for added insulation.
Sleepopolis Score
3.10 / 5
Best Bargain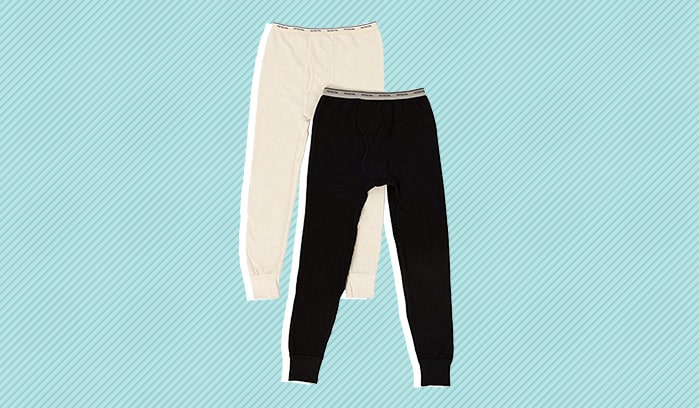 Fruit of the Loom Men's Classic Midweight Waffle Thermal Underwear
Pros:
8 sizes. These underwear are available in 8 different sizes, more than most similar products. The sizes range from small to 5 XL.
Waffle style. This offering from Fruit of the Loom features a classic waffle knit. The waffle weave is absorbent and provides extra warmth due to the honeycomb structure of the fabric.
Value. For those shopping on a budget, these are a great choice. They can be found available for as low as a few small bills.
Cons:
Low waist. The waistband on these underwear tend to hang a bit low. This can be an uncomfortable feeling, especially in cold climates.
Lacking rear contour. These underwear are lacking in contour for the rear end of the pants. The pants may fit better for people with flat frames.
Fruit of the Loom Men's Classic Midweight Waffle Thermal Underwear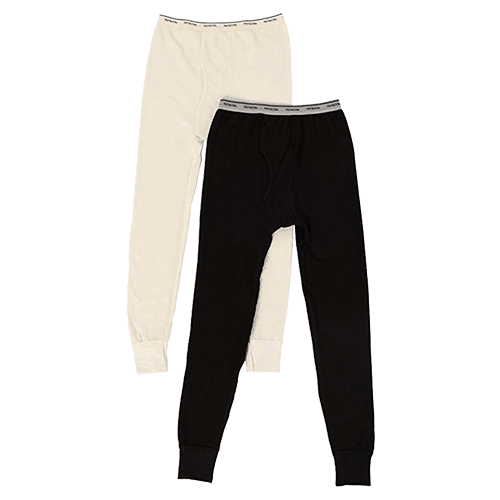 This offering from Fruit of the Loom is a classic waffle weave with moisture-wicking fabric. These underwear are a no-frills and competitively-priced option.
Best Compression Underwear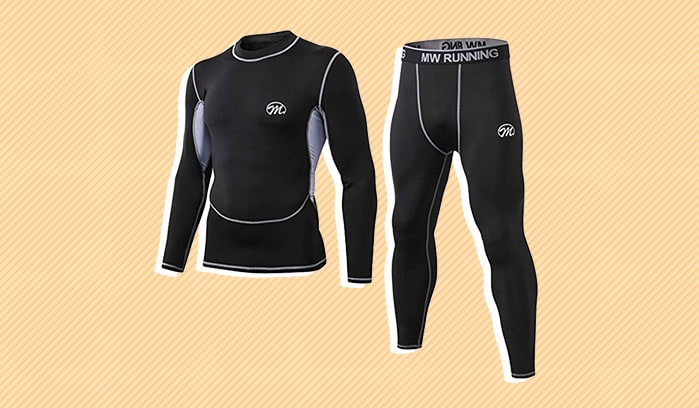 MeetHoo Men's Compression Base Layer Thermal Underwear Set
Pros:
Moisture wicking. These underwear are great for wearing while performing physical exercises. Its material is designed to have moisture wick at the surface as sweat proliferates around the body.
Fleece-lined. This line of underwear does a great job of keeping the body warm due to its fleece lining. Those hoping to use the underwear in winter may want to try these out.
Breathable slits. The top part of this thermal underwear set has breathable slits on either side of the torso. This allows moisture to leave and not feel cold on the wearer's skin.
Cons:
No fly. A major drawback to this set of underwear is that there is no fly. This makes it a bit more inconvenient to operate.
Long legs. The legs of these underwear tend to be a little long. They can be rolled up, but those with shorter legs may find the extra fabric a bit of a hindrance.
MeetHoo Men's Compression Base Layer Thermal Underwear Set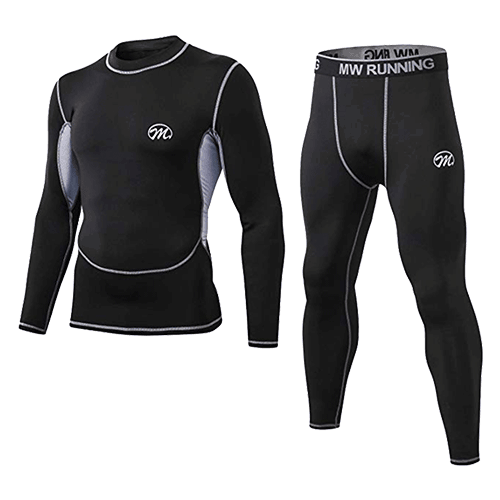 This set of underwear from MeetHoo have a top and bottom compression layer that have moisture wicking fabric and have a fleece-lined interior. The sides of the torso have columns of a different type of fabric that allow more breathing.
Best One-Piece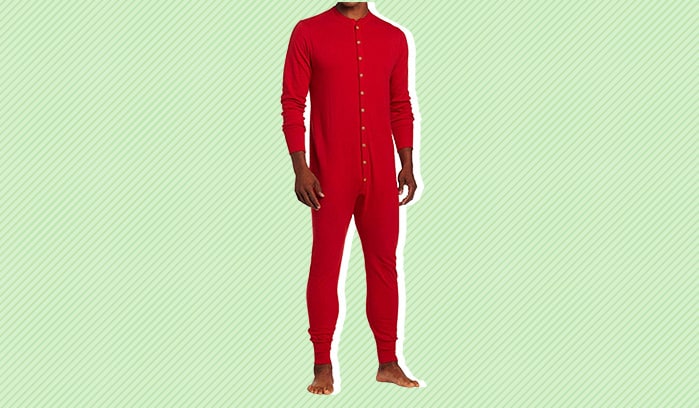 Champion Duofold Men's Mid Weight Double-Layer Thermal Union Suit
Pros:
Wool. The outer layer of this thermal underwear is comprised of 25 percent Merino wool. This provides extra insulation but also is porous enough to allow the material to breathe.
Full suit. This line of thermal underwear comes in a full-body suit. This makes it easy to pack for trips and to store at home.
Soft inner layer. The inner layer of this product is lined with cotton, which allows for a soft and comfortable experience while maintaining a warm temperature.
Cons:
Rear flap doesn't open wide. The rear flap on this set of underwear doesn't have a very wide opening. This can make it difficult to keep it open when necessary.
Midsection is baggy. Many people may notice that the fit is snug in every area except for the middle. This allows a wide range of people to fit in the underwear, but may seem too baggy for some people.
Champion Duofold Men's Mid Weight Double-Layer Thermal Union Suit
This one-piece thermal union suit from Champion's Duofold line has two layers, the outer comprised of cotton and wool and the inner solely of cotton. It is available in three solid colors.
Sleepopolis Score
4.60 / 5
How We Picked
Because thermal underwear are such a personal product, the determinations that may make one set more appropriate than another involve a lot of personal preference. That being said, some qualifications are more universal. We have laid out some of the key aspects that we considered most relevant below:
Fabric
The first thing to figure out when choosing which type of thermal underwear to get is deciding the type of fabric the underwear are made of. The two most common fabrics are polyester and cotton, but that doesn't mean people will have to decide between the two. Many lines of thermal underwear are made as a blend of the two.
Some other common fabrics are elastic and polyester; these allow thermal underwear to be stretchier than they normally would. This not only provides more room for movement, but can allow the clothes to have more compression and thus have a tighter fit. For extra insulation, some may opt for underwear with wool as part of the blend.
Knit
No less important than the fabric is the manner in which it is optimized. There are standard knits for most types of fabrics, many of which will be seen in thermal underwear. There are additional weaves, however, that may be specially catered to the warming qualities of these pieces of apparel.
One example of this type of knit is the waffle weave. This style, also called the "honeycomb" style, utilizes depth of fabric to provide more insulation. Another way of providing more insulation is by having two layers of knit fabric, with different fabrics and softness for interior and exterior.
Fit
The sizing and overall fit of thermal underwear can make a big difference in how comfortable it is for different wearers. This typically will come down to the intended use of these underwear. Most thermal underwear will either be worn as pajamas, as workout clothes, or as literal underwear underneath other clothes.
Thermal underwear that is to be worn underneath other pants and shirts may need to be a bit tighter in order to accommodate the layers of clothes. This tight "compression" style may be preferable for those who are interested in wearing these underwear for athletics as well. Those hoping for something strictly to wear indoors, a baggier fit may be more comfortable, but this is all contingent on the preferences of the individual.
Tips
Not sure which thermal underwear is right for you? Take a look at some of these tips to help make the decision easier:
Do you plan to exercise in them?

Some prefer a compression-style top and bottom set for exercising, though this can feel too constraining for some.

Products that allow the fabric to breathe more may help make exercising in thermal underwear more comfortable.

Do you need both top and bottom?

Most lines of thermal underwear only provide pants, though some make a matching set.

Not every matching set will fit well for both the pants and the top. It is advised to check the measurements before making your purchase.