A microfiber comforter can be a cozy bedding favorite that looks stylish and lasts for years. Microfiber is known for its warmth, easy maintenance, and smooth, weightless feel. Comforters made from microfiber come in a huge array of designs and range in price from budget-friendly to luxurious.
With such a variety of microfiber comforters available to choose from, how do you find one that keeps you warm and accents your bedroom decor? Keep reading. I tested a number of microfiber comforters in a mix of styles and fabrics to help you select the perfect option.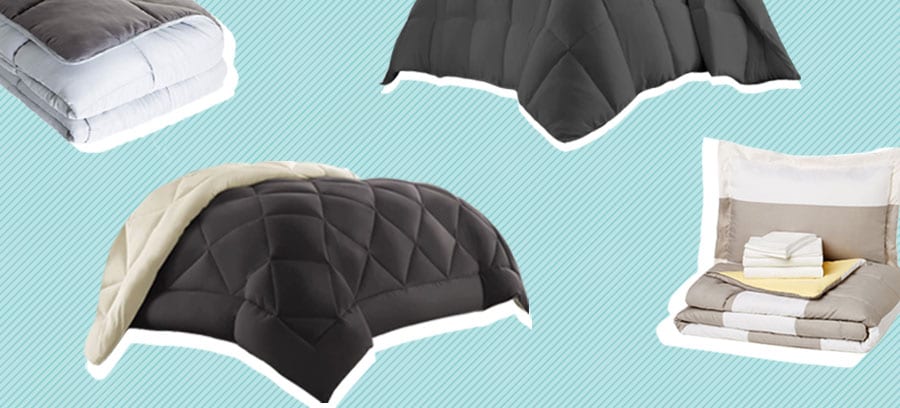 Editor's Pick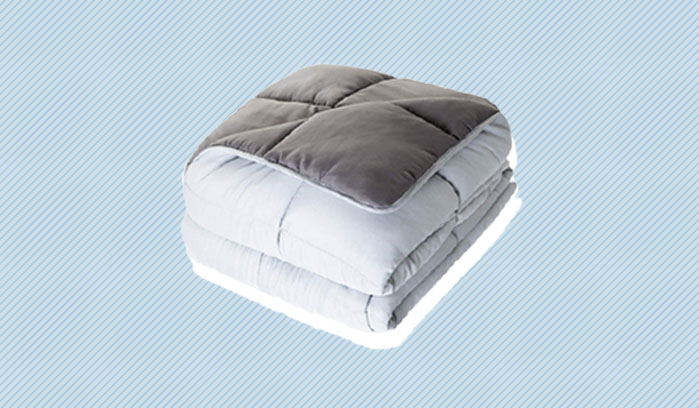 Linenspa All-Season Reversible Comforter
The Linenspa All-Season Reversible Down Alternative Quilted Comforter is my choice for editor's pick. This box-stitched down alternative microfiber comforter is available in 8 sizes including twin XL and oversized queen, and comes in 12 colors, including stripes and quatrefoil patterns. The Linenspa Quilted Comforter is machine washable and can be tumble dried on a low setting.
Pros:
Design. The Linenspa comforter comes in a host of chic patterns, styles, and colors, including white pinch pleats and a striking navy and white quatrefoil
Fabric. This comforter's all-season microfiber feels plush, thick, and durable. This is a comforter that could stand up to years of use with proper care
Colors. The colors are versatile and true to the pictures. I tried out the gray stripe option, which added a nice classic touch to my bedroom
Cons:
On the warm side. This will be a pro for folks for sleep cold but could be a con for sleepers like me who tend to overheat during the night 
Sheds. The down alternative material sheds quite a bit in the dryer, though this may resolve after a few more washes
Linenspa All-Season Reversible Comforter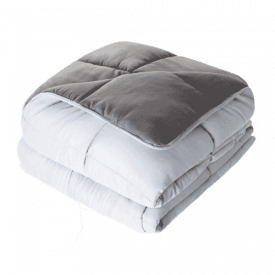 The Linenspa All-Season Reversible Comforter has a plush feel and comes in a wide range chic patterns.
Sleepopolis Score
4.50 / 5
Best Bargain Comforter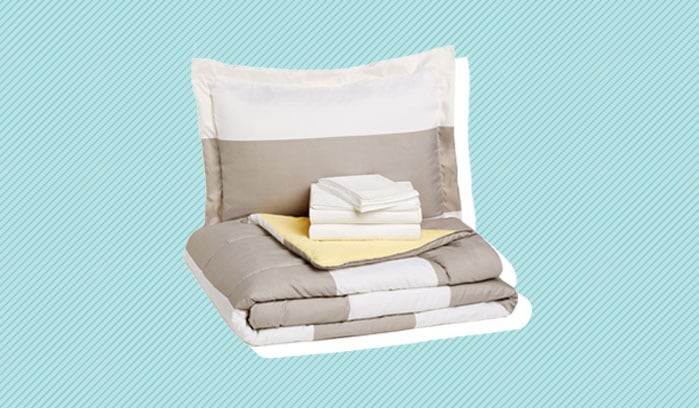 AmazonBasics
The soft and cozy AmazonBasics 7-Piece Lightweight Microfiber Bed-In-A-Bag Comforter Bedding Set gets my pick for best bargain. This leaf-patterned set is fashioned from smooth polyester microfiber and comes with a comforter, top sheet, fitted sheet, 2 shams, and and 2 pillowcases.
Pros:
Decor-friendly design. The leaf pattern is stylish but classic enough to suit most types of decor. This set also comes in 14 other patterns including plaids, stripes, and florals
Safety. The AmazonBasics bedding set is made in a OEKO-TEX Standard 100 factory and is a good choice for folks who prefer to sleep on environmentally safer products
Fabric. The microfiber material felt smooth and satiny on my skin and is easy to toss in the washer and dryer
Cons:
Insulation. The comforter in this set is a bit skimpy on insulation, which could be a pro for warm sleepers but a con for folks who tend to feel cold at night
Material. The microfiber fabric is soft but feels thin and potentially fragile. Time will tell if durability is an issue with this bedding set
Amazon Basics 7-Piece Microfiber Bed in a Bag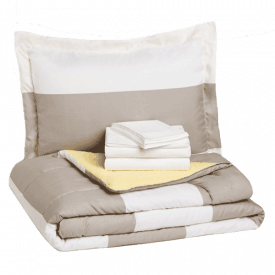 The AmazonBasics Microfiber Comforter is smooth, satiny and comes in a wide range of fabrics.
Sleepopolis Score
4.60 / 5
Best Cold Weather Comforter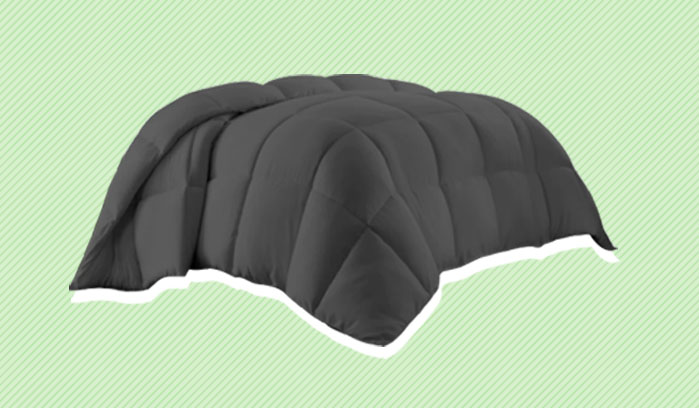 Beckham Hotel Collection 1600 Series Comforter
The Beckham Hotel Collection 1600 Series Comforter is my choice for best cold weather comforter. This fluffy polyfill comforter is available in 11 colors and twin/twin XL, full/queen, and king/California king sizes. The Beckham 1600 Series comforter has a box-stitch design and is machine washable.
Pros:
Coziness. This plush, warm comforter is a good choice for cold rooms and chilly nights
Classic design. The Beckham comforter's box-stitch design and classic colors will suit the decor of just about any bedroom, from traditional to contemporary
Fabric. The material was among the smoothest of any of the microfiber comforters I tested
Cons:
May sleep hot. If you find yourself throwing off the covers at night, you may prefer a cooler option
A bit small. I found this comforter to be smaller than I like for a queen bed. Folks who value a generous cut in a comforter might want to size up
Beckham Luxury 1600 Series Comforter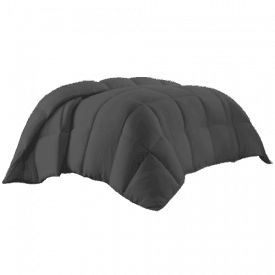 The Beckham Hotel Collection 1600 Series Comforter has a smooth feel and a classic design.
Sleepopolis Score
4.60 / 5
Best for Softness
Sleep Restoration Down Alternative Comforter
The Sleep Restoration Down Alternative Comforter gets my nod for softest microfiber comforter. This velvety plush comforter is made from a brushed polyester shell that feels smooth, breathable, and cozy. The Sleep Restoration comforter is available in 10 colors and twin/twin XL, full/queen, and king/California king sizes.
Pros:
Cozy. This comforter has a smooth, silky feel that only gets better with use
Warm. Cold weather is no match for the Sleep Restoration comforter's fluffy polyfill insulation
Washes well. This comforter came out of the dryer after its third wash looking brand new and wrinkle-free
Cons:
Limited sizes. This comforter is available only in 3 sizes, which may feel a bit small to couples in particular 
Color. The sage green was more of a mint green in person, something to keep in mind when picking a color option
Sleep Restoration Down Alternative Comforter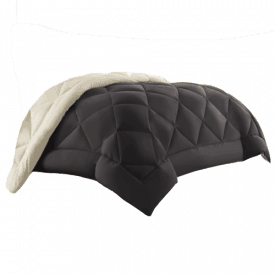 The Sleep Restoration Down Alternative Comforter is cozy and warm to comfortably get you through cold weather months.
Sleepopolis Score
4.60 / 5
How We Picked
When choosing microfiber comforters to review, we looked closely at a few important factors. These are common to all comforters made from microfiber, no matter what the brand, size, or price point. When selecting a new microfiber comforter, consider the following:
Material
The material used for the cover and insulation of a comforter impacts its durability, how it feels and looks, and how much it costs. Microfiber comforters usually include the following:
A microfiber cover – Microfiber is made of strands of polyester that are finer than a strand of silk. Microfiber sheets are typically moisture wicking, but may be less breathable than natural fabrics due to the fine weave of the fibers. Microfiber may not be ideal for people who sleep hot or wake up perspiring, though some newer weaves of microfiber provide better ventilation. Microfiber can be one of the least expensive options when it comes to bedding, and may be durable if constructed well
Polyester insulation – Polyester, also known as down alternative, polyfill, or fiberfill, is a popular stuffing for comforters of all kinds. Polyester filling is known for being lightweight, durable, and machine washable, and is generally less expensive than down or natural fibers such as wool or cotton
Down insulation – Goose or duck down may also be used in microfiber comforters. Down is a powerful insulator but is light and fluffy, making it a good material for use in comforters. Down alternative insulation is used more often in microfiber comforters, but some microfiber comforters do use down. Some down comforters may be machine washable but are not generally as easy to care for as down alternative models
Design
Comforter design includes both pattern and style. An all-white comforter is a bedding classic, but may not be practical for some families or suitable for all decors. A solid color comforter can easily coordinate with any rug, drapery, or bedding design. Solids might also incorporate subtle patterns such as stripes or paisleys.
Comforter patterns range from simple plaids and florals to more exotic batiks and ethnic designs. Patterned duvet covers and comforters can be switched up quickly for a more sophisticated or playful look, and are a fun and affordable way to breathe new life into a bedroom or guest room.
Comforter Construction
Comforter construction refers to the style of stitching that binds the insulation inside a comforter and gives it its unique style. Common types of comforter construction include:
Box stitching – A box stitch is create by sewing two pieces of fabric together around the full perimeter and filling each one with polyfill, down, or a natural fiber. Box stitching is typically "sewn through," which means that each box is separate from the others. Box stitching keeps the insulation in place but can also hold it down and decrease its loft
Baffle stitching – Baffle stitching is similar to box stitching, but each compartment of the down comforter is sewn with a side wall that creates a 3-dimensional chamber. The chamber lets the insulation expand fully and reduces cold spots that can occur with other types of stitching
Diamond stitching – Like box stitching but in a diamond shape, diamond stitching creates separate compartments for the comforter insulation that prevents it from moving or bunching up. If diamond stitching is sewn through, it may keep the insulation from rising to its full loft
Price
When choosing microfiber comforters, we looked at a variety of options from inexpensive to moderately priced. Microfiber is typically one of the most affordable bedding materials, putting it within reach of nearly any buyer.
Microfiber ranges in cost depending on size, design, and material. Microfiber comforters filled with down or edged with pricier materials will cost more, as will comforters that feature unique or more labor intensive design. Comforters that utilize lighter or more breathable microfiber may also come in at the higher end of the price range.
When looking for a microfiber comforter, know your price range and the top items on your wish list. Find 3 to 5 comforters in your budget and compare features, reviews, and designs before choosing the right one for you.
Buying Tips
If you're still not sure which microfiber comforter is best for you, keep the following tips in mind:
What kind of sleeper are you? Warm sleepers often do best with lighter, more breathable comforters, while cool sleepers may prefer heavier or more insulated bedding. An airy, summer-weight microfiber comforter can be ideal for folks who sleep hot
Consider color. Choosing a new comforter can be an opportunity to express your personal style and use bedding to accent your decor. A comforter can also become a room's focal point, or serve as a backdrop for chic bedding and bed frames
Breathe easy. If you have allergies or respiratory issues, consider a hypoallergenic, organic, or chemical-free option, or choose a comforter manufactured using environmentally safer practices
Think about maintenance. Sometimes the best option is one that requires little special care, is machine washable, and can hold up to use by children and pets
Last Word From Sleepopolis
Microfiber has become one of the most popular and practical bedding materials available. The right microfiber comforter can be a cozy and easy-to-care-for essential that provides nightly comfort and helps promote sleep. When shopping for a microfiber comforter, know your must-haves and keep features like design, price, and warmth in mind.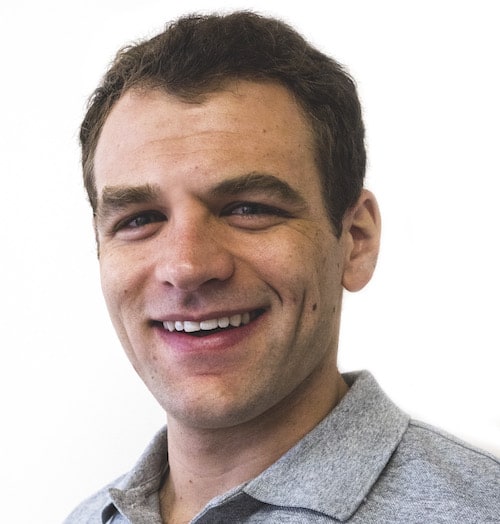 Logan Block
Logan is the former content director of Sleepopolis. As content director, he reviewed new mattresses every week and curated the comparisons, best of pages, and video guides on the site. Logan perfected his method by personally testing over 200 different mattresses, so he's not only able to discern the overall vibe of a specific bed, but to contextualize its feel within the bed-in-a-box market as a whole.