Night is the time of our daily lives when we can be free of the pressures, responsibilities, and discomfort we encounter day to day. We can unbuckle, unsnap, untie, and unzip for the day and finally find the sweet spot at the intersections of comfort and rest. One of the most reliable ways of reaching that level of relaxation is through what we wear.
Nightgowns are an easy-to-wear option for women to really get themselves primed for a good night's sleep. There are a lot of known brands as well as newcomers to the market who are all making quality nightgowns. We've tried out the leading offerings in order to help you navigate through the options.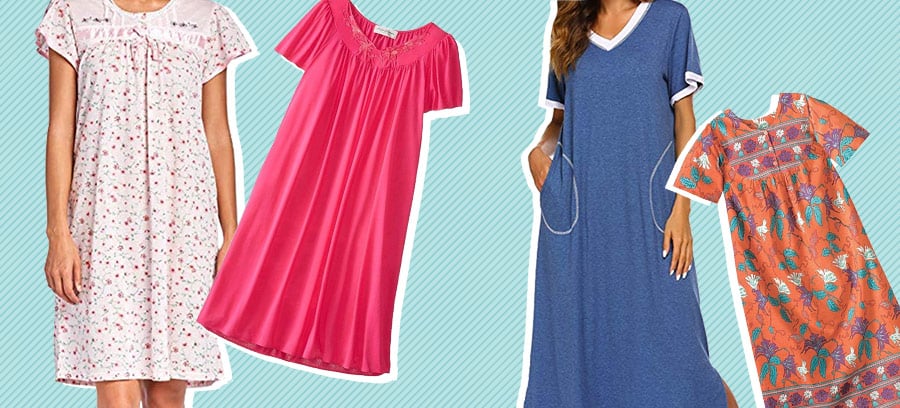 Editor's Choice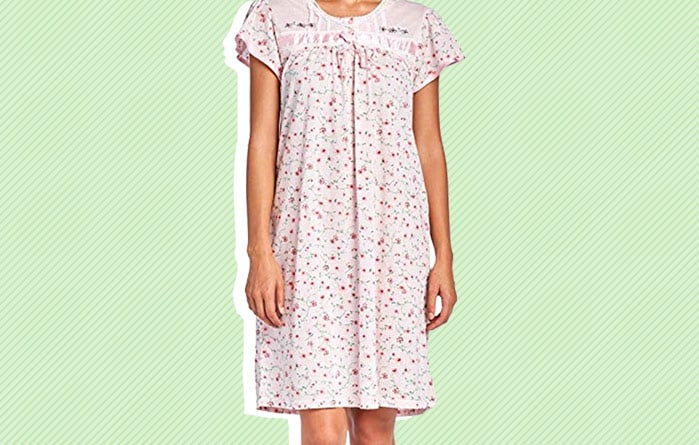 Casual Nights Women's Cap Sleeve Floral Nightgown
Pros: 
Classic look. When one is asked to imagine the style of a women's nightgown, this sleepwear by Casual Nights is what will probably be conjured. Featuring floral prints in several colors, this nightgown can look the part while representing you in your prefered colortone.

Details. This nightgown features either a two or five button top closure, short cap sleeves, and is detailed with satin ribbon, lace, a flower embroidery or lace applique. These extra touches make the nightgown something that can be proudly worn inside when houseguests are over, or if something brings you out of the home.

Lightweight. One of the benefits of the polyester and cotton blend is that this product does not feel heavy to the touch or while wearing. This is perfect for those who occasionally feel cold during the evening time.
Cons: 
Loose threads. Whether because of the manufacturing, design, or the materials, some purchasers may deal with a loose thread here or there. While the structure stays strong, some customers may need to snip off some loose ends with scissors before being satisfied.

Runs small. Customers can easily order the wrong nightgown wien purchasing this particular product. Pay attention to the measurements associated with each listed size for clues as to which size will be right for you.
Contender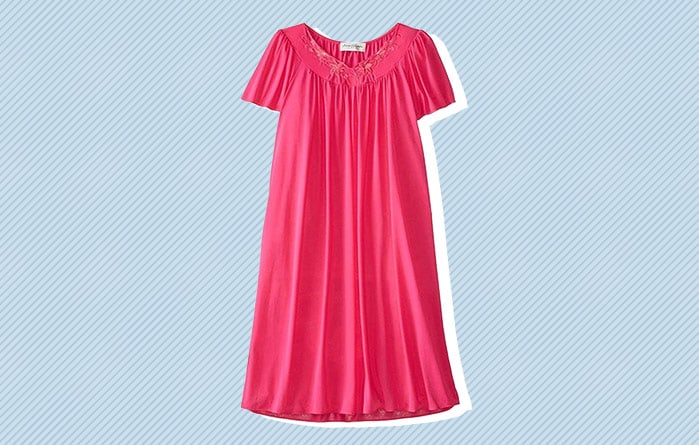 Miss Elaine Women's Nightgown
Pros:
Nylon. Nylon is a fabric known for its sturdiness while maintaining a light weight. Nylon is water-resistant and resists oil stains.

Tricot weave. The nylon is woven in a tricot fashion, meaning it is smooth on one side and textured on the other, strengthening the overall weave. This makes for a comfortable and durable nightgown.

Machine wash. While many nightgowns are not capable of withstanding the rigours of a machine washing due to their fabric, this offering from Miss Elaine is designed specifically to do so. Perfect for those hoping to frequently clean their nightgown or are in a time crunch.
Cons:
Embroidery can be scratchy. Not every wearer will identify with this problem, but some people can be sensitive to the embroidery along the neckline.

Cost. This is a great product that most women would find to be a great purchase or gift, but some people may waver when seeing the price point.
Best Value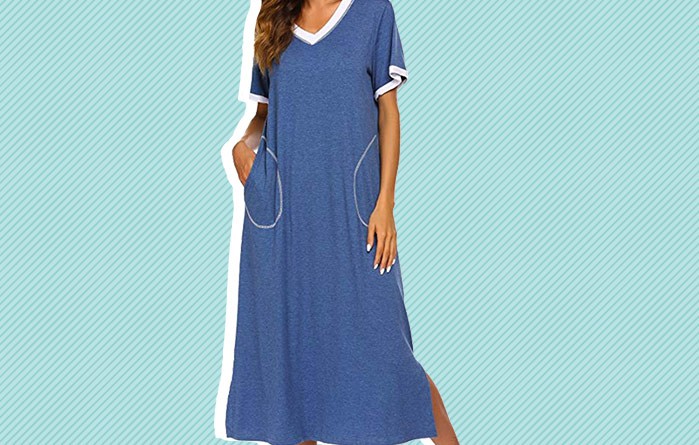 Ekouaer Loungewear Women's Long Nightgown with Pocket
Pros: 
Airflow. This product has a shape that is designed to maximize airflow, not getting too tight at any joints or other bodily intersections. The shoulders in particular are loose enough to enable sufficient airflow to help avoid getting too hot.

Fashionable. While not necessarily sporting a traditional nightgown style, the fifteen-plus colors offered all feature the same modern, sleek v-neck design. This is perfect for those want to be comfortable opening the door or entertaining guests on a weekend morning. There is even a halloween-themed version!

Value. These nightgowns are one of the more affordable products you can find when shopping online. 
Cons: 
Not stretchy. While not the foremost concern on most customer's minds, the fabric does not allow for much stretchiness. Might only be a problem for those nursing or those who like stretchy pajamas.

Heaviness. Due to the combination of fibers – namely cotton and polyester – this product has a heavier feel than other products without any cotton. Great for warmth but it definitely isn't the lightest weight nightgown available.
Most Fashionable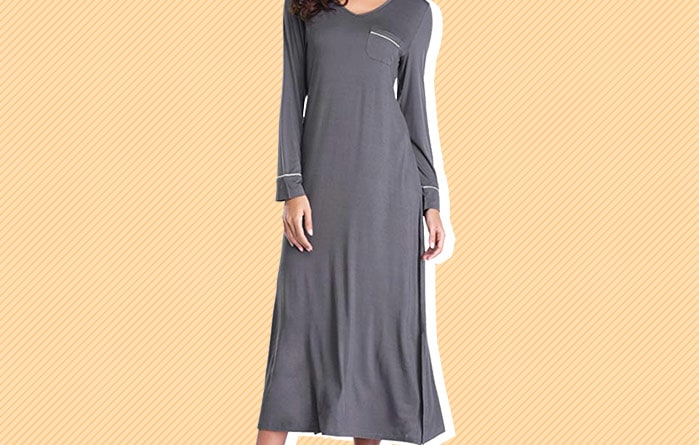 Lusofie Soft Knit Long Sleeve Nightgowns for Women
Pros: 
Piping. One of the first things that will stand out when noticing this nightgown from Lusofie is the elegant piping on the side and pocket lining of one of three designs. The color of the piping will typically compliment the base color well, usually in white.

Three different designs. Lusofie offers three different designs for women's nightgowns. You can buy a nightgown with a chest pocket, one in solid color, or one with a row of vertical buttons running up to the collar.

Lightweight. Rayon is a soft and lightweight material that allows airflow. This makes it a perfect fabric for a lightweight summer nightgown.
Cons: 
Shouldn't put in the dryer. Due to the nature of the material composition, you are advised not to put this nightgown in the dryer after washing. You should hang or line dry.

Tight fit. This particular nightgown has a very modern and snug fit. Some will find this preferable for comfort, but others will opt for something a bit more loose and modest.
Best for Plus Sizes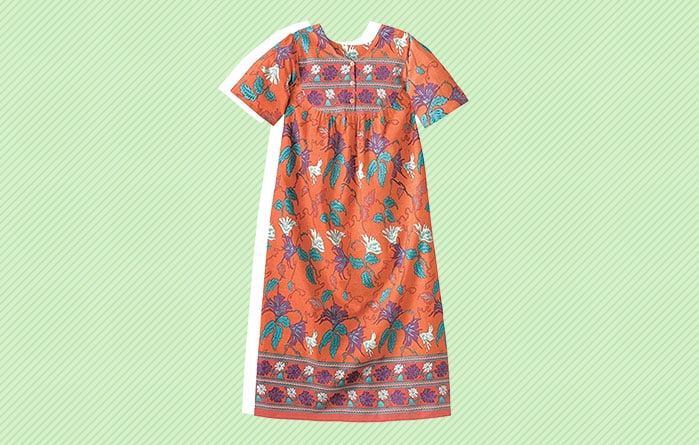 AmeriMark Lounger Muu Muu Nightgown with Pockets for Women
Pros: 
Patterns. The bold style of these nightgowns is hard to deny. The collection contains several colorful, unique, and vivid designs.

Roominess. AmeriMark makes these nightgowns in popular sizes and includes sizes that are usually difficult to find, such as 2X, 3X, 4X and 5X. Perfect for people looking for a particular size or fit.

Two slit pockets. Hidden in the fabric on either side of the dress is a slit pocket, sized to fit large smartphones, wallets, and even envelopes for when you walk to the mailbox.
Cons: 
Tightly woven fabric. While some people will enjoy the warmth and softness that this particular fabric provides, it may prove to be less breathable than you may be be looking for.

Thin material. Some may notice that the lightweight material can be somewhat see-through in particular bright lights. One of the trade-offs of having a lightweight material!
How We Picked
Nightgowns are by nature an intimate purchase. Not only are we choosing something to spend upwards of half of our day in (depending on how long you sleep per night), but we are choosing something that will directly affect how we sleep at night and how we feel in the morning. You can go in several different directions when choosing a nightgown, but there are certain factors that you should always weigh. We've put the top brands through this list in order to make our picks. Here is what we considered:
Design
One of the great things about shopping for a nightgown is that there isn't a shortage of styles to sift through. We looked at the patterns, whether trendy or classic, as well as the stitching and piping. Some nightgowns will be better for walking out to the mailbox or even for a quick drive. If you are concerned with hosting guests or answering the door, you may choose a more modest or traditional nightgown. Some have a more modern look that may help wearers feel more confident when they wake up or go to bed, so the choice is pretty much up to you.
Comfort
The comfort level of the nightgowns can vary based on the actual fit and material of the product, but it can also vary based on the season or climate. Some nightgowns have designs that promote airflow, while others are made of materials that are more porous and thus allow airflow. Nightgowns made of certain materials, such as nylon, promote water wicking, making them less porous. However, if you are concerned about having a nightgown during winter, you will want products that help you stay warm, such as nylon or cotton-based fabrics.
Price
If you find a nightgown you like, you will probably want to wear it over and over again. While this is probably more common than not, it is preferable to have a few options so you can keep your gowns clean and prevent them from being worn down by over-washing. Perhaps vouching for a more expensive gown might ensure it lasts a bit longer, but if you find a brand you like and it is affordable, it might be worth it to buy a few in various patterns. Look out for the nightgowns on the lower range of cost, there are some good values there.
Pockets
Several brands are introducing pockets into their nightgown designs. This is a great modern innovation, as our smartphones have become integral parts of many of our daily tasks. When needing to run out of the house to grab a coffee or check the mail, it is nice to be able to carry car keys, house keys, a wallet, and your phone without thinking about it. It is especially nice when the pockets are concealed in the fabric for a slick, discrete look.
Buying Tips
Not sure which nightgown is best for you? Keep these things in mind when trying to decide which one to purchase:
What climate do you live in? Some people may live in climates that have extreme heat and bitter cold. In some climates, even during the course of a calendar day can the temperature change from comfortably warm during the day to chilly at night. If you are mostly concerned with staying warm, you may want to vouch for heavier fabrics like cotton or fabrics like nylon that are tightly woven, helping you retain heat.
Do you want to dress for comfort or style? There are dozens if not hundreds of different styles and patterns available in nightgowns. Some are more appropriate for hosting friends and strangers at the door or saying hello on the way to get coffee. If you are looking for a nightgown that is just for you to feel your best, you can opt for a modern or thinner material that may be slightly see-through.
How much are you willing to spend? Shoppers can find nightgowns for around $20 or less, which is a great deal for something that you might be wearing almost every day. Alternatively, you can opt for a more expensive nightgown that might have a special fabric blend or cut that you are really vibing with. If you would like to purchase nightgowns for every day of the week, there are companies that make several varieties at an affordable price for you to really find a collection that suits you.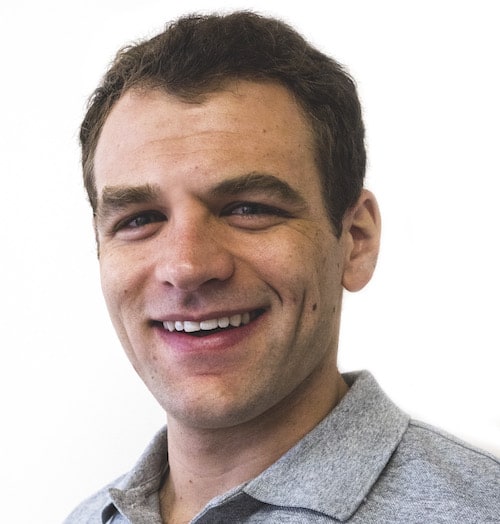 Logan Block
Logan is the former content director of Sleepopolis. As content director, he reviewed new mattresses every week and curated the comparisons, best of pages, and video guides on the site. Logan perfected his method by personally testing over 200 different mattresses, so he's not only able to discern the overall vibe of a specific bed, but to contextualize its feel within the bed-in-a-box market as a whole.