Reading lamps are a key tool to stay up at night for those trying to study or do work as other lights in the house are turned off. It can also help people wind down as they read or simply do something with their hands, such as jewelry-making or tailoring work. These are common devices that have been around for decades, yet new technologies are making them more compatible with the digital present.
Reading lamps can be affixed to any number of surfaces in a room, including on the book or laptop themselves. They can vary in their brightness, temperature, and even the way they are powered. Since most lights may look alike but have different features, it can be hard to decide which one to get. We've laid out our evaluations of some of the more popular offerings: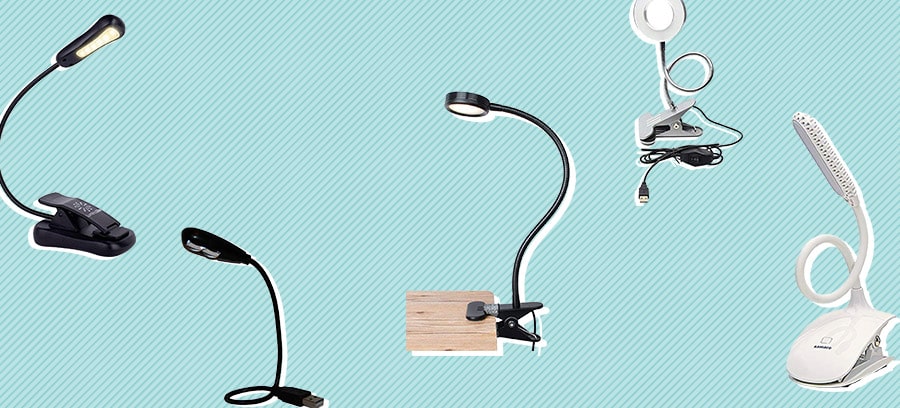 Editor's Choice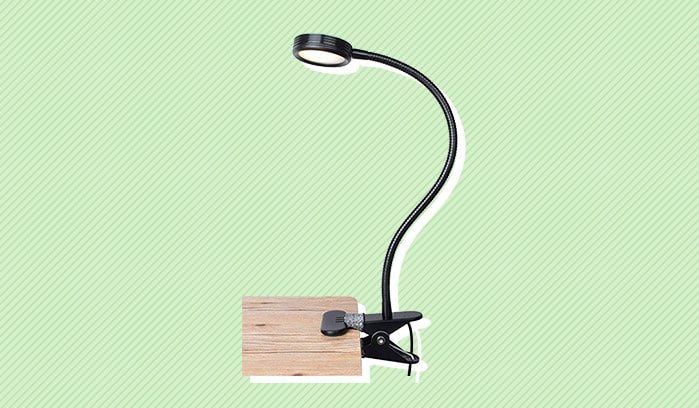 LEPOWER Clip-On Reading Light
Pros: 
AC or USB. A great aspect of this line of reading lamps is that it can be charged with a standard AC outlet or with a USB plug. It can be plugged into a computer or other device to power the lamp.

Three styles. This brand of reading lamps comes in three different styles. You can choose white, black, or silver, allowing you more possibilities to match the decor of your room than most other brands.

Five foot cord. This lamp has a long cord, reaching about five feet in length. This is great for those wanting to clamp the reading lamp to a surface above the bed.
Cons: 
Bulky clip. The clip itself is rather bulky, and depending on where it is placed, it can be an inconvenience. If placed on a bed frame, sleepers may have to place it away from their head.

Switch in middle of cord. This lamp can be hard to operate as the switches are both in the middle of the cord. If the cord is stretched to its full length, this may make toggling the controls a bit of a hassle. 
The Contender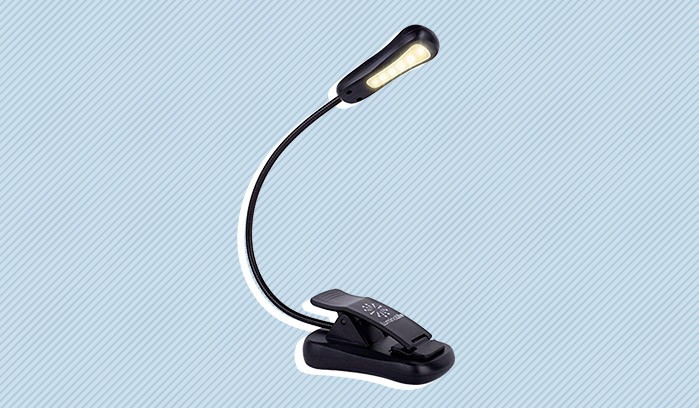 Vekkia LuminoLite Rechargeable Easy-Clip Reading Light
Pros:
Charge indicator. This reading light has a color-coded display that will let you know when the lamp is charged or not. This makes the charging process efficient and convenient as you won't need to test the lamp or set a timer as it charges.

Rechargeable. A great part of this light is that it employs the use of an internal rechargeable battery. This is great for those who don't want to keep extra batteries laying around or deal with a cord.

Lightweight. This is one of the lightest weights available when compared to its nearest competitors. It weighs just over a paltry 2 ounces.
Cons:
Battery doesn't last long. The battery can last less than half a day on full charge. This isn't a problem for those only using for a few minutes a night, but those who will be reading a lot will be annoyed with the constant battery charging.

No wall charger included. This lamp is charged via USB cord but the device doesn't come with a wall charger itself. Users will have to use pre-existing chargers.
Best Bargain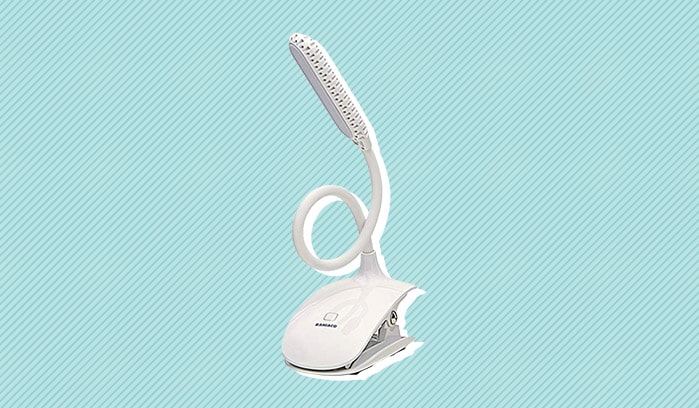 Raniaco Rechargeable Reading Lamp
Pros: 
Works as clip or stand. You can choose how to maximize this reading light. This device can be used as a clip or stand upright on its base.

12 LED lights. The manufacturer has designed this reading light to have twelve different bulbs per unit. This helps increase the potential brightness level compared to a normal single-bulb lamp.

Cost. For a product that can help people immensely while studying or just relaxing before bed, it is amazing how little it costs. This unit can typically be purchased for a few small bills.
Cons: 
Not a standard cord. Though the male end of the product's cord is a micro-USB, the female end is formatted specifically for this device. Those hoping to use a standard cord might be disappointed, especially if this one gets lost.

Power switch is touch sensitive. Because this device doesn't have a power switch and has a touch button instead, it is easy for some to accidentally turn off the device if they aren't careful.
Best for Light Temperature Variance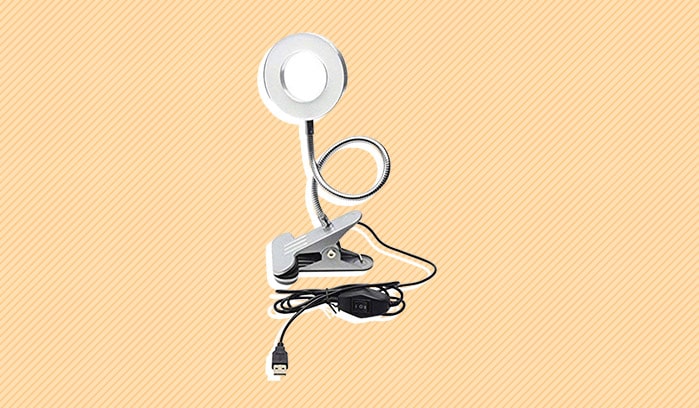 W-LITE LED USB Reading Lamp
Pros: 
Warm or white light. This lamp offers users the option of either warm or white light. This choice can change the mood of a room drastically.

Rubber clip. The clip at the end of this reading light has scratch-resistant foam on it. This helps to protect the surface the lamp is clamped on to, especially wood.

Hanging option. This lamp has a hole built into its clip which allows you to hang or mount the lamp on a wall. This is a great option for those who have an awkward space or want to permanently mount the lamp on a wall.
Cons: 
Only two brightness options. This lamp only has two options, warm and white. Those hoping to have more control over the brightness will have to look elsewhere.

Narrow clamp.

The clamp on the lamp doesn't open as wide as some competitors, making it harder to clamp onto thicker surfaces. Some headboards might be a bit thick for this product.
Best for Travel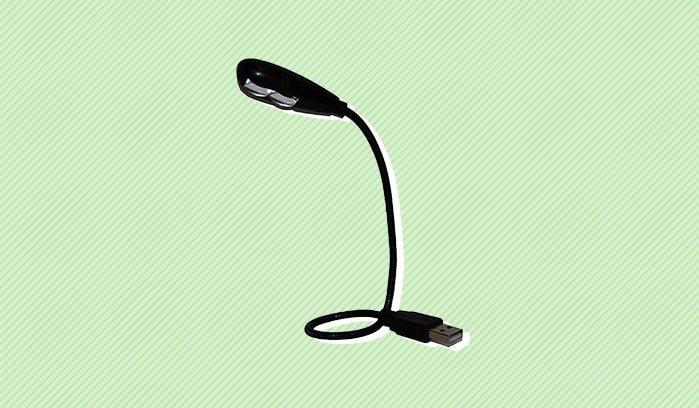 i2 USB Reading Lamp
Pros: 
Switch behind lamp. Some reading lamps have power switches that are located on a cord or at the base of the lamp, both places that can be hard to reach. This lamp has conveniently placed the power switch right near the light so you won't fumble trying to find it.

Portable. This lamp weighs less than an ounce and has a very small footprint. It is basically a cord with a small bulge on either end.

No extra cords. A wonderful aspect of this reading lamp is that the end of the device is a USB cord itself. Users will need no extra cords to power this lamp as it can be plugged right into any USB port.
Cons:
Only 2 lights. This lamp only has 2 LED lights, meaning it may have a lower level of brightness than other more powerful lamps.

Could be longer. Though the design of this lamp is clever, it isn't very large. It would be nice if the neck of the lamp were longer and thus could illuminate more area.
How We Picked
Reading lamps are a very personal device; if it isn't serving the intended use, it is basically useless. Knowing what to look for in a reading lamp is important to realize and decide for oneself before purchasing. Here are the things we looked at before making our purchase:
Power source
Reading lamps can be powered in a variety of ways. The most convenient option will be in the eye of the beholder. Some lamps are powered by a standard AC cord. These can be plugged into most typical wall outlets.
More modern lamps have USB connectivity. These can be plugged into wall chargers, computers, or other USB ports. Some get charged this way and can be used without a cord, others have a USB cord as part of their design and need no further cords to charge.
Adjustability
Lamps that cannot be adjusted better have the right amount of brightness and the right temperature for the user, or else it will be unsatisfactory most times it is used. Lamps typically have switches or knobs that can adjust the brightness or the temperature. A select few allow toggling both aspects of the light.
Brightness typically comes in two or three different levels, which helps to adjust the lamp based on the amount of ambient light is in the room. The difference between warm or white light can make the difference in setting the mood or for how pleasing it is on different sets of eyes. Some reading lamps come with warm or white bulbs; some let users toggle between both.
Positioning
Thought most reading lamps have clamps, that doesn't mean they function the same way. Some clamps have foam or rubber clamps that are meant to protect the surface of the mounting furniture. Metal or plastic clamps, if too tight, could potentially damage the surface, especially if the lamp is accidentally hit while clamped.
Certain brands have made it possible for the lamps to be mounted on a wall or to hang from the ceiling. As these are more permanent positions for a lamp, the portable nature of these products is negated. Lamps that can also stand on their own without being clipped to anything are good options for using while at a desk.
Tips
Not sure which reading lamp is right for you? Instead of shopping in the dark, take a look at the below tips:
Where will you be using this?

If this reading lamp will be attached to a headboard or bed frame, make sure that the clamp can open wide enough for that surface.

If the surface is sensitive, like certain types of wood, it is important that the clamp has some protective anti-scratch coating, like foam or rubber.

Are you far-sighted?

Those that have a hard time reading, especially at night, may want to buy the brightest reading light available.

Adjustable brightness functionality is helpful for those whose ability to read is affected by the level of light in the room. Sometimes a harsh, bright light in a moderately lit room has too much glare and makes it difficult to read in its own right.