Sleeper sofas are some of the most versatile items of furniture one can own. Not only can they typically convert quickly from a sofa to a bed, but they are often designed with other options in mind. Some can be turned into a sectional while others can detach and become chaise lounges or an ottoman.
Whether someone is looking to buy one of these products to entertain guests or to accommodate a small space, there are lots of options available. Between the material, the size, and the design, there are lots of derivations of the same idea. We examined some of the more popular offerings; here are our evaluations:
Editor's Choice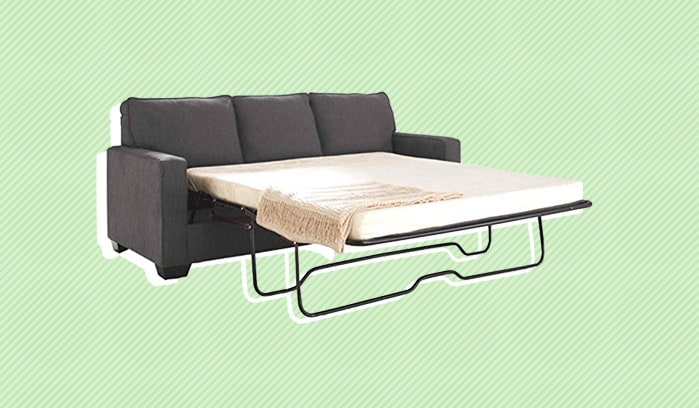 Signature Design by Ashley Zeb Contemporary Sleeper Sofa
Pros:
Available in 3 sizes. While many sleeper sofas are made in only one size, this product is available in twin, full, and queen sizes. This allows users to accommodate sleepers of variable size.
Memory-foam mattress. Customers will be glad to hear that this sleeper sofa employs the use of a memory foam mattress. This is great for those hoping to use the sofa for sleeping more often than not.
Microfiber. This sleeper sofa is made out of microfiber. This material can be easier to clean than other fabrics and has a soft feel.
Cons:
Firm cushions. Though some may prefer a less soft cushion, some customers may find this sofa too firm.
Feet hard to install. The feet can be difficult to install as there are no pre-drilled holes in the sofa itself.
Signature Design by Ashley Zeb Contemporary Sleeper Sofa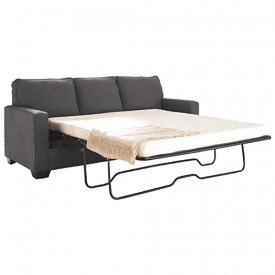 This sleeper sofa from Signature Design by Ashley has a comfortable memory-foam mattress and is made of easy-to-clean microfiber. It is available in four colors and three sizes.
Sleepopolis Score
3.90 / 5
The Contender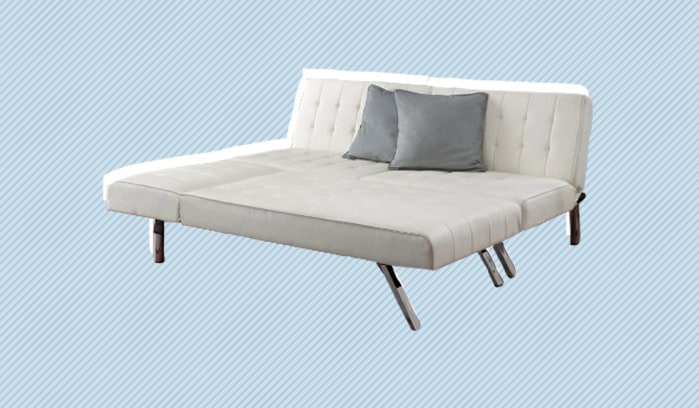 E M I L Y Modern Sofa Bed Sleeper
Pros:
Convertible. This product has several different options it can convert between. Users can use the sofa with a separate chaise lounge, combine the two for a sectional, extend the sofa to act as a wide lounger, or convert it to a two-person sleeper bed.
Faux leather. This product features stylish and easy-to-clean faux leather. This can make for an elegant addition to a living room.
Easy to assemble. Users can easily assemble this product in a matter of minutes. The tool needed to install the legs is included with the purchase.
Cons:
Not standard size. When the chaise and sofa are joined together the dimensions are not full or queen. It may be difficult to get properly sized sheets.
No arm rests. For those using this primarily as a bed, this shouldn't be too much of a concern, but it would have been nice for this produce to have armrests.
E M I L Y Modern Sofa Bed Sleeper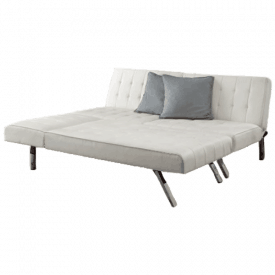 This faux-leather sofa bed sleeper is comprised of two pieces, a chaise lounge and a sofa. These can each be converted to provide a variety of different sleep or lounging options.
Sleepopolis Score
3.90 / 5
Best Bargain
DHP Paxson Convertible Futon Couch Bed
Pros:
Five color options. This sleeper sofa has more color options than most of its competitors. It is available in light gray, dark gray, black, navy blue, and mustard.
Diagonal stitching. One of the more noticeable aspects of this product is the diagonal stitching found in both the back and seat cushioning. This makes it stand out as a modern piece.
Value. This piece of furniture can be obtained for almost half the price of some near competitors. This is great for those trying to outfit an entire house from scratch.
Cons:
Threads can come undone. Owners of this couch may need to occasionally trim loose threads, as they may come undone over time.
Armrests can't support weight. Though they are comfortable for resting one's arms, the armrests aren't a great place to sit; the other end of the couch may lift up in the air.
DHP Paxson Convertible Futon Couch Bed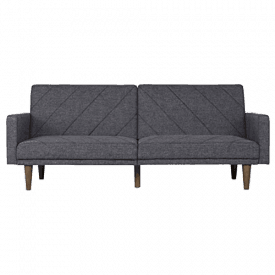 This offering from DHP comes in five colors, giving customers a wide variety to choose from. It features a unique diagonal upholstering pattern that provides a modern aesthetic.
Sleepopolis Score
3.70 / 5
Best Sectional Sleeper Sofa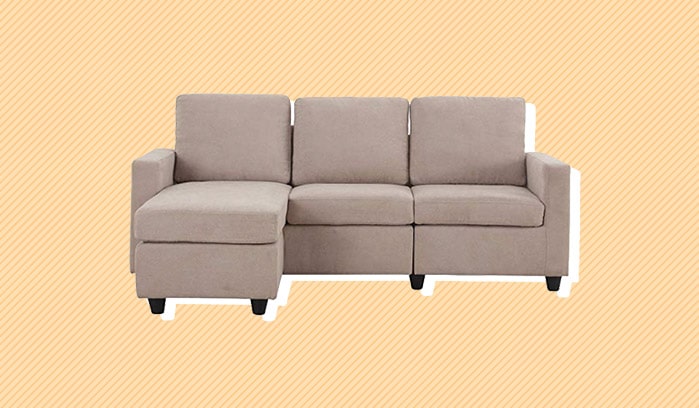 HONBAY Convertible Sectional Sofa Couch
Pros:
Sectional or ottoman. This product from HONBAY is a sleeper sofa that can be used as both a sectional or a sofa with an ottoman. This makes it versatile depending on the preferences of guests or the host.
Thick feet. The feet on this sofa are made of a thick band of solid wood. This allows the sofa to be durable, with a maximum capacity of 660 pounds.
Removable cushion covers. In case of a spill or general dirtiness over time, users can easily take off the cushion covers and wash them. Great for families with young children.
Cons:
Back cushions could be more firm. Users may notice that the back cushions aren't as firm as the seat cushions. This may be more comfortable for some, but others may find they notice the internal structure when leaning back.
Seat cushions are in different sizes. Though it may take an astute eye to notice, the double cushion is a bit taller than the single cushion.
HONBAY Convertible Sectional Sofa Couch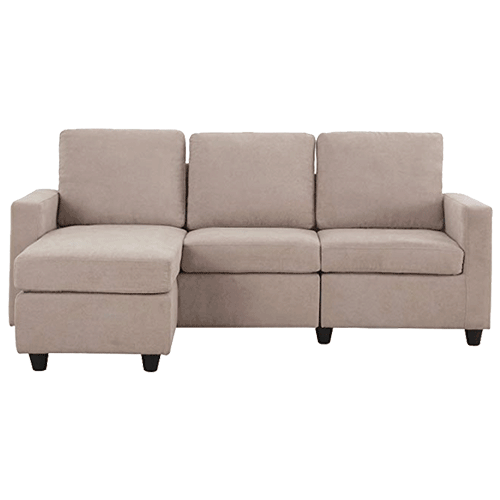 This sectional sleeper sofa from HONBAY lets users adjust between having a sectional on either side of the sofa or to have an ottomon to rest feet on. It is available in beige or gray.
Sleepopolis Score
4.10 / 5
Best Design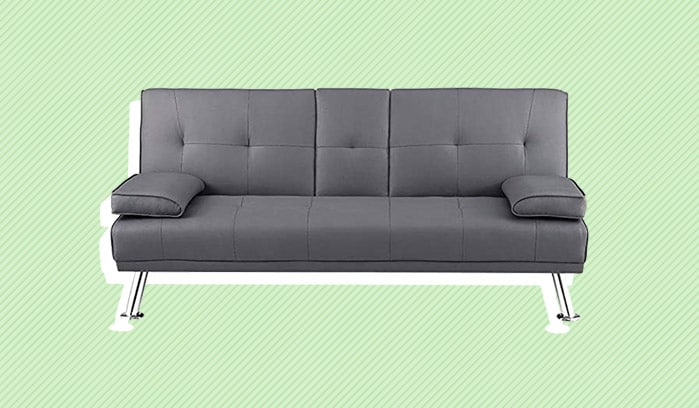 Naomi Home Futon Sofa Bed with Armrest
Pros:
Hidden armrest. This sofa has an armrest right in the middle of the back. This can fold down when needed and even includes two cup holders.
Chrome legs. Those who prefer a modern look may enjoy the fact that this sofa has chrome legs. This may provide a nice pop of sheen in a living room.
Reclining options. This product can be reclined all the way back to make a bed or halfway to give users a more reclined position. Great for falling asleep while watching a movie.
Cons:
Small size. This is one of the smaller sleeper sofas one may find. It is about 5 and a half feet long.
Low to ground. Those with long legs may find this sofa less comfortable, as it rests rather low to the ground.
Naomi Home Futon Sofa Bed with Armrest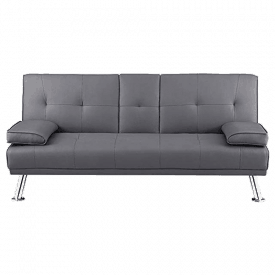 The Naomi Home Futon Sofa Bed features a modern design with chrome feet and four options for the faux-leather cushioning. It features a hidden armrest with cupholders that can be deployed when needed.
Sleepopolis Score
3.60 / 5
How We Picked
Sleeper sofas can be a great first piece of a brand new home or can be a handy addition to a home trying to accommodate more people. Because of the wide range of uses these products inherently provide, it can be difficult to judge them on one category alone. Here are the facets we looked at:
Material
This will be one of the major factors people consider when choosing their sleeper sofas. The choice usually comes down to a faux-leather and more linen-like fabric. They both have their positives and negatives.
Faux-leather (or leather itself) may connote a more stylish sense of decor. It can be easy to clean, but may not be as comfortable as linen-type material. Linen-type material can sometimes be removed for cleaning, however, and so isn't as risky as a choice. Microfibers can be easy to clean as well.
Convertibility
Beyond just toggling between a bed and a sofa, many sleeper sofas have additional options. The standard sleeper sofa has a backrest and seat; the seat extends and the back folds down to make the bed. The products with more convertibility tend to have additional pieces.
One option is to have a separate chaise lounge; this can be placed next to the sofa to make the sofa longer or can be folded prostrate next to the folded sofa to make an extra-large bed. Another feature of some sofa sleepers is to have an ottoman that can attach to the sofa to make a sectional.
Style
Though most sleeper sofas will designs that have the same broad contours, there are some critical differences that may make one unit more desirable than the other for certain customers. One detail is the feet of the sofa. Stained wood and chrome are generally more stylish than plastic, as are flared legs rather than strictly vertical. Some manufacturers will hide their plastic feet deep under the sofa so they aren't really visible.
Another big decision to make is the color of the sofa itself. Most sofas available are either beige, black, or brown, though other more unique colors can still be found. Some may consider this piece of furniture more of an accent and thus can have more fun with their color choice.
Tips
Not sure which sleeper sofa is right for you? Before making your purchase take a look at the below tips:
Will this be used primarily for sleeping or sitting?

Certain sleeper sofas are more comfortable as sofas, some as beds.

The size of the sofa can determine how functional it is as a sofa or as a bed. This will come down to the needs of the customer.

How much space do you have?

Those who are starved of space may opt for a simple product without any additional pieces.

Those with more space can find a sofa with ottoman or chaise lounge components for added furniture or to enlarge the sleeper sofa.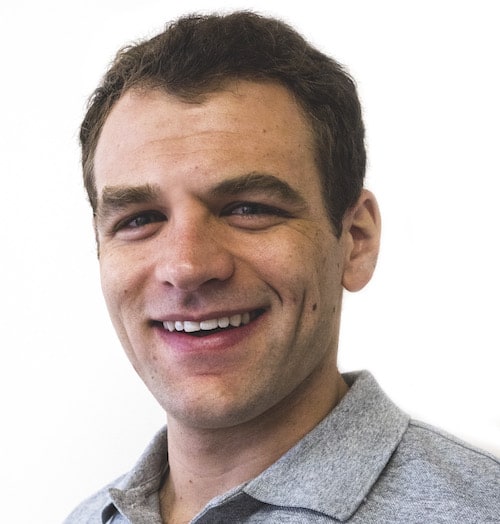 Logan Block
Logan is the former content director of Sleepopolis. As content director, he reviewed new mattresses every week and curated the comparisons, best of pages, and video guides on the site. Logan perfected his method by personally testing over 200 different mattresses, so he's not only able to discern the overall vibe of a specific bed, but to contextualize its feel within the bed-in-a-box market as a whole.