Humans naturally seek material to cover us when sleeping. Hence the universal use of blankets, sheets, and pajamas. But our extremities, especially our feet, are some of the most prone areas of our body to feel cold at night. Because our core body temperature drops when we enter REM sleep, this is true not only in cold climates but in beautiful-but-not-air-conditioned paradises as well. Sleep socks are a way to keep your feet warm and feeling comfortable all night. Since there are so many different options on the market, we've tested the leading brands to see how they compare. Here are our results: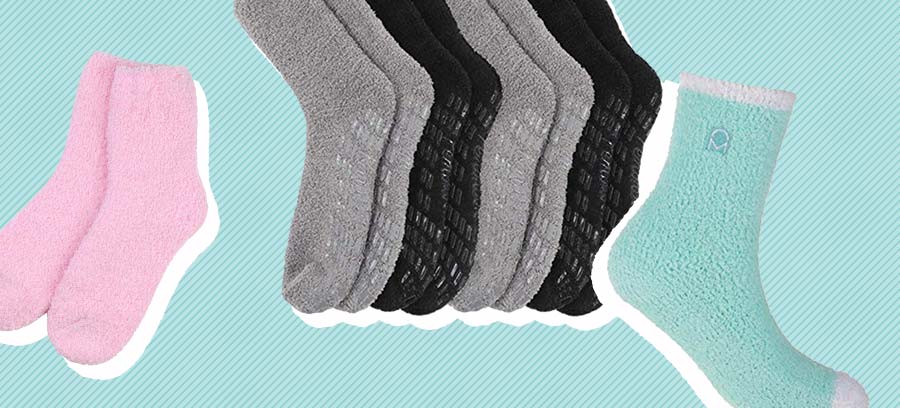 Editor's Choice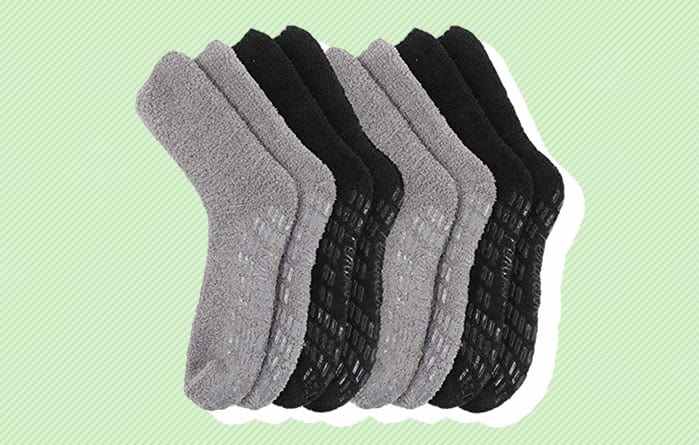 Pembrook Non Skid/Slip Hospital Socks
Pros: 
Versatile. These socks are meant to provide both comfort and warmth while allowing stability through the gripping treads on the bottom of the socks. They tend to keep the feet warm while feeling relatively weightless, unlike other socks that can feel heavy on the feet

Stretchy. Both men and women can enjoy these sleeping socks. The chenille yarn is inherently stretchy and allow these unisex socks to fit most men's and women's sizes

Grip. The grippy rubber treads on the bottom of the feet are designed to help stabilize while standing and also to help you walk across slick surfaces like hardwood floors during the dead of night. Perfect for people who get up when it is still dark out or sometimes wake during the middle of the night and need to get a snack or relieve themselves
Cons: 
Variety. Though many people would argue that their classic black and grey color offerings are neutral and inoffensive, some of their competitors offer more variety of colors and patterns than the handful that are offered by Pembrook

Cost. These socks aren't the biggest purchase you'll make this year – or even this week – but one should keep in mind how many socks you want when making this decision. These are one of the more expensive socks on the market per pair, but keep in mind the quality you are getting for the cost.
Pembrook Non Skid/Slip Hospital Socks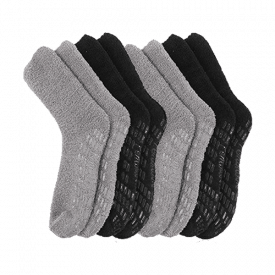 Pembrook Non Skid/Slip Hospital Socks
Pembrook's Non-Skid and Non-Slip socks are specially designed for hospital use; they are made out of a soft chenille material (basically a cotton, polyester and spandex blend) and have rubber-grip treads on the sole of the socks. These will keep you warm and make walking around the house comfortable and easy on your feet.
Contender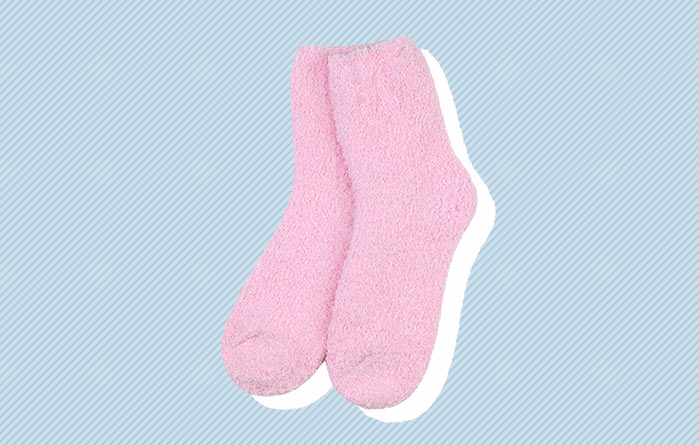 HASLRA Premium Microfiber Fuzzy Socks
Pros:
Comfort. These socks are made out of a polyester, polyurethane, and spandex microfiber that is designed to provide insulation when wearing shoes and warmth and cushioning when walking with just socks on.

Design. HASLRA really goes the extra mile in providing many different styles and within those style sets, lots of colorful variety. Perfect for people looking to show off a sliver of fun color during the day.

Value. At only $19.99 for a five-pair set, these socks cost less than $5 per pair. This is one of the better values you can find for sleep socks.
Cons:
Durability. While most users will use these socks mainly for sleeping, these socks are not ideal for wearing while walking for long periods, as the material may get worn down

Loose fit. The elastic band meant to wrap around the calf and keep the socks up can prove to make the socks comfortable. However, this may cause the socks to sag a bit depending on your foot and leg size
HASLRA Premium Microfiber Fuzzy Socks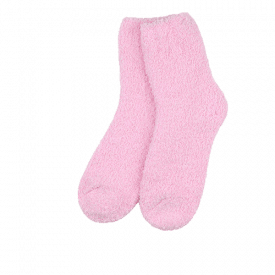 HASLRA Premium Microfiber Fuzzy Socks
The HASLRA Microfiber Fuzzy socks are a Korean take on comfortable and warm socks for sleeping. They are made of mostly polyester and feature fifteen different style sets - meaning you buy a set and get three or five pairs of socks that have matching style and design.
Best Bargain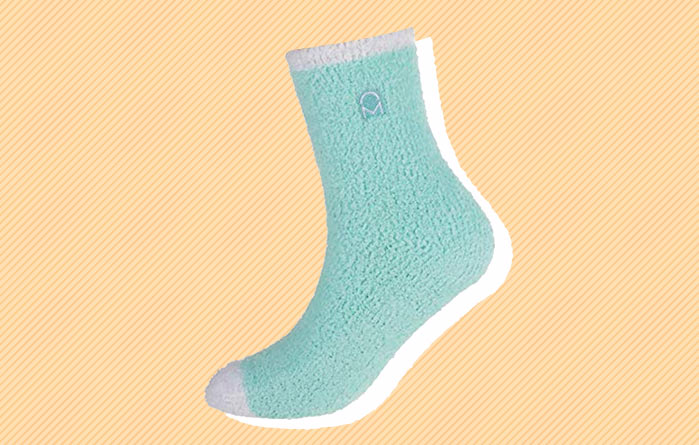 Noble Mount Women's Anti-Skid Fuzzy Winter Crew Socks
Pros: 
Anti-skid. Unlike some other sleep socks that provide comfort but can prove slippery and unsupportive when walking through the home, the Noble Mount Winter Crew Socks offer rubberized anti-skid treading on the soles. These are great for those with injuries, the elderly, and people with hardwood floors

Cost. These socks come in 3-packs of various varieties at just under $12 each. At just $4 per pair, this product can be bought as a matching stand-alone three pack or in bulk

Safe for wash. These socks can be safely washed in a washing machine with your normal laundry time and time again. Unlike other competitors, these socks do a good job of not losing their shape and color over time
Cons: 
Limited sizes. While these socks will fit most users, there is a select section of the population that might have feet bigger than these socks were designed for

Lint. This isn't going to be much of a problem while wearing them, but sometimes these socks, due to their material composition, can leave a noticeable amount of lint in the dryer
Noble Mount Women's Anti-Skid Fuzzy Winter Crew Socks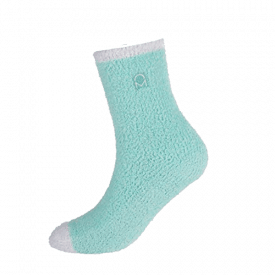 Noble Mount Women's Anti-Skid Fuzzy Winter Crew Socks
Noble Mount's Anti-Skid Winter Crew Socks are made out of 98 percent polyester and 2 percent spandex and are designed to stretch in all four directions. Coming in a variety of colorful patterns and designs, this is a product you may want to stock up on to fill your sock collection.
How We Picked
Sleep socks can be the ultimate gift for yourself or for a loved one. They provide comfort, warmth, and are ideal for those with injuries, in hospital, pregnant or of advanced age. They typically are woven from materials that differ from normal cotton socks. When deciding which product to purchase for home or health-based work, it is important to consider the following factors:
Material composition
Sleep socks typically are made of materials that are chosen to provide special qualities, like stretching, fuzziness, warmth, and a soft feel. These blends are typically heavy on polyester and often-times spandex. This type of yarn combination tends to give sleep socks their character, but you should pay attention to the specific composition of the fibers. Depending on whether stretchability, warmth, or comfort is most important to you, the materials comprising the socks might make the difference.
Variety
Many brands offer socks in just basic and neutral colors, others offer a wide variety of patterns and bright colors. Not only do some brands offer a wide variety of designs, but some offer different colorized takes on the same design, making for a nice matching set. Depending on the environment or how you plan to use the socks, you will usually have options for something more subdued or something more fun.
Durability
Socks, unlike some pieces of your wardrobe, are meant to be worn time and time again. Socks get the brunt of our friction with the earth as we walk, and that is not different with sleep socks. Some brands are proud of how durable their products are and can promise long periods of use. Another determining factor is how well the socks hold up in the wash: some socks will disintegrate over time. In addition to frayed socks, this can cause lint build-up in your machines.
Grips
Sleep socks can be ideal for those experiencing pain or wobbly walking due to injury, pregnancy, advanced age, or just plain slipper floors. The anti-skid gripping usually adorns the bottom of the socks, designed to help you maintain balance as you walk through the dark. Not all sleep socks come with this feature. Some socks have grips on both sides of the tubing, which makes putting them on a simpler affair.
Cost
Sleep socks typically cost around the same amount as dress or fashion socks, and a little bit more than standard athletic white crew socks. Some come in sets of three or five, so buying a set may be all you need to get to fulfill your sleep wardrobe. When buying in bulk, the dollar or so difference between different brands can really add up. Depending on the durability of the socks, this may be a purchase you make a few times a year, so if the brand is more expensive but more reliably structurally solid, you may pause before opting for the cheaper option.
Buying Tips
Not sure which sleep socks are best for you? Here are some factors to consider before making your purchase:
Are these for you or for someone else? Because these socks are made to provide more than just a stylish detail to your wardrobe, it is important to consider who this purchase is being made for. If this is for hospital patients, people in a nursing home, children, or a loved one who lives in a slippery or cold house, bear in mind the added features that these sleep socks offer. The difference between having anti-skid gripping and not can be a huge factor when making this decision.
How often will you wear them? While the majority of these socks are designed for everyday use, invariably some will last longer than others. If you plan on wearing these every day, every night, or even all day and all night, they may not last as long as you would hope. Pay attention to the fabric composition, the wash instructions, and the weight of the socks. This will give clues as to how long they should last for you.
Do you mind hand washing and line drying? Several leading brands recommend hand washing and line drying these socks. This is because the material doesn't hold up as well in the wash or the form of the socks will be lost if washed too intensely by a machine. While some customers will happily spend the few minutes to do so after every use, other situations, such as a hospital or elderly care home, may find individual hand washing to be a bother.
What's your style? No matter who you are or where you are wearing your sleep socks, you will personally be seeing them everyday! Some brands offer fun stripes, polka dots, cute patterns, and lots of bright colors, often times in matching sets of color or design. You can also find neutral colors, like black, grey, and white, that may blend into your aesthetic more effortlessly. Whether you want your feet to stand out, or merely be the things you stand on, it is important to find a set of sleep socks that fits your needs.