An affordable and effective way to keep your mattress in good condition for as long as possible is to invest in a waterproof mattress pad, a bedding item that's commonly referred to as a mattress protector. The main goal of a waterproof mattress pad/mattress protector is to act as a waterproof barrier between you and your mattress. Accidents that involve fluids or liquids can not only damage your mattress and keep it from performing at its best, but can also void your valuable mattress warranty.
Waterproof mattress pads do come in a variety of styles, but despite their names, they don't typically provide any additional padding to the mattress. They're usually thin and fit tightly on a mattress in order to go undetected below your bedsheets. Some waterproof mattress pads come with additional features outside of preventing water damage. It's always worth assessing your personal mattress protection needs before making a purchase.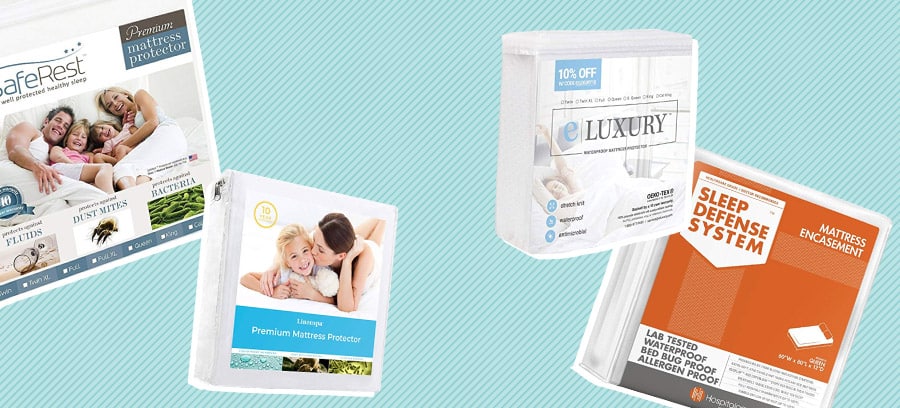 Editor's Choice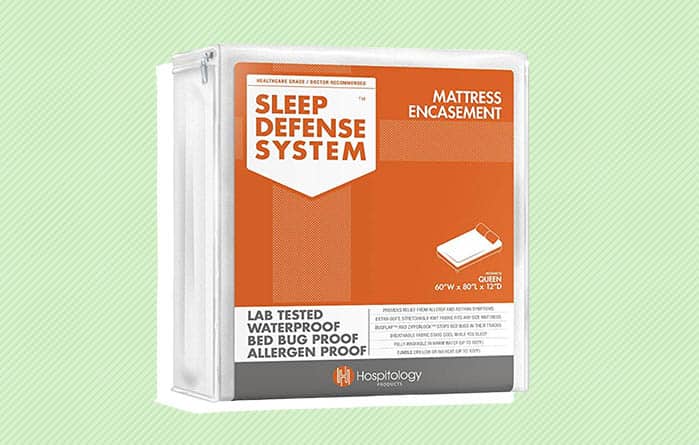 Hospitology Products Sleep Defense System
PROS:
In order to ensure a tight fit, it comes in different profile levels, including Standard, Low Profile and Ultra Low Profile. 

It's 100% waterproof on all six sides of your mattress and lab tested to be bed bug proof.

Made with 100% polyester knit fabric, it's easy to care for with a simple machine wash and low tumble dry.
CONS:
Encasement mattresses can be tricky to get on and off of a mattress, especially if you have a large heavy mattress and you're a petite person. You may need to enlist help.

The disclaimer says it's waterproof but intended to prevent small spills that are addressed immediately.
Best Value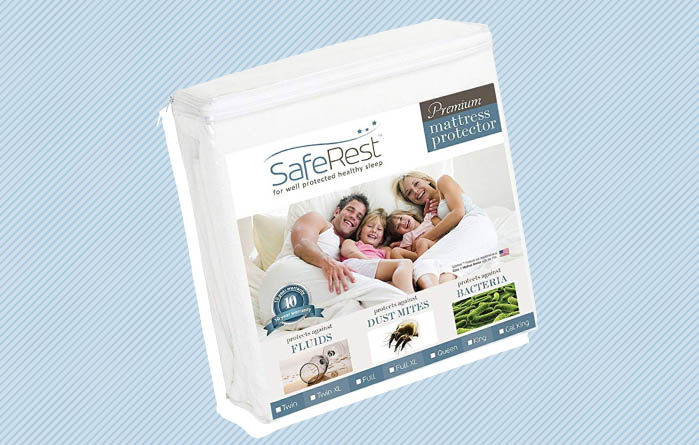 SafeRest Premium Hypoallergenic Waterproof Mattress Protector
PROS:
It has a 200+ wash durability rating which means it will last a long time.

The protector is 100% waterproof but still breathable and shouldn't affect body temperature regulation.

Paired with a thicker mattress and a tight fit, it's basically undetectable.

It's priced affordably and shouldn't break the bank.
CONS:
If used on mattresses that are 10" or lower you may have some excess material on the sides that generates movement or noise under your sheets.

Only the cotton terry surface is waterproof; the sides of the mattress may absorb liquid if an accident happens.
Best for Deep Mattresses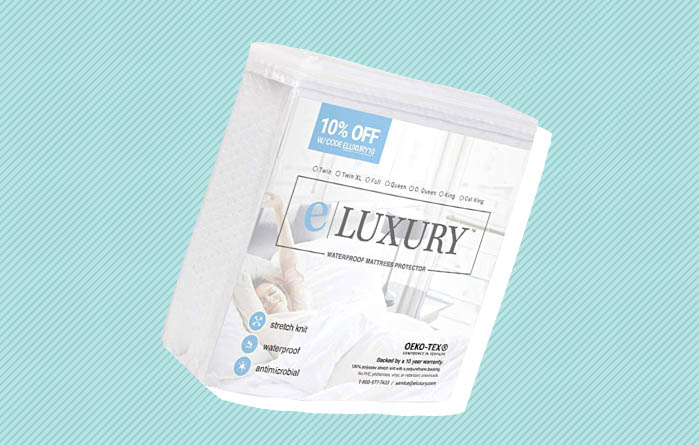 eLuxurySupply Premium Waterproof Mattress Protector
PROS:
The 100% polyester stretch knit is soft and slightly textured but shouldn't be noticeable under bed sheets.

It's hypoallergenic and safe for children and pets.

Comes with a 30-day return policy if you're not completely satisfied with how it fits on your mattress.
CONS:
If placed on thin mattresses (10" or less) there may be some extra material that can move around and generate some noise. 

It's waterproof only on the top surface – spills may be absorbed if they leak down the sides of the bed.
Best for College Dorm Bed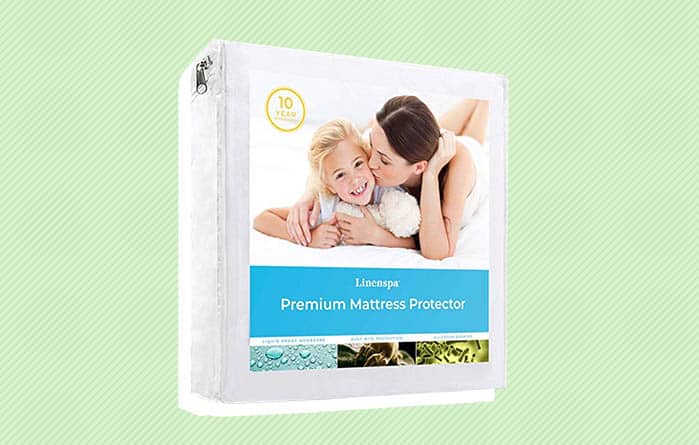 LINENSPA Premium Smooth Fabric Mattress Protector
Mattresses in college dormitories can be questionable at best. You may want to consider a waterproof mattress pad to protect yourself from hidden germs and bacteria. Many mattresses in college dorms are a unique size called Twin XL. Luckily the LINENSPA Premium Smooth Fabric mattress protector comes in both Twin XL and Full XL options at an affordable price. It's worth picking up while you're Back To School shopping.
PROS:
The 100% waterproof fitted-sheet style comes in a variety of size options from California King to Twin XL and Full XL. They also make pillow protectors as well. 

The material is super lightweight and has no texture or feel to it, making it virtually noiseless under your bed sheets.

All size options are very affordably priced and it will fit mattresses up to 14" deep.
CONS:
While it does have a soft knit top,  it doesn't have any additional padding. If the dorm mattress is terrible you may want to also consider adding a mattress topper over the mattress. 

The top surface is the only 100% waterproof portion so it's possible for spills that dribble down the side of the mattress to be absorbed.
How We Picked
Our team spent months researching, gathering, testing and reviewing different waterproof mattress pads and protectors based on several factors. We learned that there are many different options designed to keep your mattress in good shape. Here are some of the different types and styles available:
Fitted: This goes onto your mattress in the same way a fitted sheet would. It provides coverage on five sides of the mattress (but in some cases only the top area is waterproof). People tend to like this style because it's easy to add and remove.
Encasement: This style completely encases all six sides of the mattress. Encasement mattress pads or protectors are often the best choices for those who have allergies, are worried about bed bugs or want to 100% waterproof their entire mattress.
Four Corner Elastic Strap: This is the simplest style of waterproof mattress pads. This protects just the top of the mattress and has four simple elastic loops on each corner of the pad to strap to the mattress and keep it in place. This is very simple to get on and off and in many cases, it's the most inexpensive option.
Waterproof mattress pads and protectors typically feature a soft knit made from one or more of these four materials:
Polyester
Down
Spandex
Cotton
The waterproof barrier itself is usually polyurethane but you may see some that use vinyl instead.
Waterproof Test
Protecting your mattress from stains or damage as a result of fluids or other liquids is an integral part of a waterproof mattress pads functionality. We made sure to do a separate waterproof test on each mattress pad or protector we reviewed.
Our reviewer took 10oz of water and poured it into a concentrated area on the protector. Then she let it sit on top of the product for up to four hours. This was intended to mimic a large accident that went undetected during the night. Fortunately all of the mattress pads or protectors that were labeled as waterproof did pass the test.
Noise Test
As we mentioned, waterproof mattress pads and protectors are supposed to go undetected on your mattress. Because they contain a waterproof polyurethane lining, some can exhibit rustling or a noisy sound if they're too loose on the mattress. That's why it's important to get a tight fit and limit the amount of sound the protector will make under your sheets.
We included a noise test in our review to get an idea of what type of fit the pad or protector had on the bed and how "loud" it might be for potential customers.
Breathability Test
One reason people may choose to avoid protecting their mattress with a waterproof mattress pad is that they already sleep hot and they're worried the waterproof barrier will trap heat. Our reviewer personally slept with each mattress pad or protector we reviewed for several nights to test for added heat or any indication that the waterproof mattress pad might sleep hot.
Sleepopolis Buying Tips
Assess your priorities. What do you need to protect your mattress from? If your main goal is to avoid stains and water damage, make sure your mattress pad or protector is 100% waterproof on as many sides of the mattress as possible.
Find a snug fit. The tighter the fit, the less chance you will notice the protector under your sheets. You want to be able to still experience all the benefits of your nice mattress so the protector should feel invisible.
Anything is better than leaving your mattress vulnerable. Waterproof mattress pads and protectors come in all price ranges. Even a very simple and inexpensive waterproof protector can save your mattress from damage that can ruin it or void your warranty.
Without a doubt, a waterproof mattress pad or mattress protector can be a huge asset to your sleep health. Not only will it protect your mattress from potential accidents, but many options offer added features, like preventing dust mites, bed bugs and some offer added padding, too. Adding a layer of protection between you and your mattress is definitely worth considering.