Did you ever have a bean bag chair you loved while growing up? Personally, I remember calling dibs on them in my elementary school classrooms — they were so cool. Well, if you've been looking for a bean bag that's more suited for grown-up life, look no further than the Moon Pod. The company refers to its flagship product as an "adult bean bag" and says it can even help with stress and anxiety. But is it the best bean bag chair for you?
In this review, I'll go over what the Moon Pod is made of, how it feels, and who it may be right for to help you decide if it's the adult bean bag of your dreams. If you just want to see the review highlights, you can skip down to my review summary.
Is the Moon Pod Right for You?
The Moon Pod bean bag is specially designed to have a floating sensation and keep kids and adults of all sizes comfortable. Every person has different needs and preferences though, so let's go over who I do (and don't) recommend the Moon Pod to.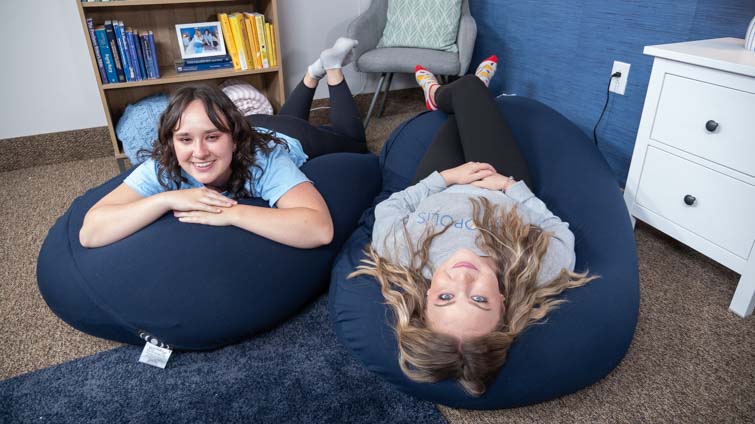 Who should try the Moon Pod
Anyone searching for an alternative seating option

should check out the Moon Pod. Sick of a traditional chair or couch? Want to be able to easily move your lounging product around? The Moon Pod's got you covered.

If you like being able to morph your seat

into the shape you want, then this is a nice product choice. It's easy to adjust into different positions so you can sit or lay on it.

Bean bag chair lovers

will feel at home on the Moon Pod. It's definitely reminiscent of your childhood bean bag, but it's shaped more oblong than a traditional, spherical bean bag. This allows it to be a better fit for adults.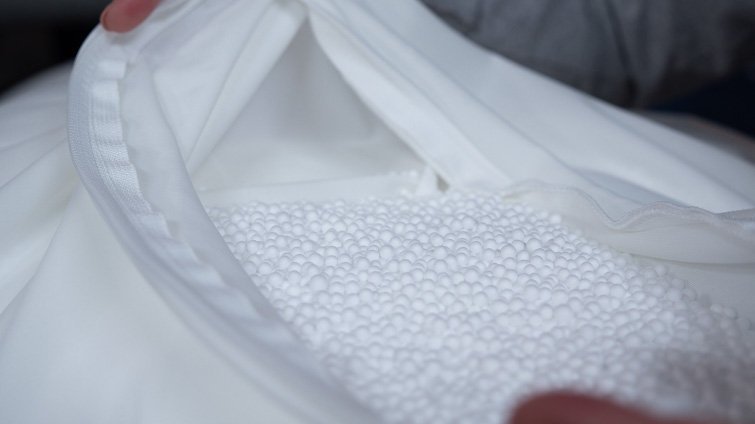 Who should not try the Moon Pod
If you

prefer to sit on a chair/couch or have mobility issues

, this might not fit your needs, as it's intended to be placed on the floor and could be difficult for some people to get in and out of.

Heavier people

, weighing over 300 pounds, may find the Moon Pod to not be supportive enough. I think all body weights will find times of feeling the ground when in the sitting position and having to readjust, so heavier people could face this even more. However, the company says the Moon Pod's able to support upwards of 300 pounds and has worked for people up to 6'8".

Budget shoppers

might be turned off by the Moon Pod's price tag. But keep in mind, the company often runs sales to help out. Click our coupon links as well to save even more!
What Does the Moon Pod Feel Like?
Let's discuss what the Moon Pod feels like.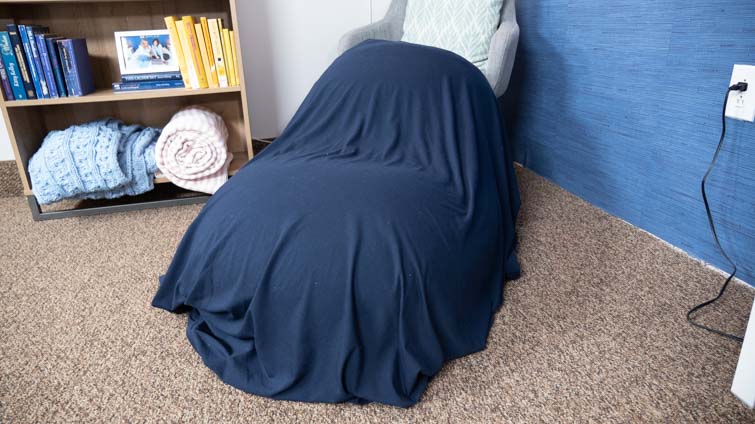 Moon Pod Feel
For lack of a better description, this adult bean bag feels a lot like, well, a bean bag. Along with the shape being more of a hotdog than a hamburger, what really helps set the Moon Pod apart from traditional bean bag chairs is the high-density beads inside that morph to your body shape and support you more than an old-school bean bag might. The company also says this material can offer ergonomic support that can be helpful to anyone who suffers from back pain.
My coworker and I both thought the Moon Pod was easy to put into the structure we wanted and was comfy to lounge on. Its cover has a t-shirt feel that's soft to the touch as well.
How Does the Moon Pod Work?
It's pretty simple, but the Moon Pod does come with its own operational steps worth noting. You first put the cover on it, which comes in five colors: Moon Indigo (the color we tested), Cosmic Ash, Space Gray, Neptune Blue, and Rose Quartz.
You put the removable cover on the Moon Pod bag by zipping it up and then mold it to whatever sitting, reclining, or sleeping position you want.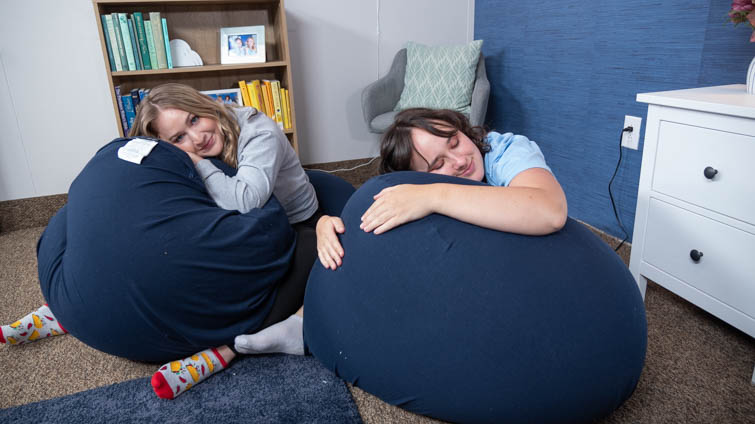 What is the Moon Pod Made Of?
The Moon Pod has three basic components: the cover, the inner shell, and the filling. Let's dive into each layer more below.
Cover: The cover is removable and machine washable. It's made from a blend of polyester, spandex, and cotton. As mentioned earlier, the washable cover also comes in a handful of different colors.
Inner shell: Inside is the inner chamber filled with "high friction custom beads." The fabric of the inner chamber is a spandex blend. There's also an outer shell lining for additional protection.
Filling: This is where the beads are, which are expanded polystyrene beads, or EPS beads, made at a custom density. These beads are what gives the Moon Pod its "floating" effect. The company says the beads mimic the sensations of flotation therapy, which has been linked to helping reduce stress and anxiety.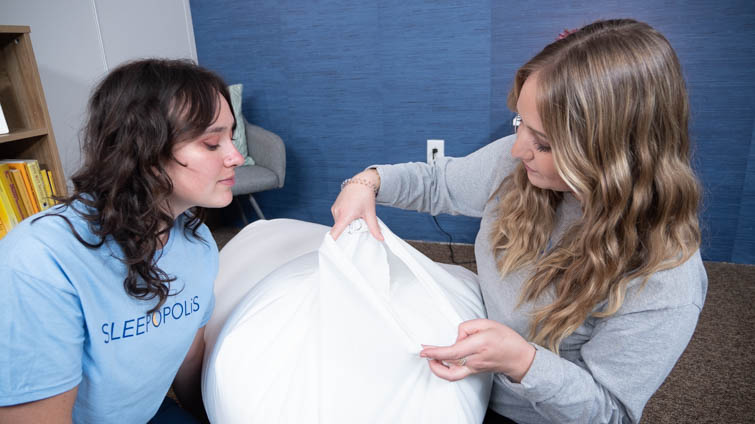 The Moon Pod takes up about four square feet of floor space and is approximately 50 to 56 inches by 20 to 24 inches by 20 to 24 inches. Although the beads inside are high-density, they are also super light — hence why they call it a zero-gravity bean bag. The Moon Pod weighs 12 pounds.
Another bonus? The company says they've partnered with a manufacturer that recycles all of their unused materials.
Moon Pod Price
At full retail, the Moon Pod is about $400.
Moon Pod FAQs
What's the shipping, warranty, and returns information for the Moon Pod?
The Moon Pod ships for free to most of the US, but has a $125 fee per unit for shipping to Alaska and Hawaii. Customers have a 14-day window for returns. The company also offers a 3-year and a 5-year protection coverage plan. All items are subject to a 20 percent restocking fee. You can also order the Moon Pod through Amazon if you prefer.
What does the protection plan cover?
It covers stains, rips, tears, burn/heat marks, seam separation, broken zippers, and broken buttons for all Moon Pod products. It also includes online claims filing and 24/7 customer support.
Does Moon Pod offer financing?
Yes, the company offers financing through Afterpay.
Can pets go on the Moon Pod?
Yes! The company says this will likely become your pet's new favorite chair.
How do you wash the Moon Pod cover/shell?
You can clean the cover by taking it off and washing it in cold water with like colors in the washing machine. Tumble dry on low heat. After the shell is dry, zip it back on.
What does it mean to have a zero-gravity feel?
This aims to give you a weightless feeling while you're lounging on the Moon Pod.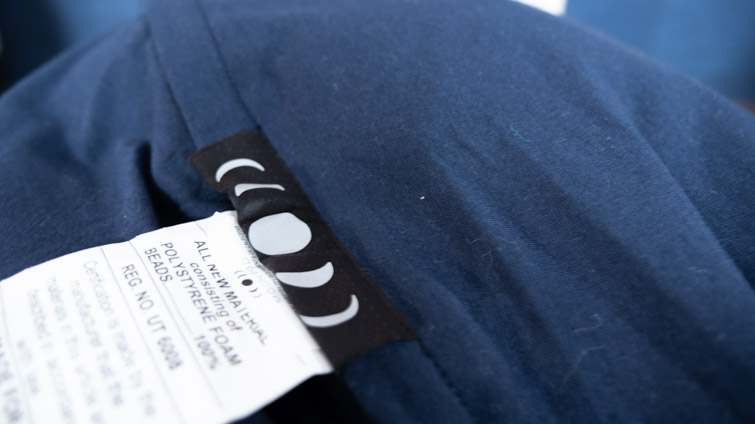 My Final Thoughts About the Moon Pod
Both my coworker and I were intrigued by the crescent-shaped Moon Pod. It's pretty comfortable to sit on and easily conforms into a new shape. I think what really impressed me was how well it'd hold its figure when I sat or laid on it. It felt very supportive for a 12-pound adult bean bag! That being said, I also like how light it was and easy to carry around. It could be great for a living room, office space, kids' room, or playing video games on. However, the company says they are not to be used by infants.
I think the Moon Pod might not feel supportive enough to heavier people, weighing over 300 pounds. And it might be a little too expensive for budget shoppers. I would recommend trying to get it during a sale if you're interested in the product.
Other Products From Moon Pod
The Moon Pod isn't the only product you can find from this company. They also have:
The Super Moon Pod, which is essentially a Moon Pod made for two people to share at once.

A neck pillow called the Crescent, which the company says is a zero-gravity backrest and can help with any neck pain.

The Lunar Lift, which is a footrest, and kind of like a mini Moon Pod for your feet to kick up and rest on

The Moon Pod 4d Pillow

A variety of covers and sleeves for your Moon Pod
Interested in mattresses, bedding, and/or other sleep accessories? Check out some of our top choices below: