Whether you're embarking on a road trip or just camping in your own backyard, you'll need a durable sleeping pad to keep you cozy while you snooze in your car. But with so many different options on the market, it can be tough to know which sleeping pad is the best fit for your car-camping needs.
To guide you in your search, I've rounded up the best car sleeping pads for campers on the go. Plus, I'll impart some expert shopping tips so you've got all the information you need to make the best buying decision. Let's get started!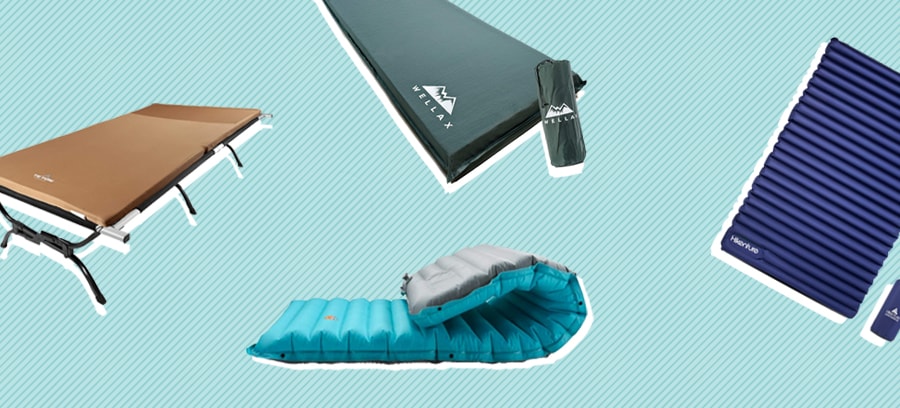 Most Versatile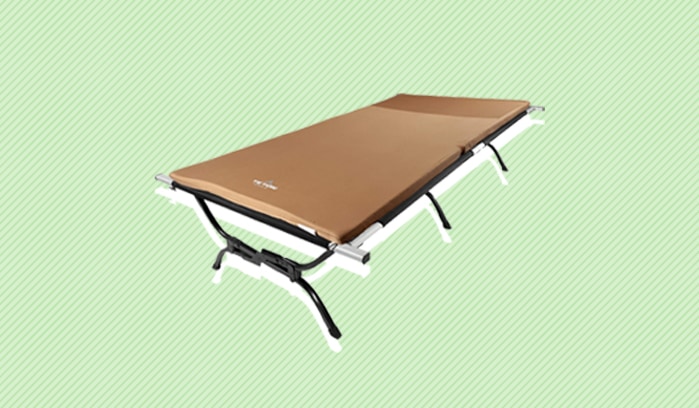 Teton Sports Car Camping Sleeping Pad
A Durable Foam Option for Campers on the Go
This thick sleeping pad is covered in a water resistant canvas material and filled with open cell foam for a supportive and cozy feel. It also features sewn-in pockets for easy storage, as well as end bar attachments for those who want to affix this pad to a cot.
Pros
This sleeping pad comes with several special features, perfect for those embarking on a long camping trip. It can serve as a stand-alone pad, be used with a cot, or be used as a spare bed for an overnight guest.
Its storage pockets are the perfect place to keep your keys, wallet, or cellphone while you slumber.
Compression straps and a built-in roll assistor makes it super easy to pack and store this sleeping pad.
Cons
This sleeping pad only comes in one color, which might deter some campers. 
It's a very good value for its quality, but is bound to be out of some shoppers' budget.
Teton Sports Car Camping Sleeping Pad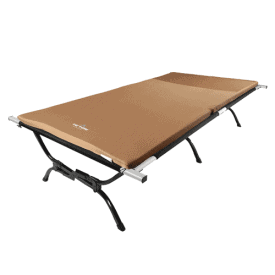 The Teton Sports Car Camping Sleeping Pad has storage pockets and great special features.
Sleepopolis Score
4.60 / 5
Best Inflatable Option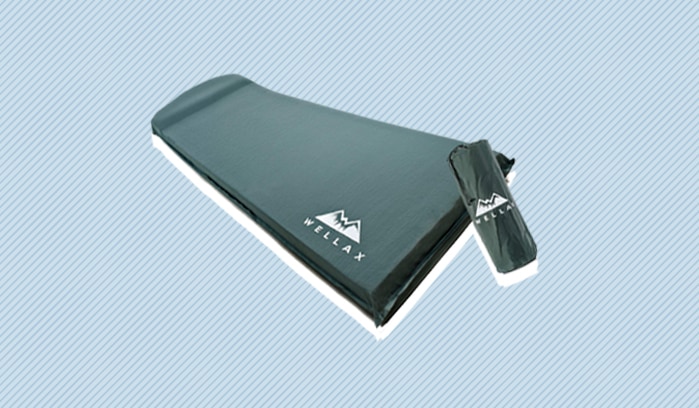 WELLAX Ultra Thick Self-Inflating Sleeping Pad
Perfect for Campers and Hikers
Covered in durable ripstop nylon, this inflatable sleeping pad can reach a lofty profile of 3 inches deep. Plus, its advanced self-inflating technology includes two valves, and doesn't require any pumping on your part.
Pros
Its strong nylon cover fabric is waterproof, tear-resistant, and soft to the touch.
This sleeping pad features two-valve technology that takes the hard work out of self-inflation!
Its 3-inch profile provides comfort and support for those camping in a car, tent, or outside on the ground.
Cons
While this pad can reach a 3-inch loft, some sleepers might prefer a foam pad to this inflatable model.  
This sleeping pad is a great value for its durability, but might be too expensive for some shoppers. 
WELLAX Ultra Thick Self-Inflating Sleeping Pad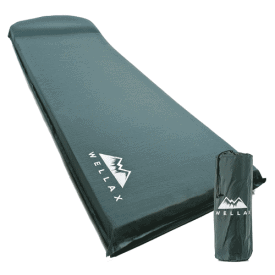 The WELLAX Ultra Thick Self-Inflating Sleeping Pad uses a waterproof nylon cover and can self-inflate.
Sleepopolis Score
4.60 / 5
Best for Couples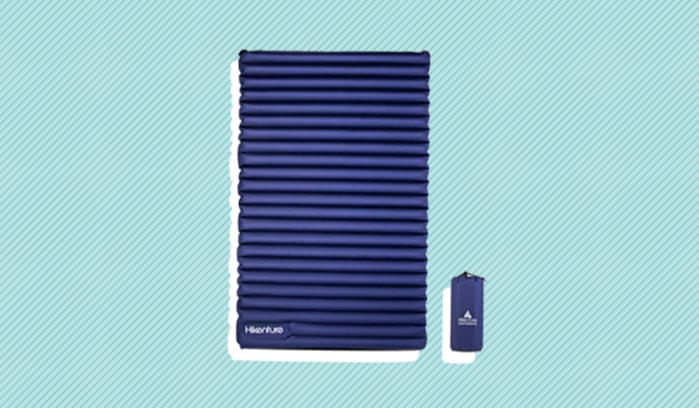 Hikenture Double Sleeping Pad
A Double-Sized Pad for Co-Sleepers
Couples and camping buddies have plenty of room to cuddle up on this double-sized sleeping pad. It's covered in waterproof polyester, is easy to spot-clean, and features a built-in foot pump for quick inflation and deflation.
Pros
Campers can use this sleeping pad together, or enjoy it for some spacious solo snoozing.
No manual pumping or deep breathing is needed to inflate this sleeping pad. Simply use the built-in foot pump, and it'll inflate within two minutes!
This sleeping pad is easily compressed, and can be rolled into a carrying case when you're ready to pack up.
Cons
If you're looking for something small, you find this sleeping pad's double-design to be inconvenient. 
Keep in mind that this is an inflatable pad, and is not filled with foam, cotton, or any cushion material.
Hikenture Double Sleeping Pad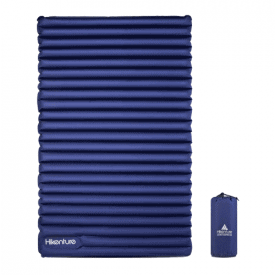 The Hikenture Double Sleeping Pad is big enough for two campers to sleep on, yet compresses for easy travel.
Sleepopolis Score
4.40 / 5
Most Affordable Option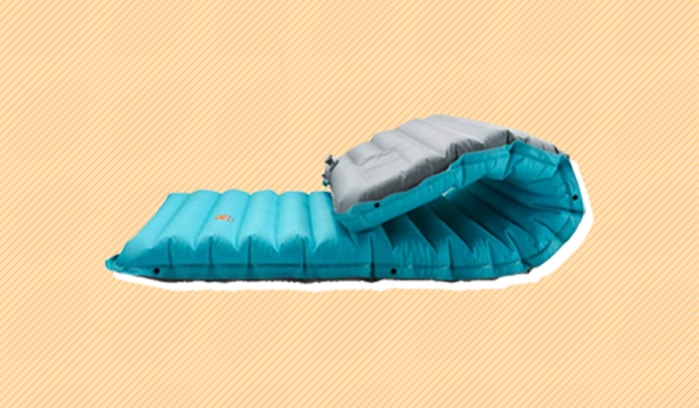 Zooobelives Inflatable Sleeping Pad
A Budget-Friendly Sleeping Pad for Camping and Hikers
If you're searching for a budget-friendly sleeping pad, this affordable option is a great way to go. It's easy to inflate, features a thick 4-inch construction, and can be connected to another pad for extra sleeping space.
Pros
This sleeping pad has a water resistant cover fabric, perfect for sleepers camping in the great outdoors.
This sleeping pad is very reasonably priced for shoppers trying to stick to a strict budget!
This sleeping pad features special side-snaps that can be used to connect two pads together for an extra roomy design.
Cons
This sleeping pad has a ribbed surface that can make its loft somewhat uneven.  
If you're taller than 5'9", you should probably search for a larger sleeping pad that'll completely accommodate you.  
Zooobelives Inflatable Sleeping Pad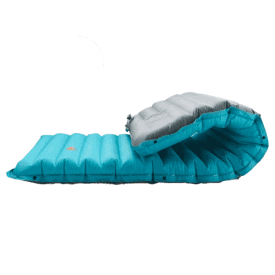 The Zooobelives Inflatable Sleeping Pad is water resistant and reasonably priced.
Sleepopolis Score
4.30 / 5
How We Picked
Now that you've seen my favorite car camping sleeping pads, let's dive deeper into the methodology behind my decisions. When you're shopping for the perfect sleeping pad, there are a few key factors to keep in mind, and I've outlined them all below!
Fabric & Fill
The first factors to focus on are materials, namely the cover fabric and internal fill. You're going to want to make sure that the sleeping pad has a durable, water resistant cover and a supportive interior construction. Typically, sleeping pads are covered in either nylon or polyester, as these are moisture-wicking and water resistant materials. So let's take a look at the different types of internal fills so you can determine which is best for you:
Cotton – Cotton-filled sleeping pads offer a classically cushy feel. They're plush, breathable, and are often less expensive than foam sleeping pads. They're also usually easier to clean, which is a big bonus!
Down – Down sleeping pads can be pretty pricey and tough to care for. However, they're widely regarded as the most luxurious, fluffy, and insulating. They also tend to be very durable, and can last for many years.
Air – Perhaps the most popular, inflatable air sleep pads are praised for being convenient and budget-friendly. Because they can deflate and be rolled up into a small, compact ball, they're very easy to stow when you're on the go. However, they all have comparable feels and levels of support, which can be limiting.
As you can see, these popular types of sleeping pads each have their own set of perks and pitfalls, so take some time to consider your personal preferences. Once you've landed on the materials that suit you best, it's time to focus on construction.
Construction & Features
Every sleeping pad is different, and is constructed with its own special features. Of course, these special features often contribute to a higher cost, so let's take a look at the most common examples below so you can decide which ones are must-haves:
Interior Storage: Many sleeping pads feature sewn-in pockets wherein you can store your keys, wallet, cellphone, or anything you want to keep close while you snooze.
Compression Straps: Compression straps are a handy feature that makes it much easier to roll and store your sleeping pad. They are often found in sleeping bags as well, and are perfect for hiking or backpacking trips.
Connector Snaps: Some sleeping pads have little snaps along the side of the pad in order to connect it to another pad. If you're a big and tall sleeper or planning to share a pad with a partner, I suggest you keep an eye for connector snaps!
Built-In Pump: If you opt for an inflatable sleeping pad, I recommend picking one with a built-in pump. Having a built-in pump means you don't have to worry about blowing it up with your own breath (which can take a long time and make you feel lightheaded). Typically, you just press a button and the pad will inflate by itself!
Bar Attachments: Bar attachments are a useful feature for campers who plan to put their sleeping pad on a free-standing cot. The attachments look like little straps, and can be affixed to the bars of your cot to keep it from shifting around or falling off while you sleep.
Ultimately, everybody has different car-camping needs, so take some time to decide which of these features is right for you. Once you've done that, you can focus on depth and dimensions.
Depth & Dimensions
While sleeping pads are crafted to feel like miniature, portable beds, they're not sized in the same way that regular mattresses are. For example, they're not categorized as Twin, Full, Queen, and King, but are described with specific measurements instead. That's why I suggest you take your own measurements (how tall and wide you are) before purchasing a new sleeping pad. After all, it would be a shame to invest in a brand new pad only to find out that it's way shorter than you are!
The next thing to consider is how deep, or thick, the sleeping pad is. Most models are about 3 or 4 inches deep, but heavier sleepers might want to go with thicker pads that are 5 or 6 inches deep. Again, these measurements will be listed in the product's description, so be sure to make careful note of each sleeping pad's length, width, and depth in order to find the right fit.
Wash Care
Unfortunately, sleeping pads are rarely machine washable, and should be spot-cleaned instead. But don't sweat it — it's not as complicated as it may sound! To help you out, I've outlined spot-cleaning instructions below:
Apply a mild detergent to a damp cloth, and rub it into the surface of your sleeping pad.
Allow the soapy solution to sit for ten minutes.
Take a new damp cloth (without any detergent on it) and wipe the surface of your sleeping pad until it's completely free of soap.
Then, let your sleeping pad air dry in the sun until it's completely dry.
Ultimately, caring for your sleeping pad isn't quite as simple as tossing it in the washing machine; but with proper maintenance, your sleeping pad should last you a long time. And while I've outlined general care instructions here, don't forget to check the exact instructions as given by the manufacturer itself.
Pricing
Sleeping pads range in price quite a bit, and it's important to compare costs across different retailers to make sure you're getting the best bang for your buck. That said, it's safe to assume that high-quality materials will contribute to a higher price point. That's why I like to pay attention to each brand's return policy and warranty in order to get a better sense of the overall purchasing risk.
For example, if a retailer offers a generous return policy and/or warranty, you might be more inspired to purchase a sleeping pad knowing that you'll be refunded if things don't work out. So, I suggest you carefully read all the details of each brand's return and warranty policies before hitting that "buy" button!
Sleepopolis Buying Tips
Now that we're nearing the end of my guide, let's recap a few helpful tips that'll assist you in your hunt for the perfect sleeping pad:
CertiPUR-US Certification: If you opt for a foam sleeping pad, keep an eye out for the CertiPUR-US certification, as this guarantees that no harsh chemicals or dyes were used to make it.
Self-Inflatable: If you choose an inflatable sleeping pad, be sure to find out exactly how it inflates and deflates. Personally, I recommend a pad that features a built-in pump rather than one that you have to manually inflate.
Straps & Cases: Compression straps and carrying cases are very useful features, especially for those who plan to embark on longer hiking or camping trips.
Final Thoughts
Well, you've seen my favorite sleeping pads and learned all about how to pick the perfect one. But before you start shopping, don't forget to keep a close eye on materials, sizing, and construction in order to find the pad that's best for you. In fact, you might want to keep this guide on hand so you've got all the information you need right at your fingertips. Good luck and happy trails!