Though there's a lot to consider when you're searching for the perfect cotton sheets, the founders of Alterra Pure believe social and environmental sustainability is top priority. That's why the bedding brand's signature sheet set is organic, ethically sourced, and all-around eco-friendly. So, naturally, Sleepopolis is here to see what it's all about.
In this review, I'm going to get up close and personal with Alterra Pure's Cotton Percale Sheet Set. I'll show you what these sheets are made of and how they feel, so you can determine if this is the right bedding for you!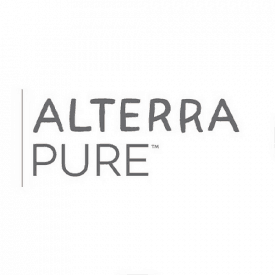 Alterra Pure sheets are made from 100% certified organic cotton, which means no synthetic pesticides, harsh chemicals, or genetically modified cotton seeds were used in the making of this bedding!
What Are Alterra Pure Sheets Made Of?
These sheets are made from 100% certified organic cotton, which means no synthetic pesticides, harsh chemicals, or genetically modified cotton seeds were used in the making of this bedding. For many sleepers, these are important factors (especially for those with sensitive skin).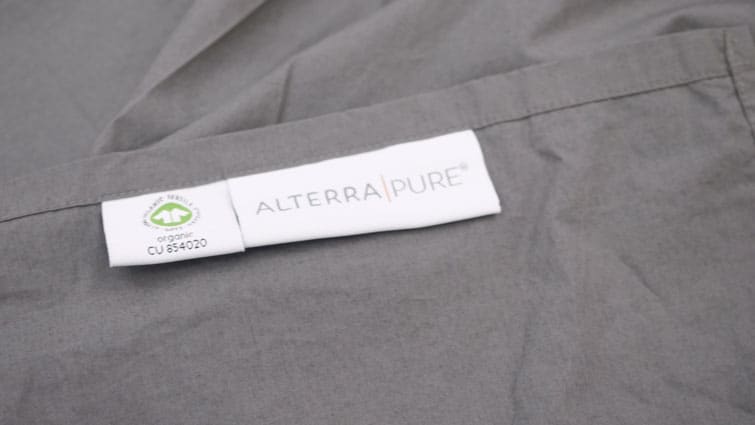 As the name suggests, these sheets are percale woven, which gives them a crisp and cool handfeel. When you're on the hunt for cotton sheets, you'll often need to make a choice between percale and sateen. As a general rule of thumb, percale provides a crisp, breathable feel with a matte finish, while sateen typically offers a silky feel with a shiny luster.
If ethically sourced bedding is a priority, you might like to know that this bedding is both certified organic and a product of Fair Trade manufacturing. Essentially, this means the farming partners who harvest this cotton must be paid a living wage.
Something that I like about this sheet set is the style. The set I'm testing here is a very pretty charcoal color called "Moonshadow," but there are several other colors from which to choose. Additionally, each sheet set features a double-stitch hem that borders the top sheet and pillowcases, adding a little aesthetic flare. Again, this stitching comes in different colors depending upon the style you choose.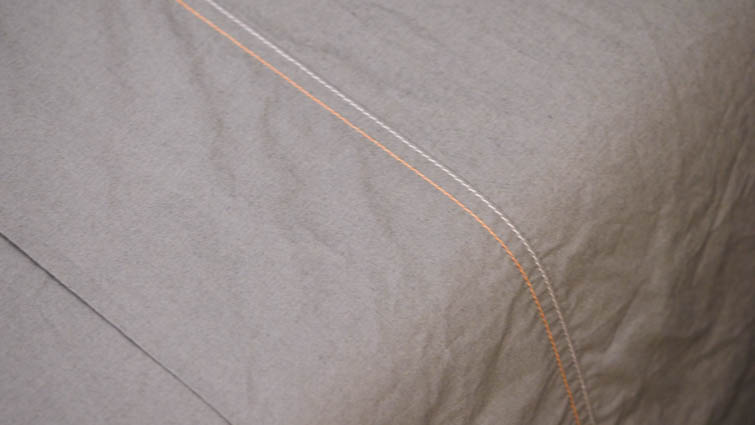 Right now, this is the only sheet set offered by Alterra Pure, and every set comes with one top sheet, two pillowcases, and one fitted sheet capable of accommodating mattresses up to 17 inches deep. So, even folks with taller mattresses should be able to find a good fit here.
Okay, now that we know the ins and outs of this bedding's construction, let's dive into the feel of these sheets so we know who's going to love them most.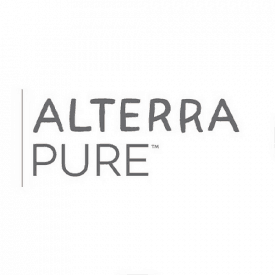 Alterra Pure sheets are made from 100% certified organic cotton, which means no synthetic pesticides, harsh chemicals, or genetically modified cotton seeds were used in the making of this bedding!
What Do Alterra Pure Sheets Feel Like?
The first thing I noticed about these sheets is that they are very true to the percale weave style, meaning they're light, breathable, and extremely crisp. In fact, these might be the crispest cotton sheets I've ever tested!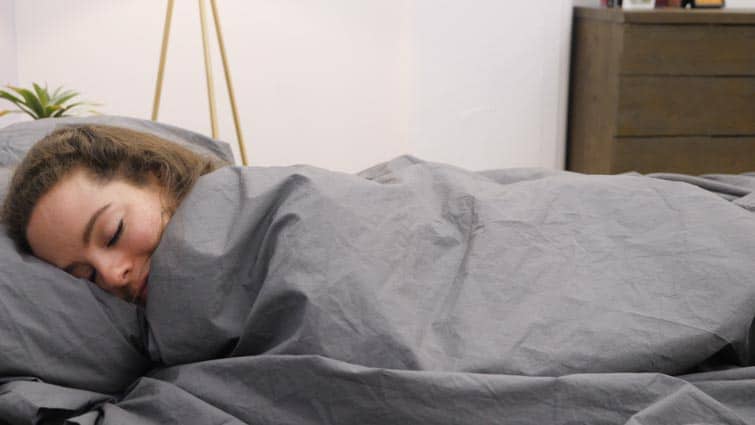 As I billowed this bedding, I could feel the air flowing through the fabric, which tells me these sheets might be a great pick for sleepers who run hot. However, amidst my billowing, I couldn't help but notice a crinkling sound. Of course, all bedding makes a little rustling sound when you roll around in it, but these sheets are notably noisier than other cotton bedding I've tested. If you're a very light sleeper, keep those crisp, crinkling sounds in mind.
Now, when it comes to picking the perfect set of cotton sheets, a lot comes down to personal preference. So, if you're a sleeper for whom sheets can never be too crisp, these might be right up your alley. If, however, you prefer a silky-smooth feel, you might be better suited to sateen, or percale bedding that's been garment washed for extra softness.
Personally, I was impressed by how cool and airy these sheets feel, so I could definitely see myself breaking these bad boys out during the summer months. Conversely, I would not file this bedding into the "warm and cozy" category, so if you're shopping for winter, you might want to invest in a heavier sheet set.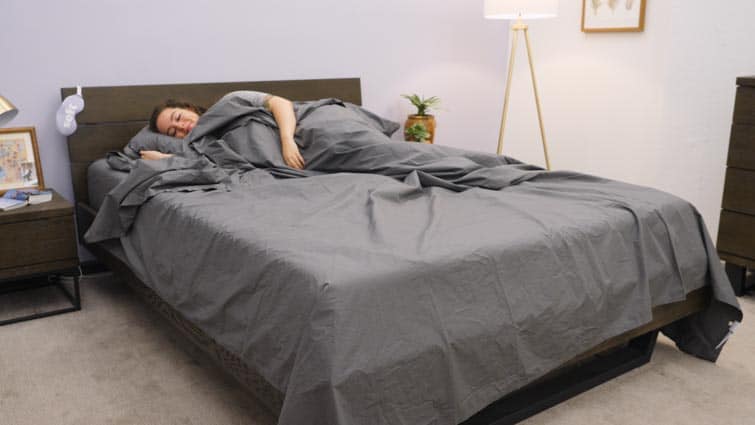 Ultimately, I enjoyed rolling around in this bedding. I think it's got an attractive style that offers a refreshing break from the white cotton sheets we often see on the market. Just remember: these sheets are very crisp. Even after I washed them (twice), the crispness did not diminish. So, for all the crisp percale lovers out there, you might want to give these sheets a try!
The Verdict: Hot sleepers who can't get enough of that crisp cotton feel are going to be most compatible with these sheets.
How Should I Care For These Sheets?
Something all bedding has in common is that it's not always going to look and feel exactly as it did when you first unpackaged it. In fact, the nature of any sheet set is likely to change after the first couple washes. That said, it's important to follow care instructions exactly as they are given in order to keep your bedding looking and feeling fresh for as long as possible.
Here's a step-by-step guide to caring for this particular sheet set:
Wash on a regular cycle with like colors, or separately. Any temperature is fine, though the folks at Alterra Pure suggest cold for a lower environmental impact
Line-dry, or machine dry on medium heat
If you iron, use low heat
Pretty simple, right? Just remember that percale sheets do wrinkle easily (and these are no exception). So, if you choose to dry these sheets in the machine, I suggest pulling them out as soon as the cycle is finished. Then, stretch the bedding over your mattress when it's still warm, and watch the wrinkles shake right out.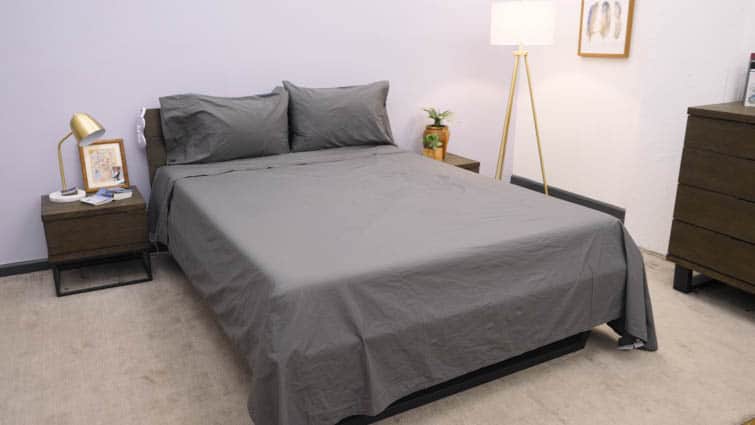 Pro Tip: It's normal for a new sheet set to shrink a bit after being washed for the first time. Don't worry, this is natural and most bedding brands plan for it!
Something to note about this sheet set is that its color lightens after the first wash. I ordered this set in a deep charcoal color called "Moonshadow," and though it arrived dark grey, washing it made it more of a light grey. Additionally, these sheets seemed to get even more crisp after I washed them!
Should I Try Alterra Pure Sheets?
Alright sleepers, let's recap this bedding's highlights so you can decide if it's the right set for you:
Organic & Ethically Sourced — For sleepers who won't sleep on cotton bedding unless it's certified organic — worry not. These sheets are 100% organic, and a product of Fair Trade manufacturing as well. I don't know about you, but I like a little extra guarantee that my bedding is both organic and ethically sourced.
Crisp & Cool — This bedding offers a very crisp and cool feel. That's why I'm extending the most enthusiastic recommendation to sleepers who run hot, and love a super crisp set of sheets.
Great Style — Personally, I'm really into the look of these sheets. The orange and white double-stitching against the charcoal grey color makes for some very stylish bedding, in my opinion.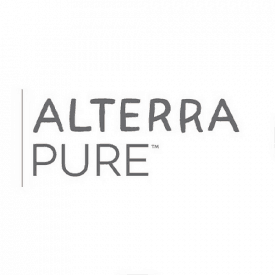 Alterra Pure sheets are made from 100% certified organic cotton, which means no synthetic pesticides, harsh chemicals, or genetically modified cotton seeds were used in the making of this bedding!
Alterra Pure Sheets Complaints
So, what's not to love about these sheets? Let's take a closer look at some potential pitfalls.
Only Sheet Set Offered — Currently, this is the only sheet set offered by Alterra Pure. If you're dead set on sateen, or linen, or something other than cotton percale — sorry, but this is it for now. Of course, the brand has only been around for a year, so who knows what it'll have to offer in the future?
Prone to Wrinkling — As is often the case with percale bedding, these sheets are prone to wrinkling. Luckily, they are machine washable and dryable so, if I were you, I'd pull these sheets out of the dry cycle as soon as its finished. Then, spread them out over the mattress while they're still warm, and that should serve to keep the wrinkles at bay.
Pricey & No Trial Period — Ranging from $135-$175, these might be more than some sleepers are willing to spend on cotton percale sheets. Of course, they are organic and ethically sourced, but they aren't going to be in everyone's price range. Additionally, there is no trial period offered with these sheets, so you have to be pretty sure you want them before you make your purchase.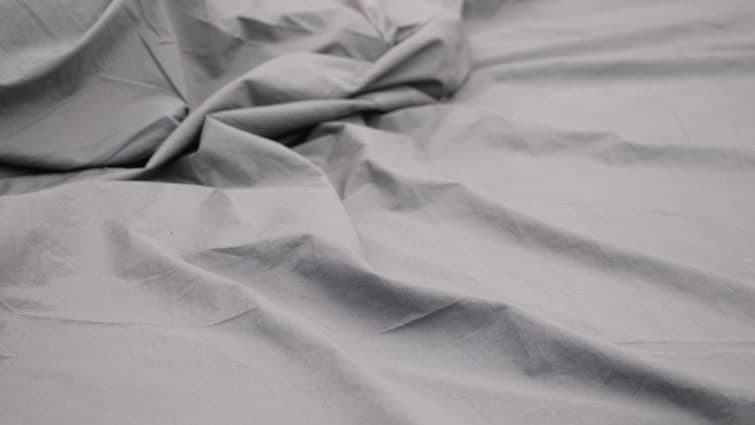 Anything Else I Should Know?
Colors — Off White, Pebble Grey, Moonshadow, Pale Blush
Sizing — Twin, Twin XL, Full, Queen, King, California King
Free Shipping & Returns — within the U.S.
Pricing — $135-$175
Well there you have it, folks! I hope you enjoyed learning everything there is to know about the Organic Cotton Percale Sheet Set from Alterra Pure. And, hey, if this isn't the right sheet set for you, don't worry. There's a wide world of bedding out there, so follow us on social media, subscribe to our YouTube channel, and you're sure to find your dream sheets in no time.
Sarah is the Senior Writer and bedding expert at Sleepopolis. Every week, she personally tests and reviews new pillows, sheet sets, and other sleep accessories. She accompanies every video review with a meticulously detailed article to ensure her audience has all the pertinent info they need for the best shopping experience possible. Perhaps that's why her fans have dubbed her "the most thorough pillow reviewer on the Internet." Having tested everything from sleep trackers to mattress toppers, Sarah's expertise runs deep and is always expanding. She received her degree in Creative Writing from Brooklyn College and spends her free time doing stand-up, making pasta, and hanging with her cats.