Children's bedding is all about comfort and giving your little one the best chance at a good night's sleep. Children's bedding also allows kids to express themselves and bring some individual style to their own space. Kids' bedding designs range from clean and classic to wildly playful and colorful, and choices of fabric are just as varied. Options include light-as-air cottons, cozy flannels, and smooth microfibers that can be mixed and matched according to your child's taste and sleep needs. 
From pillows to comforters to sheets and duvet covers, there's a huge selection of kids' bedding to choose from. With so many options, how do you decide? We've rounded up five stand-out sets to help you select bedding that you and your child will love. Next stop, dreamland.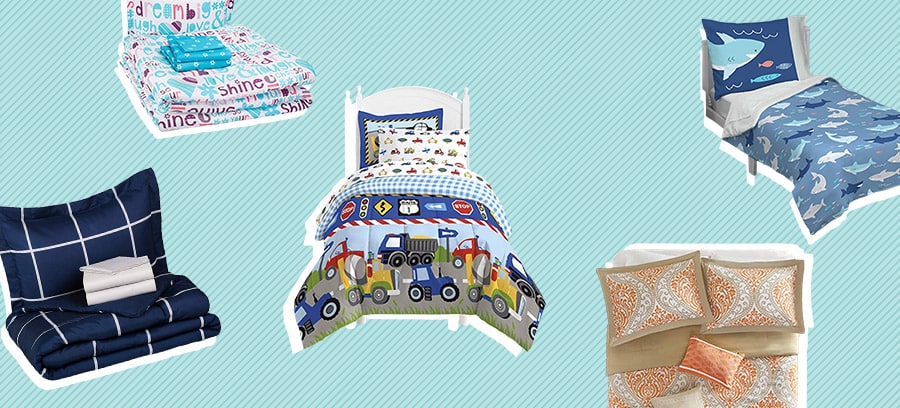 Editor's Pick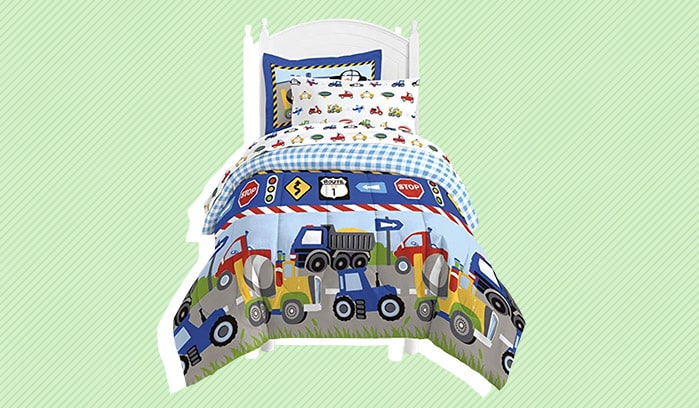 Dream Factory Trucks Tractors Cars Boys 5-Piece Comforter Sheet Set, Blue Red, Twin Size
Pros: 
Design. The  vivid colors and animation-style pattern is sure to appeal to young fans of trucks and tractors. The lively design also includes traffic signs, airplanes, and a parade of bright cars and taxis

Durability. The fabric feels like it can stand up to a lot of washing, pillow fights, and sleepovers. This is a great set for active kids who like to use their bedding for more than sleeping (think forts!)

Warmth. The Dream Factory comforter felt toasty and snug when I climbed under it on a frosty day. This comforter could be ideal for children who tend to get chilly at night, or just like the feel of a plush and cozy top layer
Cons:  
Hand feel. The 180-thread count sheets felt a bit synthetic to my skin, reflecting the 40% polyester content of the fabric. A few washes may improve the slightly scratchy feel out of the box

Gender distinction. Though this set is billed as bedding for boys, plenty of girls would love the colorful and festive pattern. A quick update to the listing would help girls enjoy this product, as well
Dream Factory Trucks Tractors Cars Boys 5-Piece Comforter Sheet Set, Blue Red, Twin Size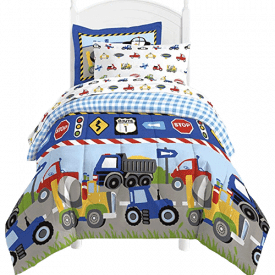 Dream Factory Trucks Tractors Cars Boys 5-Piece Comforter Sheet Set, Blue Red, Twin Size
The 5-piece set by Dream Factory gets my nod for all around quality, design, and affordability. This set includes a comforter, one standard sham, one standard pillowcase, a flat sheet, and a fitted sheet. This colorful ensemble features trucks and tractors drawn in cheery primary colors, and is made of machine washable cotton polyester fabric. A coordinating 3-piece set of gingham panel drapes is sold separately. 
Best For Warm Sleepers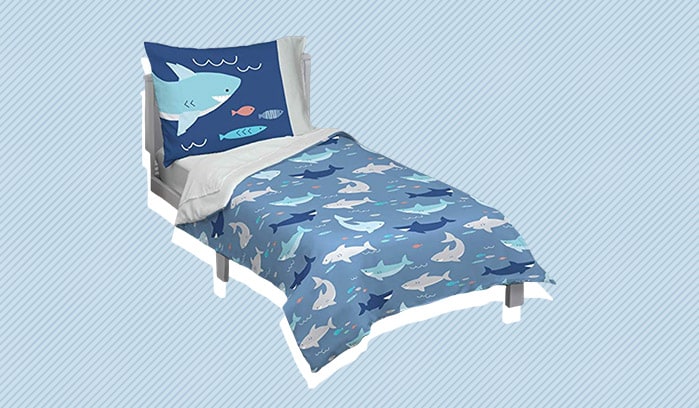 Everything Kids 4-Piece Toddler Bedding Set, Dinosaurs
Pros: 
Lightweight. The comforter in this set is great for summer months and warmer sleepers year-round, and its airy contents make it easy to machine wash and dry

Colors. The dinosaur pattern on this bedding set is bright and fun, with a jungle background design in vivid blue, green, and amber

Price. This set offers a great design and durable materials at a budget-friendly price
Cons:
Everything Kids doesn't appear to make drapery that coordinates with this set, which could make matching the bright colors a bit of a challenge

The top sheet may be a bit too short to fully tuck in around the mattress of some toddler beds
Everything Kids 4-Piece Toddler Bedding Set, Dinosaurs
Everything Kids 4-Piece Toddler Bedding Set, Dinosaurs
The Everything Kids dinosaur 4-piece toddler bedding set is my choice for children who tend to get hot when they sleep. Does your child perspire at night? Toss off his or her bedding? This bedding set is not only cute and colorful, but comes with a slightly lighter comforter that won't overheat your little one. This machine-washable set is designed specifically for toddler beds, and comes with a top sheet, fitted sheet, pillowcase, and comforter.
Best Classic Design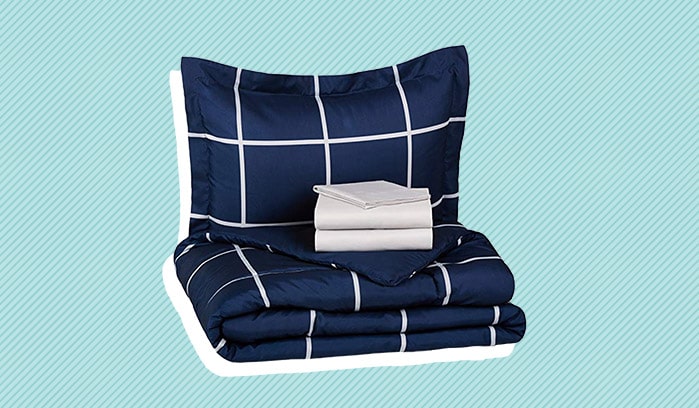 Amazon Basics 5-Piece Bed-In-A-Bag Comforter Bedding Set, Navy Simple Plaid Microfiber
Pros: 
Decor-friendly design. The dark navy and bright white plaid may be simple, but it's unlikely to clash with most styles of decor. For those looking for something a little more exciting, this set comes in fourteen other patterns suitable for kids, adolescents, and adults

Sizing. This sheet set is available in every size except toddler and king, making it appropriate for sleepers of any age

Fabric. The microfiber material felt smooth and satiny on my skin and it's easy-care, too. It didn't pill or fade after several washes and dries quickly in the dryer
Cons:
This set is at the higher end in terms of price, and may be out of reach for some buyers

The fabric is soft but feels thin and potentially fragile. Time will tell if durability is an issue with this bedding set
Amazon Basics 5-Piece Bed-In-A-Bag Comforter Bedding Set, Navy Simple Plaid Microfiber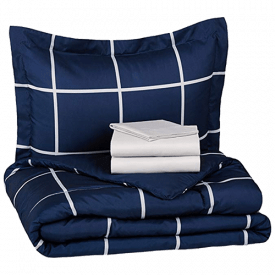 Amazon Basics 5-Piece Bed-In-A-Bag Comforter Bedding Set, Navy Simple Plaid Microfiber
The Amazon Basics 5-piece bedding set in navy plaid is my choice for best classic design. This navy blue and white plaid set is fashioned from smooth polyester microfiber, and comes with a comforter, top sheet, fitted sheet, and two pillowcases. This sheet set is also available in full and queen sizes, so it's great for grown-ups, too. 
Best for Older Kids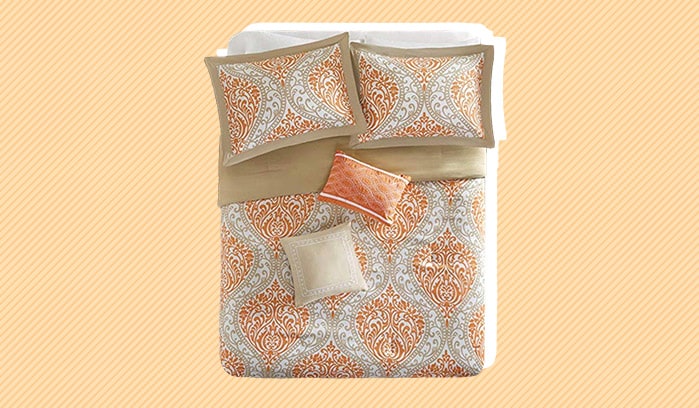 Intelligent Design Senna 5-Piece All Season Microfiber Bedding Set
Pros: 
Hypoallergenic. Intelligent Design states that the microfiber material in this bedding set is 100% hypoallergenic and repels dust mites and allergens. This could be a great choice for kids who suffer from hay fever or sensitivities to certain fabrics

Wrinkle-resistant. Tired of pulling a wrinkled mess of bedding from your dryer? This bedding set is designed to wrinkle less, making it easier to wash and more appealing on the bed

Size options. This bedding set is available in every size from twin to California king, making it versatile and appropriate for adults, too
Cons: 
Stitching. The stitching was a little loose in places on the set I ordered, which may signal a durability issue over the long-term. At this reasonable price, it's not a dealbreaker for me, though

Comforter dimensions. The size of the comforter is a bit skimpy, so if you like your mattress to be fully covered to the bottom, check out the measurements on this one before buying
Intelligent Design Senna 5-Piece All Season Microfiber Bedding Set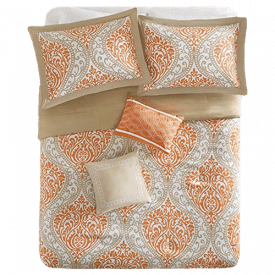 Intelligent Design Senna 5-Piece All Season Microfiber Bedding Set
When your child is ready to graduate from pastels and animal patterns to something a little more grown-up, Intelligent Design's Senna Bedding Set may be the right choice. With its trendy, boho design and modern color options, this set gets my nod for best bedding for older kids, high schoolers, and teens heading off to college. The set includes a comforter, two shams, and two decorative pillows. 
Best Bargain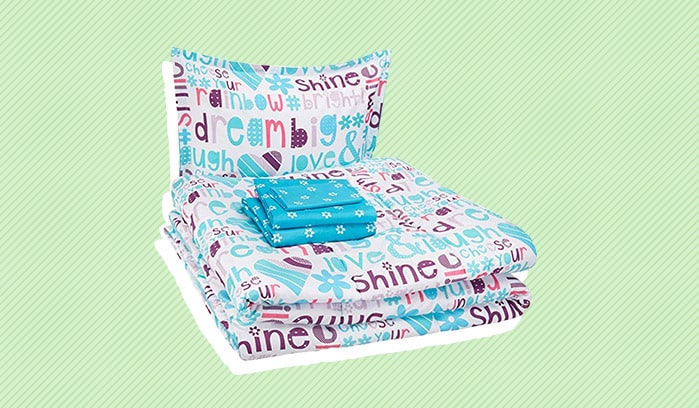 Amazon Basics Easy Care Super Soft Microfiber Kids' Bed-in-a-Bag Dream Big Bedding Set
Pros:  
Ethical construction.

This bedding set is made in a

OEKO-TEX Standard 100 factory, an independent certification system to ensure that textiles meet certain safety and environmental standards. That makes it even more of a bargain in my book

Design. The light blue, purple, and pink colors of this bedding set are easy on the eyes but still pop. Motivational sayings like "dream big," "shine," and "choose your rainbow" make for an inspiring start to the morning

Design options. If your child prefers animals or a floral pattern, you're in luck — this set comes in an additional twenty-one colorful, fun designs 
Cons:
Durability. A couple of washes left the fabric on the back of the sham a little tattered. It could have been a fluke, but this may not be the bedding set for you if you're on the hunt for something long-lasting 

The fitted sheet was baggy on the mattress I tried. If you like tight-fitting sheets or don't have an extra-thick mattress, this sheet may be a bit deep pocketed for your needs
Amazon Basics Easy Care Super Soft Microfiber Kids' Bed-in-a-Bag Dream Big Bedding Set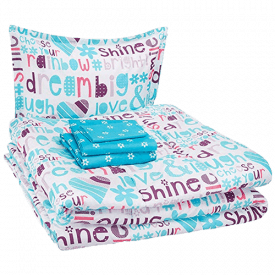 Amazon Basics Easy Care Super Soft Microfiber Kids' Bed-in-a-Bag Dream Big Bedding Set
My pick for best kids' bedding bargain goes to the Amazon Basics Dream Big Microfiber Bed-in-a-Bag Set. Printed with motivational sayings, flowers, and abstract patterns, this bedding set has both an attractive design and a wallet-friendly price. The set includes a comforter, fitted sheet, flat sheet, sham, and pillowcase, and is made of smooth-to-the-touch polyester microfiber.
How We Picked
In choosing kids' bedding to review, we looked closely at a few important factors. These are common to all bedding for children, no matter the size or quality. When selecting a new bedding set for your child, consider the following: 
Material
The material used in bedding impacts its durability, how it feels and looks, and how much it costs. Common bedding materials include the following:
Cotton. Bedding may be made of 100% cotton or cotton blended with other materials like polyester. Cotton bedding varies by thread count and length of fibers. Thread count has less of an effect on softness than the length of the cotton fibers. Cotton tends to be durable, and often gets softer with repeated washing. Cotton is known for its breathability, making it a good choice for people who sleep hot
Microfiber. Microfiber is made of strands of polyester that are finer than a strand of silk. Microfiber sheets are typically moisture wicking, but may not be breathable due to the fine weave of the fibers. Microfiber is not typically recommended for people who sleep hot or wake up perspiring. Microfiber is often one of the least expensive options when it comes to bedding, and maybe be durable if constructed well

Polyester. Polyester is a synthetic material used in everything from clothing to towels to area rugs. When used in bedding, polyester may be woven into sheets and duvet covers, or used as a stuffing for pillows and comforters. Polyester is known for being lightweight and color-fast, and is generally less expensive than natural fibers such as cotton, linen, or silk. Polyester also wrinkles less than cotton, and dries more quickly, as well
Design
Bedding design includes both pattern and style. Varieties of bedding are nearly infinite, and include some of the following popular types:
Solids. Solid sheets are considered classic, particularly sheets that are all white and made of cotton. Solid sheets can coordinate with any type of rug, drapery, or duvet cover design, and are perennial bestsellers. Solids may also incorporate subtle patterns such as stripes, and are made of all types of bedding fabrics, including cotton and polyester

Patterns for younger kids. Patterns range from simple plaids and stripes to exotic animation-style graphics in endless styles. Bedding for children often includes cartoon or superhero characters, animals, and flowers

Patterns for older kids. These patterns are a bit more sophisticated than designs for toddlers and younger children, but can still be colorful and playful. Patterns for this age might include paisleys, astronomy-inspired graphics, bohemian prints, and abstract designs
Price
When choosing bedding for kids, we looked at a variety of sets from inexpensive to moderately priced. The widespread use of synthetic materials has lowered the price of many types of bedding, making it affordable for nearly any budget. 
Bedding ranges widely in price depending on size, design, and material. Bedding from countries like Italy and France is often pricier than domestic bedding, as is bedding made from silk or long-staple cotton. Kids' bedding is typically less expensive than bedding for adults, but not always. Expect luxury brand bedding for children to sit at the top of the price range.
Buying Tips
If you're still not sure which bedding is best for your child, consider the following:
What kind of sleeper is your child? Warm sleepers often do best with cotton bedding, while cool sleepers may find flannel or microfiber cozy and warm. A percale weave can be ideal for a child who sleeps hot

What kind of pattern or style does your child gravitate to? Choosing new bedding can be an opportunity to let your child express their preferences and design their own space

If your child has allergies or sensitive skin, consider a natural fiber or hypoallergenic bedding option

Think about your home's decor. There are plenty of design options that are fun and colorful that won't clash with your home's aesthetic
FAQs
Which lasts longer, cotton or polyester bedding?
It depends on how you use and care for it. Cotton and polyester bedding of fairly equal quality should last about the same length of time under normal use and with proper care. Wash according to instructions, and don't tug too hard on fitted sheets when making or changing beds. Well-made sheets and comforters should last for years.
Which sheets should I choose if my child wets the bed on occasion?
Microfiber over a waterproof mattress protector may be the best choice. Microfiber wicks moisture, is relatively inexpensive, washes easily, and resists staining. 
When should my child graduate from a toddler bed to a twin size bed?
When your child outgrows the toddler bed and expresses the desire to move to a twin-size bed. There are no hard and fast rules, but some people who live in small apartments choose to keep their child in a toddler bed as long as possible. You can keep a toddler bed looking fresh and fun with colorful bedding that helps your child look forward to bedtime.
Last Word From Sleepopolis
The right bedding can help your child sleep better and feel more comfortable and secure at bedtime. Shopping for bedding can also be an opportunity to let your child create his or her own sleeping environment and express a little creativity. To choose the right kids' bedding, keep fabric, price, and function in mind, and let your child's preferences guide the way. 
Rose is the Chief Research Officer at Sleepopolis, which allows her to indulge her twin passions for dense scientific studies and writing about health and wellness. An incurable night owl, she loves discovering the latest information about sleep and how to get (lots) more of it. She is a published novelist who has written everything from an article about cheese factories to clock-in instructions for assembly line workers in Belgium. One of her favorite parts of her job is connecting with the best sleep experts in the industry and utilizing their wealth of knowledge in the pieces she writes. She enjoys creating engaging articles that make a difference in people's lives. Her writing has been reviewed by The Boston Globe, Cosmopolitan, and the Associated Press, and received a starred review in Publishers Weekly. When she isn't musing about sleep, she's usually at the gym, eating extremely spicy food, or wishing she were snowboarding in her native Colorado. Active though she is, she considers staying in bed until noon on Sundays to be important research.