Sleepers looking to add a splash of elegance to their bedroom decor might have already discovered the luxury home furnishings brand Frette. But for those of you who haven't — Frette began in Italy in way back in 1860, and its bedding can be found in the some of the most prestigious hotels in the world (and even in St. Peter's Basilica!). And now, two of the most popular Frette sheet sets are here at Sleepopolis Headquarters… so let's see what they're all about, shall we?
In this review, I'll be taking a close look at the Doppio Ajour and Classic Hotel sheet sets from Frette 1860. I'll compare the two side by side, show you what they're made of, and for whom these sheets might be most beneficial. Click here to skip to the review summary!

WHAT ARE THESE FRETTE SHEETS MADE OF?
Fortunately for me, I have the pleasure of testing two sheet sets from Frette: the Classic Hotel Sheet Set, and the Doppio Ajour Sheet Set. The Classic Hotel set is percale woven, the Doppio Ajour set is sateen woven, and both are made in Italy.
Both sheet sets are made from extra-long staple cotton, which serves to boost the durability and softness of the fabric. However, because of their different weave styles, each set offers a different look and feel. The differences between percale and sateen vary from brand to brand, but when it comes to this Frette bedding, I found each sheet set to have its own distinct personality.
With the percale sheet set, the name really says it all. Frette's Classic Hotel sheet set really offers that crisp, hotel-bed feel — and the extra-long staple cotton adds a luxurious, high-end quality to it as well. The Classic Hotel sheet set was crafted to be light, breathable, and very soft to the touch.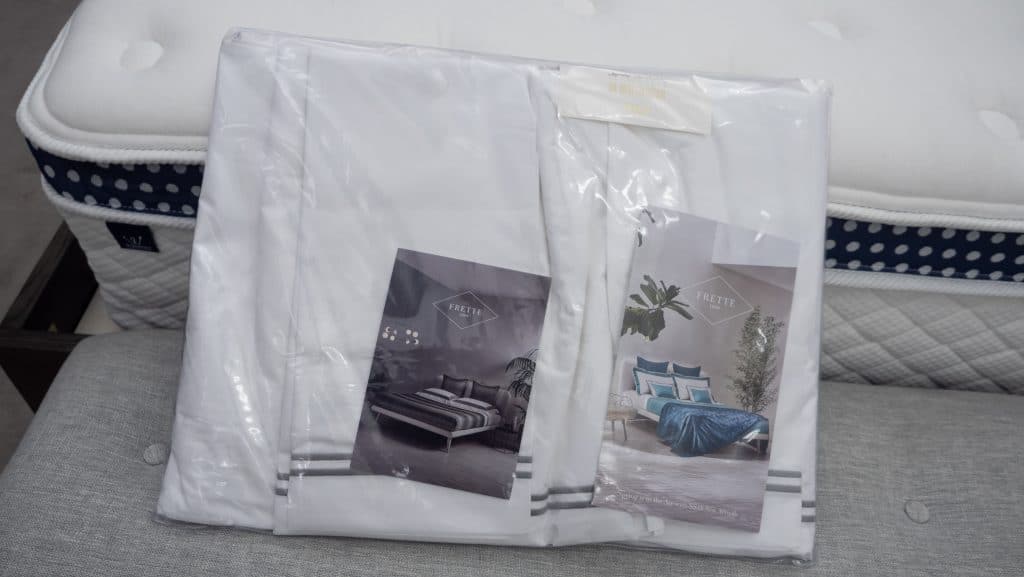 As far as thread count is concerned, the Frette website tells us that the Classic Hotel sheets range from 200-240. But remember, gang: A high thread count is not the deciding factor when it comes to sheet quality. A better indicator is the length of the fibers themselves, as longer fibers typically yield a stronger, softer fabric. So, it didn't surprise me to find that a luxury bedding brand like Frette would only use extra-long cotton fibers.
Frette offers several different styles, but I'm reviewing the Hotel Classic set in the white/grey combination. Each Hotel Classic sheet set comes in white, with double embroidered borders in either grey, navy blue, khaki, or white. In my opinion, the double embroidered borders add a flare that enhances the luxurious look of these sheets.
The fitted sheets (for both sheet sets) are capable of accomodating mattresses up to 15 inches deep. So, those of you with deeper mattresses should be compatible with either the Hotel Classic or the Doppio Ajour. Each sheet set comes with one fitted sheet, one top sheet, and two pillowcases.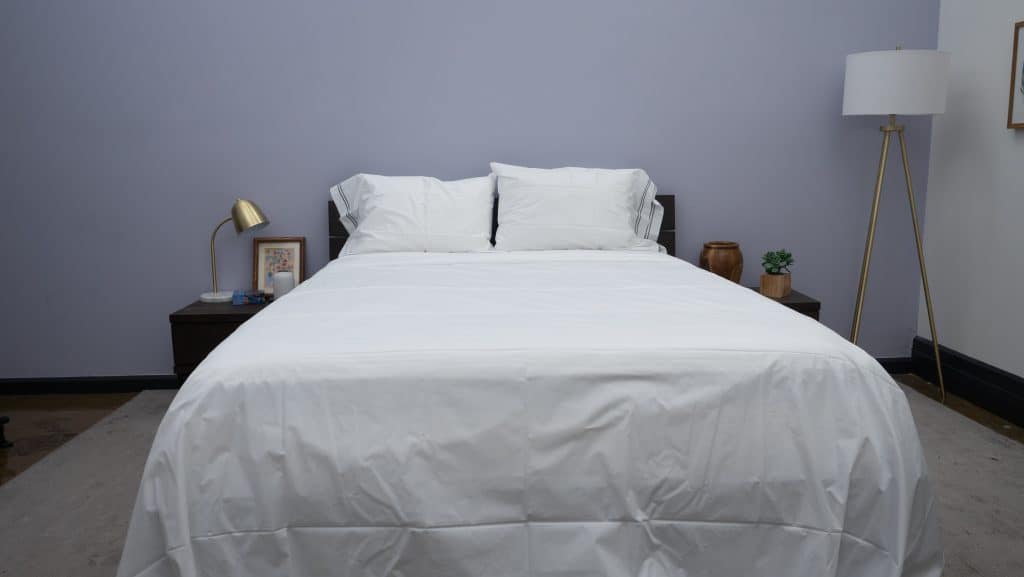 As I mentioned, the Doppio Ajour sheet set, is also made from extra-long staple pure cotton. It features a thread count that's anywhere from 300-500, and because it's sateen woven, offers a super silky and luxurious feel. Typically, a sateen weave produces a thicker, heavier sheet as compared to percale, and I'd say these Frette sheets are no exception.
I'm testing the Doppio Ajour sheets in Cliff Grey, but there are several other color options available. Unlike the Hotel Classic set, the Doppio Ajour sheet set comes in one solid color. However, it does feature a double open hemstitch that borders the pillowcases and top of the flat sheet.
Fun Fact: "Doppio" means "double" in Italian which, in this case, refers to the double open hemstitch featured in Frette's sheets!
My first impressions of these sheets are that both sets feel luxuriously soft — the percale set in a light, crisp way, and the sateen set in a silky, heavier way. Of course, the only way to really know how this bedding feels is to roll around in it… so let's check it out!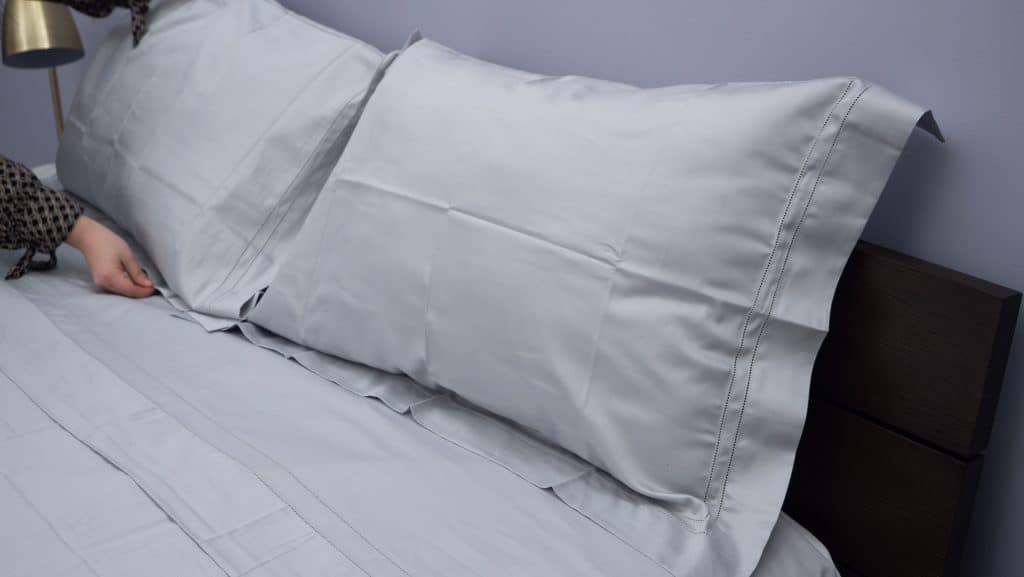 HOW DO FRETTE SHEETS FEEL?
Classic Hotel Sheet Set
The percale weave of the Classic Hotel sheet set provides a very crisp handfeel, and a lighter, more breathable quality. But don't mistake its light weight for thinness; these sheets feel very durable, and I definitely got the sense that they'd last me a good, long while! However, while I wouldn't call them thin by any means, they do feel thinner than the sateen sheets.
True to a percale weave, these sheets offer an incredibly crisp handfeel that evokes that classic, hotel-bed vibe. Thanks to the extra-long staple pure cotton, though, these sheets feel like they'd be featured in more luxurious lodgings rather than your run-of-the-mill hotel. Additionally, the double embroidered borders on the pillowcases and top sheet add an aesthetically charming flare.
As far as cooling ability is concerned, the Classic Hotel sheet set is lighter offers better breathability as compared to the sateen set. So, Frette's percale is likely going to do a better job of keeping the sleeper cool. Meanwhile, the Doppio Ajour sheets lie a bit heavier on the body (as sateen bedding often does), and feel a bit less airy. So, between the two, the Classic Hotel sheet set sleeps cooler.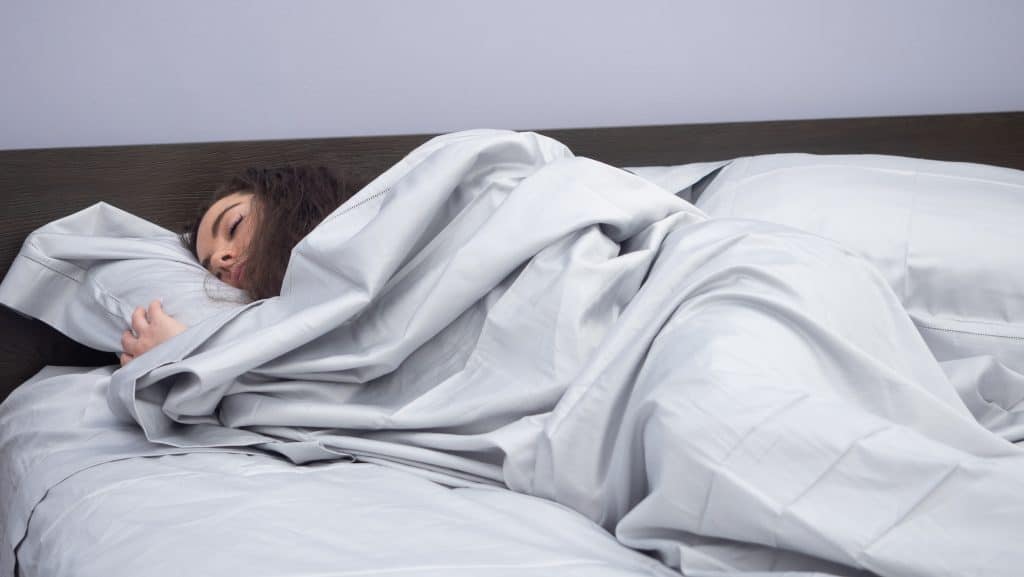 Doppio Ajour Sheet Set
Unlike the Hotel Classic sheets, the Doppio Ajour sheets feel silky, smooth and not at all crisp. Like I said, both Frette's sheet sets feel very high-end — the percale in a classic, hotel-bed way, and the sateen in a more lavishly luxurious way. The Doppio Ajour bedding features a lustrous sheen and elegant, body-conforming drape that, in my opinion, just makes this set feel a little fancier.
As is often the case with sateen bedding, the Doppio Ajour sheets are seemingly less prone to wrinkling, and have a smoother look overall. I didn't find the percale set to be exceptionally wrinkly, but these sateen sheets definitely appear to be more resistant to creasing. Not to mention, I found that this resistance to wrinkling enhanced the slippery, satin-like feel of the Doppio Ajour set as well.
These sheet sets look as different as they feel. The Hotel Classic set offers a matte finish, and the Doppio Ajour features a lustrous sheen. So, while they each have a certain luxury hotel aesthetic, the sateen bedding is much shinier. Additionally, the thicker weight of the Doppio Ajour sheets offers an elegant draping that many (myself included) find to be a basis of appeal for sateen bedding.
Essentially, both sets feel durable and soft, but in different ways: The sateen sheets feel silky-smooth, and the percale feels crisp and cool.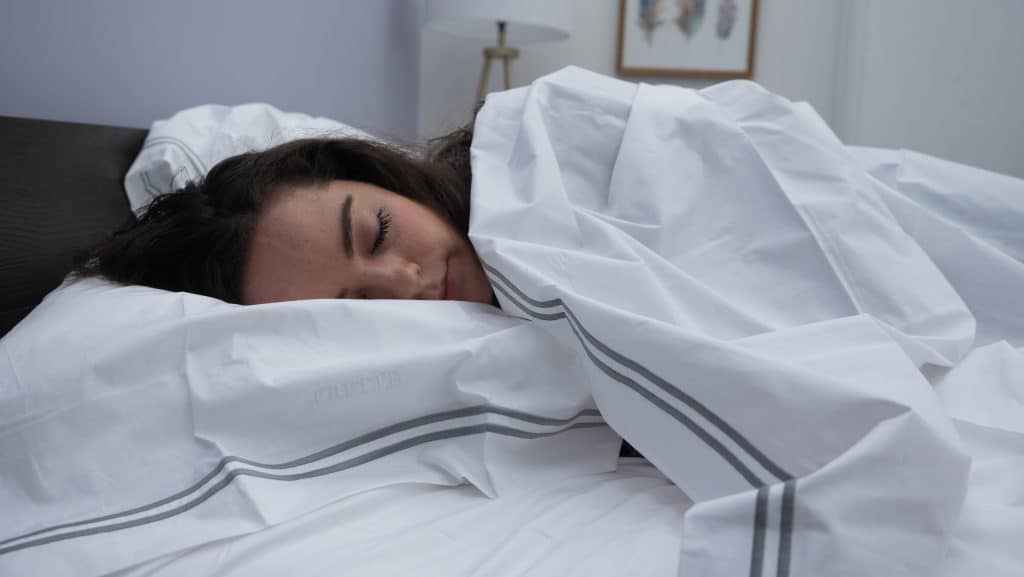 HOW DID YOU LIKE THEM, SARAH?
After learning that Frette bedding was featured on the altar of St. Peter's Basilica, I was beyond excited to test these sheets. And sure enough, both of these sheet sets made me feel like I was in my own luxury hotel room.
As I opened each package, I could feel that both the Doppio Ajour sheet set and the Classic Hotel sheet set felt incredibly soft and durable. Right away, I really loved how crisp the percale sheets felt — and as I dressed the mattress with them, I could totally understand why they make frequent appearances in private aircrafts and yachts. For me, they offer a noticeably high-end feel.
I also really liked the look of the Hotel Classic set as well. Though it's a simple embellishment, I found the double embroidered borders of the pillowcases and top sheet to add an elegant charm. In my opinion, it took that classic white cotton style to the next level. I did notice that this set was rather wrinkly, but that's to be expected with percale bedding.
As I rolled around in the Classic Hotel sheets, I felt some cooling breathability that I did not feel with the Doppio Ajour sheet set. Again, it's more characteristic of percale to be breathable, so I wasn't surprised. However, it is worth noting that Frette's percale definitely sleeps cooler than the sateen. As I fanned the top sheet over my body, I could feel the air flowing through the fabric… and as a hot sleeper, that's a big perk for me.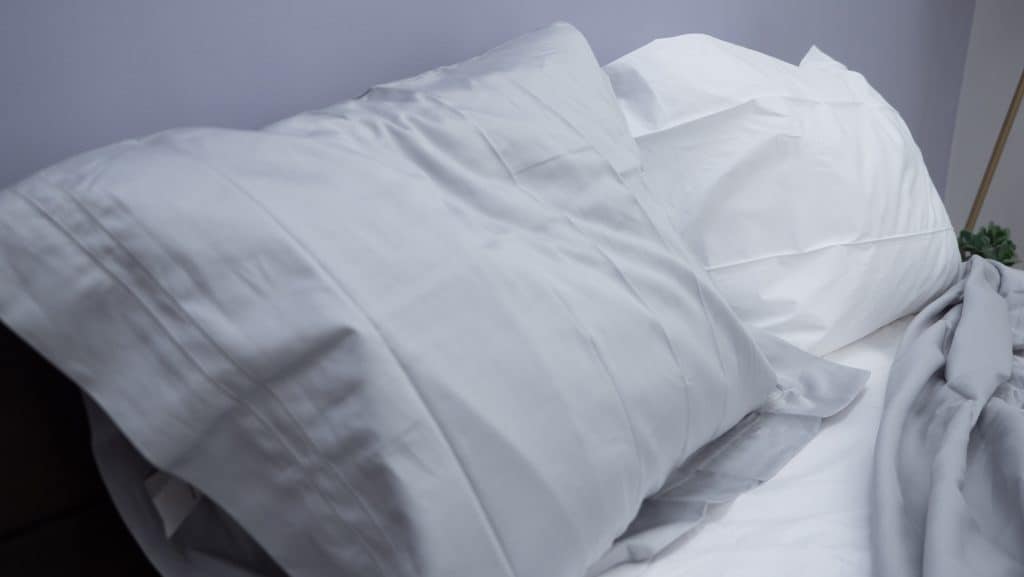 However, if I had to pick my favorite between the two sets, I'd pick the Doppio Ajour. Granted, the Doppio Ajour is several hundred dollars more expensive than the Hotel Classic set… But the silky feel and lustrous sheen bring a lavish quality to the bedroom that I find to be irresistible! As I draped this sateen bedding over me, the luminous fabric silhouetted my shape in a very elegant way. Not to mention, Frette's signature double open hemstitch boosts the overall look of this sheet set.
It's worth noting that, in my experience, each fitted sheet seemed like it might be able to fit mattresses deeper than 15 inches. I tested both sheet sets on a mattress that is about 15 inches deep, and I had a good amount of fabric to spare. So, while I think it's the safest bet to say that these fitted sheets are capable of accomodating mattresses up to 15 inches deep, I wouldn't be surprised if they could stretch to fit mattresses taller than that.
For those of you concerned with temperature regulation, the Doppio Ajour set does lie a bit heavier on the body, and offers less breathability. So, I do think that the sateen would be perfect for cooler temperatures, and the percale would be better for warmer climate. Ultimately, though, both of these sheet sets feel incredibly soft, and offer a uniquely luxurious look.
The Verdict: While the Hotel Classic and Doppio Ajour each offer their own special perks, I heartily recommend either sheet set to sleepers looking to build their collection of luxury bedding.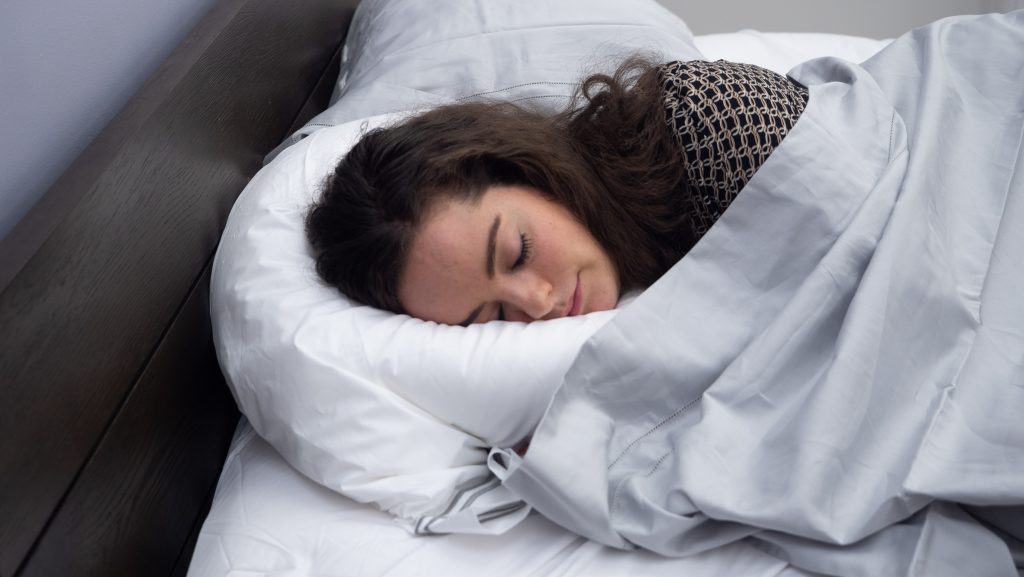 ARE FRETTE SHEETS WORTH THE MONEY?
Let's go over some of the highlights of these Frette sheet sets so that you can decide if they are really worth the investment:
High-End Feel — These sheets have an incredibly luxurious, high-end feel. Each set offers a different feel because of their different weave styles, but the extra-long staple pure cotton has them both feeling so durable and soft. In my opinion, both sheet sets make you feel like you're in your own 5-star hotel.
Luxurious Look — Both sets offer a very luxurious aesthetic. The Doppio Ajour sheet set features a silky luster and charming double open hemstitch; and the Classic Hotel sheet set provides a clean, crisp look, complemented by the double embroidered borders.
Variety of Colors — Each set comes in a variety of colors. So, if you're not in love with the look of the ones I've reviewed here, but you are in love with the brand or the sheets themselves, you always have more style options from which to choose.
FRETTE SHEET COMPLAINTS
Pricey — While these sheets are incredibly luxurious in look and feel, they also come with a luxury price tag. The Doppio Ajour sheet set is about $1,100 for a Queen size, and the Hotel Classic sheet set is about $450 for a Queen size. So, for some of us (myself included), these may be a little out of the budget.
High Maintenance — Caring for these sheets isn't as easy as throwing them in the washer and dryer. These sheets aren't exactly inexpensive, so you're going to want to make them last! So, Frette recommends you use a mild, biodegradable detergent on a cold wash cycle. Next, tumble dry on low heat until they are mostly dry, and remove them immediately. Then, allow them to line dry the rest of the way.
No Trial Period — Many bedding brands offer free trial periods wherein you can test sheets out for a month or so, and have them refunded if you don't like them. Unfortunately, Frette doesn't offer any such trial period. You do have 30 days to return Frette sheet sets, but they must be unused and unwashed — so it's not exactly a trial period.
ANYTHING ELSE I SHOULD KNOW?
Made in Italy — Both sheet sets
Sizing for Hotel Classic — Twin, Queen, King, California King
Sizing for Doppio Ajour — Queen, King, California King
Pricing for Hotel Classic — $370-$490
Pricing for Doppio Ajour — $895-$1150
Wash Care — Wash in cold water using mild, liquid biodegradable detergent (no added bleach or whiteners). Dry on low heat. Remove from dry cycle before completely dry; let air-dry. Fold & Iron.
Shipping — Shipping rates are based upon the total weight of the order.
Returns — You have 30 days to return your Frette order, though bedding must be unwashed and unused.
Delivery — Orders over $3,000 require a signature upon delivery.