Is it time to replace your old, worn out sheets? Well then give a big warm welcome to the Nest Bedding organic cotton sheet set! This Eco-friendly sheet set was designed to add a luxury feel and look to your bedroom. Over the last year I've tested a number of Nest Bedding products including the Love & Sleep mattress, Easy Breather pillow, and Alexander mattress, among others.
Thus far I've yet to be disappointed in any Nest product, but will their organic cotton sheets continue the streak? Keep reading below to find out!
Don't have time to read the full review? Click here to skip down to the review summary
Construction & Materials
The Nest organic cotton sheet set is built from GOTS (Global Organic Textile Standard) certified 100% organic cotton and Eco-friendly dyes. This set includes 1 fitted sheet, 1 flat sheet, and 2 pillow cases. Around the bottom of the fitted sheet is an elastic band. This ensures a nice tight fit around mattress from head to toe. Additionally, the sheet set has the ability to fit mattresses with depths up to 18″.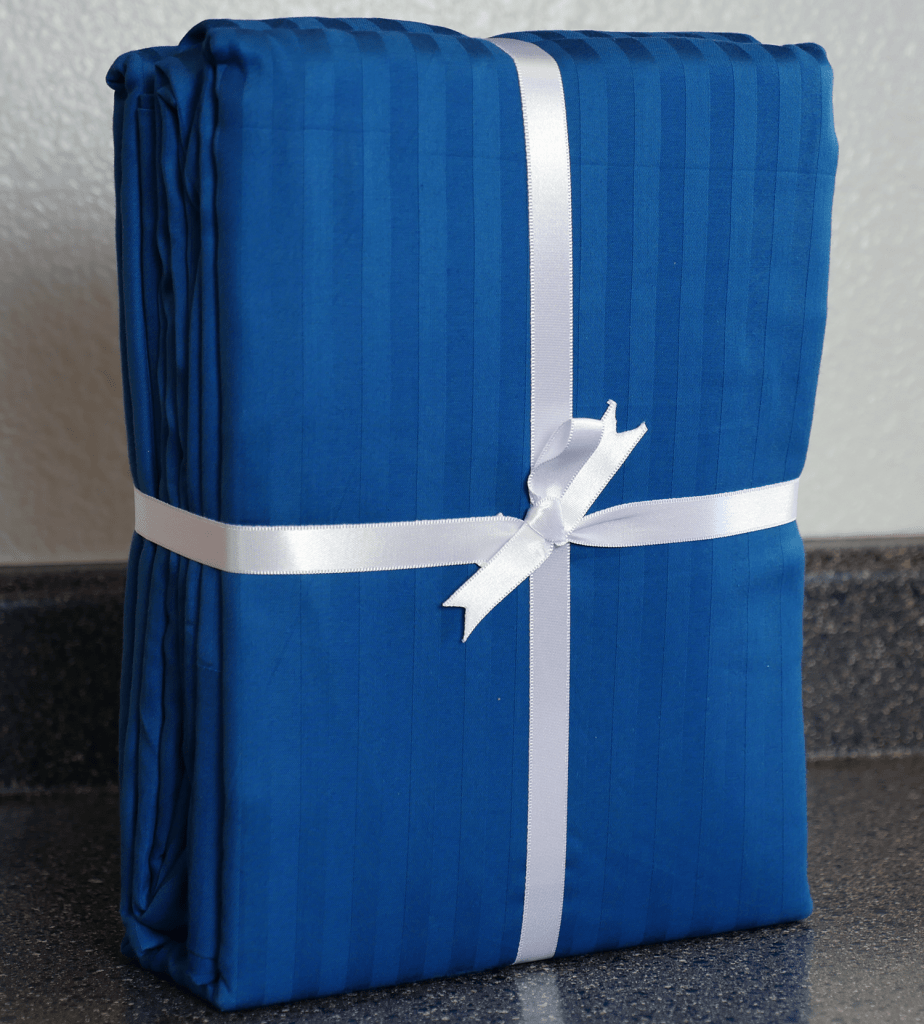 With a 300 thread count, the Nest Bedding organic cotton sheets were made to soften after wash cycles. Additionally, there are 6 different color options to chose from including: Pure White, Light Chocolate, Olive Green, Moroccan Blue, Sea Foam, and Ecru . This is a major plus for those sleepers who prefer to add some spark to their bedroom accessories. For this review I took a look at the Moroccan Blue sheets, the most bold and striking color (in my opinion).
Aesthetically, they are very appealing. The subtle stripes provide a very modern look to any bedroom. Lastly, the pillow cases were made with an internal sleeve. This means the pillows will be tightly wrapped by the case, eliminating the sloppy look of extra material.
Build Quality
The build quality of these sheets is quite good. This is determined by close examination of the stitching, materials used, and overall construction.
After closely analyzing every inch of the stitching, here's what I found: The flat and fitted sheets did have a few small flaws with the stitching. There were a few loose threads that look like they weren't clipped closely enough. However, I do not believe they will cause any major problems. Most of these threads fell off in the wash or were easily discarded without impacting the functional stitching. The pillow cases looked great both inside and out.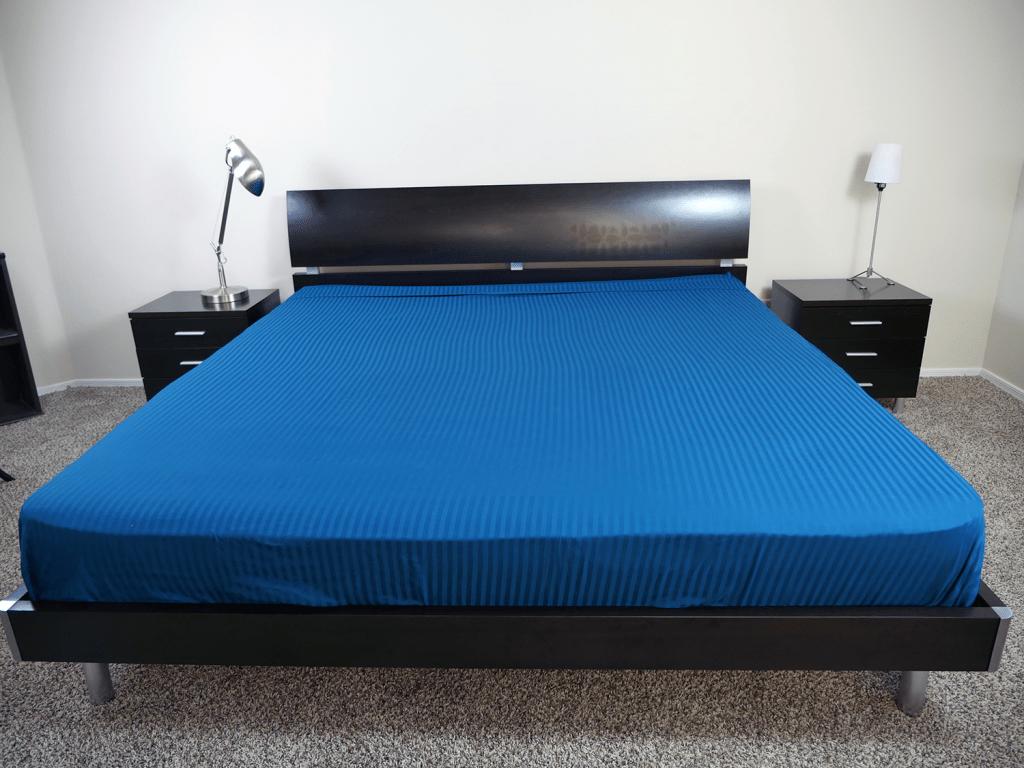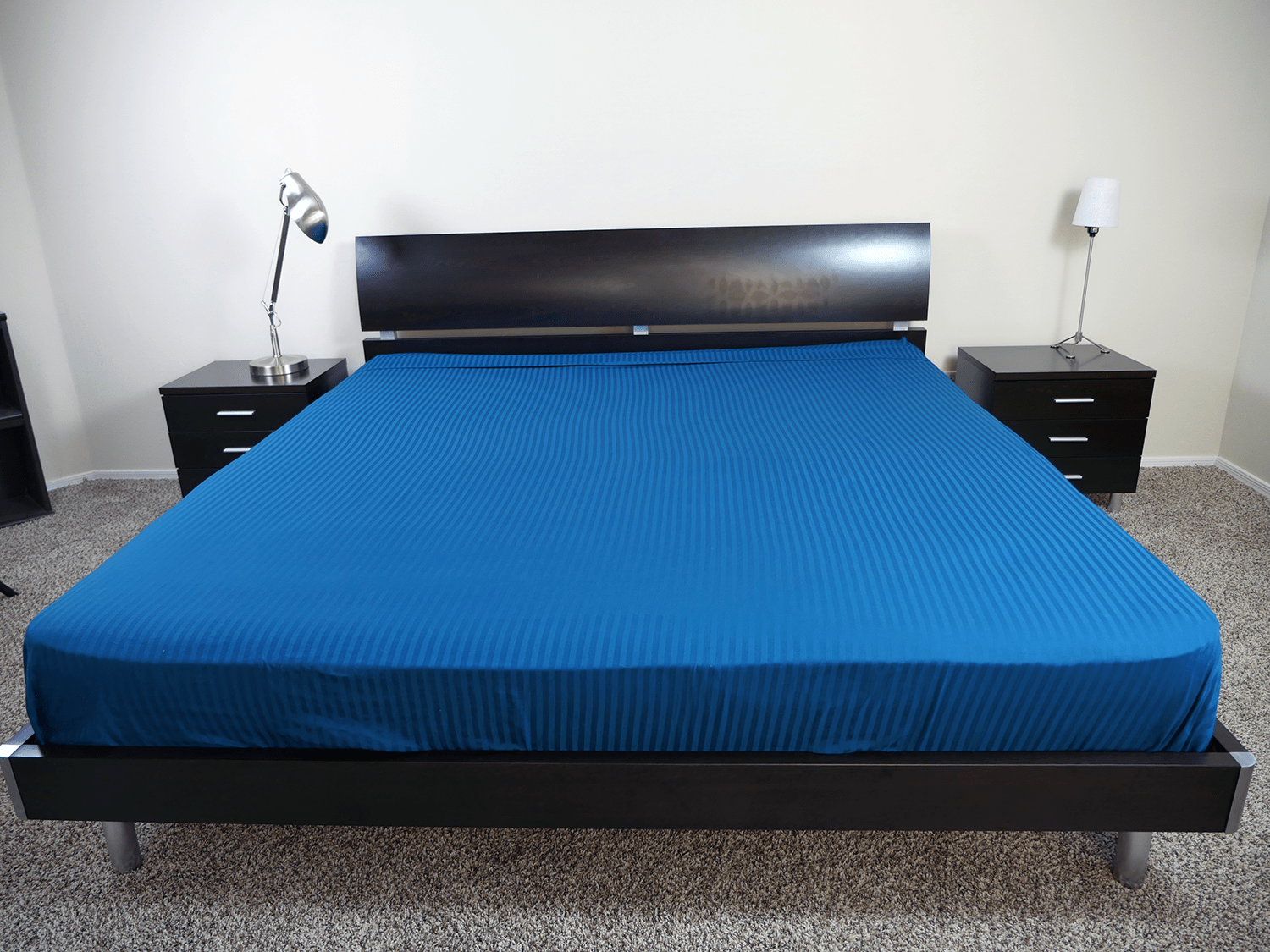 To sum it up, these sheets seem very well made. The elastic band feature around the fitted sheet is a major bonus with regards to a snug fit around your mattress. The entire set seems very well designed and constructed.
Durability & Performance Tests
To test the durability of the Nest organic cotton sheets, I reviewed a few common areas.
To kick things off, shrinkage. The most common problem associated with sheet sets is shrinkage. As a consumer, I'm not sure if there is a more frustrating issue than having your sheet set shrink drastically after one wash / dry cycle. After completing this test I move on to thread examination. Are there any noticeable loose threads? Did these threads become more of an issue after a normal wash / dry cycle? Finally, I test the color materials used to determine if there was any sort of color / dye run off.
Shrinkage Test
Shrinkage tests are vital with regards to new sheet sets. To determine the changes in size, I first measure the sheets before placing them through a normal wash / dry cycle. These measurements will serve as my baseline for comparison. Immediately after taking these, I ran the sheets through a wash / dry cycle and remeasured them. The flat sheet shank from 7.0% and the pillow cases shrank by 7.3%. This is a little bit higher than I like to see (usually anything below 5% is ideal). However, Nest intentionally makes these sheets a bit larger so they have room to shrink to the appropriate size. Slightly increased sinkage is to be expected within 100% organic cotton.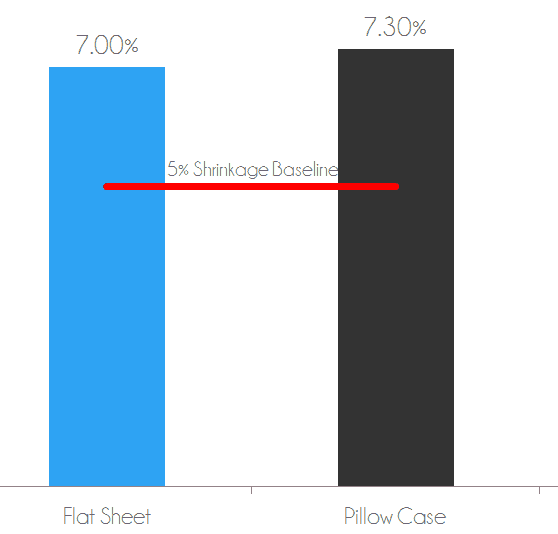 Damage Test
This test is designed to determine if there is any noticeable damage from normal use and several wash / dry cycles. After examination, I did not notice any significant issues with the set. Additionally, the loose threads that were initially spotted had not increased in size after several weeks of use. Overall, the sheets passed the damage test and seem resilient to damage.
Color Test
To determine if there is any sort of color / dye trouble with these sheets, I completely soaked a pillow case in hot water and allowed the case to fully absorb the water. Right after, I rung out any excess water with my hands and proceeded to place the pillow case on top of a bed of paper towels. The next step was to take a rolling pin and press it firmly against the case. After doing so, I did not see any color / dye run off onto the paper towels.
Typically, if a sheet set is lower quality, there will be a noticeable amount of color transfer to the paper towels. These Nest organic sheets passed this test with flying colors…pun intended!
Feel, Cooling, & Style
The organic cotton used is top of the line and offers a very nice, soft feel. Additionally, the cooling features of this set are impressive. Throughout my sleep tests, I felt as if the sheets simply rested on my body and did not trap any of my body heat. Therefore, I was able to sleep very cool.
Another great quality of the Nest organic sheets, they're very lightweight. Moving around during the night is not a struggle. When sleeping I felt as if I had tons of freedom to move around and not disturb my wife. Since the sheets don't stick to your body, you also avoid waking your partner when you adjust sleeping positions. Most cotton sheet sets will move along with you, but these Nest sheets were different. As I rolled over, the sheets remained in place.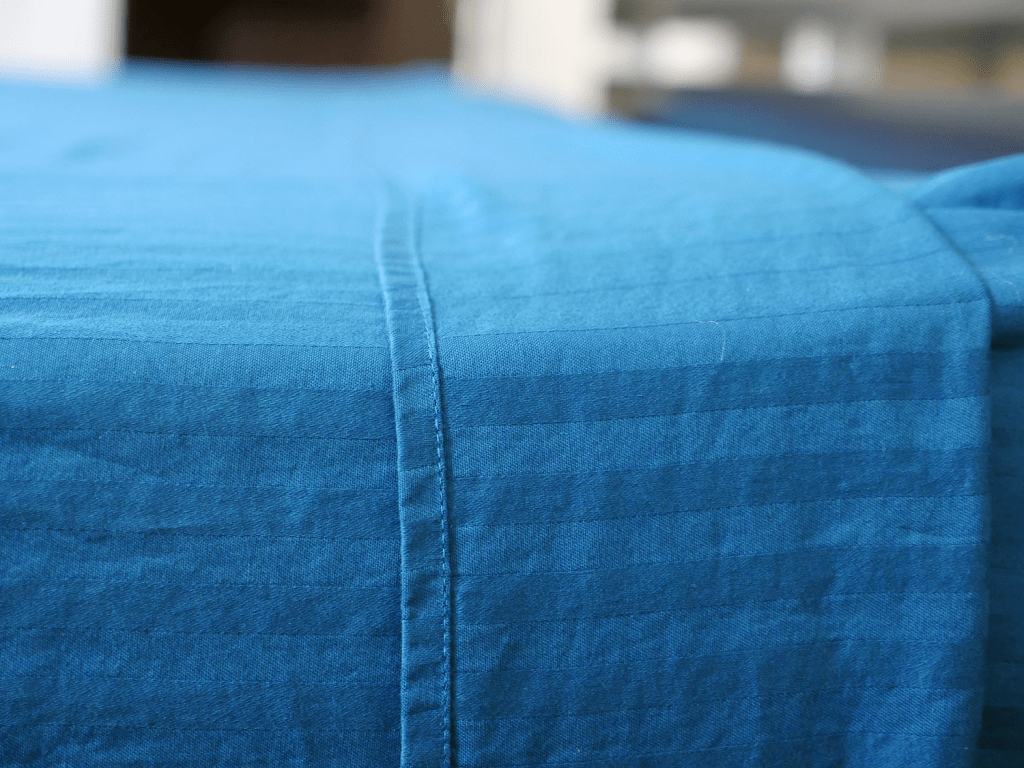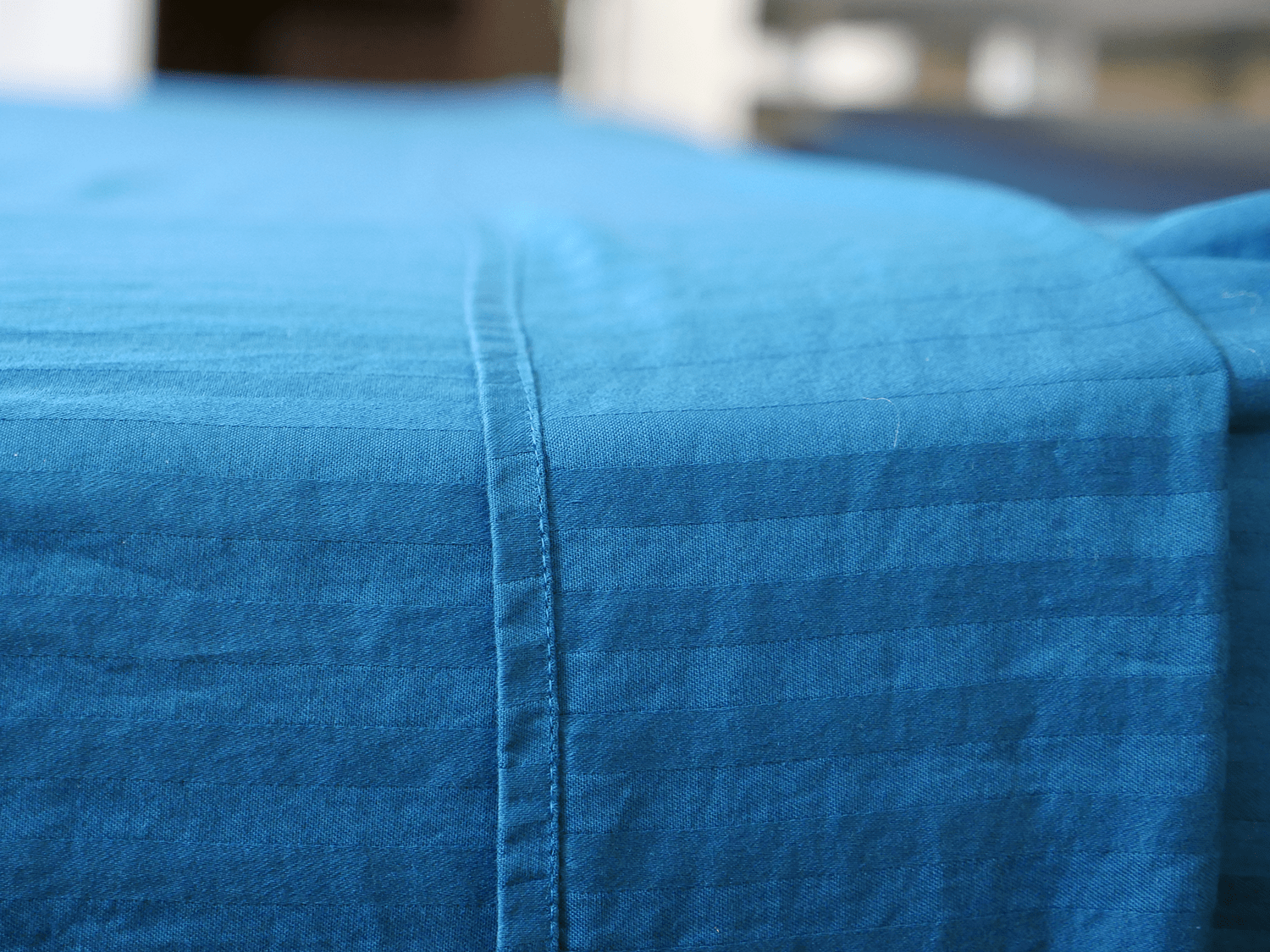 Style is a major plus on the Nest Bedding organic cotton sheets. They have created 6 different colors so consumers can choose which color best fits their personality and / or bedroom set. Along with the colors comes luxury stripes. Each set has a very sleek look with the stripes running from head to toe. The subtle stripes, excellent build quality, and lightweight design combine for both excellent feel and style.
Should you buy the Nest organic cotton sheets?
I would recommend the Nest Bedding organic cotton sheets to sleepers who:
Want 100% organic cotton sheets – built from 100% organic cotton, these sheets are very nice. They are naturally hypoallergenic and a good fit for sleepers who prefer healthier bedding products.
Want cool & soft sheets – atypical to most cotton sheets, these are very lightweight and breathable. The organic cotton comes together for a soft, inviting feel. The lightweight design helps improve cooling and adaptability of the sheets during the night.
Want a strong build and pleasing aesthetic – the Nest organic cotton sheets are very well made and come in 6 different colors. If you're looking to spruce up the color of your bedroom but want a set that will last, this is the one for you.
For more on the Nest Bedding organic cotton sheets visit NestBedding.com.
Lightweight, Cool, & Soft
Materials

Comfort

Quality

Value

Cooling

Shrinkage

Company
Summary
The Nest Bedding organic cotton sheets are a wonderful blend of great design and great functionality. This 300 thread count 100% organic cotton sheet has a lightweight feel that improves cooling and creates a soft feel. The GOTS certified organic cotton means you can trust that the surface you're sleeping on is healthy and eco-friendly. Available in 6 colors, the subtle striping is a nice touch that creates a modern and sharp look in any bedroom.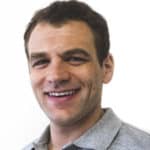 Logan is the former content director of Sleepopolis. As content director, he reviewed new mattresses every week and curated the comparisons, best of pages, and video guides on the site. Logan perfected his method by personally testing over 200 different mattresses, so he's not only able to discern the overall vibe of a specific bed, but to contextualize its feel within the bed-in-a-box market as a whole.