Whether you're already a linen lover, or you've been wondering what all the fuss is about, you're in luck because today we're exploring Snowe's Linen Sheet Set. Read on to learn all about what it's made of, how it feels, and what separates it from (literally) every sheet set I've ever tested. Click here to skip to the summary if you don't have time to read the full review!
Snowe Linen Sheet Set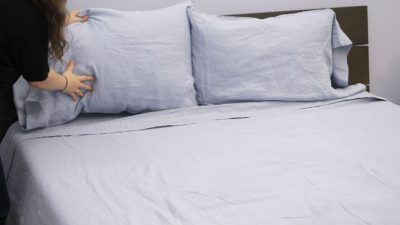 Choose between Snowe's linen sheets if you're looking to stay cool throughout the night.
Sleepopolis Score
4.00 / 5
Read Full Review
Brand Snapshot
Founded in 2015, Snowe Home swiftly made a name for itself as a go-to source for all things decor. From bathrobes to flatware, Snowe's founders set out to offer a uniquely minimalist aesthetic to those looking to boost their collection of design essentials. And while I haven't had the chance to test the brand's various bath and kitchen accessories, I'm no stranger to Snowe bedding.
I had the pleasure of rolling around in both Snowe's percale and sateen cotton sheet sets. And if you're wondering how they stack up against the competition, you can check them out in my roundup of the best Egyptian cotton sheets on the market (spoiler alert: they're awesome).
That's why I was particularly excited to test the newest addition to Snowe's bedding collection — the Linen Sheet Set. But before I can tell you how they perform, we've got to find out how they're made!
What Is The Snowe Linen Sheet Set Made Of?
This sheet set is made from 100% pure linen, which is one of the world's oldest and most beloved textiles (and when I say "old," I mean 36,000 years old). Why is it still a fan favorite after all this time? Because it's incredibly durable, breathable, and only gets softer as the years go by.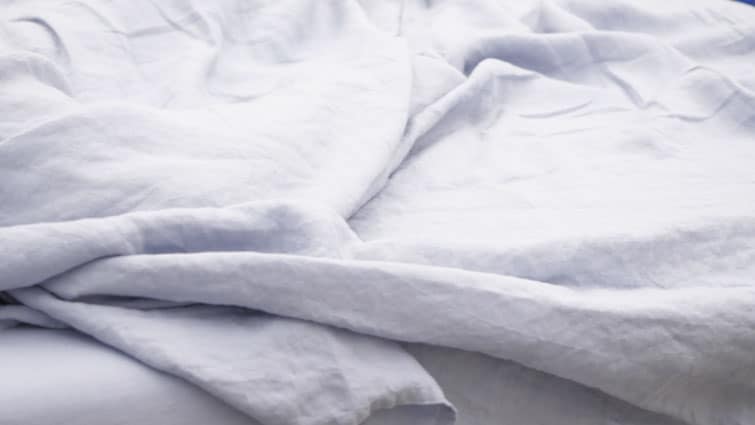 Linen is derived from natural flax fiber (which is a sustainably sourced material), and Snowe sources its flax from Belgium. Belgium is considered by many to produce some of the highest quality flax in the world, thanks to the country's humidity and agricultural conditions. Once harvested, the flax is sent to Snowe's partners in Italy to be spun into fabric… and that's when things get interesting.
Because linen fibers are thicker and produce a stiffer yarn (compared to cotton, for example), linen bedding often has a distinctly coarse texture that not everyone finds to be very cozy. To remedy this, Snowe and its Italian partners employ a proprietary technology that whips and blasts the linen with air until the fibers are totally relaxed, leaving the fabric impeccably smooth.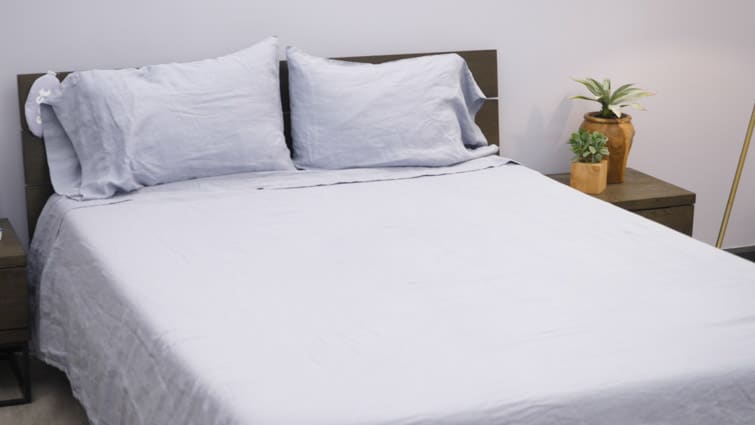 According to the folks at Snowe, the idea behind this air-blasting is to recreate the feel you might get from linen bedding that's been line drying on the Italian countryside for the last 100 years. Luckily, we don't have to wait a century to enjoy it.
So, now that we know why Snowe's linen is so soft, let's take a closer look at this sheet set so you can better determine if it's the right fit for you.
FAQ
Q: Does Snowe ship to Canada?
A: Yes! Although free shipping is only offered within the Contiguous United States, Snowe ships to many international destinations upon request.
How Do Snowe Linen Sheets Feel?
Firstly, I have to say the color of this bedding is really lovely. I'm testing this set in "Slate Blue" (which is my personal favorite), but it's offered in white and grey as well. Because this brand tends toward a minimalist aesthetic, all the Snowe sheets I've ever tested have been solid white, so this pop of color was a refreshing change of pace!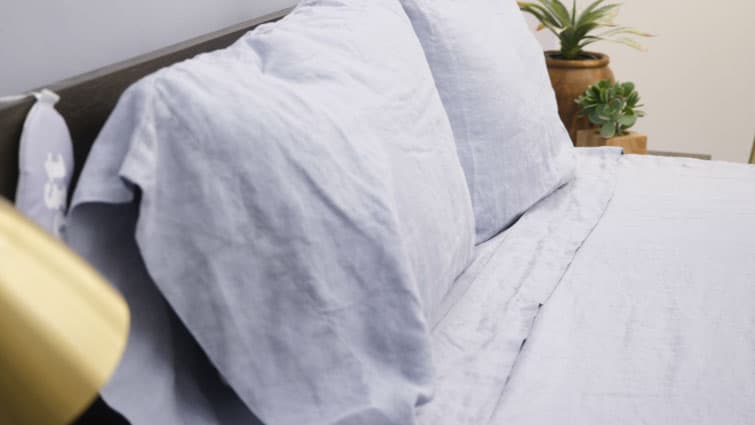 Once I began to dress the mattress with this bedding, I could immediately feel how uniquely smooth it is. Of all the linen sheet sets I've ever rolled around in, these are definitely the softest. I can't say it's any more breathable, as pure linen bedding tends to be comparably airy across the board, but the coarse, scratchy texture that often accompanies linen is nowhere to be found here.
Speaking of breathability, something that's great about pure linen bedding is that it's thermoregulating. Thanks to the hollow core and permeability of flax fibers, linen bedding is able to adapt to your body's temperature, making it great for year-round use. So, while linen has earned a reputation for being a nice cool option in the summertime, it's also a great insulator in the winter.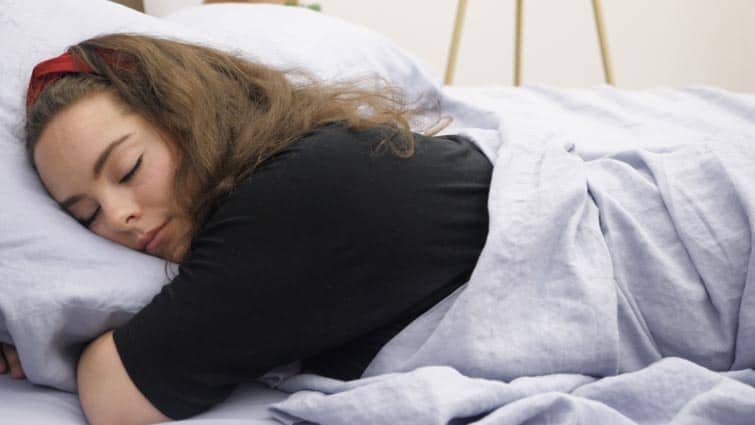 I have to be honest — I'm a big fan of this sheet set. It comes with all the natural perks of pure linen, but without any of the coarseness. I know that distinctly rough texture is the basis of appeal for some sleepers, but if you prefer a totally smooth finish, I can't recommend this bedding enough.
The Verdict: I heartily recommend this sheet set to sleepers who love the thermoregulating properties of linen, but wish it weren't so scratchy!
Snowe Linen Sheet Set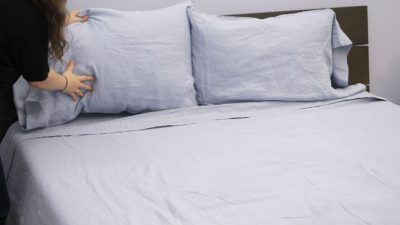 Choose between Snowe's linen sheets if you're looking to stay cool throughout the night.
Sleepopolis Score
4.00 / 5
Read Full Review
How Do I Care For These Sheets?
When it comes to caring for your sheets, the fact is that any sheet set is likely to change after the first couple washes. That said, it's important to closely follow each brand's wash care instructions in order to keep your linens looking and feeling fresh for as long as possible.
To save you some trouble, here's a step-by-step guide to caring for the Snowe Linen Sheet Set:
Wash separately on a warm cycle
Do not use chlorine bleach
Tumble dry on low heat, use a warm iron if needed
Now, just remember that linen is particularly prone to wrinkles, and a rustic, casually lived-in look is part of the aesthetic. So, if you hate wrinkles, I suggest pulling these sheets out of the dry cycle as soon as its finished. Stretch them out over your mattress when they're still warm, and that'll help keep the wrinkles at bay.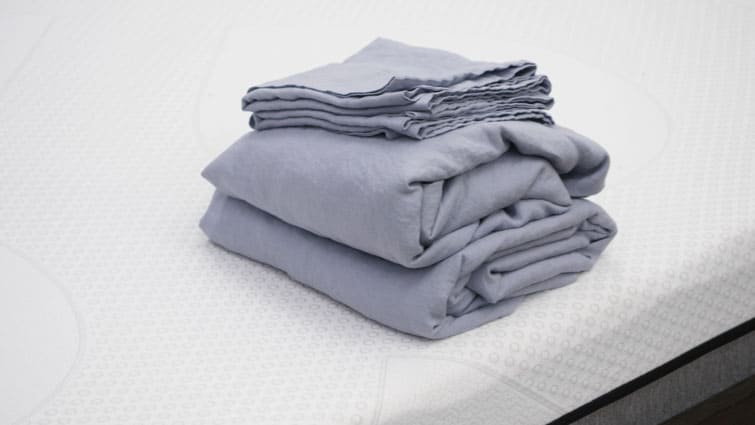 Every Snowe Linen Sheet Set comes with one top sheet, two pillowcases, and one fitted sheet capable of accommodating mattresses up to 17 inches deep. After washing the whole set, I couldn't help but notice how well these sheets retained their pretty periwinkle color. Additionally, they felt even softer after I washed them!
Should I Buy The Snowe Linen Sheet Set?
Snowe Linen Sheet Set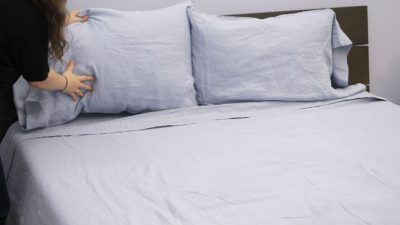 Choose between Snowe's linen sheets if you're looking to stay cool throughout the night.
Sleepopolis Score
4.00 / 5
Read Full Review
Okay, sleepers. Let's recap the highlights of this sheet set so you can decide if it's the best fit for you:
Thermoregulating — Because linen is thermoregulating, it adapts to your body's temperature. Linen fibers are hollow, which allows air to freely move through the fabric, making it a great insulator in the winter, and cool and breathable in summer. So, whether you sleep hot or cool, you can enjoy linen bedding year-round.
Soft & Smooth — For some sleepers, the distinctly coarse texture of linen is a drawback (I can relate, believe me). And to those folks, I recommend this sheet set. As is characteristic of this material, it's still super breathable and durable, but it's uncommonly smooth and soft. No scratchy roughness here!
90 Day Trial Period — Something great about Snowe is that you can test this bedding for a full 90 days before you actually have to commit. If you don't love your new bedding, just send it back within 90 days and you'll be refunded.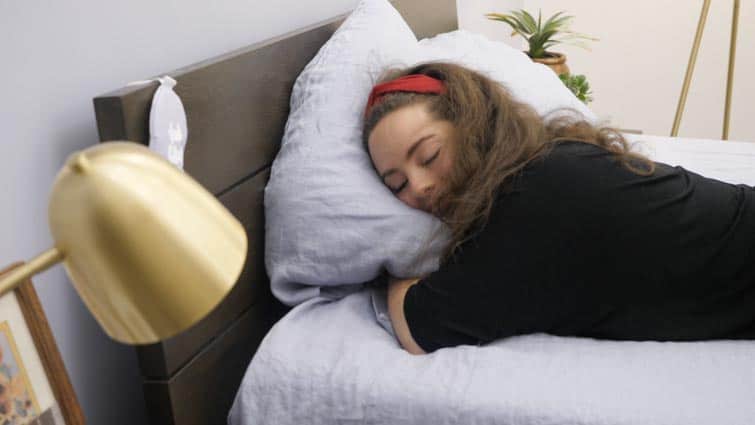 Snowe Linen Sheets Complaints
As always, there are a few things to consider before you make your purchase:
Not Coarse — For some sleepers, the uniquely coarse texture that most linen bedding offers is part of the appeal. So just remember: this linen is super smooth, and doesn't provide that slightly scratchy feel that you might be used to.
Pricey — Linen often comes at a higher price point than cotton, primarily because it typically costs more to make. Of course, it is built to last you a long, long time (pure linen bedding can take you through decades of use). That said, ranging from $288-$328, these sheets just aren't going to be in everyone's budget.
Anything Else I Should Know?
Pricing — $288-$328, depending on size
Free Shipping & Returns — within the Contiguous U.S.
Sizing — Full, Queen, King, California King
Trial Period — You have 90 days to try this bedding before you fully commit!
Made in Italy
OEKO-Tex Certified — meaning it's been tested for harmful chemicals
Well, there ya' have it — you officially know everything about the Snowe Linen Sheet Set. Now, I know it's no secret that I'm impressed by these sheets, but if you've come to the conclusion this bedding isn't your best bet, don't sweat it. The world of linens is vast, so follow us on Facebook, Twitter, Instagram, and subscribe to our YouTube channel, and we'll help you find the sheets of your dreams.
Sarah Riccio
Sarah is the former senior writer and bedding expert at Sleepopolis. She received her degree in Creative Writing from Brooklyn College and spends her free time doing stand-up, making pasta, and hanging with her cats.