So… Who wants to know what it's like to sleep with a robot? Oh, everybody wants to know? Well, today's your lucky day because I'm about to introduce you to Somnox, the A.I. bedtime companion designed to take your sleep experience to the next level. This one-of-a-kind gadget is engineered to adapt to your breathing patterns while playing personalized lullabies (and, frankly, I've never seen anything like it).
So keep reading, folks, because in this Somnox review, I'll show you how to set it up, how it works, and detail my first-ever experience sleeping with a robot!
Brand Snapshot
Somnox launched in 2015 when four robotics engineers came up with the idea to craft an A.I. device that could help folks sleep better. After six months of research and development, they decided to make the dream a reality and designed what would become the Somnox Sleep Robot. Once the prototype was perfected, the team launched a Kickstarter and the rest, as they say, is history.
Nowadays, the Somnox Sleep Robot is available on the mainstream market and is sold in both the United States and Europe. And, I don't know about you, but I'm very eager to see what it's all about! So without further ado, let's get into this Somnox review.
How Do I Set Up the Somnox Sleep Robot?
I'm pleased to report that setting up the Somnox robot couldn't be simpler. In fact, it's only a matter of charging it and downloading the Somnox App to your smart device! That said, there are a few things to note in order to make your setup experience as quick and efficient as possible:
Charging – The most important thing to remember about setup is that the Somnox sleep robot needs to be charged for about 3.5 hours before use. I'll admit that this kind of bummed me out as I was super eager to test it as soon as it arrived in the mail. But just remember that it needs to fully charge before you can use it!
Somnox App – The Somnox app is compatible with any Android or iOS device, and I suggest downloading the app as soon as your Somnox is charged and ready to go. Then, install any updates right away. Similar to other smartphones and devices, the Somnox app will consistently alert you to any available updates, and I suggest updating whenever possible! The more you update, the better your Somnox will perform.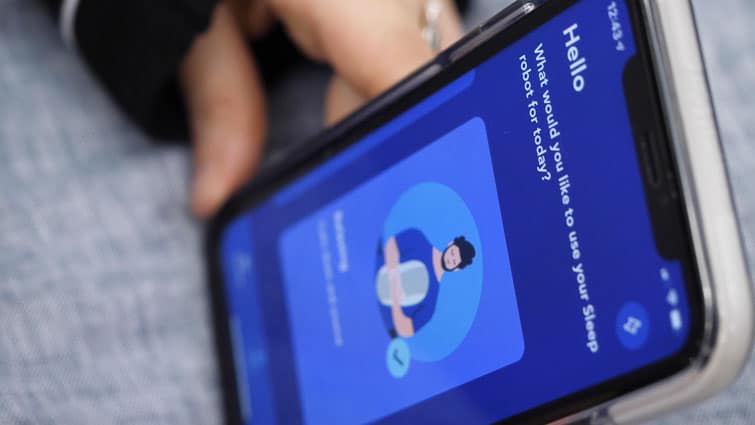 Additionally, the app itself is pretty cool! There are two main tabs in which you'll navigate the robot's features: Breathing and Home. The "breathing" tab allows you to set your preferred breath-per-minute ratio, or have Somnox adapt to your breathing. The "home" tab lets you save up to three personalized breathing settings, and select which music you'd like Somnox to play. There are over a dozen soundtracks from which to choose, but I always opt for white noise.
Once you've charged your sleep robot, downloaded the app, and completed any updates, Somnox is officially ready to action! So let's take a look at what it does, and whether or not it actually improved my sleep.
How Does the Somnox Sleep Robot Work?
Features & Function
Spoiler alert: I've been sleeping with Somnox for over two weeks, and am totally hooked on its calming presence. But before we dive deeper into my personal experience, allow me to explain how it works.
The primary function of this device is to detect and adapt to your breathing pattern in order to relax your body and calm your mind. Of course, feeling relaxed and calm is especially beneficial before bedtime, but the folks at Somnox encourage you to enjoy this robot in any daily activity (especially ones you find stressful!).
Now, you're probably wondering, "But how does it regulate my breathing… and why would I want it to?" Well, a microphone and motion sensor in the robot work together to detect the sound of your breathing, as well as the rise and fall of your chest (cool, right?). Then, it's able to calculate your breaths-per-minute ratio in order to synchronize its breathing with yours, which is meant to put you in a calm, meditative state.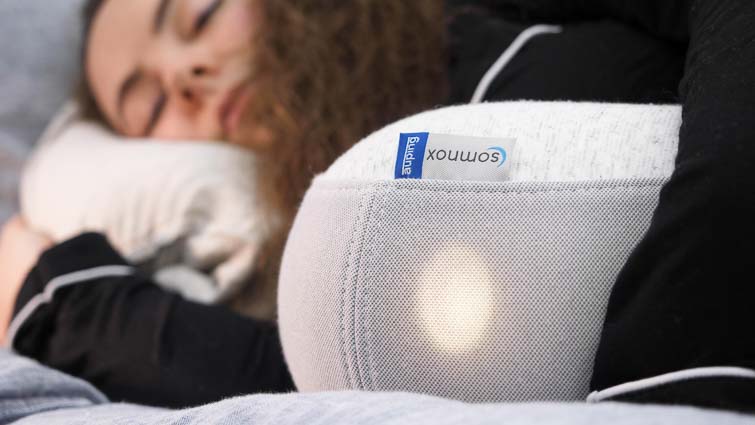 According to the Somnox creators, synchronizing your breathing rhythm with the robot's will help you reach a steady, slower pattern that's more conducive to sleep. And while this device is not (yet) scientifically proven to help you get better Zzz's, deep breathing and meditation exercises have been shown to help folks fall asleep faster. (1)
That said, you can either have Somnox automatically adapt to your breathing or you can set your own ratio by using the Somnox app. Personally, I like to let Somnox sync with my breathing because I don't have to focus on slowing my breath rate — the robot does it for me!
However, if you get anxious at night and want to focus on slowing your heart rate, I suggest choosing a slower ratio on the app. Once you've selected a breathing rate that soothes you, allow yourself to breathe with Somnox until your rhythm becomes slower and steadier.
Related: Check out my tips and tricks for falling asleep fast!
Additionally, feel free to experiment with the dozens of soothing sounds programmed into the app itself. Beyond white noise, there's forest, rain, thunder, fire, ocean waves, wind noises and more. Not to mention, Somnox comes with a MicroSD card that allows you to upload your own music! If you've got a personalized lullaby on your computer, I would definitely take advantage of this feature.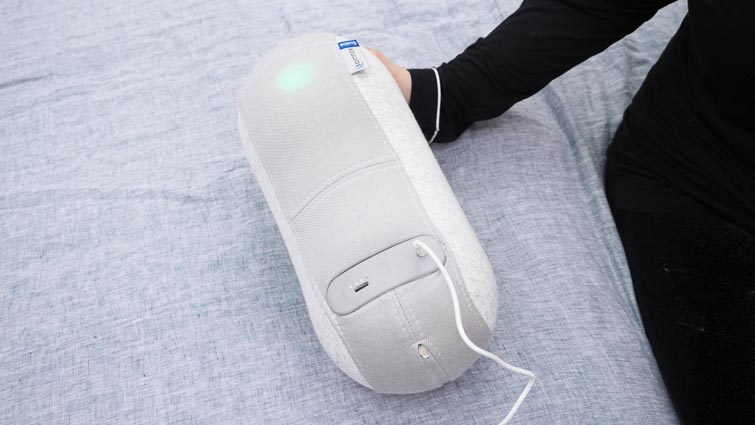 As for me, I experimented with many different sounds and breath-per-minute settings, but allowing Somnox to adapt to my breathing while playing white noise was the clear winner!
Speaking of which, let's talk more about my time snoozing with Somnox.
My Personal Experience with Somnox
When I first unpackaged the Somnox sleep robot, I couldn't help but notice how similar it feels to a baby! It's about 5 lbs, has a cute bean-shaped construction, and fits perfectly in my arms. So, before I even slept with it, I spent the day carrying it around, holding it in my lap while I watched T.V., and trying to get my (reluctant) partner to hold it, too.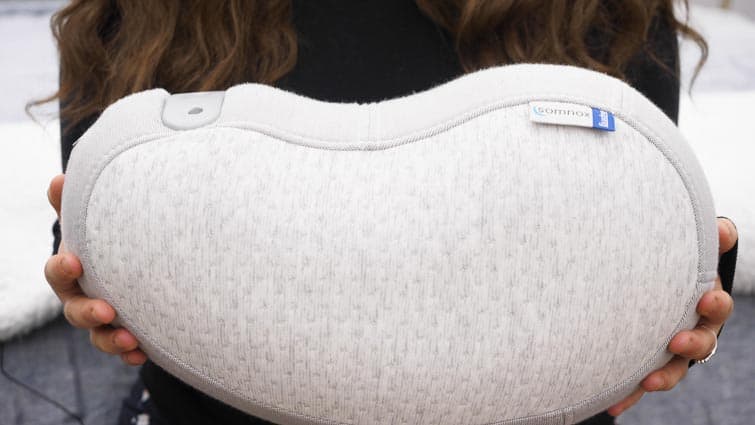 Turning the Somnox on is very easy, and all you have to do is press the power button. When it turns on, a light will instantly illuminate and let you know how charged it is (green means fully charged, orange means it needs to be charged). But, honestly, its soft cotton cover fabric and weighty design brought me comfort even when it wasn't turned on.
That said, I found the Somnox to be most beneficial right before bedtime. As I mentioned, I let it adapt to my own breathing pattern, and was pretty impressed by how it lulled me into a meditative state. I liked cradling it against my chest in the side sleeping position, and allowing its body to rise and fall against my hand. Additionally, I kept the white noise soundtrack on a low volume and, before I knew it, I was fast asleep.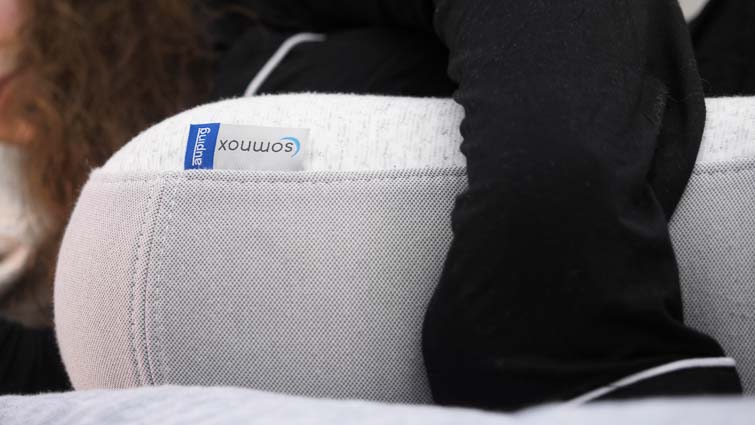 I will say, however, that my partner is not terribly thrilled to be sleeping with a robot. We'll talk more about this later, but it's important to note that not everybody is comfortable sleeping with A.I., especially a device that plays music and breathes. Not to mention, at about $500, this is certainly not the least expensive sleep accessory on the market. So I suggest chatting with your sleeping partner before buying Somnox!
Ultimately, I really enjoyed testing the Somnox and, yes, cuddling with it is now a part of my bedtime routine. I do think that a device like this is not necessarily going to appeal to everybody, but those looking for a meditative way to wind down at night should definitely give it a try.
The Verdict: I think the Somnox sleep robot is an innovative, soothing and, well, adorable bedtime companion! Its ability to calm my mind and body really helped me fall asleep faster, and snooze through the night.
Should I Buy the Somnox Sleep Robot?
Now let's recap the highlights of the Somnox sleep robot so you can better determine if it's the right fit for you:
Breathing Regulation – Ultimately, the main draw to this device is its ability to regulate your breathing, and lull you into a state of calm. And what's great is that you get to decide how you'd like it to perform! For example, you can choose to have it adapt to your own breathing pattern, or customize a breath-per-minute rate via the app. Personally, I like how the Somnox to syncs to my breathing, but you should experiment with what relaxes you most.
Soothing Lullabies – The Somnox sleep robot comes with dozens of soothing sounds, including white noise, rainfall, ocean waves, and more. Not to mention, you can easily adjust the volume right on the robot itself. But perhaps the coolest lullaby function is that you can upload your own music to the MicroSD card that comes with your purchase!
New Mothers – The folks at Somnox say this sleep robot was purposefully designed to have "human-like traits," and resemble the shape of a swaddled baby (it even comes with a birth certificate). And I have to say that it does mimic the shape of a pregnant belly, and fits perfectly against the chest. That's why I think new mothers who are adjusting to post-pregnant sleep might be particularly soothed by the feel and shape of Somnox.
Daily Relaxation – The calming effects of Somnox are not limited to sleeptime, and I found myself cuddling with it while I watched T.V., worked on my laptop, and traveled by train (yes, I did get some weird looks from fellow passengers). In fact, the company encourages folks to use Somnox in any daily activity that might require a little extra relaxation.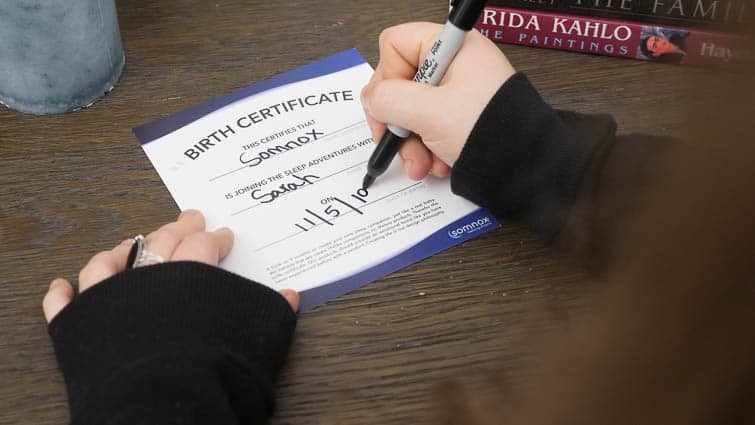 Somnox Sleep Robot Complaints
As I said, I've become pretty attached to Somnox over these last few weeks! Its size and shape alone make it a very snuggly companion, and its rhythmic breathing has given me a meditative nighttime routine that I've come to rely upon. But remember that this is just my personal experience, and there are definitely some things to consider before committing to this purchase:
Sleeping with A.I. – Of every sleep accessory I've ever tested, Somnox has garnered the most polarizing reactions from my friends and co-workers (they either want to cradle it like a baby or run far away from it). And while I think it's cute and cuddly, the truth is that not everyone is going to be comfortable sleeping with a robot! So if you share your bed with a partner, I suggest going through this Somnox review together in order to decide if it's the best fit for both of you.
Charging – I don't know if this is necessarily a "con," but I do wish that you didn't have to charge Somnox for 3.5 hours before using it. I mean, when a sleep robot arrives in the mail, you want to test it ASAP! That said, it only takes that long to charge when you first unbox it. After that, it charges pretty quickly (about a half hour or so).
Price – I've tested myriad sleep trackers and high-tech gadgets, and they're usually pretty pricey (with some over $1,000). So when I saw that the Somnox is priced at about $500, I can't say I was surprised. And, in my opinion, it's a pretty reasonable price for what you're getting. What did surprise me, though, is that it's only backed by a 2-year warranty. Ultimately, I was expecting a warranty of at least 5 years with an expensive robotic device like this.
Wash Care – Keep in mind that Somnox itself is not machine washable, and must not get wet. To keep it from getting dirty, use the cotton sleeve that comes with it! It's easily machine washable and dryable, and will prevent your Somnox from getting dingy or discolored.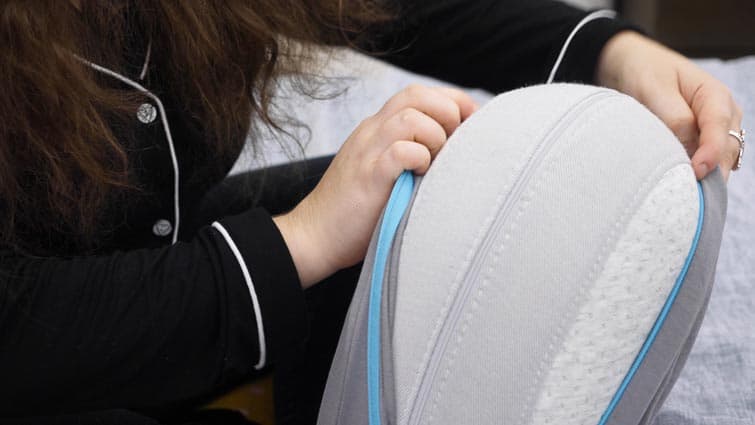 Anything Else I Should Know?
Weight – 5 lbs
Price – $500
Free Shipping – within most parts of U.S. and Europe; check website to learn if your state qualifies for free shipping
Wash Care – Somnox itself cannot be washed; cotton sleeve is machine washable/dry-able
30-Night Trial Period
Well folks, now you know everything there is to know about the Somnox sleep robot. Of course, the only way to really know if this device is the right fit for you is to personally test it! And hey, you've got 30 days to do so. In the meantime, be sure to subscribe to our YouTube channel, and follow us on Facebook, Twitter, and Instagram!
FAQs
How much does Somnox cost?
The Somnox sleep robot costs about $500, but keep in mind that you get a 30-day trial period to test it out!
Is it easy to use Somnox?
Absolutely. Simply charge it, download the Somnox app to your smart device, and turn it on! You can navigate the Somnox features on the app, or on directly on the sleep robot itself.
Where can you buy the Somnox sleep robot?
The Somnox sleep robot can be purchased directly from the company's website for about $500.
How do you wash the Somnox sleep robot?
The robot itself should not get wet, as water can damage the device. Instead, use the removable cotton sleeve that comes with every purchase in order to protect Somnox and keep it clean!
References
Jerath, Ravinder, et al. "Self-Regulation of Breathing as an Adjunctive Treatment of Insomnia." Frontiers in Psychiatry, Frontiers Media S.A., 29 Jan. 2019, www.ncbi.nlm.nih.gov/pmc/articles/PMC6361823/.
Sarah Riccio
Sarah is the former senior writer and bedding expert at Sleepopolis. She received her degree in Creative Writing from Brooklyn College and spends her free time doing stand-up, making pasta, and hanging with her cats.