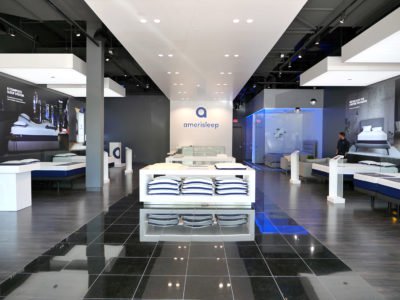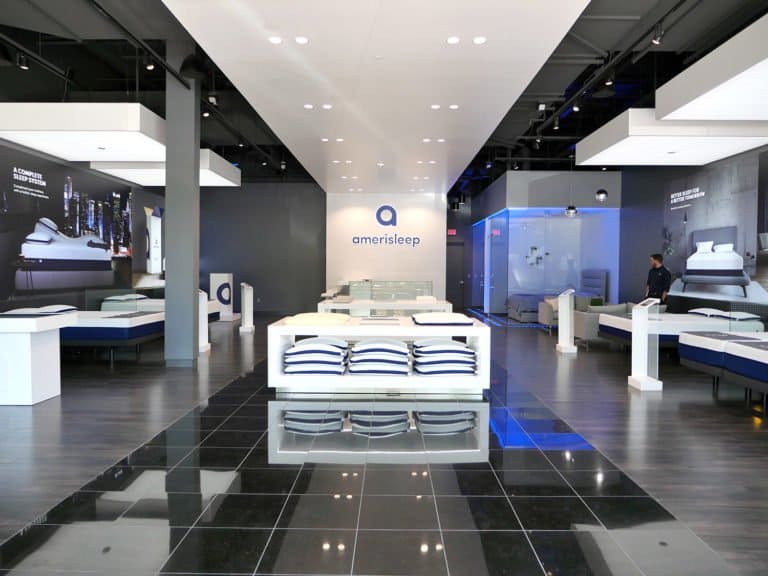 Amerisleep does the majority of their sales online—which is one reason why Sleepopolis exists (use our unique discount if you buy online)! Check out our review of each of the Amerisleep mattresses on Sleepopolis below:
But if you're hesitant to buy a mattress you haven't had a chance to lie down on first, you're not alone. That's why some direct-to-consumer mattress manufacturers that once sold exclusively online have started partnering with retailers and opening showrooms of their own to let potential customers give their products a try.
Amerisleep which opened its first showroom in the summer of 2017  in Gilbert, Arizona, and quickly began adding more locations. Currently you can buy Amerisleep at their showrooms in 4 locations:
Gilbert, Arizona
Glendale, Arizona
Scottsdale, Arizona
Tuscon, Arizona.
Amerisleep's futuristic-looking showrooms showcase all five of the manufacturer's redesigned mattresses, plus its adjustable bed base, pillows, and bedding.
Amerisleep puts an emphasis on technology in its mattresses—from proprietary materials to a patented, eco-friendly manufacturing process—so it's little wonder that technology plays a major role in its stores as well. Each mattress is displayed alongside a tablet that features an in-depth overview of its makeup, and the pillows and bedding are merchandised on a table with a built-in touchscreen. The Amerisleep representative on staff—no cliched, pushy mattress salesmen here—can also select informational videos to play on the store's large video wall.
And then there are the nap pods. Because lying on top of a bed for a few seconds might not be enough to tell you whether this is the mattress for you, Amerisleep also features a couple of its mattresses—fully dressed with linens and pillows—in these glass-enclosed, soundproof pods so you can really get a feel for what it would be like to sleep on its products. A screen overhead and ambient lighting contribute to the experience, letting you see just what it's like to lie in bed overnight versus in the morning.
More about what to expect in an Amerisleep showroom can be found in this post about Sleepopolis's visit to the flagship location. If you aren't able to do your mattress shopping in Arizona, Amerisleep's full suite of products is available through their website. And if you're (understandably) hesitant about buying before trying, have no fear: Amerisleep offers a 100-night sleep trial to all its customers—that's more than three whole months for you to decide whether you like your mattress. (Just note that the 100-night trial does not apply to bed bases, pillows, or bedding.) If you don't like it, you'll get a full refund and Amerisleep will pick up the mattress to donate to a local charity or responsibly dispose of it.