Looking for a mattress that can please almost any sleeper? Amerisleep's answer is the AS3 mattress, the medium-firm mattress in their line – as well as their most popular model.
Amerisleep has 5 models total, the others being AS1, AS2, AS4, and AS5, which are scaled from firmest (AS1) to softest (AS5). 
Is the AS3 the mattress you are looking for? Continue reading my full Amerisleep AS3 mattress review below and see if it is the right addition to your bedroom.
Looking for a quick read? Click here to jump to the summary
30% off with code SLEEPOPOLIS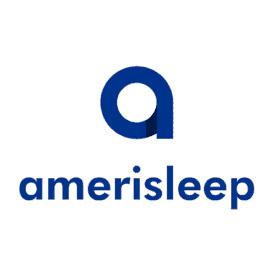 With a true medium-firm feel, the AS3 is ideal for combo sleepers. Get 30% off with code AS30.
Is the Amerisleep AS3 a Good Mattress for You? 
Before I dive into all the details about this medium-firm mattress, I'll share a few quick recommendations on who I think this bed is best for.
Who I recommend Amerisleep AS3 mattress for
I think this is a

great bed for couples

. It has a medium-firm feel that should appeal to most sleepers. It also has low motion transfer, so you're unlikely to feel your partner tossing and turning. On top of that, it sleeps cool, which is important when you have two sources of body heat warming up the bed.

Side sleepers

should be really happy on this mattress. I'm a side sleeper myself, and I found this bed had the right amount of sinkage I look for to stay comfortable on a bed throughout the night.

Memory foam lovers

who want a bed that sleeps cool and doesn't make them feel overly stuck should also like this bed.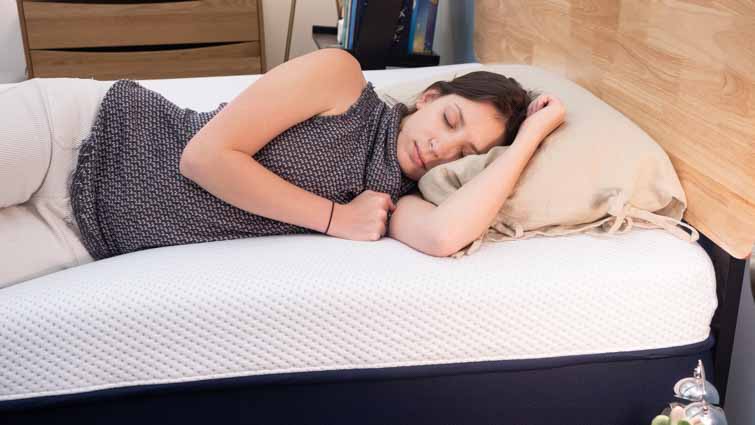 Who I don't recommend Amerisleep AS3 mattress for
Stomach sleepers

won't get what they need from this mattress. These sleepers need a

firm mattress

that will help keep their hips from sinking too far into the bed, which can throw their spines out of alignment.

Anyone after a really bouncy bed

won't love this mattress. It is an all-foam bed, so you're not going to get the bounce you'll experience on a mattress with springs. If that's what you're looking for, I'd recommend the

AS3 Hybrid

or one of our

best innerspring mattresses

.
How Firm is the Amerisleep AS3 Mattress?
Now that you have an idea of whether or not this Amerisleep mattress is right for your needs, I'd like to discuss one of a mattress's most important specifications — its firmness level. Keep in mind that firmness is subjective, and what feels firm to me (a 110 lb side sleeper) might feel different to you. To give the most objective view of firmness possible, I polled a range of folks in my office and took an average of our score.

After we lay on this bed for a while, my colleagues and I decided to give it a 6 out of 10 on the firmness scale, which means this is a medium-soft mattress. The industry standard for medium firmness is 6.5 out of 10, so you can see this bed is just a touch softer than that.
This firmness level is going to fit most sleepers. It provides plenty of contouring and pressure relief, but doesn't sacrifice support. That's one of the reasons I recommend this bed to couples, since it's pretty likely to please both sleepers. I'll also note that you're going to feel a bit more "in" than "on top" of this mattress, meaning that you are going to get a fair amount of sinkage. This is something to note for combination sleepers who frequently change positions throughout the night — you might have a bit of trouble doing so on this bed. 
Amerisleep AS3 Mattress Performance 
Now that you have a pretty good idea of how the AS3 feels, I'll describe a few different performance factors. I'll detail how it works for people of different weights, those with pain, and couples. 
Testing the Amerisleep AS3 Mattress in Different Sleeping Positions
Depending on how much you weigh and your preferred sleeping position, this mattress may or may not work for you. Take a look at some of my recommendations below. 
Is the Amerisleep AS3 a Good Mattress for Light Sleepers (Under 130 lb)?
Light Back Sleepers –

I think this is a great bed for light back sleepers. It will provide the support they need while still giving some nice hug.

Light Side Sleepers –

As a light side sleeper myself, I felt really comfortable on this mattress. I experienced just enough sink at the hips and shoulders to keep my spine feeling straight.

Light Stomach Sleepers –

I think this bed is a touch too soft for these sleepers. I'd steer them to a firmer bed that will give more support at the hips, which tend to sink in when stomach sleeping.
Is the Amerisleep AS3 a Good Mattress for Average Weight Sleepers (130 – 250 lb)? 
Average Weight Back Sleepers –

I think this mattress will work for most average weight back sleepers. However, if you suffer from back pain, I'd take a look at one of our

best mattresses for back pain

, which have firmer or more localized support.

Average Weight Side Sleepers –

These sleepers should be quite happy on this mattress. It has some great cushioning that should keep them comfortable. 

Average Weight Stomach Sleepers –

I'm going to provide the same recommendation I did for light stomach sleepers: this bed is too soft for stomach sleepers of all body types. They need something with more firm support.
Is the Amerisleep AS3 a Good Mattress for Heavy Sleepers (over 250 lb)? 
Heavy Back Sleepers –

I think this mattress isn't quite right for heavier people. I'd recommend the AS4, which has the second most layers of any of the Amerisleep mattresses. A taller mattress profile is better for bigger individuals since it keeps them from sinking right down to the bottom of the mattress.

Heavy Side Sleepers –

I'd tell these sleepers to go with the AS5. It has the most layers and is going to provide some nice sinkage and pressure relief for these sleepers.

Heavy Stomach Sleepers –

I don't think any Amerisleep mattress is going to be right for these sleepers, who need a thick bed with lots of firm support. I'd tell these sleepers to opt for one of our

best mattresses for heavy people

. 
Amerisleep AS3 Mattress Pain Relief Performance
If you suffer from pain, you'll want a mattress that helps alleviate tension at sensitive pressure points at the hips, shoulders, and lower back. To help show how the AS3 relieves pain, I used a device called a pressure mat. I put this mat on top of the mattress and then lay on top of it. The mat created a map of how much pressure my body exerted as I moved around in different positions. The map turns blue to green for low pressure and yellow to red for high pressure.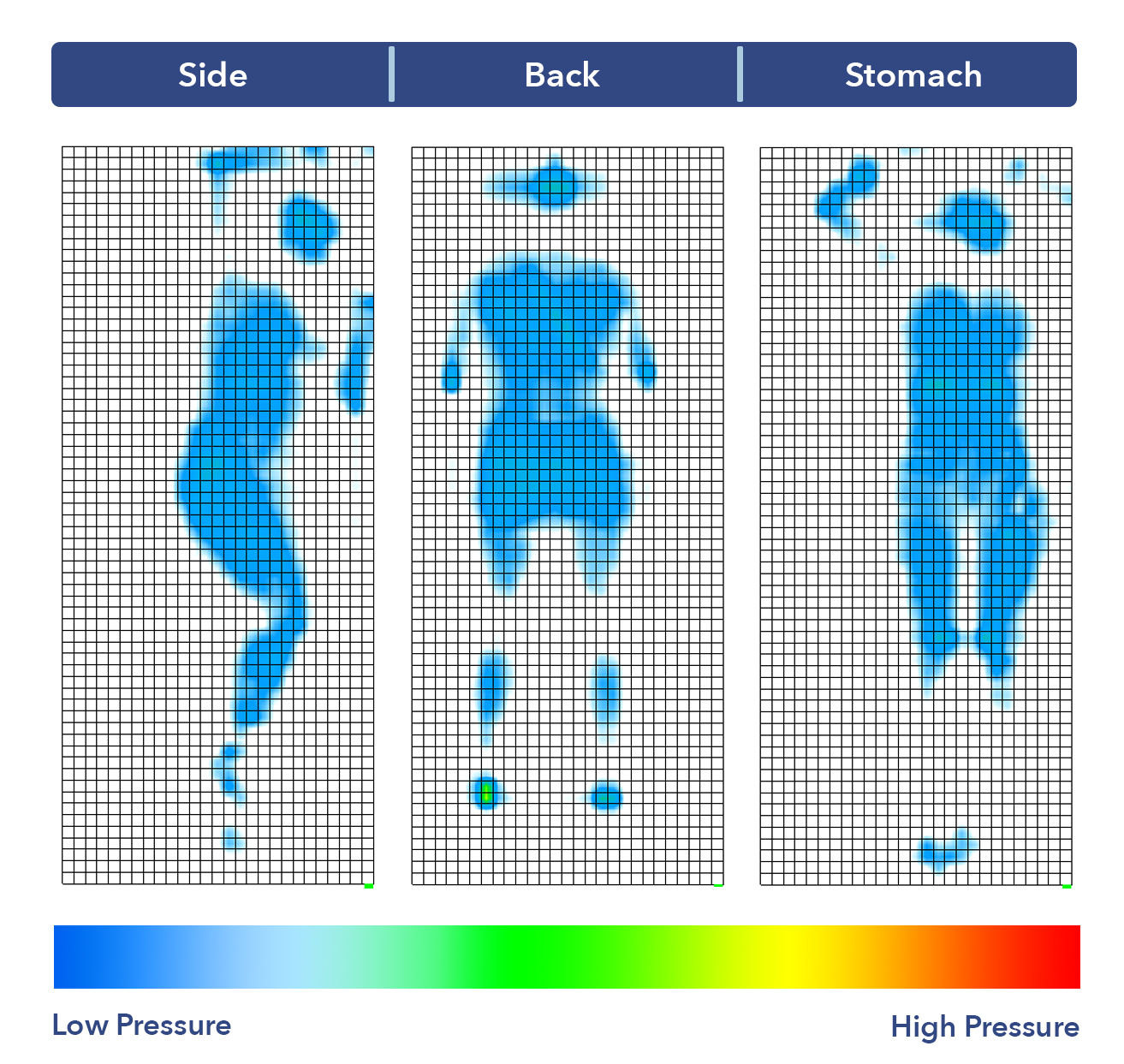 Back Pain – As you can see, the map is all blue, which is great news — it means my body weight was distributed evenly. The one caveat I'd point out is that I'm a light sleeper who tends to show low pressure. If you're a bit heavier than me and sleep on your back, you might want a mattress that's a bit firmer.
Shoulder Pain – I think this is a nice mattress for shoulder pain. Memory foam mattresses like this one tend to be great for shoulder pain as they cushion joints. 
Hip Pain – I also really like bed for hip pain, especially if you're a light sleeper. However, if you're an average or heavy weight sleeper with hip pain you might want to opt for the plusher AS4 or even AS5.
Amerisleep AS3 Mattress Performance for Couples
In this section, I'll describe some of the most important things to look for if you sleep with a partner: motion transfer, sex, cooling, and edge support.
Motion Transfer 
Motion transfer is the movement detectable from one side of the bed to the other. It's important for couples because you want a bed that's going to absorb your partner's movements to help you sleep soundly.  
To measure motion transfer, I dropped a 10 lb steel ball on one side of the bed and measured the disturbance on the other side using a seismometer. Each drop is meant to symbolize a different movement you're likely to experience in bed, from tossing and turning (4 inches) to getting out of bed (8 inches) all the way to full on jumping (12 inches).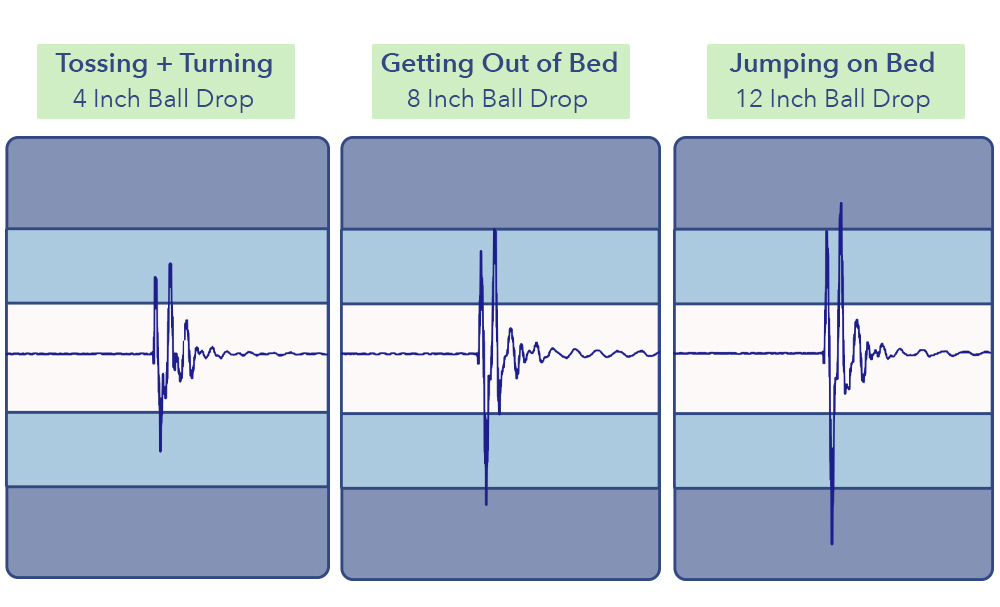 These are great motion transfer results! It means you're unlikely to feel your partner's movements at night. Memory foam beds like this one are typically great at absorbing motion.
Sex
The best mattress for sex is one that's going to have a bit of bounce and responsiveness. I'd say the AS3 is an ok mattress for sex. It doesn't have much bounce, but I didn't feel totally stuck in this bed, so you should be able to move around during sex on this mattress.
Cooling 
Since two people overheat more easily than one, you're going to want a bed that has some cooling technology. Luckily, the AS3 does — it has a really breathable cover, and its comfort layer is made of proprietary Bio-Pur foam, which is more aerated than traditional memory foam.
Edge Support
Edge support refers to whether or not the edges of the bed are sturdy enough to support you when you roll toward them or sleep on the edge. Couples will want good edge support so that they can spread out. Strong edges also help with overall durability, as they prevent premature sagging.
I think the AS3 has decent edge support. It's not the strongest I've seen, but I wouldn't worry that you're going to slide off when lying on the edges of this bed.
What is the Amerisleep AS3 Mattress Made Of? 
The Amerisleep AS3 is an all foam mattress made of three different layers, totalling 12 inches in height. The AS3 is designed to have a medium firmness and sits in the middle of the Amerisleep line. The combination of the memory foam comfort layer and the poly foam below should provide a good mix of pressure relief and support. 
All Amerisleep mattresses use foams that are CertiPUR-US® Certified, which means they are free from harmful chemicals and pollutants.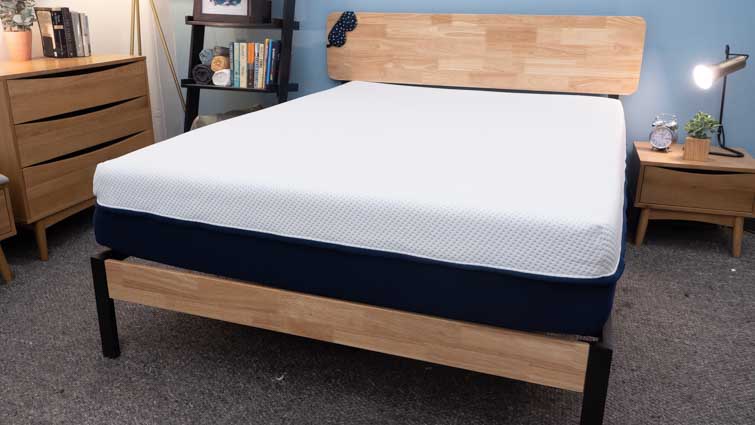 Cover – The cover for the AS3 is the same as all of the other mattresses in the Amerisleep line. It is made of a soft blend of polyester, Celliant and spandex, creating a stretchy material that snaps back into place quickly, so you won't have to worry about it bunching up when changing positions on the mattress. I found the cover slightly cool to the touch thanks in part to the Celliant blended into the material. I should note that there have been some studies that show Celliant to have positive effects on muscle recovery. I don't personally have the expertise to speak on the science behind the recovery benefits of Celliant, but you may want to do some research of your own if you are interested.
Comfort Layer– The top layer of the AS3 is made of 3 inches Bio-Pur foam, which has a pretty slow response to pressure. This layer will allow the sleeper to sink into the mattress a bit for pressure relief and provide some body-contouring. Memory foam has a reputation for trapping body heat, but Amerisleep uses a foam with an open cell structure, which will help dissipate that heat to help with cooling. I should also point out that Amerisleep's proprietary foam is made of plant-based materials, which reduces the amount of petroleum used in the construction of the mattress.
Transition Layer – Below the comfort layer is a 2-inch HIVE transition layer. This foam is a bit firmer and not only acts as a transition layer between the soft memory foam above and the firm base below, but provides some bounce to the mattress so the sleeper won't feel stuck when trying to adjust their position. I should also point out that this layer has a convoluted design (like a beehive) to create some airspace in the mattress for temperature regulation and cooling.
Base Layer – The foundation of the mattress consists of a 7-inch layer of Bio-Core foam. This high-density foam is firm to support the comfort and transition layers above as well as provide deep compression support to the sleeper on top of the mattress. The base not only provides the AS3 with its shape but also gives the mattress some durability.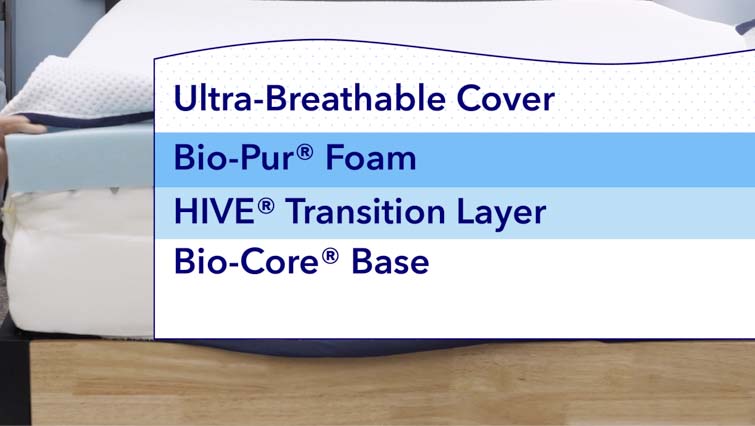 Amerisleep Mattress Unboxing and Off-Gassing
The Amerisleep is a bed-in-a-box mattress, which means it will arrive compressed in a box. You'll need to unbox it at home (I'd recommend unboxing it with another person as it's heavy and can tend to decompress quickly once you start opening it up). 
Like most bed-in-a-box mattresses, you'll need to wait between 24 and 72 hours for this bed to fully decompress. I'd recommend leaving it in a well-ventilated room to let all gasses trapped during decompression out. 
My Final Thoughts about the Amerisleep AS3 Mattress
Before we finish up this review, I'd just like to recap some of my final thoughts to help you decide whether or not this bed is right for you.
My favorite things about the Amerisleep AS3 mattress
I think this mattress has a firmness and support level that's going to work for a lot of sleepers, which is one reason why I think it's great for couples. Unless you and your partner have very different sleep positions, you should both be comfortable on this "middle ground" mattress. I also really like how this bed has all the best features of memory foam, without the overheating and quicksand feeling that you'll find in some memory foam mattresses.
My Amerisleep AS3 mattress complaints 
Overall, I'd say this mattress isn't firm enough for strict stomach sleepers. I'd steer these sleepers to a firmer mattress that will promote a straight spinal alignment for those who sleep on their stomachs. I also think this bed isn't very responsive, so if you want a great mattress for sex or are a combination sleeper, I'd recommend the AS3 Hybrid or one of our best hybrid mattresses instead.
How Much Does the Amerisleep AS3 Cost? 
Before buying a new mattress, you'll want to consider the price. Take a look at our pricing chart below to see how much this bed costs in each size. Also be sure to check out our Amerisleep coupon page for the latest deals.
Price listed will be before discount or offer for each size. 
| Size | Dimensions | Price |
| --- | --- | --- |
| Twin | 74" x 38" x 12" | $1,149 |
| Twin XL | 80" x 38" x 12" | $1,199 |
| Full | 75" x 54" x 12" | $1,349 |
| Queen | 80" x 60" x 12" | $1,499 |
| King | 80" x 76" x 12" | $1,899 |
| Cal King | 84" x 72" x 12" | $1,899 |
Amerisleep AS3 Mattress Policies and FAQs
Does the AS3 come with a trial period?
Yes, the AS3 does come with a 100-night sleep trial.
How does the AS3 ship?
The AS3 ships for free to the contiguous United States.
Does the AS3 come with a mattress warranty?
Yes, the AS3 comes with a 20-year warranty.
Where is the Amerisleep AS3 mattress made?
Amerisleep mattresses are all made in the USA and are made with eco-friendly materials. 
Does the Amerisleep AS3 mattress require a box spring?
No, you don't need a box spring with this bed, but if you do choose to use a box spring, Amerisleep recommends you place a 0.75-inch piece of moisture-resistant plywood on top.
What is Amerisleep's return policy?
If you don't like the AS3 you can return it before the end of the 100-night trial. However, Amerisleep will charge a $99 early processing fee for mattresses returned before the first 30 nights. Mattresses returned after the first 30-nights will receive a full refund.
Amerisleep AS3 Mattress Vs  
It can be helpful to see how a bed compares to other popular mattresses on the market. Check out how this Amerisleep bed stacks up to some of its competitors.
Amerisleep AS3 vs Tempur-Pedic TEMPUR-Cloud
Both mattresses are

all-foam beds with thick memory foam layers

. This means they offer quite a bit of sinkage and pressure relief.

The

AS3 sleeps a bit cooler

than the TEMPUR-Cloud thanks to its aerated foam comfort layer.

The

AS3 is significantly cheaper

than the TEMPUR-Cloud.

Learn more in my full Tempur-Pedic

TEMPUR-Cloud mattress review

or check out my

Amerisleep vs Tempur-Pedic mattress comparison

. 
Amerisleep AS3 vs Saatva
The AS3 is one of Amerisleep's five mattresses and has a medium feel. The Saatva comes in three firmness options. 

The

Saatva is an innerspring mattress

while the Amerisleep is an all-foam bed.

The Saatva is more expensive than the AS3.

Check out my full

Saatva mattress review

and my

Saatva vs Amerisleep mattress comparison.
Other Models from Amerisleep
As I mentioned up top, the Amerisleep mattress comes in five firmness options, that range from the super-firm AS1 to the ultra-plush AS5. Amerisleep also makes each model in a hybrid version. I'll describe how they differ below.
Amerisleep vs Amerisleep Hybrid
The Amerisleep Hybrid models have a layer of pocketed coils. This gives them some added

bounce and mobility.

The Hybrid models are a bit

sturdier and more durable.

The Hybrid models are

more expensive

than the all-foam Amerisleeps.

Find more info in my full

Amerisleep mattress review.
Take a look at our star ratings for the Amerisleep AS3 below.
Amerisleep AS3 Mattress
Materials

Comfort

Support

Value

Cooling

Edge Support

Sex

Smell

Company

Refunds

Trial

Warranty
Summary
The AS3 is right in the middle of firmness options for Amerisleep, combining a supportive design with pressure relief and body contouring. The AS3 is 12" deep and consists of three layers. The comfort layer is 3" of open cell memory, providing pressure relief and contouring. The 2" layer of poly foam below the memory foam acts as a transition layer and helps give the AS3 a medium firm mix of comfort and support.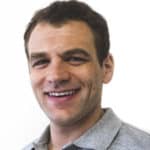 Logan is the content director of Sleepopolis, which means he not only reviews new mattresses every week, but also curates all the comparisons, best of pages, and video guides on the site. He takes a straightforward, honest approach to his reviews and endeavors to give viewers an objective look at each new product he tries out. Logan has perfected his method by personally testing over 200 different mattresses, so he's not only able to discern the overall vibe of a specific bed, but to contextualize its feel within the bed-in-a-box market as a whole. When he's not hopping on a new bed or working with our editorial team to whip up an engaging sleep education guide, you can find him reading books on world history, walking his dog Pepper, or searching for the best cheeseburger in New York City.