Sleep Number is known for their adjustable mattresses that help you find the exact level of firmness you need for a restful night's sleep. Their mattresses are actually air beds that hook up to a hose and pump, so you can inflate or deflate the bed to your exact comfort level.
Sleep Number gets its name because each user gets their own "Sleep Number" —a number between 1-100 that indicates how soft or hard you like your bed. The hope is once you find your perfect sleep number, you know exactly how your mattress should feel to enjoy deep sleep.
While Sleep Number is definitely innovative, the technical aspects of it, along with the fact it is indeed an air mattress (though intended for permanent use), means it comes with a set of common complaints.
Here are the five most common sleep number problems we found  to consider when researching if Sleep Number is right for you:
1. Trench Effect. The most prominent complaint throughout all Sleep Numbers reviews was talk about the "trench effect," which is when the bed sags in the middle and one or both people on the bed slide into it. Because most Sleep Number beds come with two air chambers (so each person can adjust their side to their liking), if one side is significantly more firm or soft than the other, the bed is uneven and is susceptible to sag in the middle.
Here is what one reviewer said: "I have had it less than a year and towards the middle of the bed I get a dip. I keep rolling into the middle because the outside of my side is higher than the middle side. I've run it to 100 and let it sit, but as soon as I set it back down to comfortable BOOM back in the middle."
2. Comfort. People have also complained about Sleep Number beds being uncomfortable. Some talk about the bed deflating too often and others say it simply feels like a glorified air mattress. Also, depending on the model you receive, some Sleep Number's don't come with a cushioned mattress pad, making the bed feel extra firm.
One Sleep Number user explained: "Basically your sleeping on a high priced air mattress. Feels like camping."
3. Breakdowns and Malfunctions. Because there's a decent amount of set up and technology that comes with a Sleep Number—including a hose, pump, and remote to work the adjustable air chamber—the bed is naturally susceptible to breakdowns, especially air deflation. People also spoke about the mattress cover itself falling apart after a few years. While the site has a good support section with videos and content to help troubleshoot issues, many unhappy campers only spoke about how things would break down every few years:
"After a few years, the bed required $600+ in parts (new side and center foam, the mattress cover itself (stitching on the seams separated) and an air pump (the controller died, but you have to buy an "assembly" that includes the pump and controllers)"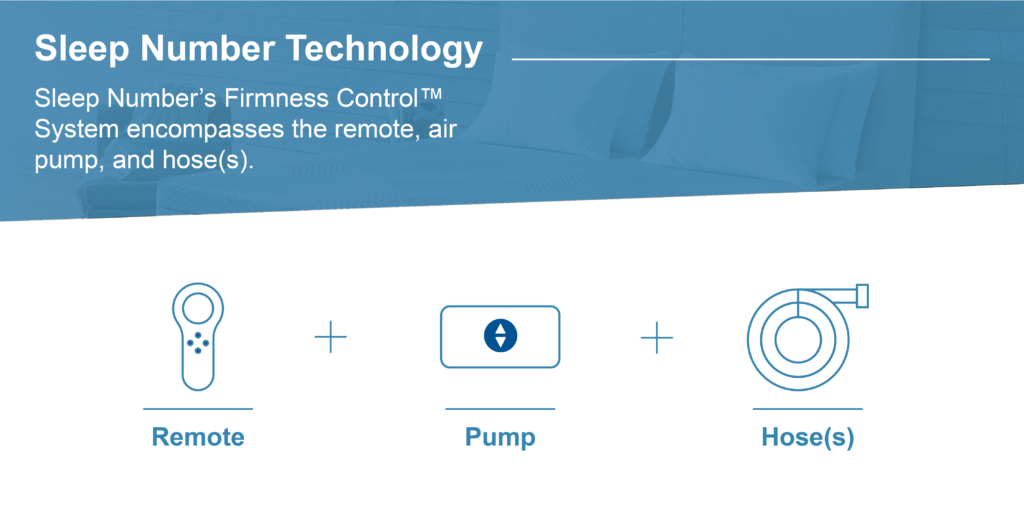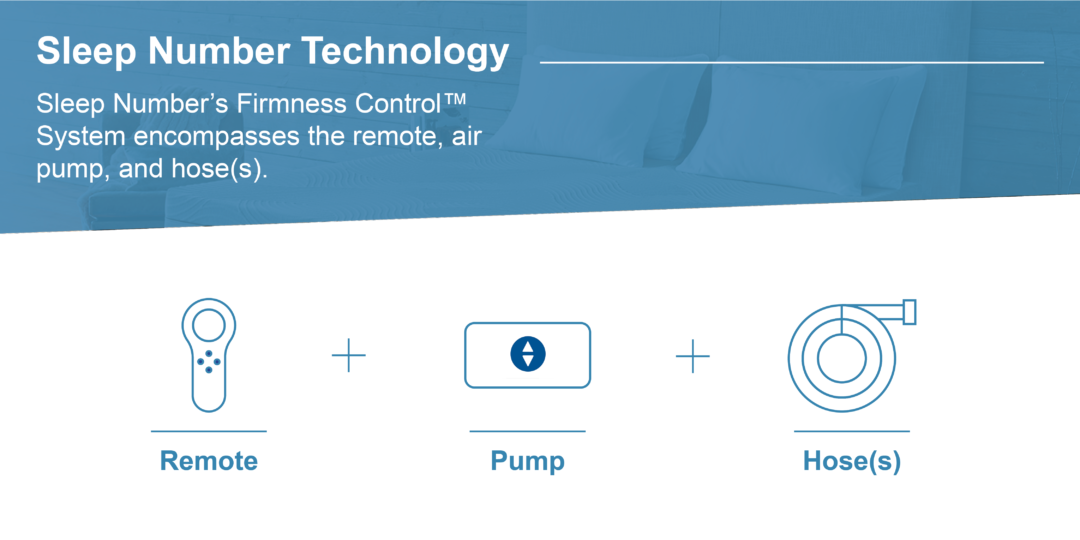 4. Customer Service. Since Sleep Number is known for malfunctions, many reviewers also mentioned the lack of good customer service for when things did go awry. The first point, that came up a lot, was issues with their "100-night sleep trial." Apparently, if you want to return your bed before the 100 nights is up, this guarantee only includes the mattress itself, not the bed frame or additional accessories. (The website's fine print verifies this.)
Here is a user comment on this issue: "Upon attempting to return it, we were advised that "Bed" only refers to the mattress and not to the other components including the Adjustable Bases. Sleep Number told me they do not make the bases and therefore cannot stand behind them."
Generally, customer service did not get rave reviews when people needed parts replaced or help with malfunctions: "The bed sleeps fine, but I am SO DISAPPOINTED in product support by Sleep Number!! I contacted my local store to see about a small replacement part, but they don't carry parts. So, I contacted the main Customer Service dept. and was blown away! All I needed was a small white female connector for a hose, and I was told that I had to purchase a new pump and hose system for $200 (under partial warranty)! Absolutely ridiculous!
5. Price. Sleep Number prices are comparable to other foam or spring mattresses, with their Queen coming in around $800 (depending on your model). This may seem pretty pricey, given it's an air bed. While it's important to remember the adjustability and technological aspects of the bed probably hike up the price, it's still at least 15% more expensive than the average permanent-use airbed.
Overall, it's important to remember there are two sides to every story, and for every poor review, there was typically a great review of a Sleep Number product. Make sure to do thorough research before any big bedding purchase, and maybe find someone you know who owns a Sleep Number to get a personal opinion before getting your own.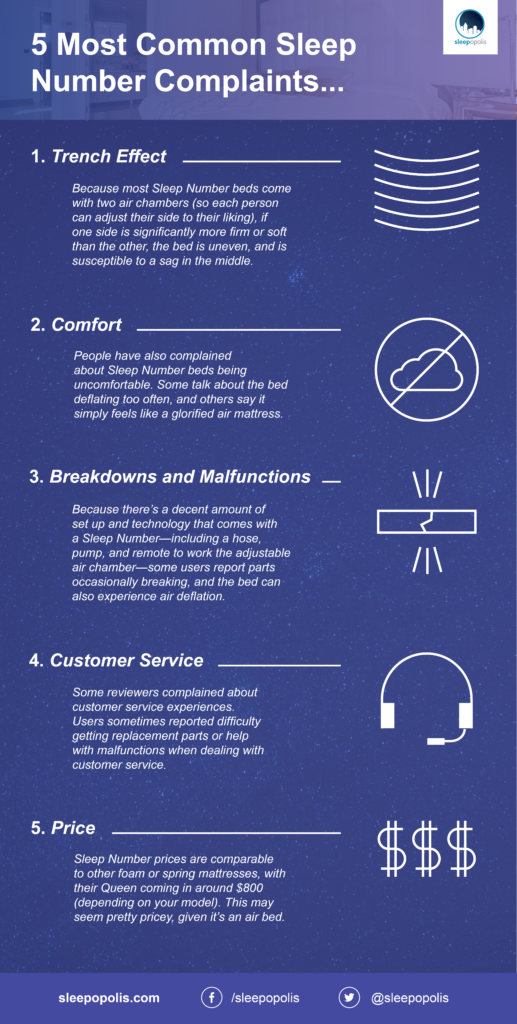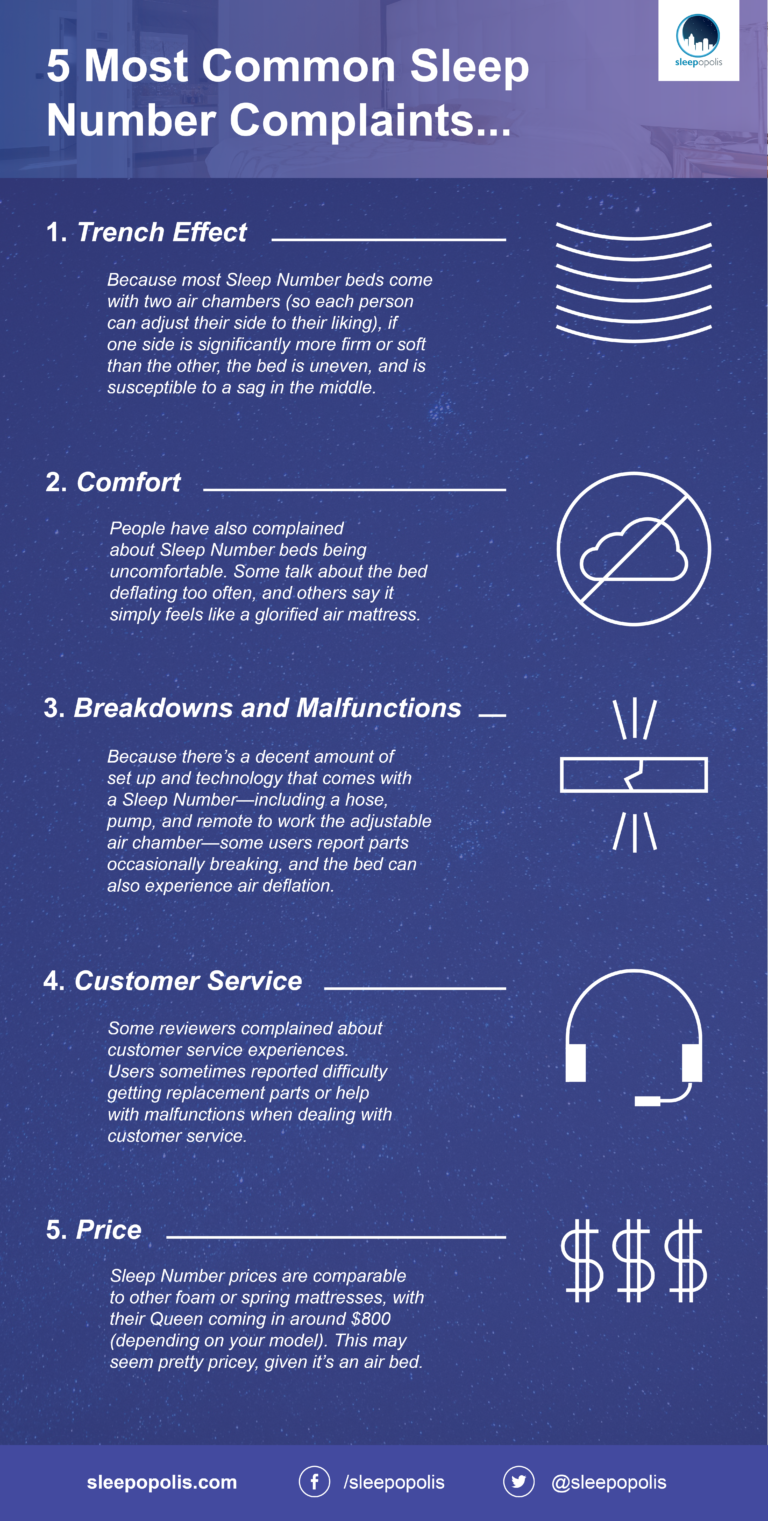 If it's time to move on from you Sleep Number, or aren't sure where to start your mattress search, take our mattress quiz to get a selection of mattresses that are right for your sleep preferences.
FAQs
What is the Sleep Number bed?
Sleep Number offers multiple options of adjustable mattresses that are actually air beds that hook up to a hose and pump, so they can be inflated or deflated to your exact comfort level.
What are the common complaints about the Sleep Number mattresses?
There are a number of complaints about the mattress, but the top five we found were poor customer service, price of the mattress, breakdowns and malfunctions, comfort and what is called "trench affect." This is when the bed sags in the middle.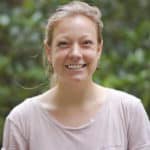 Laura Schwecherl
Laura is a journalist with nearly a decade of experience reporting and covering topics in the health, fitness, and wellness space. She is also a marketing consultant, where she works with impact-oriented startups to build marketing and editorial strategies. Since joining the team at Sleepopolis, she quickly learned how critical sleep is, and enjoys researching how certain sleep products and techniques can improve our lives. Outside of work, you can find her reading Murakami novels, writing amateur poetry, or trail running in her hometown, Boulder Colorado.