The mattress giveaways just keep coming! Starting today, you can enter to win The Thuma Mattress for free in our 25 Days of Giving giveaway.
"The Mattress" from Thuma is an all-foam bed made with a Tencel cover, a layer of premium natural latex, a layer of polyurethane foam, and a firm base layer made from a blend of poly foam and BioFoam. This mattress is well-suited to both back and stomach sleepers, as it is on the firmer side.
Learn more about the Thuma mattress in our Thuma mattress review! And then be sure to enter to win your own Thuma mattress, by following the directions below:
Keep up to date with all the giveaways this year on our 25 Days of Giving hub page!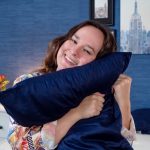 Amelia Jerden
Amelia is a Staff Writer for Sleepopolis. She primarily covers bedding and sleep accessory products in reviews, how-to guides, and more. You can also find her over on the Sleepopolis YouTube channel. Amelia is a graduate of the University of North Carolina at Chapel Hill, with double majors in media and journalism and in dramatic art. Outside of work, Amelia can usually be found on a hike, traveling to a new city, or at her local thrift store.