Welcome to this merry page, the official hub of our giveaways!
For all December — yes, every day — you can enter your name to play. The rules are simple (see below), as easy as kissing 'neath mistletoe. So come one, come all, 'tis time to win, let 25 Days of Giving begin!
1. Each day a new mattress giveaway will launch!
2. Come back every day to enter each contest!
3. Each giveaway will be live for 7 days!
So we will start picking winners in early December and continue all the way through the New Year.
We took 25 Days of Giving to the next level!
This year we are not only giving away 25 free mattresses, but donating $25,000 to the
The Green Chair Project.
This awesome local organization in Raleigh, NC reuses home furnishings to help families facing crises, disaster, or homelessness to create a home that they can thrive in and be proud of. Our donation alone can fully furnish 17 homes for families in need.
We're so proud to be supporting our local community and participate in the season of giving!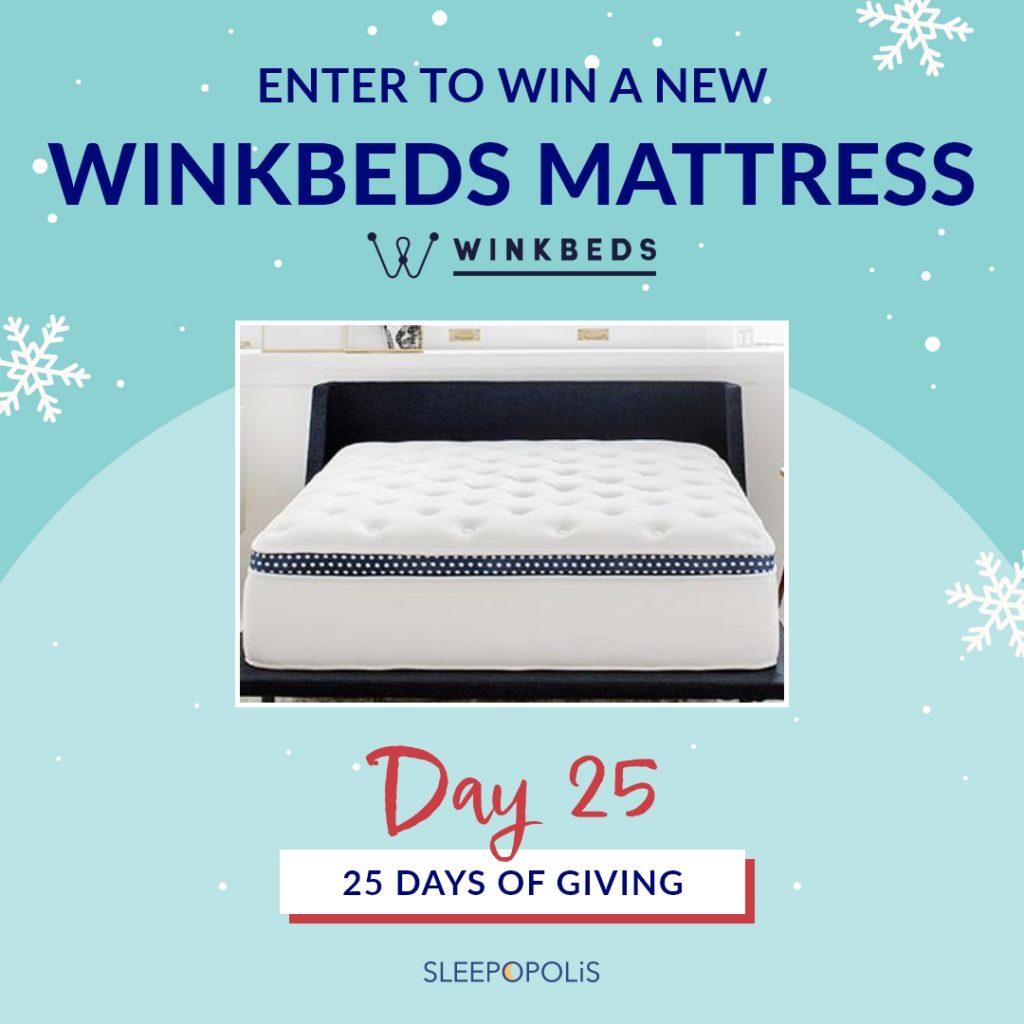 Use the form below to enter now and scroll down to see what giveaways are live and upcoming. Also, be sure to read our best mattress list to find out more about our top picks!
Congratulations to our lucky winners! Be sure to check back here and on Instagram to see if you've won a new mattress!
Don't see your name? Don't worry, there are still giveaways kicking off every day, check the full calendar below for more chances to win!
Day 1 – Nectar Winner: Kristin K.
Day 2 – PandaZzz Winner: Amber W.
Day 3 – Helix Winner: Justin Y.
Day 4 – Avocado Winner: Michelle A. 
Day 5 – Brooklyn Bedding Winner: Tonia B.
Day 6 – Leesa Winner: Ronni P.
Day 7 – DreamCloud Winner: Janine B.
Day 8 – Cocoon Winner: Jennifer S. 
Day 9 – Layla Winner: Amanda D.
Day 10 – Brentwood Home Winner: Ann T.
Day 11 – Nolah Winner: Rob G.
Day 12 – Dreamfoam Winner: Tim D.
Day 13 – GhostBed Winner: Christal Anne W.
Day 14 – Puffy Winner: Kimberly B.
Day 15 – Nest Winner: Stephen C.
Day 16 – PlushBeds Winner: Steve W.
Day 17 – Gravity Winner: Kayla D.
Day 18 – Bear Winner: Jay L.
Day 19 – Awara Winner: Angelica S.
Day 20 – Mend Sleep Winner: Dusty S.
Day 21 – Sweet Night Winner: Samantha B.
Day 22 – airweave Winner: Charles R.
Day 23 – Big Fig Winner: Derek L.
Day 24 – Saatva Winner: Justin O.
Day 25 – WinkBeds Winner: Amber B.
Live and Upcoming Giveaways
Our 25 Days of Giving extravaganza is packed with prizes from some of the most popular online mattress brands in the game!
Enter today's giveaway above and check out our other live contests below by clicking their respective links. 
Terms & Conditions: All winners will be randomly selected. In certain cases, winners will be able to choose the size and color of their prize. To enter, sleepers must be 18 years or older and able to receive shipment in the contiguous United States (sorry Hawaii & Alaska!) And while everyone wants to win, not everyone can. So, let's keep the mood festive, cheery, and light by supporting all our winners. 
Disclaimer: By submitting your email address above, you agree to let Sleepopolis share your email address with brands participating in the 25 Days of Giving campaign. We won't share any of your personal information with the brands, but your email address may be shared with participating brands, who may add it to their respective email lists.