Since its founding in 2016, Purple has become one of the biggest names in the online bedding world. Not only does it boast an extensive accessory line of pillows, sheets, seat cushions and pet beds, but it also has two impressive mattresses on its docket, aptly named the Original and the New. These beds are really unlike anything else on the market and have long captivated potential buyers with their iconic purple hyper-elastic polymer smart comfort grid, which responds to the body in ways you have to see to believe.
Though I've tested out both of these models in the past, I thought I'd do something a little special today and take a look at them side-by-side. On this violet-hued journey, I'll suss out their similarities and key differences in an effort to help you better understand which one of these beds could be the perfect fit for you!
I should note that while the New Purple comes in three different firmnesses (the firm Purple 2, medium firm Purple 3 and soft Purple 4), I'll be comparing the Original to the Purple 3. And to make things a little easier on myself—and you!—I'll mostly refer to these models as P2, P3 and P4 throughout the comparison.
Continue reading below for the ultimate Original Purple Mattress v. New Purple 2, 3, 4 match-up. Don't have time to read the whole thing? Skip to the end for some recs on how to choose between them!
Free Sheets!

Purple Mattress

Sleeps cool
Arrives compressed in a box
Get a free set of Purple Sheets when you buy a Purple mattress

Free Sheets!

New Purple Mattress

Great support
Extremely Bouncy
Multiple Firmness Options
Similarities
Before we dive into all the ways in which the Original and New Purples are different, I wanted to take a brief moment to chat about their similarities. While they feature pretty divergent constructions, they do share a few characteristics that unite them under the Purple brand.
Smart Comfort Grid – Both the Original and New Purples employ the brand's hyper-elastic polymer comfort grid in the top layer. This section features rows of purple squares, which collapse and conform to the unique curves of a sleeper's body. While the thickness of this grid varies between the models (which I'll explore more below), it provides some excellent comfort regardless.
Temperature Neutral – Purple claims that both of its beds are technically "temperature neutral" in that they're able to acclimate to anyone's body heat and create a cool sleeping experience. I should note that the New Purple amps up the cooling of the Original with its layer of pocketed coils, which encourages even more breathability through the structure.
Pressure Relief – Though achieved in distinct ways (via responsive foam in the Original and a supportive pocketed coil system in the New), both Purple beds were built with pressure relief in mind.
Construction
Now that we've gotten the similarities out of the way, let's figure out what makes these beds distinctive! The biggest thing you'll notice is that the Original features an all-foam design while the New Purple is outfitted with a hybrid one, meaning they're built to support the sleeper in different ways.
I'm going to walk you through a breakdown of each bed's specific construction below, but would encourage you to also check out my full review of the Original and New Purple.
Original Purple
Cover – The cover is made up of a blend of Polyester, Viscose and Lycra. It's a soft, breathable fabric that's thin to allow airflow into the mattress. Lycra is a stretchy material often found in athletic clothing, so helps with temperature regulation by wicking moisture away from the body.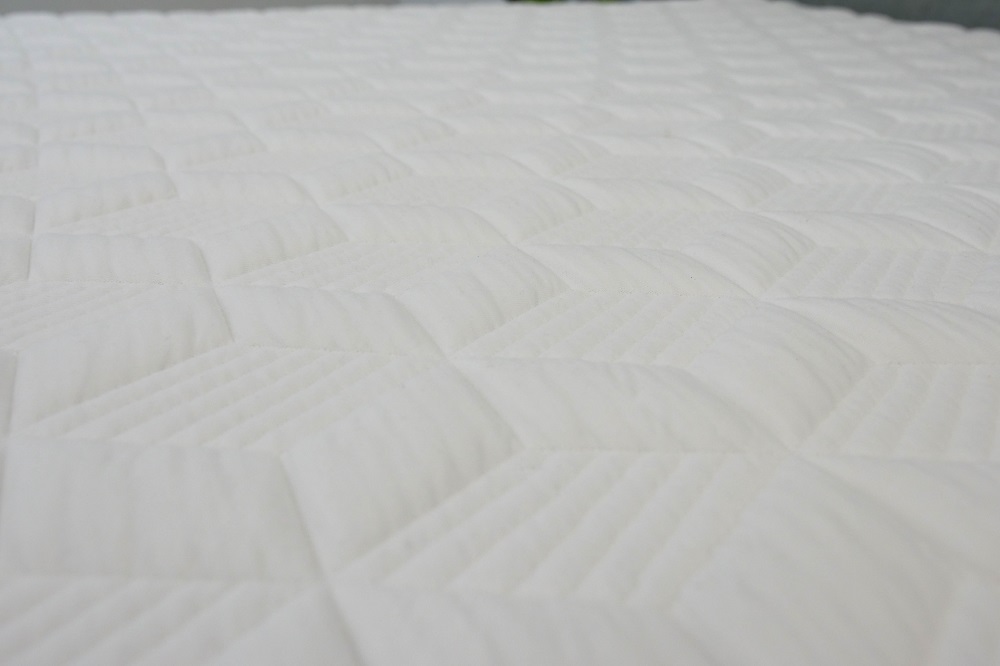 Comfort Layer – This layer is made up of 2" of the hyper-elastic polymer smart comfort grid we discussed earlier. While the springy material has a quick response to pressure, the individual polymer squares are likely to collapse under the weight of your body, producing a sort of quasi-contouring feel. This creates an interesting interplay between pressure relief and support that'll give you some satisfying comfort without leaving you feeling too stuck in the bed.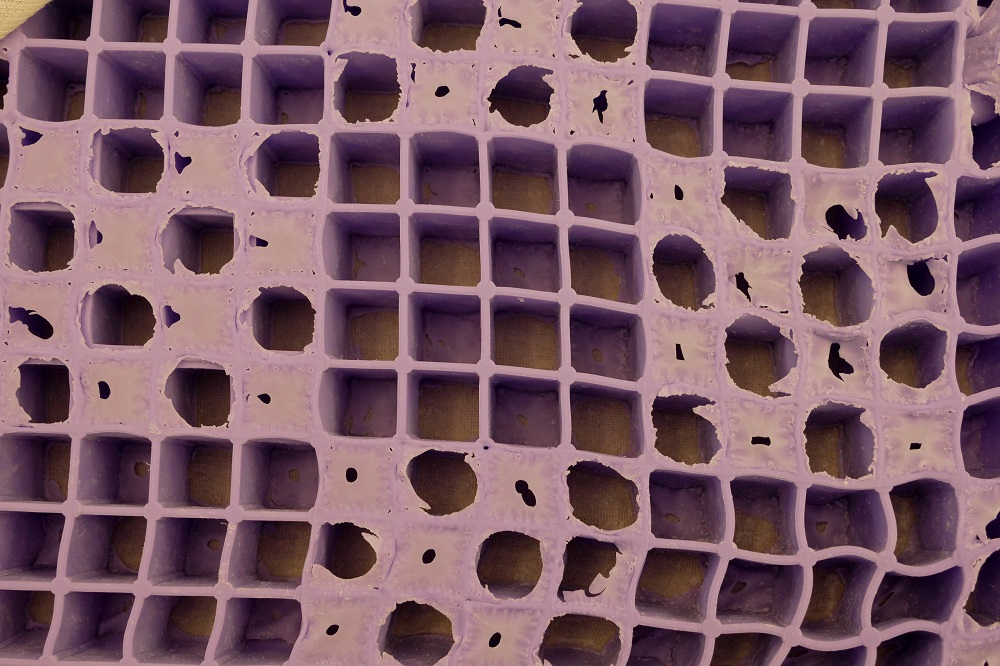 Transition Layer – Directly below the comfort layer, you'll find 3.25" of poly foam, which functions to transition the sleeper from the comfort layer up top to the foundation below
Base Layer – And finally, the base of the mattress, which is built with 4" of high-density poly foam. This firm layer acts as the foundational support of the mattress and gives the bed its structure and shape.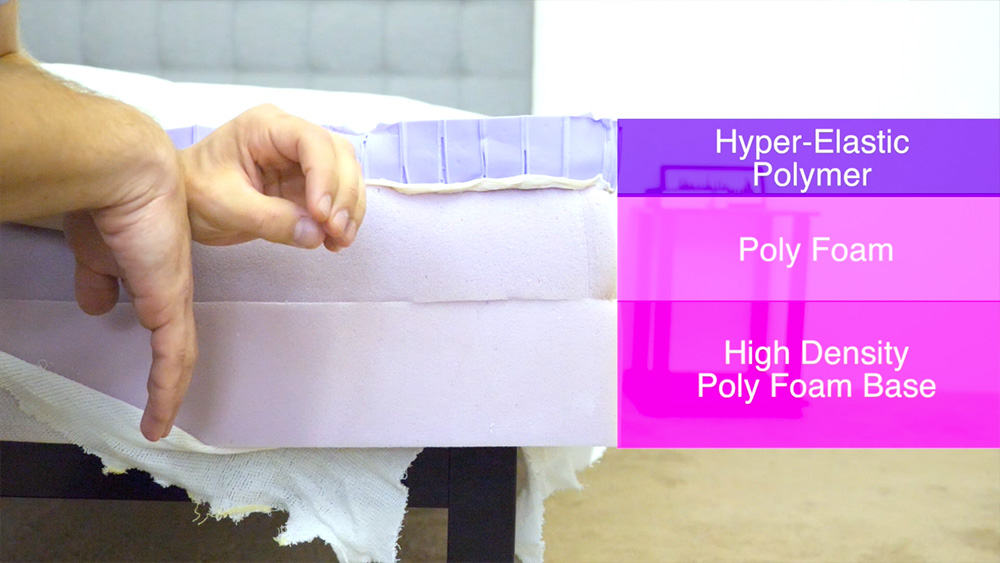 New Purple
Cover – The cover is built with a polyester and spandex blend, making for a material that's thick, stretchy and breathable.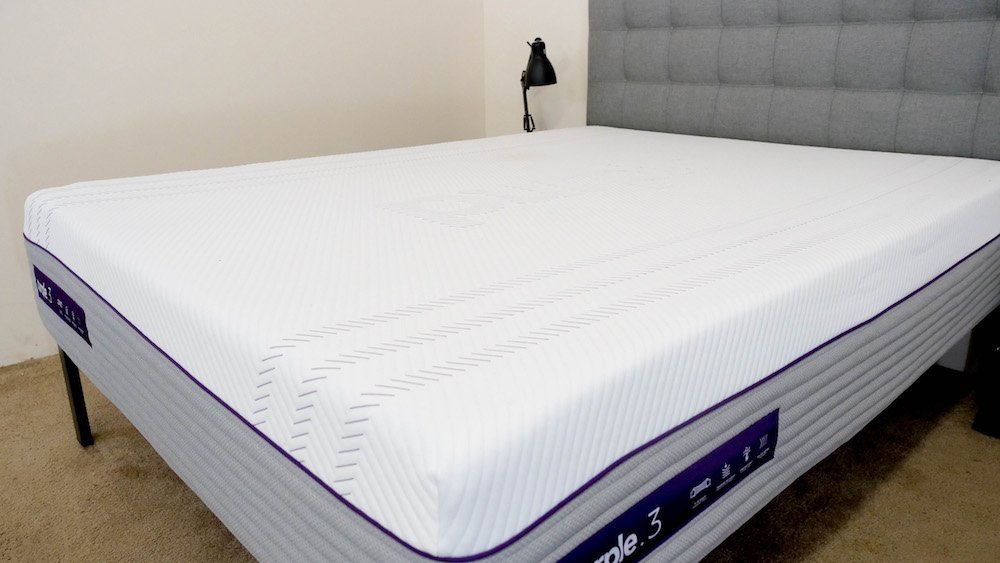 Comfort Layer – As in the original, this layer is made up of the brand's smart comfort grid. While all three versions of the New Purple feature this grid, the thickness varies depending on the number attached to the name. So, the Purple 3 mattress has three inches of the stuff while the Purple 2 mattress boasts two and the Purple 4 mattress—you guessed it!—has four. I should note that the grid is surrounded by a layer of foam edge support, which gives this section some structure and allows you to use the entire surface area of the mattress.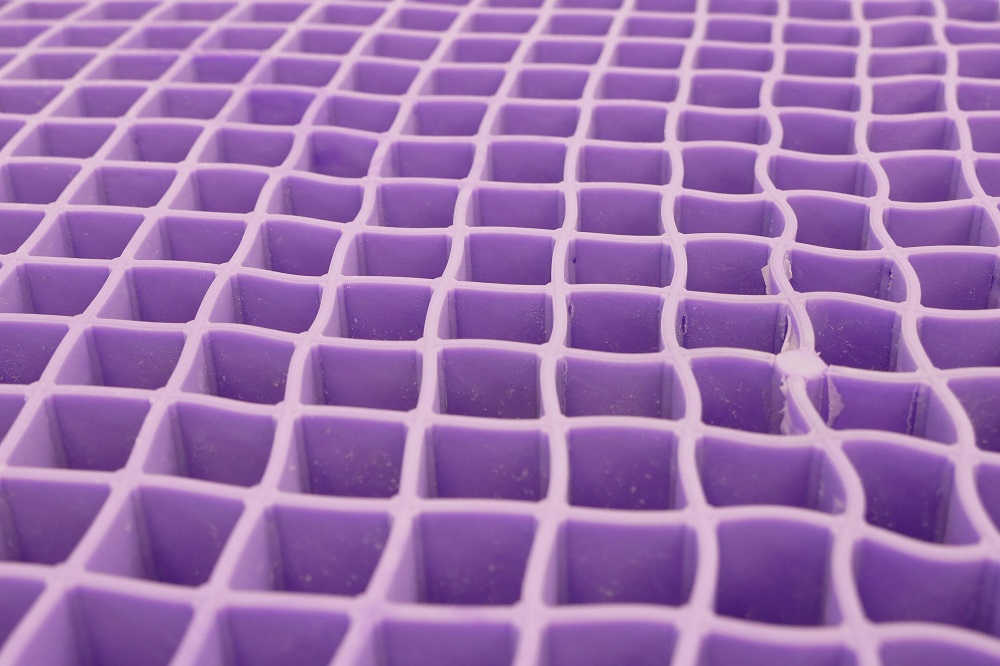 Transition Layer – A thin layer of polyurethane foam separates the soft comfort layer from the pocketed coil system below. The main function of this section is to transition the sleeper between the various materials.
Support Layer – The support layer is comprised of 7.5" of responsive coils. They're individually wrapped, so they'll not only provide support to the sleeper, but also some incredible motion isolation. Additionally, the pocketed coil system works to extend the pressure relief of the top comfort layer throughout the entire structure. The combination of this support system with the polymer grid makes for an extremely bouncy mattress, which will help to position you on top of the bed. A 4" layer of high-density poly foam edge support will also help lift you up and out of the structure.
Foundation Layer – The base is made up of a thin layer of high-density poly foam, functioning mainly as a springboard for the pocketed coil system above.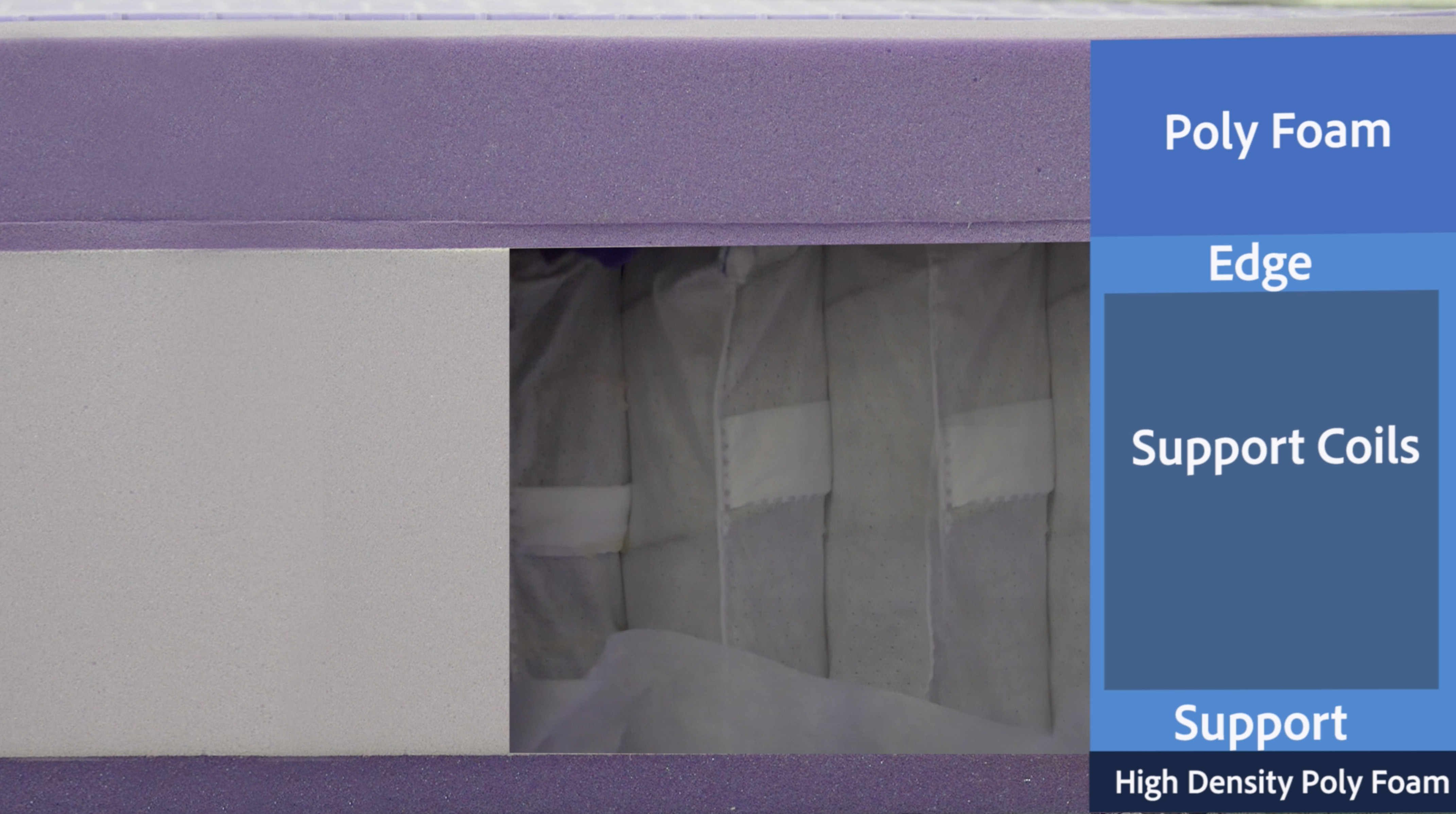 The Original Purple v. The New Purple
As I mentioned up top, one of the biggest changes in the New Purple is its hybrid design. The inclusion of pocketed coils here establishes an overall bouncier structure than its predecessor, which helps to position the sleeper on top of the bed. Even for this extra buoyant lift, the New Purple still features the deep contouring of the Original with plenty of satisfying, targeted pressure relief.
Another big difference is the addition of edge support in the New Purple, which helps to create a more stable structure. This will be especially important for those of you who plan to share your bed with a partner as it'll allow you to use the entire surface area of the mattress.
With all these fresh fabrications, the New Purple does cost more than the Original (with a P3 Queen size costing $2,199 compared to the Original's $999), which is definitely something to keep in mind.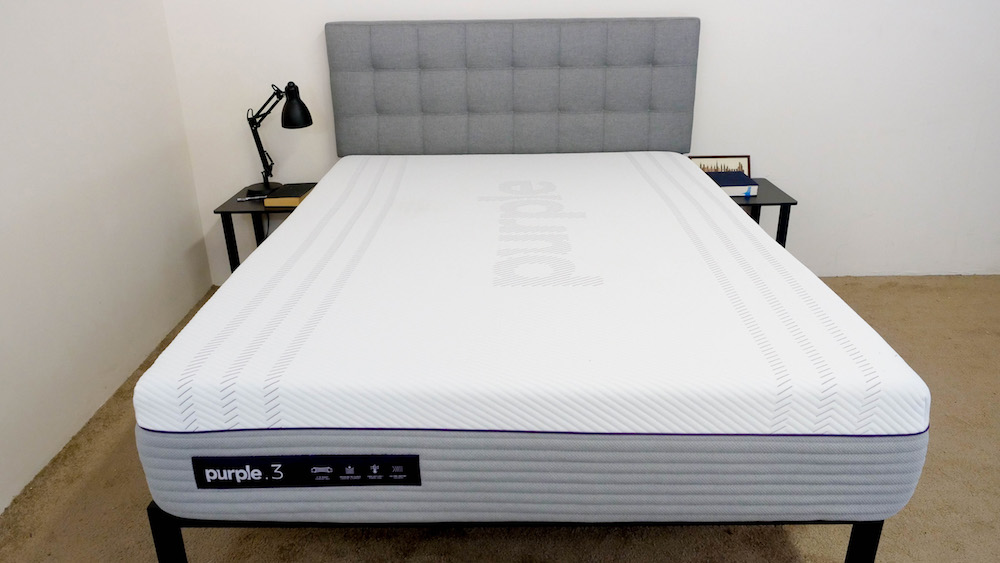 A nerdy side note: it was cool getting to bounce between these two beds as their feels are so totally different from anything else on the market. It's like this space age, trampoline vibe that I'm super excited to continue exploring with all of you below!
See where the Purple landed on my roundup of the Best Mattresses of 2018!
The Feel
Now that we've taken a look at the Purples' different constructions, let's chat about how these bad boys feel. To help you figure out how you'll likely experience each bed, I'm going to examine their individual firmnesses, sinkage amounts and motion transfer rates. By combining all of these characteristics together, we should manage to paint a pretty solid picture of each mattress' unique vibe.
First up: firmness. Since everyone feels firmness a little differently, I brought in three other testers to help me try out of each of these Purple beds. Below is the graph showing our combined average firmness ratings for each of the two mattresses.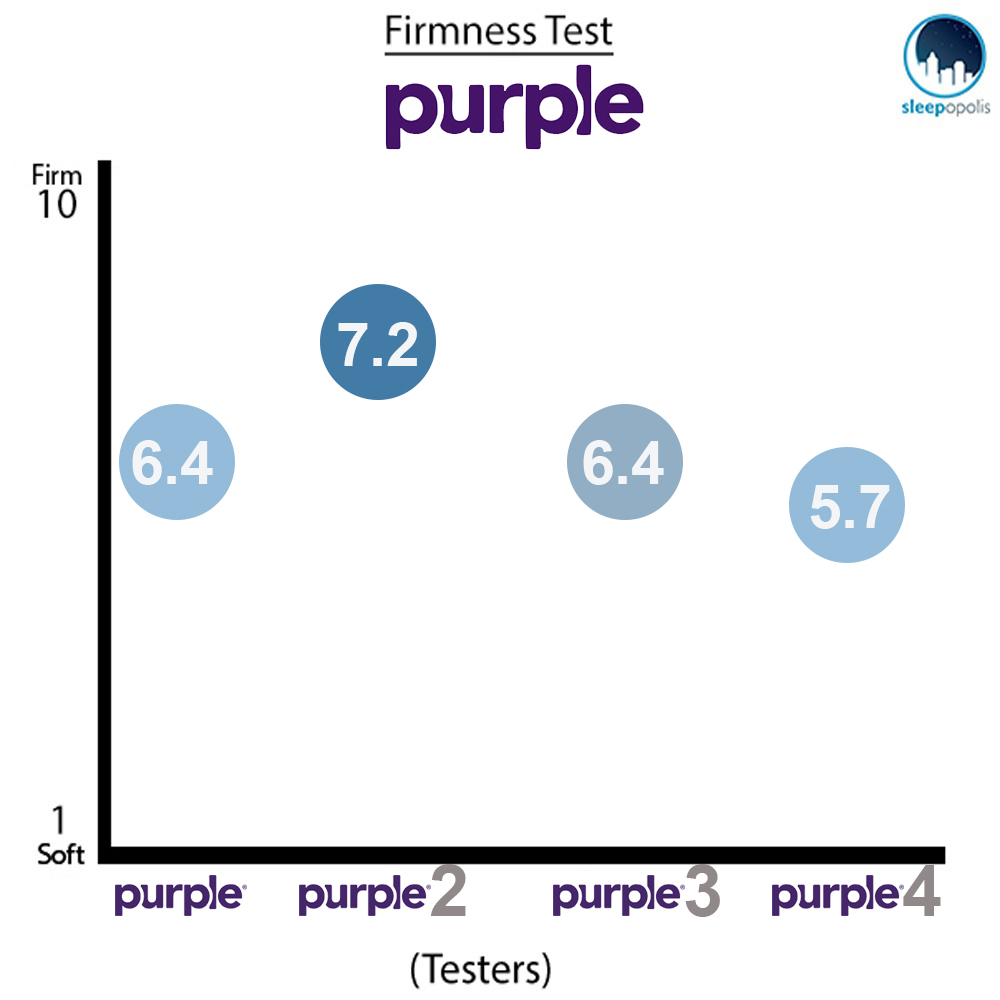 Original Purple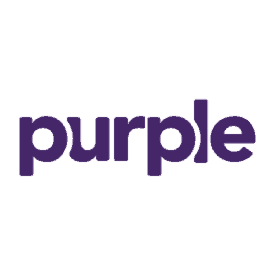 The Purple has nice bounce as well as a medium mix of support and pressure relief that makes it a great pick for the combo sleepers out there.
The Original Purple received an average rating of 6.4 from my testers. When compared to the industry standard of 6.5 for medium firmness, it's clear that this bed is pretty much exactly medium firm.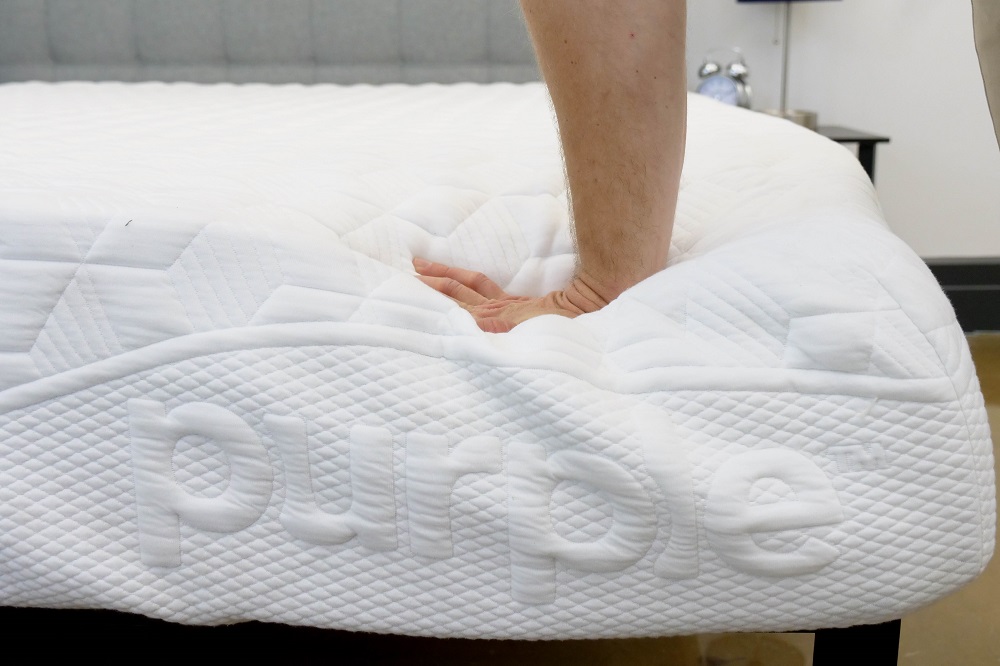 I gave the Original a 6.5 as I experienced really great supportive relief while lying on top of it. Though you're likely to sink into the hyper-elastic polymer grid for some immediate comfort, the firm foundational foam does an excellent job of keeping you lifted on top of the structure. This combination of feels should work for most sleepers, though strict side sleepers may find the mattress a bit firm for their liking.
As far as edge support is concerned, I noticed some pretty deep compression through the top comfort grid as I scooted closer to the side of the mattress. While this didn't necessarily make me feel as though I'd roll out of bed, I would note that you're not likely to feel as supported at the edge as you do in the center.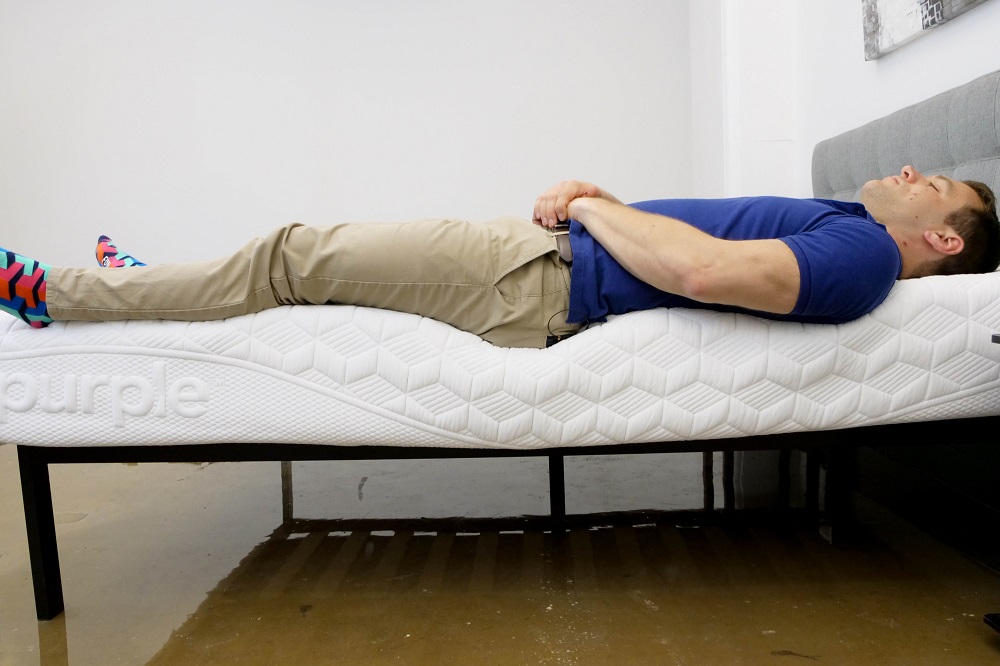 New Purple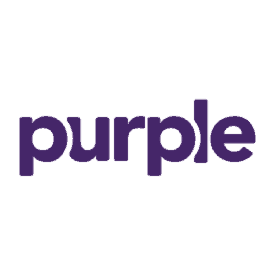 Bounce meets cozy luxury in the New Purple mattress! Order now to get a free base with your purchase. Get $100 off all Purple mattresses, except Twin and Twin XL mattresses which will be $50 off + free sheets with purchase until June 3rd!
My testers also gave the P3 an average rating of 6.4, denoting it as having a medium firm feel.
I personally gave the P3 a 6.5, finding it to have a nice mix of pressure relief and support. While you'll definitely sink through the comfort grid a bit, the buoyant lift of the pocketed coil system will prevent you from feeling stuck in the mattress. This should satisfy a wide range of sleepers, particularly those who sleep in multiple positions throughout the night.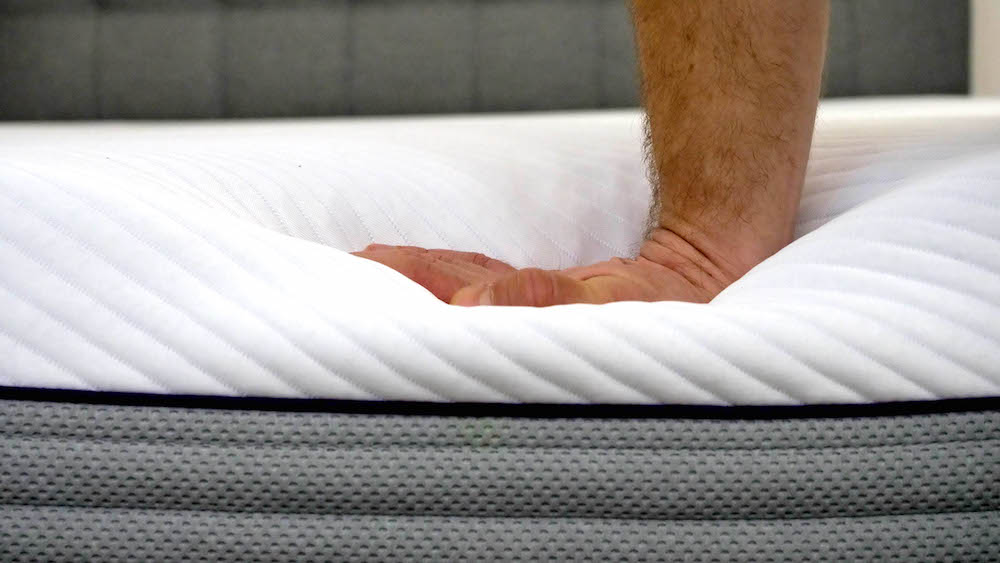 When it comes to edge support, the New Purple definitely has the Original beat. Lying all the way to the side of the newer model, I felt incredibly secure, thanks in part to both the edge support foam and supportive pocketed coil system.
I should note that a person's weight can make a big impact on how they'll experience either of these Purple mattresses, with heavier folks sinking through the comfort grid much more quickly than lighter ones. That's partly why the brand decided to create multiple firmness levels for the New Purple, to alleviate some of this discrepancy. So, if you need a softer feel, I'd recommend checking out the P4, which my testers gave an average rating of 5.7. Conversely, the average firmness rating for the P2 was a whopping 7.2.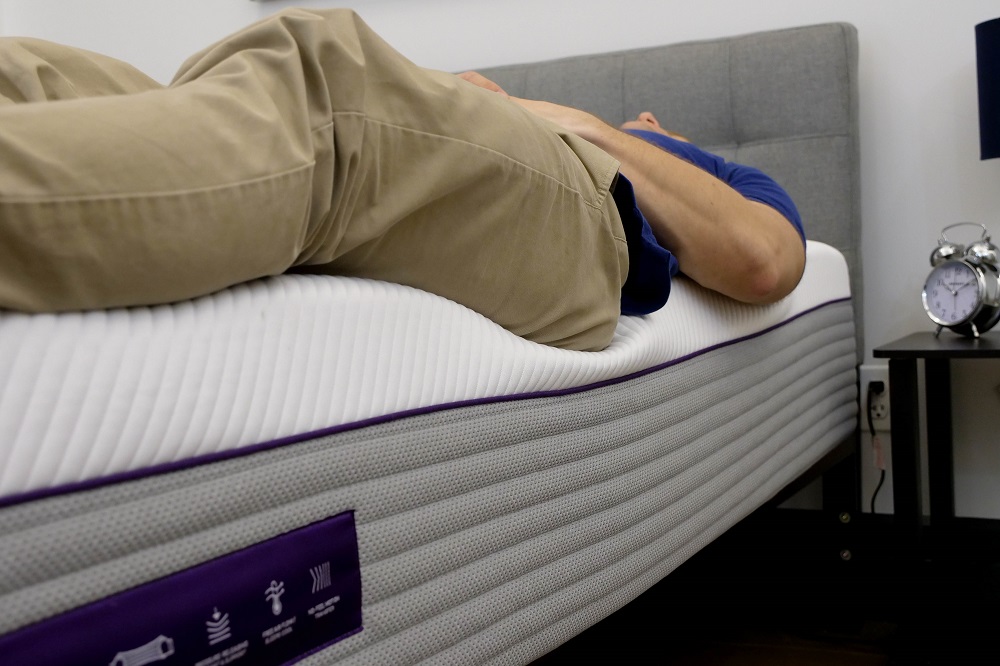 Next, we're going to take a look at sinkage, or the amount that you're likely to sink into the bed while lying on top of it. To visualize this, I've placed balls of different sizes and weights (a 6 lb medicine ball, a 10 lb steel ball, a 50 lb medicine ball and a 100 lb medicine ball) on the surface of each mattress and measured how far into the structure they sank.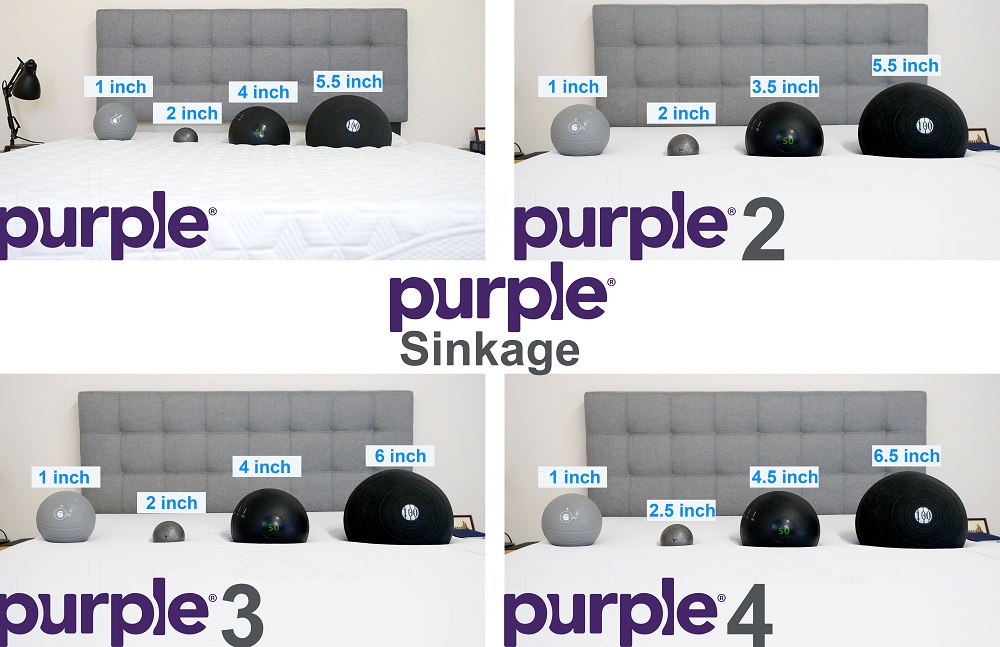 As you can see in the graphic above, the two beds have very similar sinkage results, with the only differentiation coming at the 100 lb. ball. What this tells me is that you're likely to feel as though you're situated "on top" of these mattresses as opposed to "in" them. This isn't that surprising when you consider their bounce and firm support.
For reference, the P2 had slightly less sinkage than both of these beds and the P4 had just a little more. While the Original and P3 are probably the best mattresses in the Purple suite for those who doze in multiple positions throughout the night, the sinkage rates for the other two make them ideal candidates for stomach sleepers (P2) and side sleepers (P4).
Whether it's with your long term partner or a college pal staying over for a weekend, you're bound to share your bed with someone at some point, so will need to know just how bothered you'll be by their movements in the middle of the night. Enter motion transfer, or the amount of disturbance you're likely to notice from one side of the bed to the other.
To illustrate this motion transfer, I dropped a 10 lb. steel ball from heights of 4 inches, 8 inches and 12 inches and measured the disturbance it caused: the bigger the lines, the bigger the disturbance.
FYI: Each drop is meant to symbolize a common movement in bed, from tossing and turning (4"), to getting out of bed (8") all the way to full on jumping (12").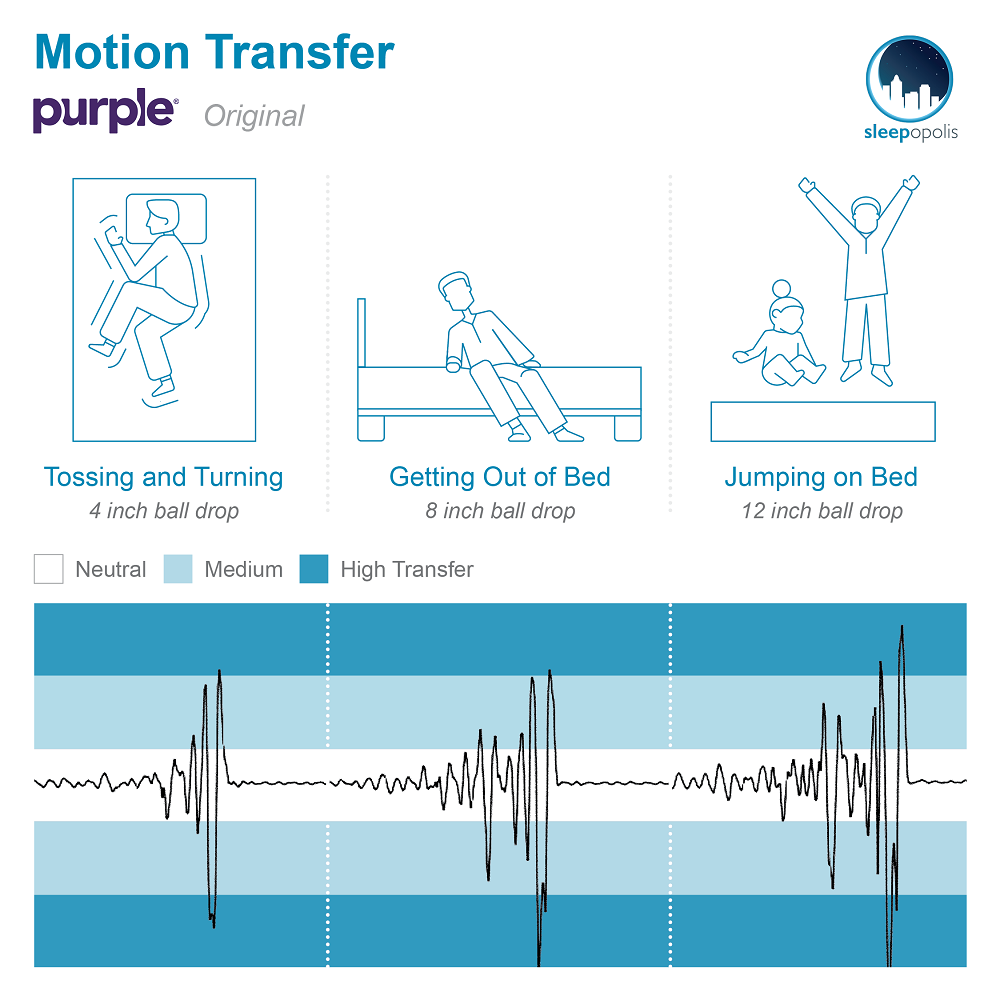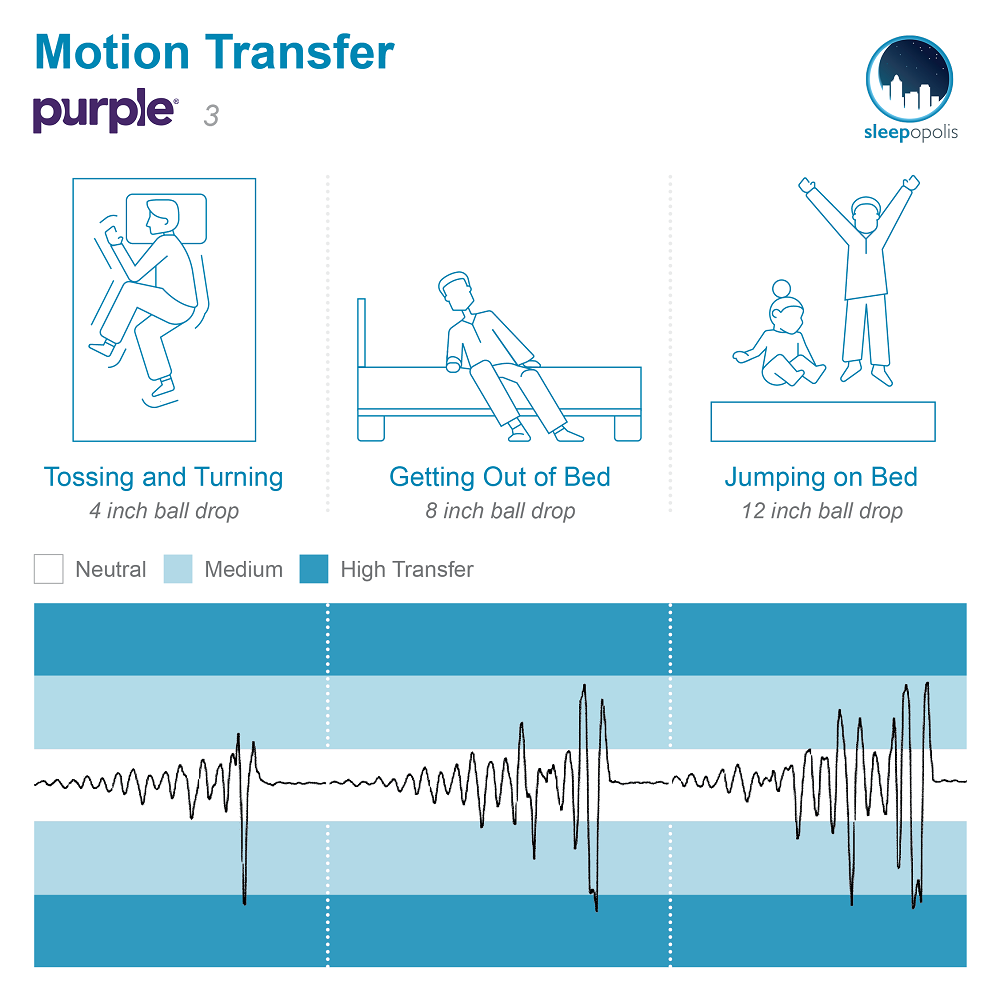 Showing the motion transfer results for the Purple 3 with a 10 lb ball dropped from 4, 8 and 12 inchesI'd say these are slightly above average results overall, which tells me there's quite a bit of motion transferred across both of these beds. If I had to give a slight edge to either model, I'd give it to the New Purple, but just barely. While the buoyant lift of the hyper-elastic polymer grid isn't doing any motion transfer favors for either bed, the New Purple does benefit from its pocketed coil system. Since these coils are individually wrapped, they're able to isolate motion fairly well and dampen some of the disturbance throughout the structure.
So what?
After considering all these different feel factors, I think the big takeaway is that the New Purple has basically borrowed all the fantastic things that were working in the Original (supportive bounce, contouring pressure relief, breathability) and amped them up to a higher level of comfort. This is most evident in the additions of the ultra-supportive pocketed coil system and durable edge support foam.
Another big advantage of the New Purple is that it comes in multiple firmness levels. While the Original was built to be a medium firm bed that could satisfy a majority of sleepers, it's not always a great fit for those with stricter sleep preferences. The addition of the P2 and P4 models helps to ameliorate this by creating options for those who only slumber on their stomachs or sides.
So which do I buy?!
When deciding which of these fantastic mattresses to go with, there are a few factors to consider that will practically make the choice for you.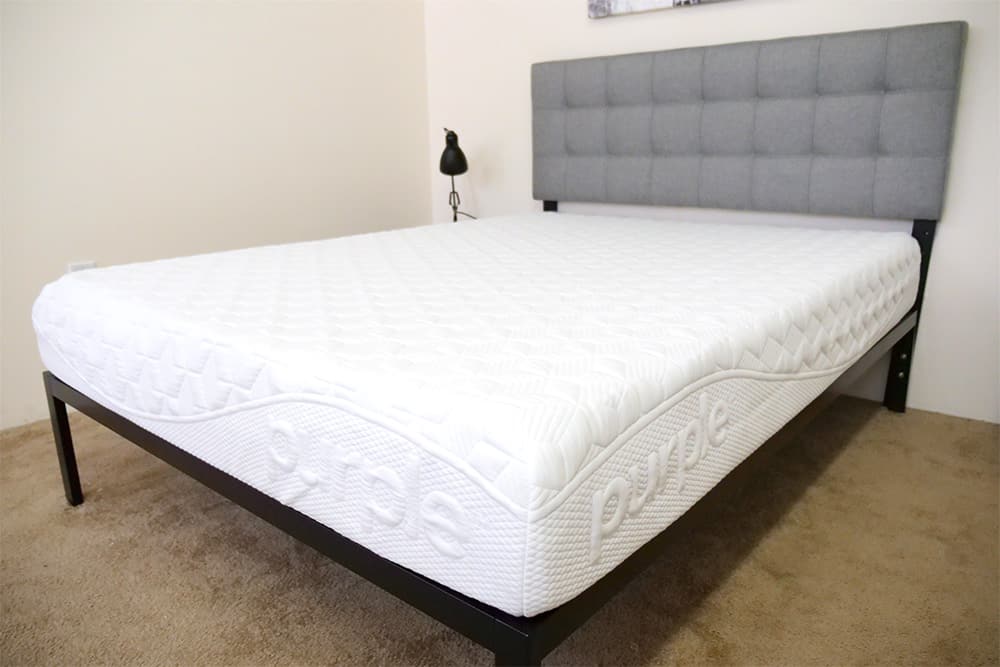 The first thing to figure out is what kind of construction you're after. If you want the pressure relief of an all-foam mattress, you can't go wrong with the Original. However, if you want to combine this pressure relief with some strong support, you'd be well served by the New Purple's hybrid design.
The second comes down to whether or not you'll be sharing your bed with a partner. With slightly better motion transfer results and an overall stronger edge support system, the New Purple is my pick over the Original for couples.
And third, how much are you willing to spend? There is a noticeable price difference between the two models, with a Queen size of the Original coming out to $999 as compared to $2,199 for the Purple 3 mattress, $1,599 for the Purple 2 mattress and $2,799 for the Purple 4 mattress.
| Size | Original | Purple 2 | Purple 3 | Purple 4 |
| --- | --- | --- | --- | --- |
| Twin XL | $699 | $1,299 | $1,899 | $2,499 |
| Queen | $999 | $1,599 | $2,199 | $2,799 |
| King | $1,299 | $1,899 | $2,699 | $3,499 |
| California King | $1,299 | $1,899 | $2,699 | $3,499 |
To get even more specific about my recommendations, I'm going to list the great aspects of both models as well as some of their specific pros and cons.
General Recommendations
Either Purple would be great for anyone in need of deep pressure relief. The smart comfort grid employed in both designs provides the sleeper with fantastic comfort and is especially great for anyone who sleeps in multiple positions throughout the night.
Both beds also sleep extremely cool. Since the materials used in both constructions are "temperature neutral," they're going to do an awesome job of absorbing body heat and dissipating it throughout the structure.
And finally, the two Purples are both super durable. The hyper-elastic polymer is an incredibly strong material and can withstand a lot of wear and tear.
Original Purple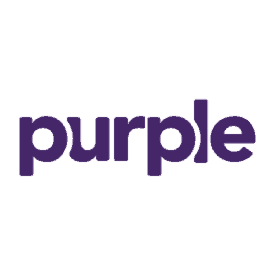 The Purple has nice bounce as well as a medium mix of support and pressure relief that makes it a great pick for the combo sleepers out there.
As we discussed above, a big advantage of the Original over the New is price. For just $999, you can get your hands on a Queen size, which is a pretty tremendous deal.
Another win for the Original is that it'll arrive on your doorstep compressed in a box. This makes delivery a breeze and allows for a convenient set-up.
And as far as design is concerned, the all-foam construction could be a big plus for sleepers in need of a softer feel for pressure relief.
New Purple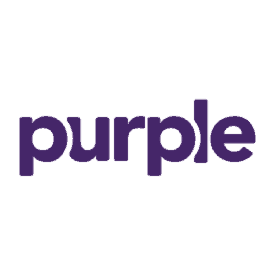 Bounce meets cozy luxury in the New Purple mattress! Order now to get a free base with your purchase. Get $100 off all Purple mattresses, except Twin and Twin XL mattresses which will be $50 off + free sheets with purchase until June 3rd!
While the New Purple may not arrive compressed in a box, it does have a lot more support than the Original thanks to its pocketed coils and added edge support. This feature could make it a real win for those of you in need of some extra lift.
The New Purple is also much bouncier than its predecessor, which helps to position the sleeper on top of the bed as opposed to in it.
I'd also add that the New Purple offers customers greater choice, as the inclusion of the Purple 2, Purple 3 and Purple 4 provides a much wider range of firmnesses and feels.
General Cons
Though there are a lot of benefits to the smart comfort grid, the feel is not going to suit everyone. I personally really like the hyper-elastic polymer, but would note that if you're on the hunt for a more traditional feel, you may not be satisfied with this material.
Neither the Original nor the New Purple feature the kind of contouring sinkage you'd get from softer foam, so if you want to feel as though you're sleeping "in" your bed, you make want to check out a different mattress.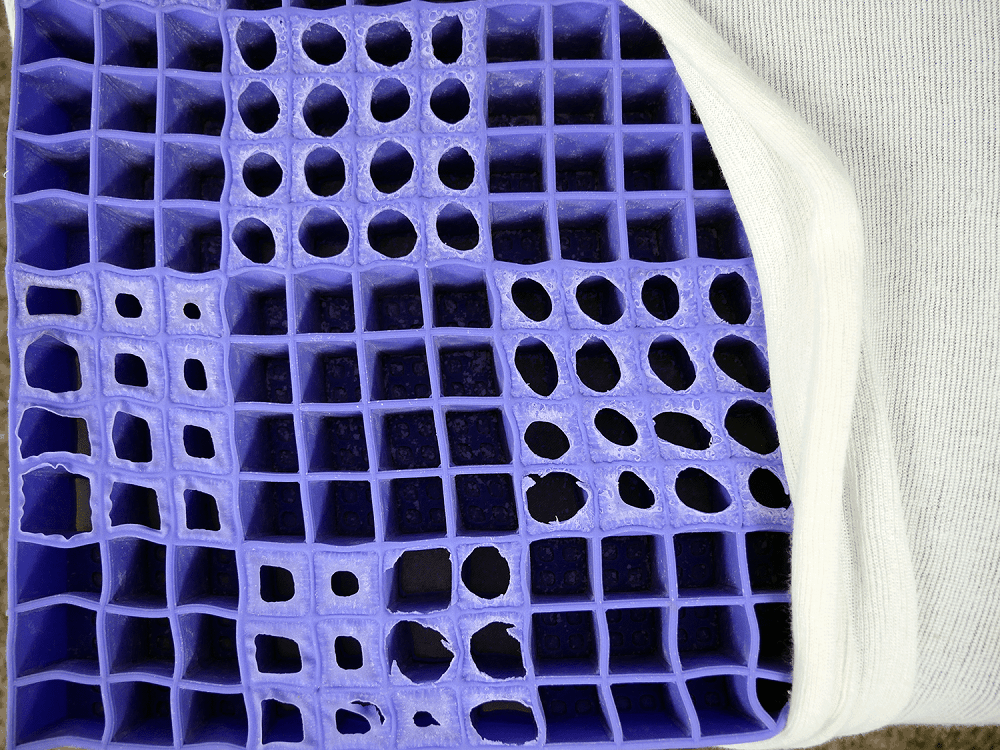 Well that about does it for this Purple comparison! If you have any specific questions or want a personal bed recommendation, make sure to leave a comment on our YouTube video at the top of this page. You can also learn more about the Original or New Purple mattress on Purple's site.
The following two tabs change content below.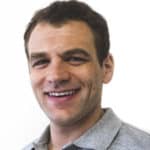 Logan is the content director of Sleepopolis, which means he not only reviews new mattresses every week, but also curates all the comparisons, best of pages, and video guides on the site. He takes a straightforward, honest approach to his reviews and endeavors to give viewers an objective look at each new product he tries out. Logan has perfected his method by personally testing over 200 different mattresses, so he's not only able to discern the overall vibe of a specific bed, but to contextualize its feel within the bed-in-a-box market as a whole. When he's not hopping on a new bed or working with our editorial team to whip up an engaging sleep education guide, you can find him reading books on world history, walking his dog Pepper, or searching for the best cheeseburger in New York City.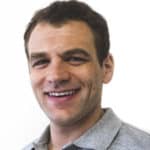 Latest posts by Logan Block (see all)