Editor's Note: I haven't seen any new news about the Aireloom Karpen Luxury mattresses, so I'm assuming they are no longer available. If you are still looking for a luxury collection, check out Stearns & Foster Lux Estate Collection which has a few models to choose from.
Investing in a new bed in no small task, especially if you're looking to go luxury.
Insert the Karpen Luxury collection, one of five mattress collections from Aireloom, a California bedding brand that touts its handmade designs and Aireloom Lift ™technology. (More on that if you keep reading!) In this article review, you'll learn all there is to know about the Karpen Luxury collection: its firmness and feel, mattress construction, common reviews, and more. Continue on and see if the Karpen Luxury line is up your bedroom alley.
The Company: Aireloom
Before we dive into the mattress itself, let's take a moment to introduce Aireloom — especially since it has a rich and ritzy history. Aireloom was founded in the early 1940's by a man named King Karpen, who was a third generation master mattress maker. Right away, his mattresses were made for the Hollywood elite, thanks to the high-quality materials used: thick layers of silk, cashmere, wool, and cotton. Nicknamed the "Rolls Royce" of mattresses, Aireloom ended up in the bedrooms of many celebrities and quickly made its way to The White House, where Ronald Reagan insisted all mattress be replaced with Aireloom (talk about a good endorsement).
Aireloom was bought by Earl Kluft in 1992 after Karpen passed away to continue its fine-sleep reputation via his E.S. Kluft & Co brand. Then, in 2015, the privately held global mattress manufacturer and retailer The Flex Group acquired E.S. Kluft & Co.   
Even with Aireloom falling into the hands of many people throughout its long tenure, one thing has stayed consistent throughout: luxury. Clearly, this brand focuses on quality over quantity — but be warned now that purchasing one of these beds isn't easy for an average consumer.
Aireloom Karpen Luxury Mattress Collection
Today we are going to look at the Karpen Luxury Collection, which consists of three fairly similar beds that have one main differentiator: the comfort layer. (Fun fact: In 2016, E.S. Kluft released the Karpen Collection to honor original King Karpen on the 75th anniversary of the company's founding.)
The three different models include the Bel Aire, Pacific Coast Luxury Firm, and Pacific Coast Firm. These models all have the same quilting, support system, and foundation. Let's break it down even more now.
FABRIC AND FOUNDATION
The quilt on each Karpen Collection mattress has 100% of the versatile fiber fabric of 100% rayon over a 1.2-pound layer of silk and wool fibers. Under the quilt is a 1 oz layer of fire-resistant HiLoft fiber, which is rayon infused with silica. All this is quilted to a 1½"  layer and a 1″ layer of high-density polyurethane foam alongside a cotton tricot backing.
Inside the mattress itself is an innerspring of 15-gauge and 16-gauge nested pocket coils, which are laid out in particular zones to support different pressure points on the body. Underneath the mattress is a box spring of coils which are hand tied eight ways using 160 yards of Italian twine. The coils have a cool looking hourglass design that is often advertised on Aireloom videos.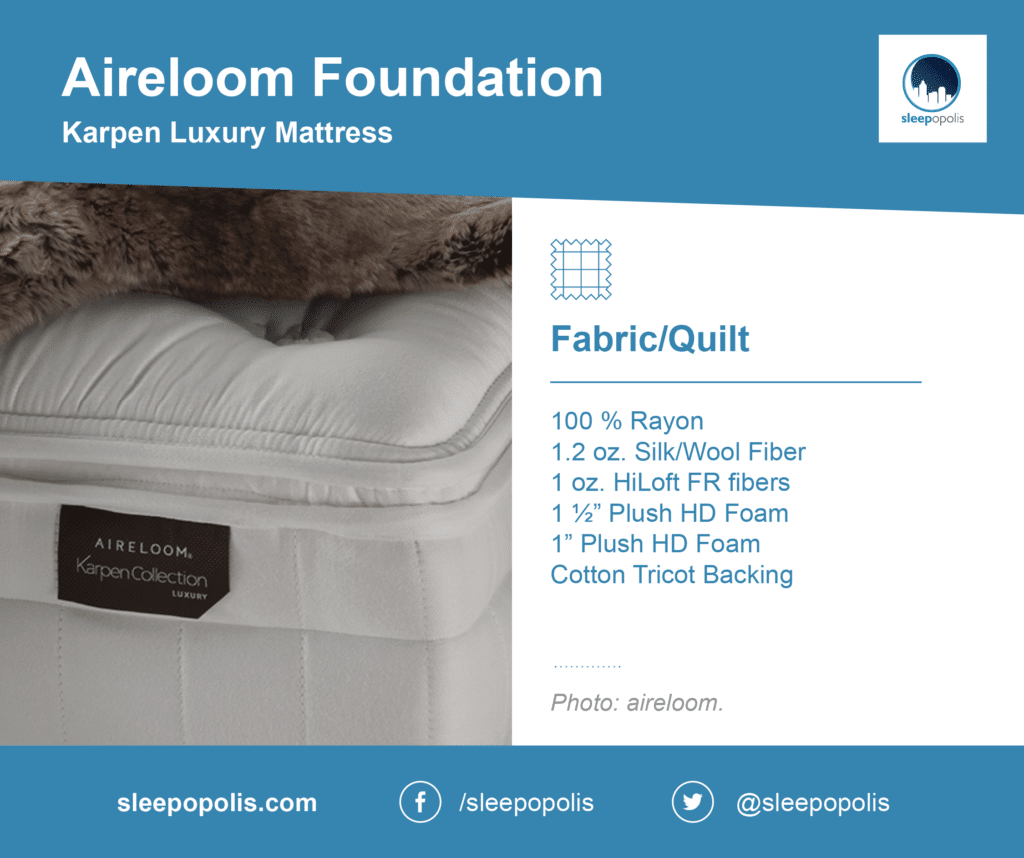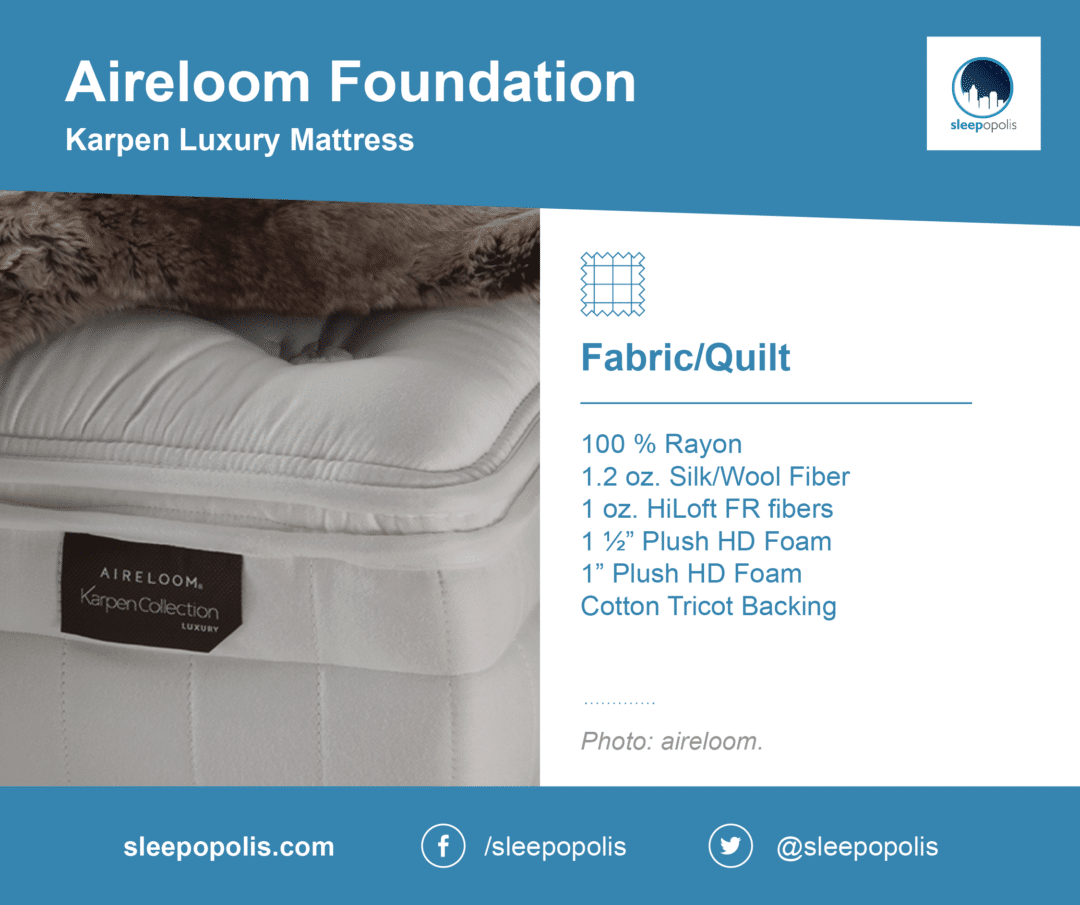 COMFORT LAYER
All three Karpen Collection mattresses have two layers of Talalay latex. This is a foam with two added steps in its process: After the latex is poured, the mold is sealed and the process is continued in a vacuum chamber. The mold is then flash-frozen before it's baked to create a consistent cell structure from top to bottom and edge to edge. Underneath the Talalay is a layer of organic cotton and a layer of Aireloom's Aireluxe foam.
Each model has a different amount of these foam and cotton layers, which provides a different level of firmness.
Bel Aire
The Bel Aire is a tight top spring core soft mattress model and will be the softest mattress out of the three. Its comfort layer consists of 1″ of Luxus latex, 1" of the Talalay latex, 1" of organic cotton, and 1" of plush Aireluxe™. There is also an added bonus of a 1", 5 pound slow recovery visco (memory foam) which is right above the Aireluxe layer. Lastly, this is the thickest mattress in the collection, coming in at 14" in height.
Pacific Coast Luxury Firm
The Pacific Coast Luxury FIrm will have a medium-firmness feel, thanks to two 1″ layers of the Firm Talalay Latex, 1" of organic cotton, and 1" of firm Airluxe. This mattress thickness is 13".
Pacific Coast Firm 
Last but not least, we have the Pacific Coast Firm model, which is — you guessed it — more firm than the Pacific Coast Luxury model. This bed has two layers of the 1" extra firm Talalay Latex, 1" of organic cotton, and 1" of firm Airluxe foam. The entire mattress comes in at 13" thick.
It's worth reiterating that every mattress is handmade from start to finish. Each bed is constructed by dedicated artisans who are said to bring decades of unique experiences to their work and have a knack for attention to detail. Hand-tied coils and hand side-stitching is a rare occurrence in today's mattress manufacturing.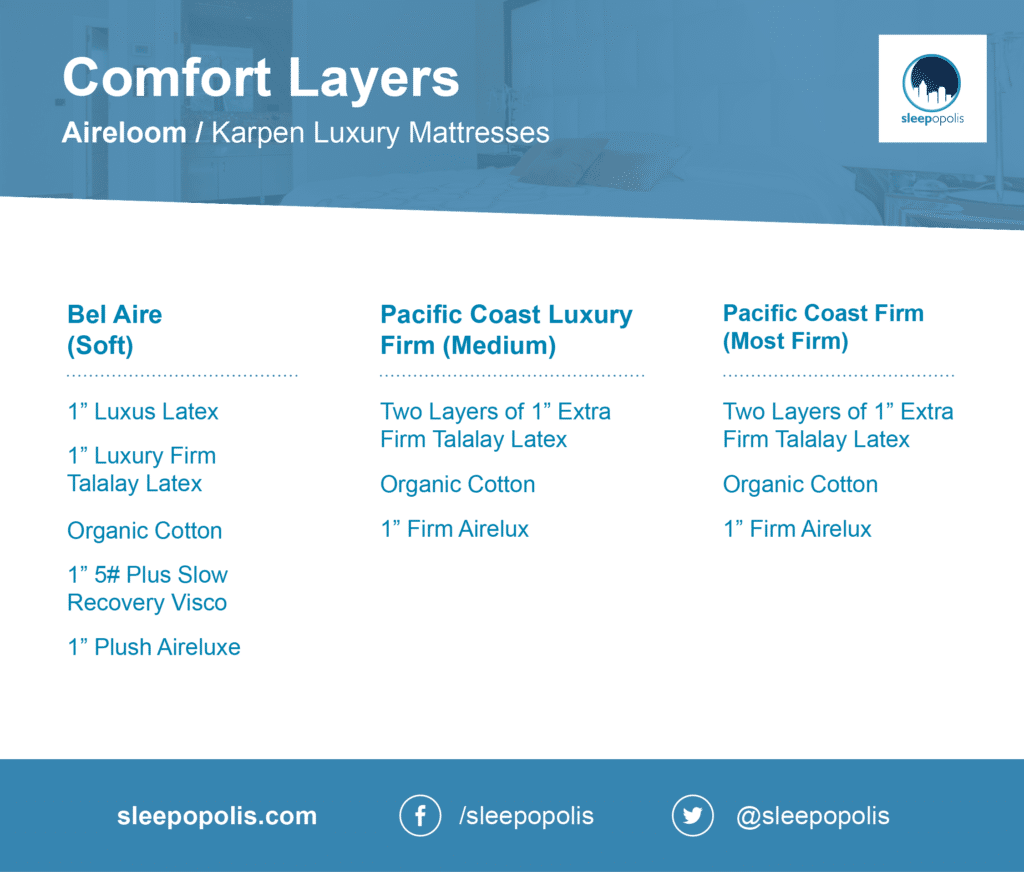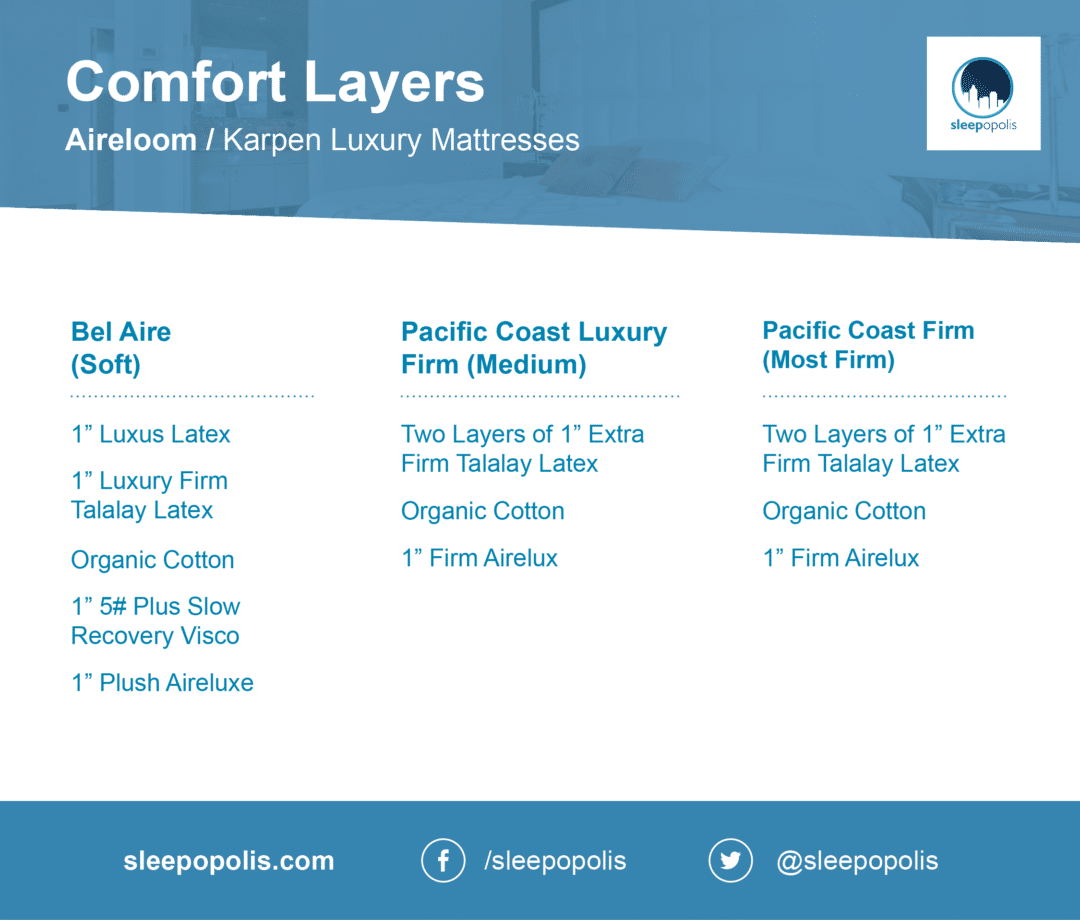 Aireloom Karpen Luxury Mattress Feel
All three beds are going to feel a little different thanks to the various comfort foam layers. The Bel Aire will be the least firm and is a good option for people who prefer a lot of plush softness, and who like to sleep on their back or side. This mattress is also rated well for its ability to relieve pressure, helping to minimize pain and avoid circulation loss in pressure points across the body, like the hips and shoulders. However, because the mattress is on the soft side, reviews and comments suggest it doesn't do a great job at isolating motion, which is when you can't feel a partner (or pet!) move around in the bed alongside you.
As for the Pacific Coast Luxury Firm, this bed will have a medium-firmness feel, and thus is the most versatile of the bunch when it comes to preferred sleep position. Whether you sleep on your back, side, or stomach, many reviews of this bed (on various retailer sites) said they were able to be comfortably supported on the Luxury Firm. If you find you change positions throughout the night, this bed is also great for repositioning with ease. Based on reviews, this bed does a better job at motion transfer.
For the firmest option of the bunch, the Pacific Coast Firm is your best bet. Back and stomach sleepers found this bed to be a great option for them, and it did a good job relieving pressure and minimizing motion control throughout the night. If you prefer only a bit of softness and a lot of support, this would be a good fit.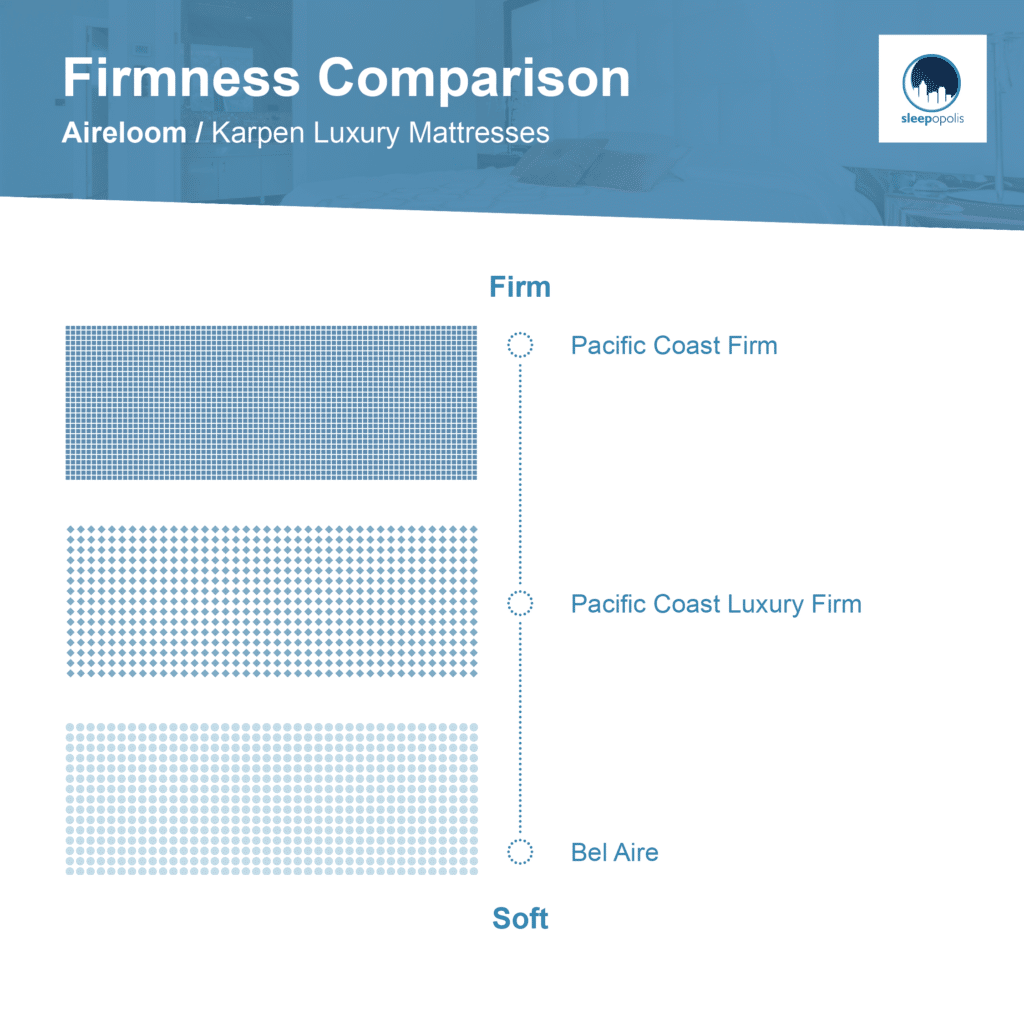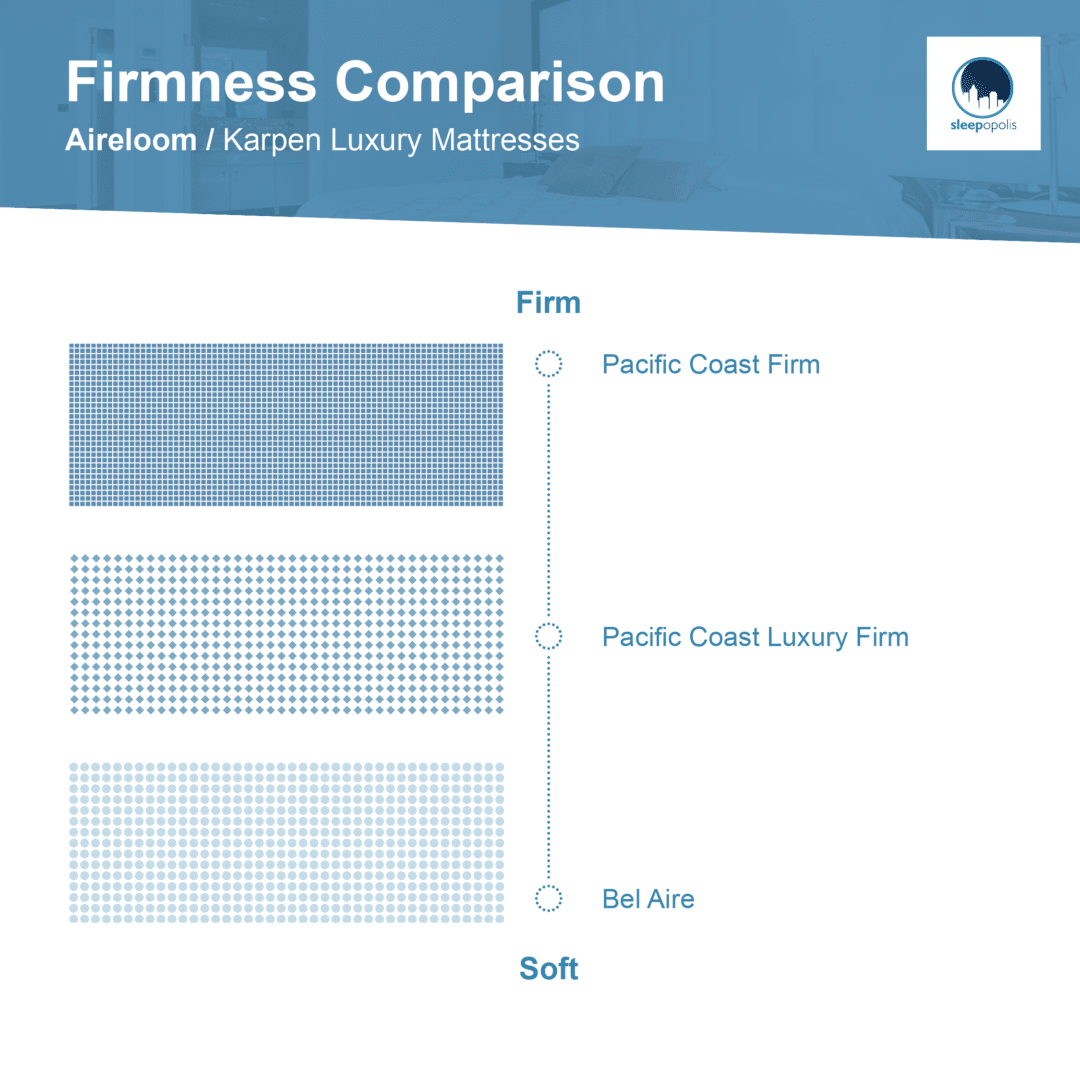 When it comes to the overall feel of all three beds, even though they vary in firmness, they do have one feature that ties them all together: The Patented Aireloom Lift™. There is admittedly not a lot of information about this patented design on their website, but the bulk of it is the natural chamber between the springs and the mattress-top allow every material within the mattress to breathe. In other words, the 'Aireloom lift' increases the areas of low pressure when you're laying on the mattress to give off the feeling of being cradled. However, there are a few complaints about the mattress's durability, and some claim that it sags — more on that in the "common praises and complaints" section.  
Aireloom Karpen Luxury Vs. Others
The supporting core of each mattress in the Karpen Luxury is innerspring. They all come with a tight top and have various levels of firm comfort. So — how would this mattress feel compare to other mattresses on the market?
Let's back up a bit and talk a little about innerspring mattresses in general. These are considered a traditional style of mattress, preceding memory foam and latex mattresses. However, they are still popular bed options, and if designed well, can provide a superb amount of support and comfort.
If you're interested in a luxury innerspring mattress, the Aireloom beds will probably be similar in feel to the Beautyrest mattress, which provides a medium-firm feel and contains both pocketed coil technology and luxury comfort foam. Do note, however, that the foam topper for Beautyrest is memory foam, which provides a different feel from the Talalay and Aireloom foam used in the Karpen Luxury Line. (Memory foam emphasizes deep compression support and body contouring.) However, the Bel Aire has a layer of memory foam, so would match up quite well with the Beautyrest Black bed.
If you want a mattress that is less "luxurious" but still provides that traditional innerspring feel with soft support on top, then check out the Saatva Mattress, which has a coil-on-coil structure to provide good support and help keep your back in a good position.
Additional Need-to-Know's
Each mattress in this particular line is covered by a 15-year warranty. Defective workmanship is one of the leading causes of warranty fulfillment for these beds. Upon request, an in-person inspection of the mattress is fulfilled by an Aireloom rep.

E.S. Kluft & Company handcrafts these mattresses in two American based factories: East coast retailers are supplied from the manufacturing facility in Pennsylvania and West coast retailers are supplied from the manufacturing facility in California.
Common Praise & Complaints
Across multiple sites, here were themes I summarized after reading several reviews from customers about their experience with the Karpen Luxury line:
Those who loved it said:
"Best sleep I have ever had in my entire life." The bed was deemed the "Rolls Royce" of mattresses, so it's no surprise many people have said it's helped them sleep incredibly well. A handful of people spoke to the beds in this line cradling them and providing the right balance of plushness and support.
"Provides the support and comfort that my body needs, especially the back." A handful of people said this bed helped to alleviate back pain. While no mattress can replace medical attention, these Aireloom mattresses are hand tufted, which compresses and secures the upholstery in place to help support the back while eliminating sagging and shifting of upholstery materials.
"There's no off-gas scent." Any bed that uses foam (whether in its core or as a comfort layer) is susceptible to an off-gas scent. This typically fades after unboxing, but it still is an unpleasant first impression. The Aireloom Karpen Luxury beds say they minimize any off-gassing during their curing process, and happy sleepers say they didn't notice any unusual smells when bringing their bed home.
Those with common complaints said:
"It's way over-priced." While these beds have a history of being made for the elite, they definitely are priced very high within the general mattress market. Many people said their mattress was amazing, but still wondered if paying more than $6,000 was worth it. Some questioned if they would be able to receive the same night's rest while saving a few thousand dollars.
"Already sagging at the sides." If you're going to pay a lot, it better be super high-quality. That's what a few people said, and yet they noticed their bed start to sage and the sides and form visible body indentations in less than a year. "When you spend a LOT of money on a royal brand like Aireloom, you expect long-lasting quality," said one reviewer.
"It's hard to find good information online." You need to go to a retail store in order to test out the different Karpen Luxury beds and know how much you're paying. This bed brand is pretty elusive online, and you need to do all of your research in a store. That frustrated a few buyers who wanted more transparent pricing before making a trip over to a retailer.
Is the Aireloom Karpen Luxury Mattress Right for You?
Now that we've broken down the ins and outs of the Aireloom Karpen Luxury line, here are the main reasons this mattress collection might be a great fit for you:
You want something top of the line. Rumor has it John Wayne, Frank Sinatra, and Ellen Degeneres all sleep (or have slept) on an Aireloom. If you know your next bed purchase is truly going to be a luxurious investment, the materials, craftsmanship, and feel of the Karpen Luxury mattresses all place this bed in the "total luxury" category.
You move positions throughout the night. Each bed in the Karpen Luxury collection scored well in "repositioning,' meaning you can move around with ease and the bed will support you. It also scored well on motion control (minus the Bel Aire), so you can move around at night and not disturb your partner.
You experience back and spine discomfort. If you experience chronic aches and pains, a good mattress is one (of many) things you can do to try and ease pain. A handful of Kapen Luxury customers said the bed helped support their back and spine, helping to relieve pain.
Here's an individual recommendation for each Karpen Luxury mode:
Bel Aire: Best for back or side sleepers who prefer soft beds and enjoy the contouring qualities of memory foam.
Pacific Coast Luxury: Best for all sleep positions, and especially those who move around at night. If you like medium-firm beds, this is your best option.
Pacific Coast Firm: Firm bed lovers, this is for you. Especially good for back and stomach sleepers, and a good option if you sleep with a partner and are looking for a mattress that isolates motion.
Aireloom Karpen Luxury Mattress Summary
All in all, the Aireloom Karpen Luxury line is the most luxurious out of all Aireloom mattresses (with a price-tag to prove it). If you're in the market for a handmade bed that uses top materials and impression construction, you probably can't go wrong with an Aireloom. However, make sure you read the fine-line details about the warranty to make sure your mattress lasts as long as it should for the price you're paying.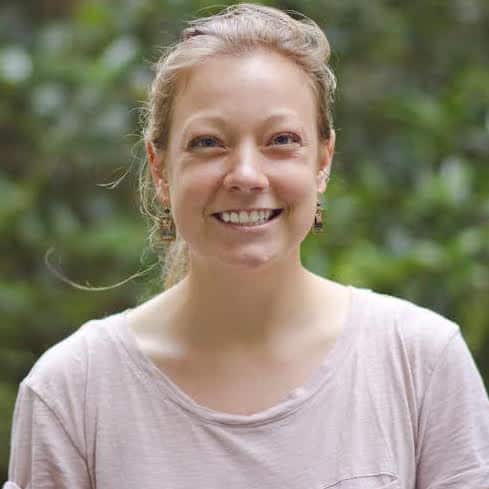 Laura Schwecherl
Laura is a journalist with nearly a decade of experience reporting and covering topics in the health, fitness, and wellness space. She is also a marketing consultant, where she works with impact-oriented startups to build marketing and editorial strategies. Outside of work, you can find her reading Murakami novels, writing amateur poetry, or trail running in her hometown, Boulder, Colorado.