Have you ever envisioned sleeping on a mattress that does not contain any foam or coils? Well, now you can. Introducing the Airweave mattress, built 100% foam- and coil-free. The Airweave mattress is constructed from the company's proprietary "Airfibers".
Will Airweave be as impressive as it's made out to be? Continue reading to find out!
Short on time? Click here to slide down to the review summary.
Construction
Layers
The Airweave mattress is an 8.5″ mattress built from two layers of airfibers. The airfibers are developed from risen fibers. They are somewhat similar to a slightly thicker fishing line that has more of a rubberized type of a feel to it.
This mattress does not include any foam or coils. Constructed from thousands of interwoven airfibers, the Airweave mattress contains two airfiber blocks that provide comfort and support for sleepers.
These airfibers are designed to create a responsive feel with great cooling, very minimal sinkage, and an ultra supportive feel.
Cover
The cover of the Airweave mattress is a combination of polyester and cotton. The top piece of the cover contains 55% polyester and 45% cotton. As you move down to the sides of the cover, they're designed thin in order to allow individuals to sleep closer to the airfiber core.
This creates a higher level of support all around. Additionally, the thin, polyester design paired with the highly breathable interior allows for high levels of airflow in and out of the mattress. Therefore, the surface of the mattress is able to remain cooler and avoid hot spots.
One aspect of the cover that left something to be desired is simply the lack of elasticity. A combination of excess material and lack of elasticity can result in material bunching together.
Firmness, Feel, & Support
The Airweave mattress brings home an ultra firm feel, landing at a 9-9.5 out of 10 on the firmness scale, where 10 is the most firm. This mattress is certainly designed for the sleeper who enjoys a firmer style of mattress.
To start with, let's discuss the comfort dynamic of the Airweave mattress. As I first laid on it, I noticed the mattress' extremely firm feel. It was immediately clear that this is the most firm mattress I have ever tested.
BEST:  What's the best firm mattress?
Instead of sinking into the mattress, the strong push back of the Airweave kept me floating on top. Although I am a lighter sleeper (140 pounds), compressing the Airweave more than a couple of inches a tough task. The materials used in this mattress are extremely responsive and contain a strong degree of push back at all points on the mattress.
With this firmer feel came a high level of support, especially for stomach and back sleepers. As a stomach sleeper, the mattress was able to support my lower back without any issues, helping to maintain consistent spinal alignment. Support was similar when lying on my back also.
However, for side sleepers I'm hard pressed to imagine many sleepers that would feel comfortable and supported. The level of firmness and push back is simply too severe, such that very little contouring support is likely to be achieved (which is essential for side sleepers, in my opinion). However, larger weight side sleepers or those who absolutely love an ultra firm feel may enjoy the support dynamic.
All that said, while I did try to sleep on the mattress on several occasions, the mattress was simply far too firm for my body, and I was unable to sleep on this mattress. While I was well supported, the level of push back and firmness created numerous pressure points along my body. I was uncomfortable on my side, back, and stomach, to the point I was unable to fall asleep.
As a result, my test of the Airweave is a bit different than other mattresses I've reviewed (since I was able to sleep on those others through the night) and based around my experiences on extended waking resting sessions on the mattress.
GUIDE: Mattress firmness guide
Edge support on the Airweave was an area where the mattress performed very well. The firmer feel is a direct correlation to the stronger edges. These stronger edges could be beneficial for couples during amorous activities, as well as daily activities, such as sitting on the edge of the mattress to get dressed, watch television, etc.
Next, the Airweave mattress offers a good level of bounce as its core is quite responsive. As a mattress that does not contain any coils, I was impressed by the high level of bounce it offered. Once again, this bounce can be a plus for couples when engaging in amorous activities, as well as those individuals who struggle to get out of bed. This high level of bounce allows sleepers to move around with ease and not feel stuck in the mattress.
One of the most impressive attributes about the Airweave was the low level of motion transfer. After seeing how the bounce performed, I expected the mattress to show much more motion transfer. Instead, the core of the mattress absorbed a vast majority of the energy created by one side, almost immediately. This translated into a low level of motion being transferred across the mattress.
Last but not least, the design of this mattress allows for optimal airflow, which is a major plus in terms of cooling. The firmer feel also creates more of a floating feel, helping sleepers avoid sinking too deeply and feeling trapped, which can lead to a warmer sleeping environment. In my opinion, most sleepers will find that the Airweave sleeps fairly cool at most times.
Sinkage Tests
All mattress reviews on Sleepopolis go through a short series of sinkage tests. These tests are designed to provide sleepers with insight on how the mattress will perform under various conditions, pressures, and positions.
Lying on back – While lying on my back with all of my weight spread evenly across the mattress, I saw 0.5″ of sinkage.
Lying on side – While lying on my side, I saw 1″ of sinkage.
Sitting on the edge (conservative) – While sitting on the edge but slightly back on the mattress, I saw 1″ of sinkage.
Sitting on the edge (aggressive) – In a more aggressive sitting position with all of my weight directly on the edge, I saw 1.5″ of sinkage.
Standing in the middle – With all of my weight standing on one point of the mattress, I saw 2.5″ of sinkage.
Keep in mind, sinkage results may vary based on body weight and body type. As a reference point, I weigh 140 pounds.
Pricing
| Size | Price |
| --- | --- |
| Twin | $1,000 |
| Twin XL | $1,100 |
| Full | $1,200 |
| Queen | $1,300 |
| King | $1,500 |
| California King | $1,500 |
Other Details
Shipping – Free shipping within the United States. Most orders will arrive in 10-14 days. White-glove delivery is also available for an additional $40.
Warranty – 10 years
Trial Period – 60 nights
Weight – A Queen-size Airweave mattress weighs 77 pounds.
Should I buy the Airweave mattress?
I would recommend the Airweave mattress to sleepers who:
Want an ultra firm mattress – The Airweave mattress brings home an ultra firm feel, landing at a 9-9.5 out of 10 on the firmness scale, where 10 is the most firm. This is the firmest mattress Sleepopolis has ever tested.
Want a cool mattress – Built from a single core layer of interwoven airfibers, the Airweave mattress is able to breathe well, helping to maintain a cooler sleeping surface. Additionally, this mattress tends to provide more of a buoyant, floating feel. By not sinking into the mattress, airflow is improved, which also aids in maintaining a cooler top layer.
Want a mattress that does not use any foam or coils – The Airweave mattress is the only mattress I have tested to date that does not contain any foam or coils. That said, the Airweave fibers are extremely responsive and create a high level of bounce with a low level of motion transfer. Although there are no foam or coils, the mattress still exhibits characteristics similar to those of an ultra firm hybrid mattress design.
For more information on the Airweave mattress, visit Airweave.com.
Incredibly Firm, Unique Materials
Materials

Comfort

Support

Value

Cooling

Edge Support

Sex

Smell

Company

Refunds

Trial

Warranty
Summary
The Airweave mattress is quite a unique product. Built from thousands of interwoven airfibers, the Airweave mattress does not contain foam or coils. This mattress is strictly built from the airfiber core. A very firm feel is combined with good support, fast response, and a great degree of cooling. All things considered, I would recommend checking out the Airweave mattress if you're in the market for an ultra firm mattress that offers more of a floating feeling, as compared to the more traditional level of sinkage and hug.
The following two tabs change content below.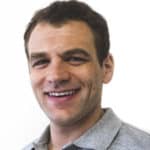 Logan Block
Logan is the director of content at Sleepopolis and the main mattress man around these parts. He's a big fan of sleeping in many sleeping positions and weightlifting.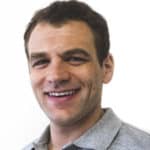 Latest posts by Logan Block (see all)