Have you been searching for a good night's sleep but can't seem to find it? Look no further. The Eight Sleep Mattress and sleep tracking technology has just been released and is ready to change the way you sleep! Eight Sleep has designed a mattress with intentions of meeting a wide array of sleeper's needs, then improving their sleep with their newly developed sleep tracking technology.
Can Eight Sleep's combination of universal comfort mattress and sleep tracking technology layer pass the Sleepopolis test? Continue reading below to find out!
In a rush? Click here to jump down to the review summary.
Construction
Layers
The Eight Sleep Mattress is a 10″ all foam mattress built from four separate layers.
Top layer (cooling & comfort) – 2″ of reactive poly foam. The top layer offers both the cooling and initial level of comfort for the sleeper. By using a more responsive foam as the top layer, sleepers are able to benefit from the comfort features of a memory foam while still receiving a faster response time and no stuck feeling. This layer has a density of 3.0 PCF (pounds per cubic foot).
2nd layer (contour) – 2″ of memory foam. By placing a layer of memory foam underneath the more responsive top layer, this layer is able to provide that memory foam contour without leaving the sleeper feeling like he or she is stuck. This layer has a density of 4.0 PCF.
3rd layer (support) – 2″ transition foam. The third layer is designed to provide support for the sleeper as well as act as the transitional layer between the top comfort foams and denser base layer. This layer has a density of 1.8 PCF.
Bottom layer (foundation) – 4″ high density support foam. This layer is able to provide some of the deep compression support for the sleeper, but mainly acts as the foundational base for the mattress. A denser base layer helps to maintain the shape and integrity of the mattress. This layer has a density of 1.8 PCF.
Cover
The cover of the Eight Sleep Mattress is nice, but fairly simple. Built from 100% polyester, this cover is able to breathe well, maintain its elasticity, and provide a softer feel for the sleeper. Additionally, the cover is thin. I believe this design was implemented in order to achieve the best results from the Eight Sleep's sleep tracking technology.
When it comes to the aesthetics of the cover, there's not much to discuss. The cover contains an all white color scheme with small pores that run along the top part of the cover. Aside from these two small notes, there is not much else to say about the cover.
That said, if you order the mattress before ordering the sleep tracker, then you will be placing a tracking "sheet" on top of the mattress anyway. If you decide to order the Smart Mattress by Eight Sleep, then the cover will actually serve as your tracking system. Therefore, Eight Sleep decided to avoid creating a fancy cover because they want their focus to be on the technology instead of the aesthetic appeal of the mattress.
Firmness, Feel, & Support
The firmness of this mattress is about middle of the road, coming in at a 6 out of 10 on the firmness scale, where 10 is the most firm.
The Eight Sleep mattress offers a well-rounded, balanced feel. The sinkage and hug mesh well with the levels of support and pressure relief. The mattress creates a nice combination feel between responsiveness and memory foam hug. The top responsive layer works well with the memory foam core, creating an underlying hug and contour, but still remaining responsive with a bit of bounce from the top layer.
Next up, let's talk about support. Throughout my sleep test I was able to sleep on my stomach, back, and side and felt equally supported in all three positions. The combination of responsive top + memory foam core + transition foam created enough contour and hug that I was comfortable on my side, but not so deep that I couldn't sleep on my back or stomach. Additionally, having 4″ of comfort foam + 2″ transition foam helped to ensure great comfort and support for light, average, and heavy sleepers.
With regards to cooling, this mattress did a fine job. The reactive top layer helps to avoid an enveloped feel within the mattress, therefore avoiding heat build up or warm spots around the body. Additionally, the thin and porous cover allows for improved breathability. It is not the absolute most cool mattress I have tested, however, sleepers with typical cooling needs should not find it uncomfortably warm.
Bounce and motion transfer were a couple of areas I wanted to touch on as well. With the more reactive poly foam top layer, the Eight Sleep Mattress has an enjoyable level of bounce. This level of bounce is certainly more than what you'd see from an all memory foam mattress, but less than you would get from an innerspring, latex, or hybrid mattress.
That said, motion transfer in this mattress is not necessarily the best. Due to the top layer's response and bounce, there is a little more motion transferred across this mattress. It is not an overbearing level of motion by any means, but sleepers who wake easily may want to keep this in mind when considering this mattress.
Eight Sleep Technology
Eight Sleep has developed a sleep tracking technology designed to track sleep performance, provide insights into how sleepers can improve their sleep habits, and also raise the mattress to the level of fully integrated smart home technology. With several features, such as a smart alarm, data and trends, home integration, a white noise player, and bed warming, Eight Sleep has loaded their smart protector with lots of goodies.
The sleep tracker was able to measure the exact time I fell asleep, as well as times I woke up, tossed and turned, and hit my REM cycle (deep sleep). After a few days of tracking your sleep you can begin to see trends develop. I tried to use this information to slightly adjust my sleep habits.
For example, my wife usually gets up an hour before I need to. However, when she gets up, her rousing also sends me into wake-up mode. Even though I am lying in bed, I'm not getting any extra significant rest at that point. So I am trying to get out of bed a little sooner instead of futilely attempting to get an extra hour of sleep.
One important note about the Eight Sleep smart tracker: it will change the feel of your mattress a bit. Whether you are adding the Eight Sleep tracker to a new Eight Sleep mattress, your old mattress, or something entirely different, you will experience a change in feel. Currently, I've only tested the Eight Sleep smart tracker on the Eight Sleep Mattress (which I also tested without the tracker installed), and it definitely increased the firmness slightly and also made the hug and overall feel of the mattress a little more subdued.
For some sleepers, this could be a deal breaker; for others, less so. I think it will be most impactful in cases where a sleeper wants a very specific type of feel, be it memory foam, latex, coil, or hybrid, and adding the tracker negates and minimizes the extremes of each of those comfort dynamics. You'll have to decide for yourself if having access to your sleep stats is worth the potential impact on the feel of the mattress.
Features of the Technology
As mentioned above, Eight Sleep has a few different features available with their sleep tracking system. The most important feature is data. The data and trends feature is Eight Sleep's way of tracking your sleep, providing you with insights into your sleep patterns, and, ultimately helping to improve your sleep. Their goal in the long run is to improve sleep without having to make physical changes to the mattress, but through their app and sleep tracker itself.
Some of the other features, such as the smart alarm, are quite interesting. The smart alarm is designed to wake you up when you are already naturally roused and nearly awake, but especially to help you wake up outside of a REM cycle. The smart alarm will wake you up within 30 minutes of your alarm (but not after the alarm time). This gives it the flexibility to target a more ideal wake-up time.
There is also a built-in bed warmer. This behaves much the way any heated mattress pad would. You can manually turn the bed warmer on, set it on a timer, or even set a schedule (i.e., perhaps you want to wake up at 8 a.m. to a warm bed…just set a schedule to turn on a bit before 8!)
The Eight Sleep smart bed system also includes:
IFTTT integration – Allows you to connect any other smart home product to the Eight Sleep Mattress.
White noise player – Includes 10 different white noise tracks.
Energy experiment – Monitors energy inputs (sleep, caffeine, exercise, alcohol, etc.) to help you better understand your sleep.
Installation of the Eight Sleep Technology
Installing the sleep technology was a painless process. Once the mattress was on my bed frame, I placed the Eight Sleep sleep tracker sheet over the mattress. Following this step, I had to clip in one end of the sleep tracker to the upper left hand corner of the sheet and plug the opposite end into the wall outlet.
Bam! The sleep tracking system was installed. The only remaining piece of the puzzle was to download the app and fill out the company's short questionnaire. This process was quite easy and took about 5 minutes.
Sinkage Tests
All mattress reviews on Sleepopolis go through a short series of sinkage tests. These tests are designed to provide you with insight on how the mattress will perform under various conditions, pressures, and positions.
Lying on back – While lying on my back with all of my weight spread evenly across the mattress, I saw 2″ of sinkage.
Lying on side – While lying on my side, I saw 2.5″ of sinkage.
Sitting on the edge (conservative) – While sitting on the edge with my butt slightly back on the mattress, I saw 4″ of sinkage.
Sitting on the edge (aggressive) – In a more aggressive sitting position with all of my weight directly on the edge, I saw 5″ of sinkage.
Standing in the middle – With all of my weight standing at one point on the mattress, I saw 5.5″ of sinkage.
Keep in mind, sinkage results may vary based on body weight and body type. As a reference point, I weigh 140 pounds.
Pricing
| Size | Price |
| --- | --- |
| Twin | $525 |
| Twin XL | $625 |
| Full | $750 |
| Queen | $850 |
| King | $950 |
| California King | $950 |
Other Details
Shipping – Free shipping within the United States, most orders will arrive in less than 7 days, compressed in a box
Warranty – 10 years
Trial Period – 100 nights
Discounts – $50 off any Eight mattress with code SLEEPOPOLIS; $35 off Eight Sleep smart protector with code SLEEPOPOLIS35
Made in the USA
Should I buy the Eight Sleep Mattress?
All things considered, the Eight Sleep Mattress brings a solid mattress and intriguing technology layer to the table. The mattress itself rides a fine line of great hug and contour from the memory foam core, but still has a nice level of response and bounce due to the top layer. The two work together to create a really nice feel.
The option to add the technology layer is a nice extra. The sleep tracking trends allow you to analyze your sleep, identifying habits and behaviors that could be changed to improve your quality of sleep.
I would recommend the Eight Sleep mattress to sleepers who:
Want a medium firm mattress – The Eight Sleep Mattress brings home a 6 out of 10 firmness, where 10 is the most firm. As a medium-firm mattress, Eight Sleep falls into the "universal comfort" category.
Want a responsive mattress – With a top layer of responsive poly foam, the mattress provides a degree of memory foam-like hug and contour, but still creates a nice level of response. In this way, you never feel stuck or overly enveloped by the foams.
Want a balanced feel – The sinkage and hug are extremely well balanced with the support and pressure relief. In addition, the response times of the foam help to balance out the feel.
Want a sleep tracking system – By adding a sleep tracking system, Eight Sleep is able to monitor your sleep data and trends, helping to improve the quality of your sleep. The tracking system also allows you to keep up with your own sleeping patterns through the company's app. By analyzing your own data, you also have the ability to change your sleep patterns and find out what is keeping you from sleeping well. If you're someone who is constantly tired throughout the day, this sleep tracking system could very well help answer your questions and improve your sleep.
For more information or if you are ready to buy check out EightSleep.com.
Smart & Supportive
Materials

Comfort

Support

Value

Cooling

Edge Support

Sex

Smell

Company

Refunds

Trial

Warranty
Summary
The Eight Sleep mattress is comfortable, supportive, responsive, and an overall good value. Yet, the Eight Sleep technology is what really puts this mattress in more of a unique space. By adding the sleep tracking technology, designed by Eight Sleep, to the mattress, sleepers are able to receive their sleep data and trends. This information works to help sleepers improve their sleep while also sending data back to Eight Sleep so they are able to make necessary changes to their mattress and technology. There are a few other features tied into the sleep tracking system, so if you're interested in improving sleep and testing out the newest sleep tracker on the market, Eight Sleep is a fine option.
The following two tabs change content below.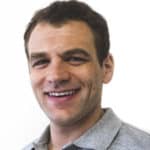 Logan Block
Logan is the director of content at Sleepopolis and the main mattress man around these parts. He's a big fan of sleeping in many sleeping positions and weightlifting.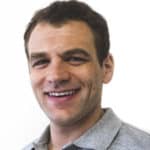 Latest posts by Logan Block (see all)