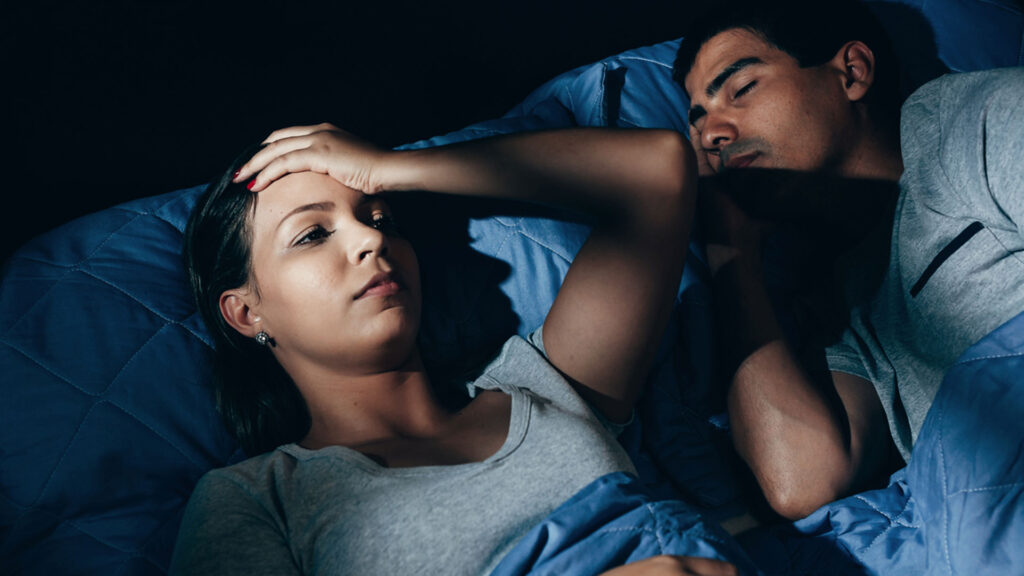 It's the least likely thing we'd connect to having a solid, exciting sex life. But it turns out that, yet again, sleep has a major impact on all facets of our lives, including our sexual relationships. A new study (1) published in August in Sleep Epidemiology concluded that sexual function was impacted by insomnia and Obstructive Sleep Apnea (OSA). 
It's not the first time researchers have studied this connection — we already knew sex is more effective than sleeping pills for some, for example, and that having the right mattress can improve your sex life. But this time, researchers sought to understand more about how post-menopausal women's sex lives are impacted by insomnia. 
What the New Study Tells Us About Sleep and Sexual Desire
The participants either had insomnia, OSA, or low sexual function, and all of them had poor sleep quality. Women with OSA and insomnia had more issues with sex, compared to the OSA group. Overall, people with insomnia and OSA had low scores for sexual function. 83 percent of the women studied had sexual dysfunction symptoms. In general, sexual dysfunction for women is defined as "persistent, recurrent problems with sexual response, desire, orgasm, or pain, that distress you or strain your relationship with your partner," Mayo Clinic reports.
The researchers go on to explain that in post-menopausal women (the average age of menopause is 47), 31 percent of women have insomnia, defined as difficulty falling asleep, waking too early, or having poor quality of sleep. Additionally, OSA prevalence increases during the transition into menopause, reaching almost 44 percent of women in this age group. Women with each of these issues have reported redacted sexual satisfaction and challenges in their sex lives across the board, the researchers add. They call out how little research there is about this, and hope to improve access to information on the topic.
Women might wonder why, or how, sleep would have anything to do with their sex lives. Researchers concluded that the connection is that during poor sleep, there are physiological processes that take place, including ones that regulate the body's homeostasis — including immune response, hormone secretion, cognitive processes, body temperature, and others. Women who slept 5 or 6 hours per night had lower odds of partnered sexual activity than those with more sleep, at 7-8 hours. They point to that relationship between sleep and hormones as essential in this research.
But, like with anything related to the body, the cause and effect can be a bit cyclical. In this case, hormones from menopause can cause sleep disruptions, and sleep disruptions can lead to hormone issues that impact sex lives. For example, women with hot flashes and night sweats have more insomnia. OSA and insomnia are also linked to developing additional issues, some of which can also impact your sex life, such as depression, obesity, cardiovascular issues, and metabolic dysfunction.
Next Steps For Women Experiencing These Issues
If all this is making menopause and beyond sound downright terrible for your sex life, know that experts are also working hard on solutions, including:
Chatting with your primary care provider or gynecologist about menopausal symptoms, to prevent sleep disruption
Reach out to your PCP or sleep doctor ASAP if you suspect OSA symptoms, such as snoring or night waking caused by breathing issues, or tiredness in the morning
Prioritize getting 7 – 8 hours of sleep at least, by observing sleep hygiene practices and a consistent bedtime
As researchers concluded, finding answers and providing integrative support is essential, as both sleep and sex are significant contributors to self-esteem, and quality of life, they wrote.
Sources

1. Isabela A. Ishikura, Leandro Lucena, Monica L. Andersen, Sergio Tufik, Helena Hachul,
"The relation of insomnia and obstructive sleep apnea on sexual function and climacteric symptoms in postmenopausal women," Sleep Epidemiology, Volume 3, 2023.