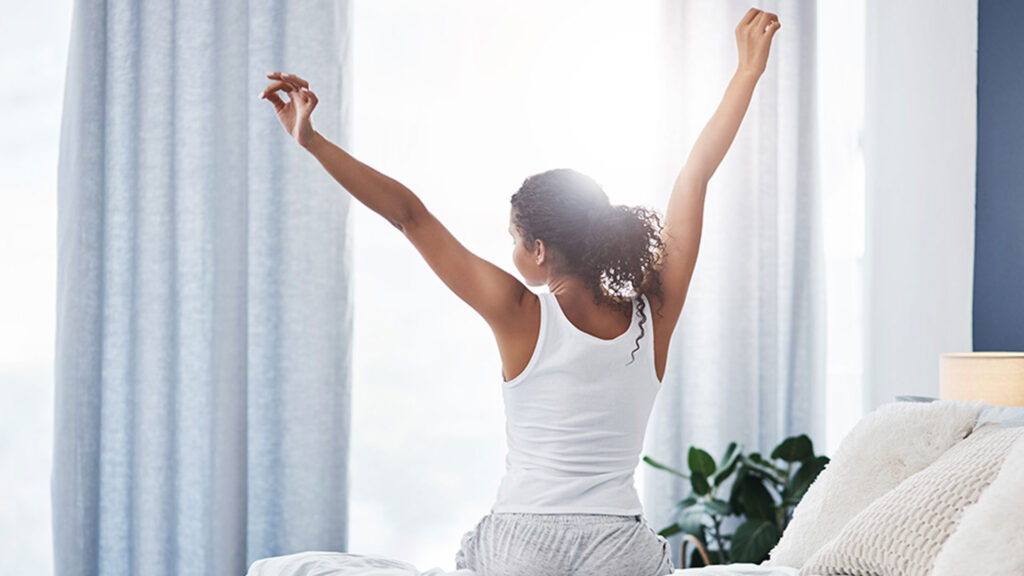 Sharing your morning routine has become a popular way to connect with an audience, whether that be on YouTube, TikTok, or even a morning talk show. Hosts Al Roker, Sheinelle Jones, and Dylan Dreyer of Third Hour Today recently shared their own morning routines before work, leaving viewers with some questions.
An alternative to popular after work routines, 5 to 9 videos have become a growing TikTok trend highlighting a creator's morning routine before work. Lots of these routines focus on getting the most out of the morning by working out, journaling, and making a nutritious breakfast. But for the Third Hour Today hosts, they don't have as much time in their mornings. 
"I literally wake up, brush my teeth, and leave the house — I don't linger," Jones said on the show. "This morning, for example, I wanted to be here by, I think I said 5:45 a.m. So I set my alarm for 5:25 a.m. and I'm out of the house by 5:35 a.m." (1)
Talk about a fast morning routine, but it gets the job done. Dreyer agreed with Jones saying, "I'm the same way, it's 15 minutes, I can get up, brush my teeth, wash my face, make coffee, and I'm out of the house." (1)
Dreyer joked that when she's subbing in for Roker she'll be waking up at 4:15 a.m., but when it's just her shift she'll enjoy sleeping in and waking up at 6:15 a.m.
Meanwhile, Roker's schedule more closely resembles the typical 5 to 9 videos. He normally wakes up around 4:15 a.m. and will leave his home around 6:00 a.m. for work.
In those two hours he's making himself breakfast, having a conversation with Don Tsouhnikas, their meteorologist, and then getting dressed to head out the door. To enjoy the morning, Roker prepares for the upcoming day by laying his clothes out the night before. (1)
One thing none of the hosts have in their morning routines, a morning shower. The comment section was quick to call the hosts out, with some commenters expressing concern while others tried to figure out their shower situation. 
"How do you leave your house without a shower?" one commenter wrote. Another commenter theorized that there must be showers at the studio. (1)
Another possible conclusion: The hosts could be night time shower people. I imagine waking up as early as 4:15 a.m. the majority of days would turn anyone into a nighttime shower taker. 
How to Energize Your Morning
If you want to appear as energized and cheery as the Third Hour Today hosts, Sleepopolis' director of sleep health Shelby Harris shares some recommendations on how to wake up refreshed. 
Consistency is key. 
Getting enough sleep routinely helps your body know when it's time to wake up, but Harris explains this process is more about progress, not perfection, so be gentle with yourself.  
Limit alcohol within 3 hours of bed.
If you like to wind down with a glass of wine before bed, this could negatively impact your quality of sleep. 
Quality over quantity at first. 
If you're constantly tossing and turning or waking up to use the bathroom, your sleep isn't as restorative as it could be, Harris explains. If you feel you can't get quality sleep no matter what you do, talk with your doctor about a potential sleep study. 
Get light in the morning upon awakening. 
Getting light upon waking up will help your body know when to fall asleep at night. 
Wind down 30 to ideally 60 minutes before bed (without screens)!
Harris says to think about sleep like a dimmer switch versus an on-off switch. Instead of looking at a screen, she suggests reading, listening to a podcast, meditation, coloring, or anything relaxing for you in dim light.
Sources

Today Show. TikTok. July 25, 2023. https://www.tiktok.com/t/ZT8LSvpPV/.

Harris, Shelby. Personally Interview. August 2023.