For combination sleepers and those who toss and turn during the night, a supportive all-position pillow is essential. But when you're picking the perfect pillow, there's a lot to consider! Like, is it eco-friendly? Breathable? Organic? Well, let's take a look at a pillow that meets all those specs — the Birch Living Pillow.
Editor's Note: This specific model from Birch is no longer available. To see pillows currently offered by Birch, take a look at our Birch Organic pillow review or Birch Ec0-Rest pillow review.
Birch Organic Pillow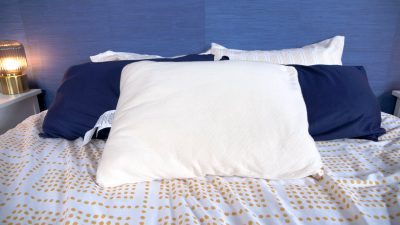 The Birch Organic pillow is a GREENGUARD Gold certified product that is a great for back and side sleepers.
Sleepopolis Score
4.10 / 5
Read Full Review
Brand Snapshot
Birch Living is on a mission to help eco-friendly sleepers find the mattress and accessories that fit their unique needs. Every product the brand offers was crafted with the environment in mind, and is sustainably and ethically sourced. Not to mention, Birch donates 1% of all sales to the National Forest Foundation!
We at Sleepopolis have officially tested and reviewed the Birch mattress and the Birch mattress topper. All that's left to do now is test the Birch pillow, so let's check it out.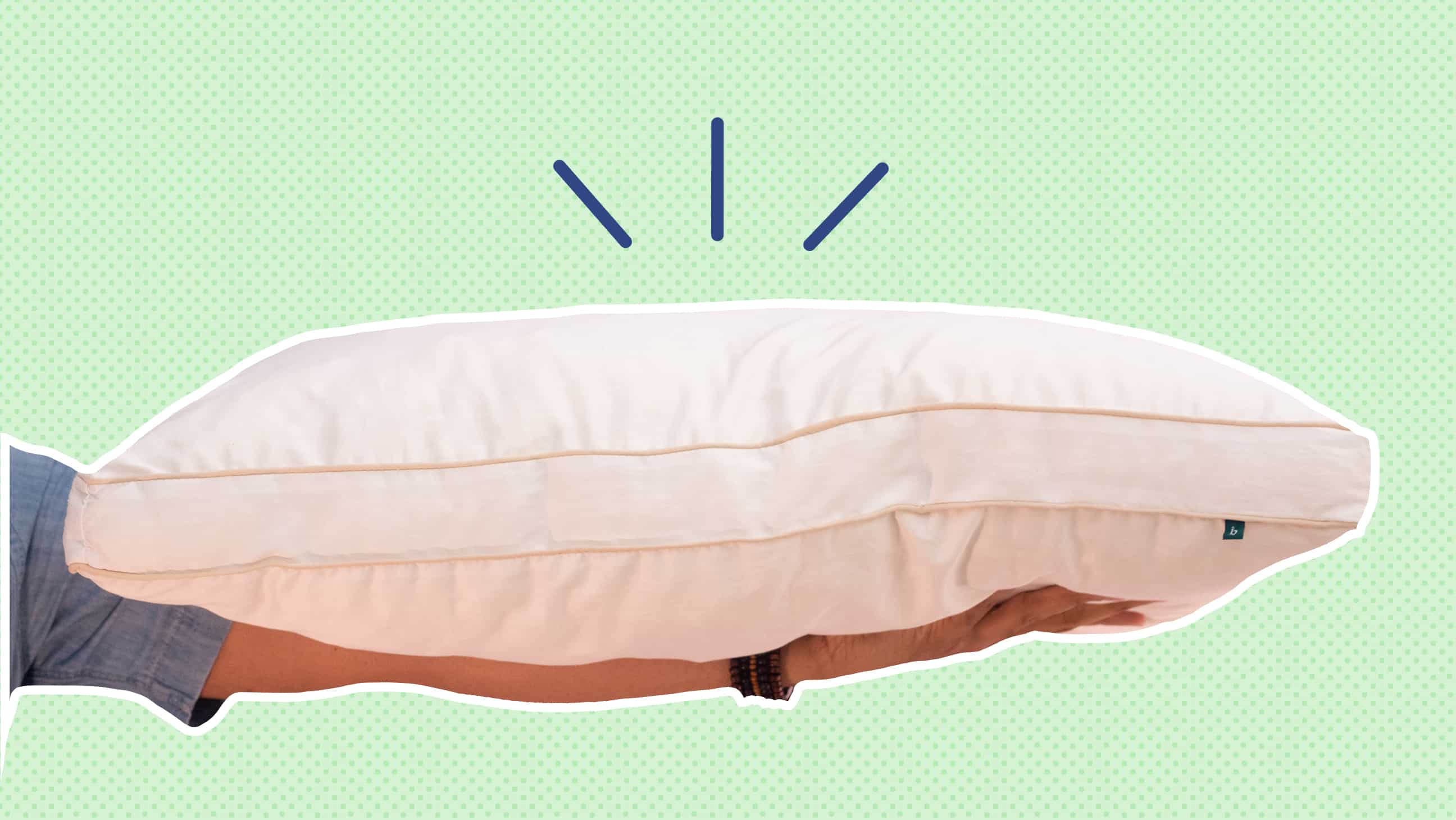 What Is The Birch Pillow Made Of?
The cover of this pillow is made from 100% certified organic cotton, which means that no genetically modified cotton seeds or synthetic pesticides were used in the making of this cover fabric. Additionally, it feels super soft to the touch.
Inside the Birch pillow is a blend of wool and shredded Talalay latex. As I said, this pillow is designed to meet the needs of all sleep styles and positions… but why fill a pillow with wool and latex?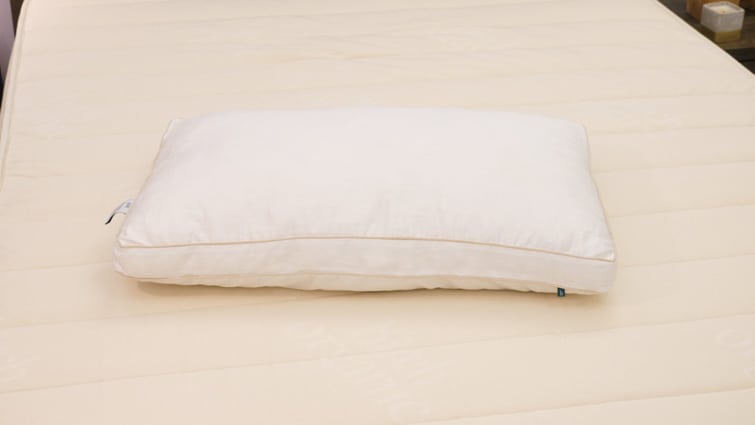 Well, even though wool has a reputation for keeping people warm, it's actually thermoregulating, meaning it adapts to your body's temperature. When you get too hot, the wool fibers dissipate heat in order to cool you down; and when you're cold, wool serves as an excellent insulator. Wool is also hypoallergenic, sustainably sourced, and biodegradable, so it's a good material for sleeping green.
The Birch wool in this particular pillow is exclusively sourced from New Zealand farms that promise its sheep are free range, and pasture fed. Personally, I'm comforted by the fact that no animals were harmed in making this sleep accessory!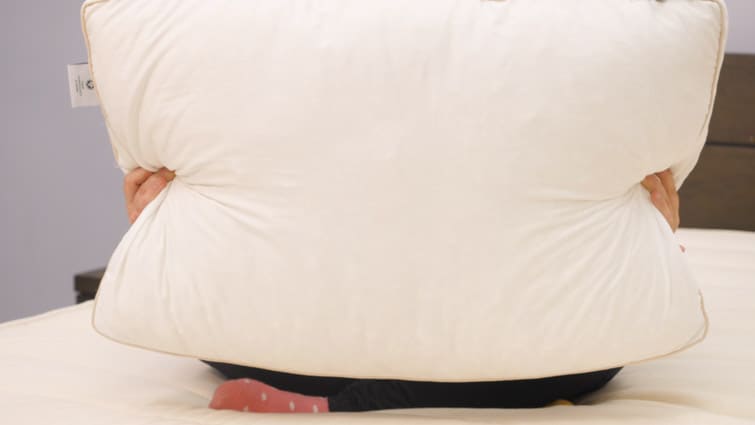 By now you might be wondering, "But what about the shredded latex?" Worry not — Talalay latex is also a sustainably sourced material, derived from the rubber tree (in this case, rubber trees from Southeast Asia). It's also hypoallergenic and antimicrobial too, so those who are particularly bothered by dust mites or other allergens might be especially compatible with this pillow.
See what I mean? Between the organic cotton cover, ethically sourced wool, and natural Talalay latex, this is definitely an Earth-friendly pillow. But what does it feel like, and is it really an all-position pillow? Let's investigate.
Birch Organic Pillow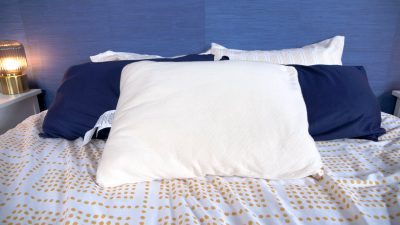 The Birch Organic pillow is a GREENGUARD Gold certified product that is a great for back and side sleepers.
Sleepopolis Score
4.10 / 5
Read Full Review
What Does The Birch Pillow Feel Like?
I've tested many Talalay latex pillows, and they all have one thing in common — a quick response to pressure. The Birch pillow is no exception, offering a bouncy feel that lets the sleeper rest on top of it rather than deeply sink into the material.
Meanwhile, the wool enhances this springy kind of support, but also provides a fluffy feel that makes the pillow very huggable. That said, folks who are looking for the classic memory foam feel should probably look elsewhere. Instead of the slow response to pressure that is often characteristic of memory foam, you're getting a buoyant, fluffable feel.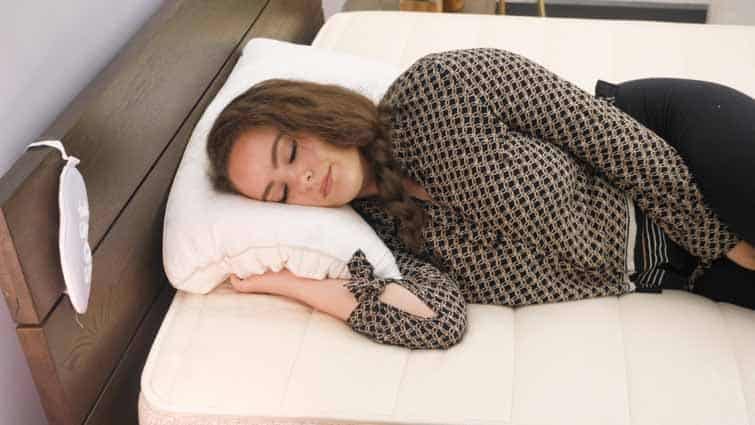 I will say, however, that I was kind of surprised by the firmness of this pillow. I would rank it at a medium-firm, though I was expecting the same light, soft feel that I've experienced from other latex pillows. Don't get me wrong — it's very fluffy and the fill is quite compressible, but it's definitely one of the firmest latex-based pillows I've tested.
More: Check out our roundup of the Best Pillows for Back Sleepers!
If you're concerned about sleeping cool, I don't blame you. As a hot sleeper, I was a little skeptical about snoozing on a pillow filled with wool; but I have to say I was pleasantly surprised! Amidst all my rolling around, I never felt like this pillow trapped my body heat, and found it to offer great breathability.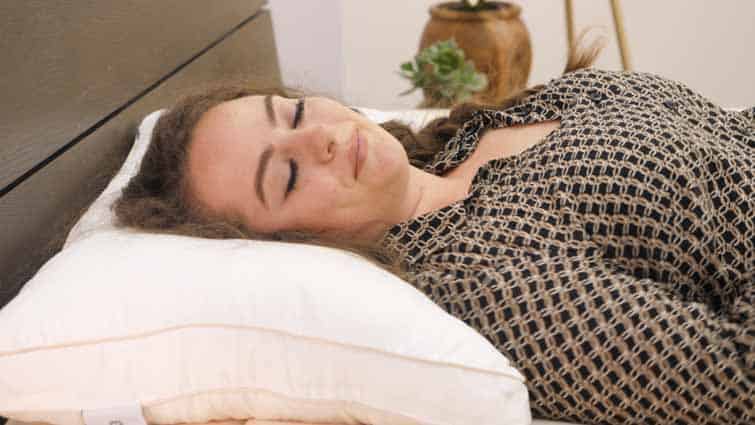 Ultimately, the thing I enjoy the most about this pillow is that it's great for all sleeping styles. Though I did find it to be especially cozy when I was on my back, I was able to achieve neutral spine alignment and great pressure relief in every position. Combo sleepers looking for an eco-friendly pillow should definitely give this one a try!
The Verdict: Eco-friendly folks looking for an all-position pillow with a fluffy-yet-firm feel will be most compatible with this pillow.
Should I Buy The Birch Pillow?
Birch Organic Pillow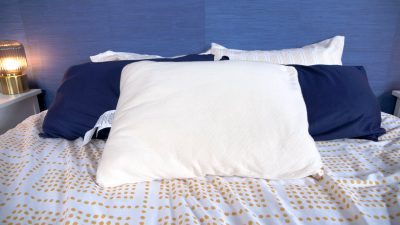 The Birch Organic pillow is a GREENGUARD Gold certified product that is a great for back and side sleepers.
Sleepopolis Score
4.10 / 5
Read Full Review
Okay, sleepers, let's recap the highlights of this pillow so you can better decide if it's the right pick for you:
Eco-Friendly — Between the organic cotton cover, sustainably sourced wool and latex, you're looking at one Earth-friendly pillow. And remember: this brand also donates a portion of its sales to the National Forest Foundation, so if you're looking for a way to sleep green, this is a good way to go.
All Position Pillow — If you're a combination sleeper, or still experimenting with which position is best for your body, you need a good all-position pillow. And in my opinion, this one definitely fits the bill. No matter which position I rolled into, the Birch pillow kept my spine in neutral alignment, and provided very cozy pressure relief.
100 night trial — Do we really need 100 nights to decide whether this pillow is the one we want? Maybe not… but it's sure nice to have the time! And if you decide (within that time frame) that this is not the pillow for you, just send it back for a full refund. Not to mention, it comes with a 3-year warranty and free shipping within the U.S.
More: Our favorite pillows for neck pain
Birch Pillow Complaints
Of course, not everyone is going to be compatible with this pillow, so let's take a look at the potential drawbacks:
Wash Care — Unfortunately, this pillow is spot-clean-only situation. The cover fabric is not removable, so when your pillow does need to be cleaned, use a damp cloth and mild detergent. Then, allow it to air-dry completely before putting it back on your bed or dressing it with a pillowcase.
Not Like Memory Foam — If you're on the hunt for a pillow that offers a memory foam feel and a slow response to pressure, I suggest you look elsewhere. The latex in this pillow provides buoyant support, and the wool makes it feel fluffy and huggable!
Pricey — A generous trial period is great, but ranging from $99-$119, this pillow just isn't going to be in everyone's budget.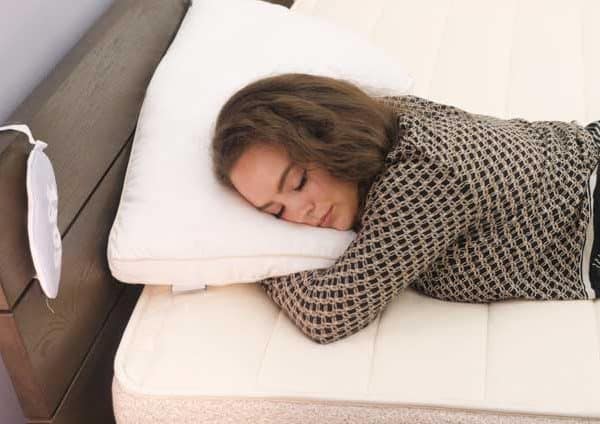 Anything Else I Should Know?
Pricing — $99-$119, depending on size
Sizing — Standard & King
Shipping — free within the U.S.
3 Year Warranty
Wash Care — spot clean with a damp cloth and mild detergent, air-dry
100 Night Trial Period
Handmade in the U.S.A.
Still not sure this pillow is the right fit for you? Well, try it out! You do have 100 nights, after all. In the meantime, follow us on Facebook, Twitter, Instagram and subscribe to our YouTube channel so you can stay up to date on the latest and greatest products within the wide world of bedding.
Sarah Riccio
Sarah is the former senior writer and bedding expert at Sleepopolis. She received her degree in Creative Writing from Brooklyn College and spends her free time doing stand-up, making pasta, and hanging with her cats.