Anyone who's ever woken up with a sweaty pillow stuck to their face knows that it can be a lot tougher to fall asleep (and stay asleep) if your body temperature is too warm. Many sleepers like the cooling caress of breezy sheets and a breathable pillow to usher them into the land of nod. When cracking the window doesn't get the job done, using cooling sleep accessories can be a great way to beat the heat.
In this review, I'm going to take an intimate look at the I AM COOL pillow from eLuxury. With a name like that, I'm almost inclined to take their word for it, but testing its full performance is the only way to really understand the feel and support of this pillow and, most importantly, determine which sleepers could benefit from it the most!
So, let's get up close and personal with this pillow and see what it's all about! No time to read this entire review? Click here to skip to my summary and recommendations.
WHAT'S THIS PILLOW MADE OF?
The cover fabric of this pillow is white, made from a blend of cotton and polyester and has a 300 thread count. It's soft to the touch and feels very light and breathable. The edges of the pillow are corded to prevent fraying or leaking.
This pillow is filled with a Coolmax polyester blend made from 80% cotton and 20% polyester. This fill was designed to be light, breathable, and wick away moisture while you sleep. Some materials (like down or solid memory foam) can absorb and trap your body's heat, causing you to heat up even more and before you know it, you're caught in a hot cycle of sweaty sleep. The fill inside the I AM COOL pillow is puffy, lofty, and breezy so that air can flow right through.
In addition to being breathable, the 7 inches of poly fibers amply stuffed inside this pillow's shell employ something called Never Flat fiber technology which helps the pillow to keep its shape over time.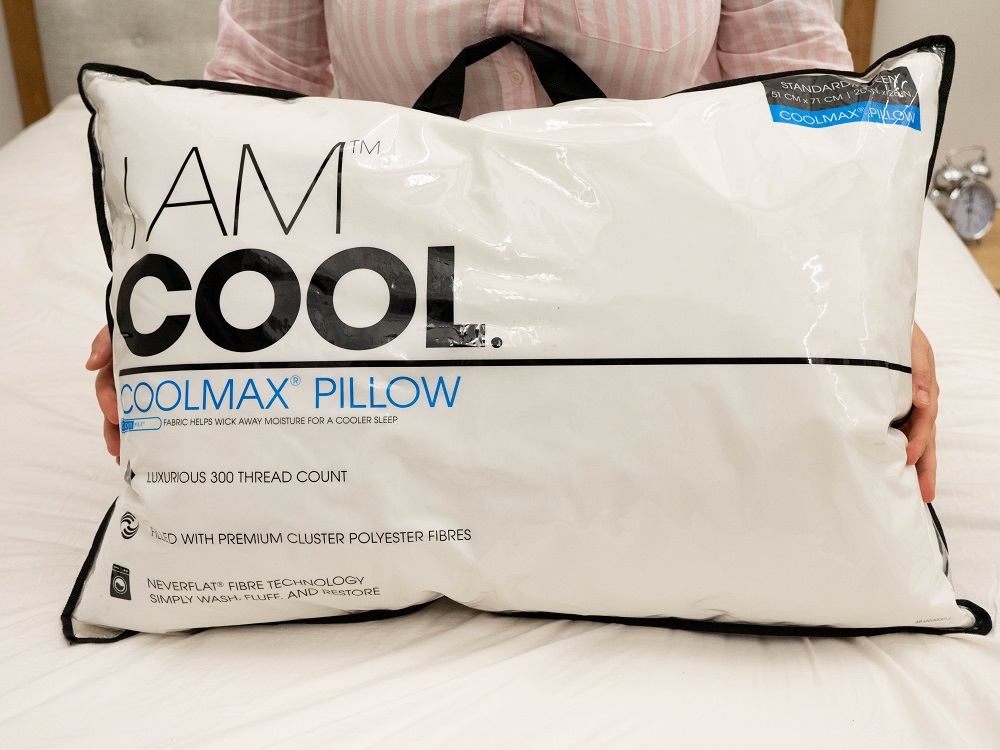 Sleepers familiar with eLuxury's "I AM" series of pillows might already be familiar with its Never Flat fiber technology which essentially keeps the pillow from breaking down and losing its shape. When you feel like your pillow is starting to get a little limp and lifeless, simply wash it, fluff it, and watch it restore its original loft. Pretty cool, huh?
The I Am Cool pillow ranks a medium/firm on the firmness scale offering comfortable pressure relief and great neck support for sleepers of all styles. It's got a quick response to pressure and a very fluffy feel to it.
This pillow was designed with a combination of materials intended to offer enhanced airflow and moisture wicking capabilities so that sleepers can enjoy a cool, dry pillow to spend their nights with.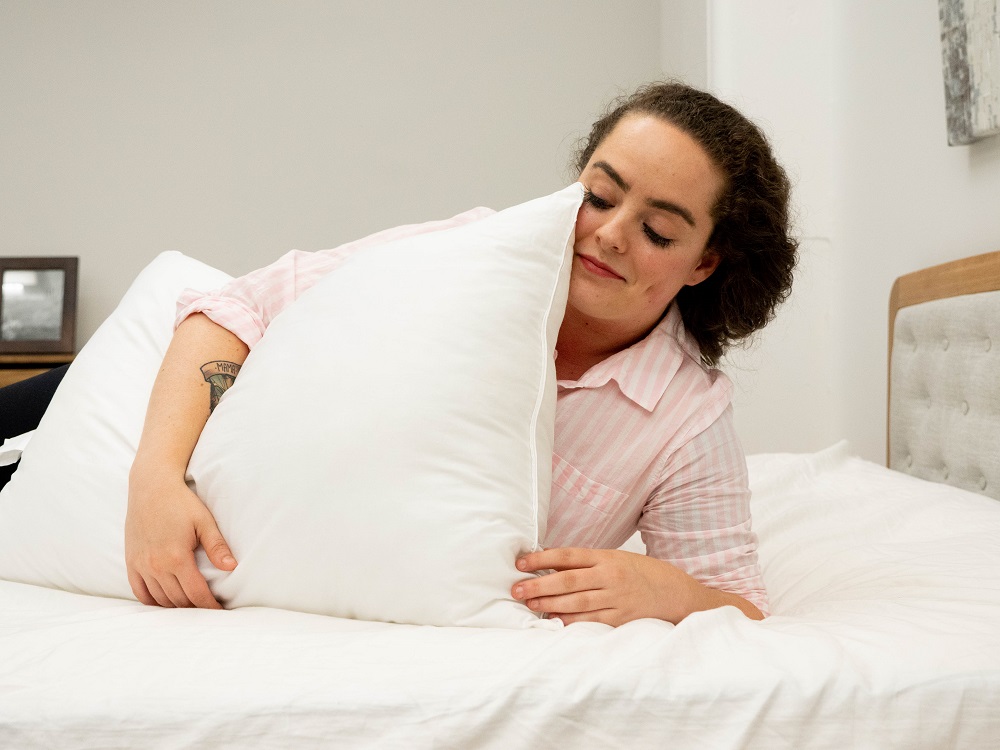 SOUNDS COOL! HOW DOES IT FEEL?
This pillow is lofty and very cushiony. With its quick response to pressure and medium/firm support, the I AM COOL sort of makes your head feel like it's securely floating. It doesn't conform to your head in the same way that shredded memory foam or latex would — it just gently keeps your head and neck supported.
While this pillow has nice, high loft, it's still very light! The cover fabric is soft and cool to the touch, and when I push into it, I can feel the air flowing through the fill. The Coolmax blend of cotton and polyester is light and fluffy in nature, enhancing the overall breathability of the pillow. Not to mention, polyester is known for it moisture wicking properties.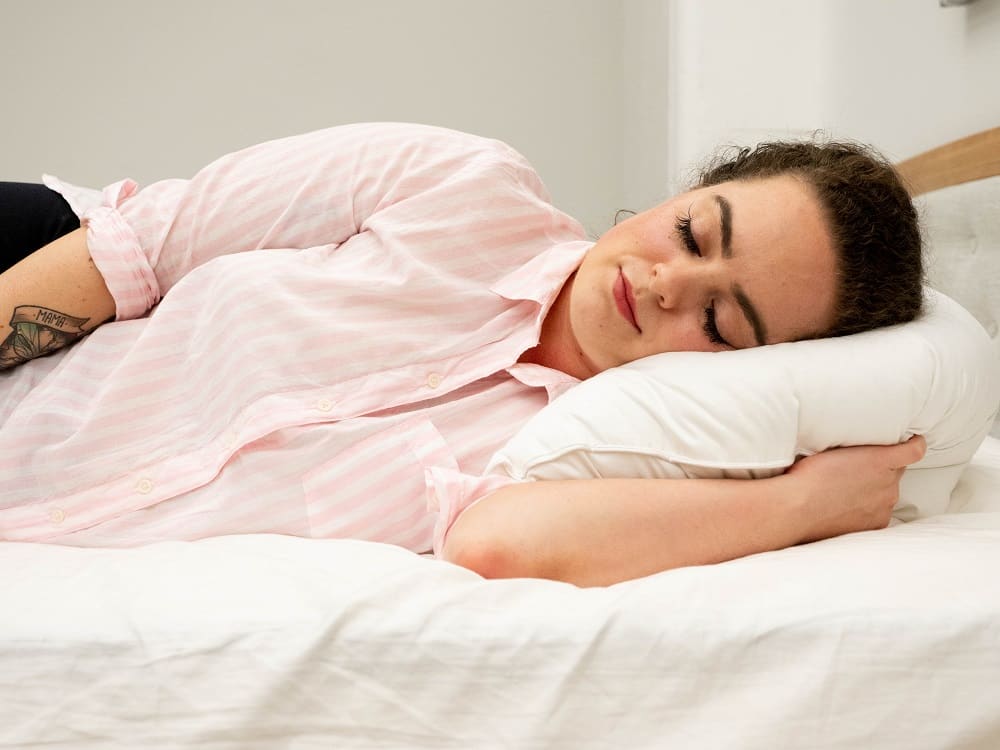 Even though it's light and breezy, this pillow is pretty thick and offers medium/firm support. Back and side sleepers could benefit from this level of lofty support , but stomach sleepers might want to be a bit more wary. This pillow is not adjustable, and its fill is not designed to be shapeable. So, stomach sleepers who should be using a softer, flatter pillow to keep healthy posture might find it harder to achieve a comfortable position with this pillow.
Back and side sleepers, however, might have no trouble finding their comfort zone with the I AM COOL. As I mentioned, it gently but securely keeps your head and neck supported in a way that sort of makes your head feel like it's just resting on the surface of the pillow instead of sinking into it.
HOW DID YOU LIKE IT, SARAH?
Some of you readers might already know that I'm a sleeper who runs hot, so the idea of cooling bed accessories always appeals to me. I loved the airy, breathability of the cover fabric and definitely felt like it helped to regulate my body temperature. Every time the summer approaches, I stow my memory foam pillows away because they simply trap too much heat for me. If you're like me and you live in a city where the summers are muggy, humid, and extra hot — you need all the help you can get to stave off the night sweats.
As usual, I began my journey with the I AM COOL pillow in the supine position. I was surprised at how supportive such a light, fluffy pillow felt under my head, and to be honest, it took me a bit of shuffling before I could find my comfy nook. Once I did though, it felt pretty cozy! I could feel the pressure of my head being gently supported so that it stayed in neutral alignment with my neck, and while I didn't feel that sink into the pillow that I get from foam or down, I definitely felt like my head was supported.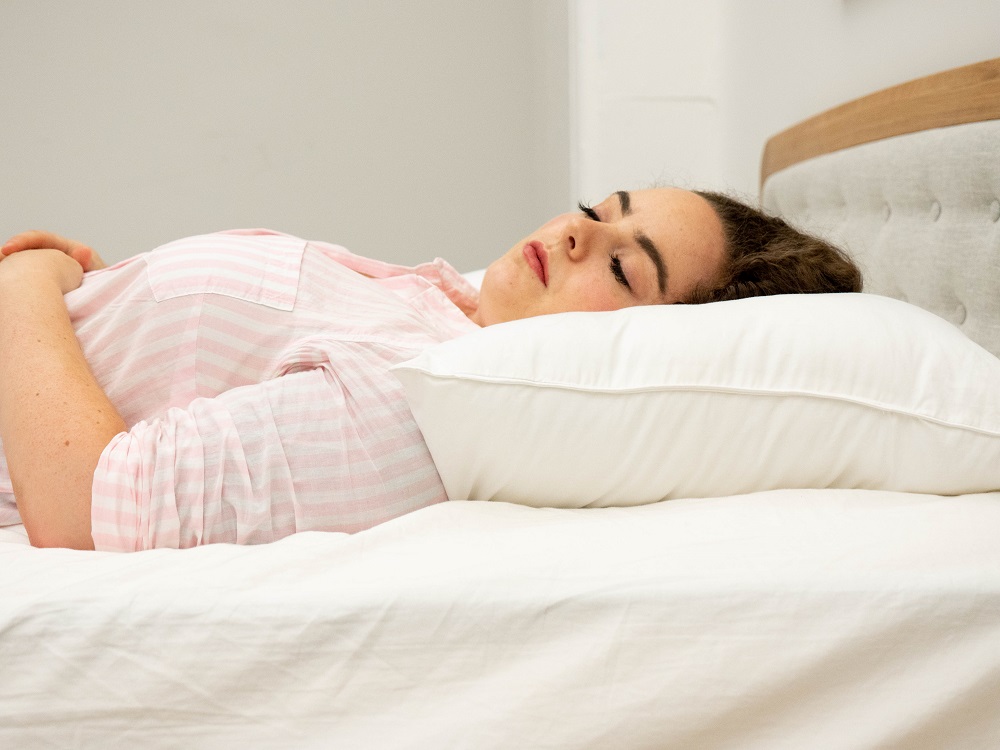 I noticed that the fill's response to pressure is so quick, that it was kind of hard to make an impression on this pillow. Some folks love a super resilient pillow, but when it comes to back-sleeping, I prefer something slightly more conforming. I could definitely feel the Never Flat fiber technology at work as I rolled from side to side — as soon as I shifted my weight from one side of the pillow to the other, the pillow's shape recovered immediately.
Rolling into the lateral position felt very natural as the lofty support of this pillow is eager to support you on all sides, in every position. I found the high loft of this pillow to especially come in handy for side sleeping as I didn't feel like I needed to prop myself up to attain healthy posture. Often times, I have to fold and shape and even stack my pillows in order to get the proper support when I'm sleeping on my side — but this one was already good to go! For comfort, I still slid my arm beneath the underside of this pillow, but the soft poly blend offers even pressure relief so that my head was not too elevated. While this pillow is not adjustable or very shapeable, it still does a great job of comfortably relieving pressure areas.
Moving onto my stomach wasn't the easiest transition, and even though the I AM COOL pillow wasn't intended for any one specific sleeping position, the loft might be a little high for stomach sleepers. As we know, stomach sleepers should be using a softer, flatter pillow in order to keep neutral alignment of the spine. Using this pillow on my stomach, I definitely felt that my head was too elevated and out of alignment with my neck. Unfortunately, you cannot go in and remove some of the fill like we've seen with some other adjustable pillows, so you kind of have to just gauge the support of this pillow as you use it. If you find that the loft is too high for stomach sleeping, don't try to force it — just find a flatter pillow.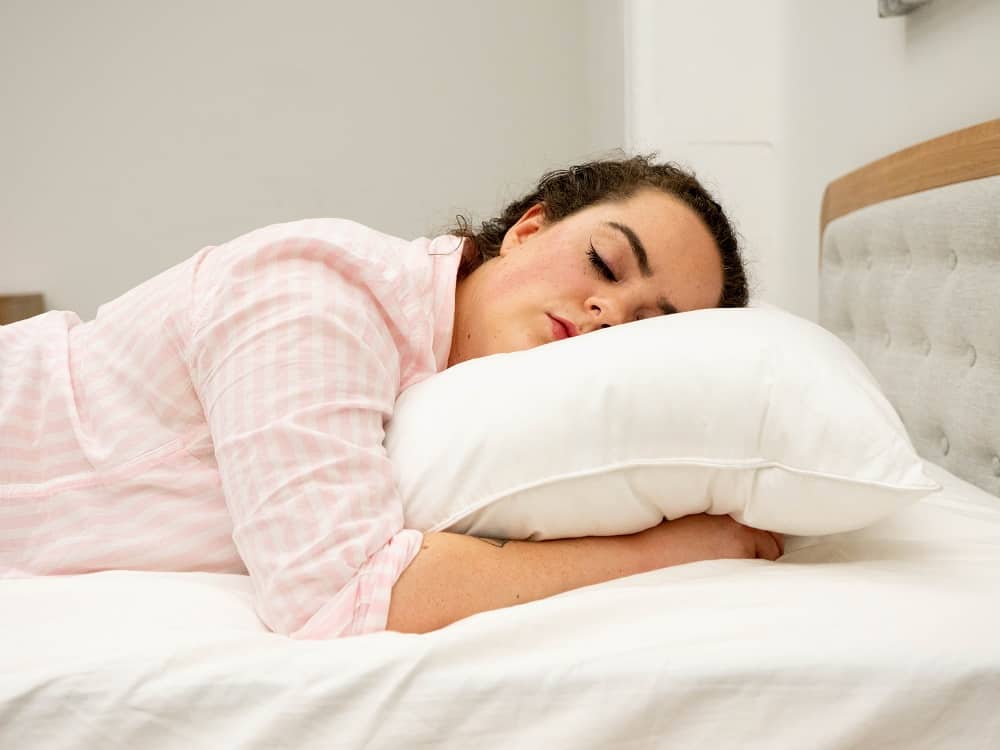 UNDER-THE-ARM AND BETWEEN-THE-LEGS
This pillow serves pretty well as both an under-the-arm-hugger and between-the-leg support. Because of its high loft and quick response to pressure, I found it to be especially great hip support when using it between my legs. As I mentioned, this pillow doesn't really conform to pressure in the way that memory foam does, so instead of sinking into the material, my leg was gently propped up in a way that kept my hips and lower back feeling very supported. I didn't feel like my leg was too heavy for the fill, but I still felt that nice cushy pressure relief of the poly blend.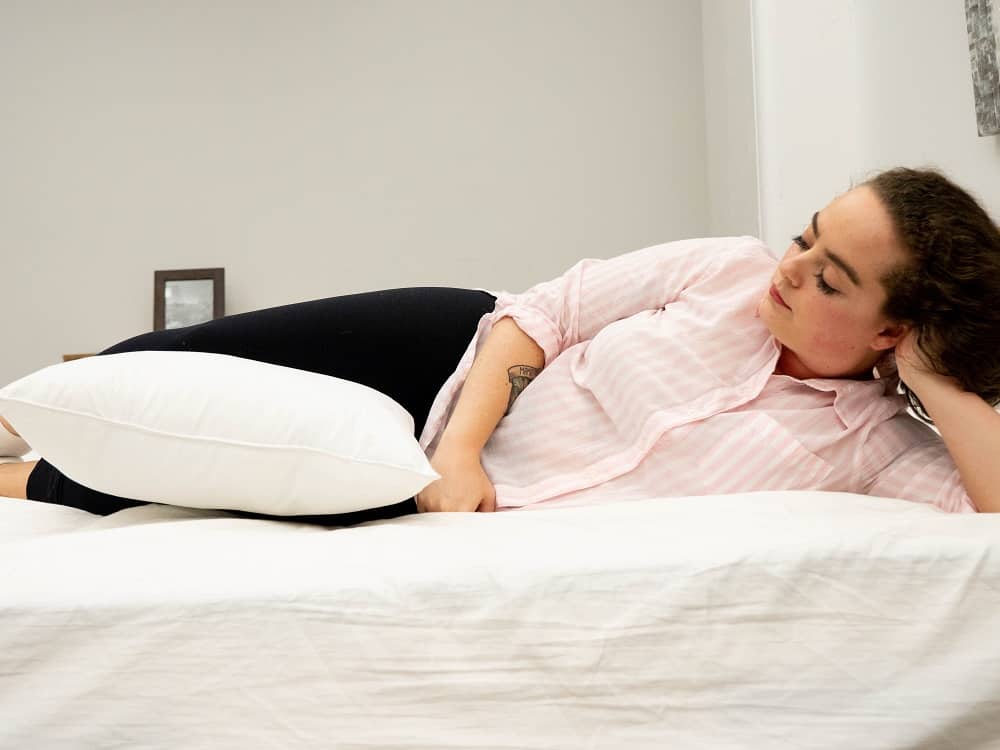 I found this pillow to be a nice hugger as well, but I have a feeling it would serve even better for folks a bit taller/larger than me. The medium/firm level of support combined with the high loft of this pillow kind of made me have to reach over the pillow in order to embrace it, and the quick response to pressure kept the lighter weight of my arm almost a little too propped up. Once I kind of wrangled it in, though, it brought that same sort of coziness that using a body pillow offers.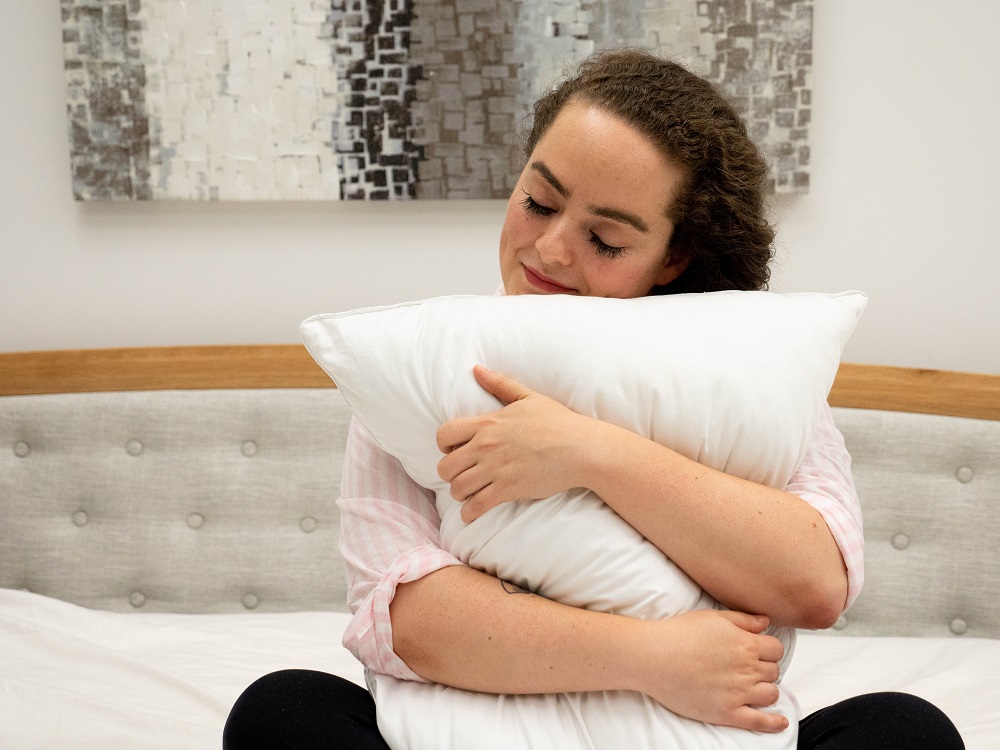 Overall, I found this pillow to be best suited for side sleeping. It's got that nice thick loft that keeps me supported, keeps my spine in alignment, and doesn't allow my head to sink too deep into the material during the night. Not to mention, through all this shuffling and experimenting with positions, I never felt like the I AM COOL was trapping my body's heat or warming up at all. The cover fabric and poly fiber fill felt super breathable and sweat-wicking. So, while this pillow didn't work for me in every position, it sure did a great job of keeping me cool.
ANYTHING ELSE I SHOULD KNOW?
Veteran Owned — eLuxury is proudly owned and operated by veterans of the US military.
Free Shipping and Returns — eLuxury offers free shipping and returns on any order over 50 bucks!
30 Day Trial — You've got 30 days to decide if this is the right pillow for you. If not, don't sweat it! You can return it for a full refund.
Machine Washable and Dryable — Yay, easy pillow maintenance! This pillow is totally safe in the washer and dryer. Just be sure to wash on a gentle cycle with cold water, tumble dry, and you're good to go.
Pricing — Sleepers minding a budget might like to know that, right now, you can find this pillow on eLuxury's website for $39.99 which is a pretty good value for a cooling pillow!
Sizing — The pillow I tested is the standard size, but the I AM COOL does come in a King size as well.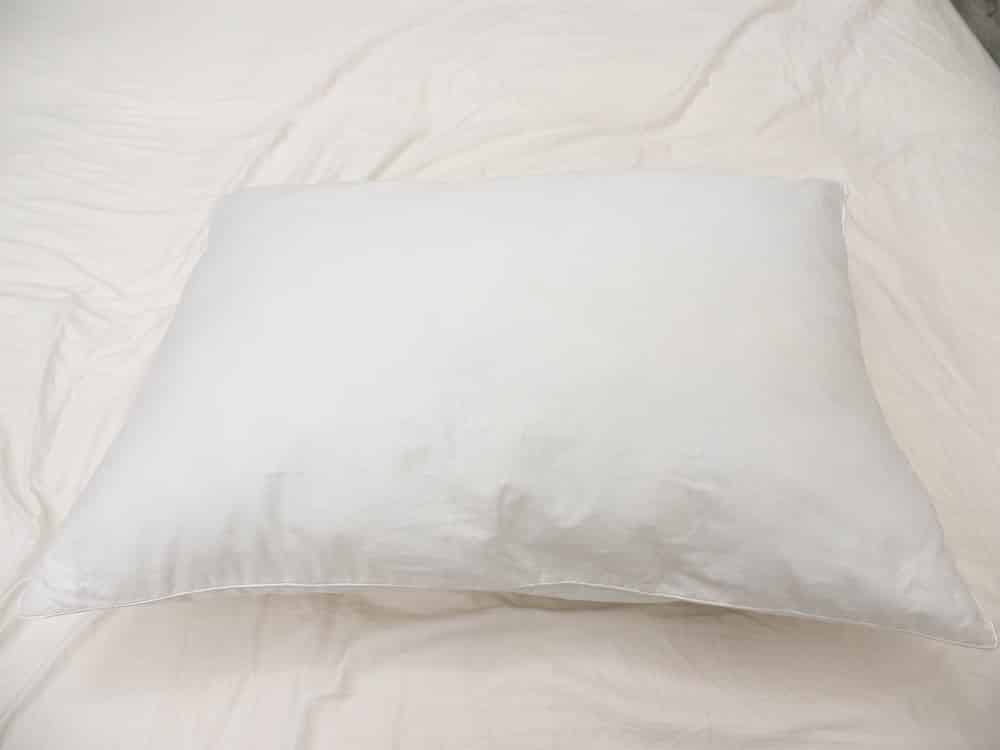 SHOULD I GIVE THIS PILLOW A TRY?
If you're a sleeper who runs hot, I would definitely give this pillow a try. It's light, airy, and moisture-wicking so that you can enjoy a nice, cool place to rest your head at night. In addition to its great cooling properties, you might find this pillow especially beneficial if you're a sleeper who:
Primarily sleeps in the lateral position — while this pillow has not officially been dubbed a "side-sleeper", the high loft and medium/firm support level make this pillow very well suited to folks who sleep on their sides.
Prioritizes simple wash instructions — life is hectic and you might not always have time to spot clean your pillow and wait for it to air-dry. This pillow is totally safe in your washing/drying machines as long as you use gentle cycles and cold water.
Don't like the sink — if you're a sleeper who prefers the cushiony resilience of polyester and cotton to the deep sink of memory foam, this pillow might be right in your wheelhouse.
You can buy your I AM Cool pillow directly from eLuxury Supply by clicking here!
Sarah Riccio
Sarah is the former senior writer and bedding expert at Sleepopolis. She received her degree in Creative Writing from Brooklyn College and spends her free time doing stand-up, making pasta, and hanging with her cats.