If you've been searching for a way to travel more comfortably, keep reading, because this review is all about the Infinity Pillow — a sleep accessory made for folks on the go. The Infinity Pillow features a uniquely versatile design that can be wrapped, twisted, and bundled into the shape that keeps you coziest. But how does it work (and is it worth the dough)? There's only one way to find out, so let's take a look!
Infinity Pillow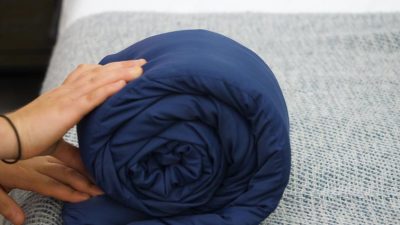 The Infinity Pillow is a great choice for those looking for a dynamic pillow to travel with!
Read Full Review
Brand Snapshot
Ever wonder what a collaboration between a toy company and a design boutique looks like? Well here it is. The Infinity Pillow is made by Huzi (a brand that builds eco-friendly toys) and BCXSY (an Amsterdam-based interdisciplinary cooperative that makes everything from glassware to throw pillows). The Infinity Pillow first entered the scene in 2013 as a Kickstarter project and, by 2014, became available to online shoppers throughout the U.S.
So what's this pillow all about? Well, it's kind of like a pillow-scarf hybrid that was crafted to offer sleepers a cozy, easily accessible travel pillow for nights spent away from home. And I'll be honest — I've never seen another pillow like it. So without further ado, let's dive into what it's made of and how it works.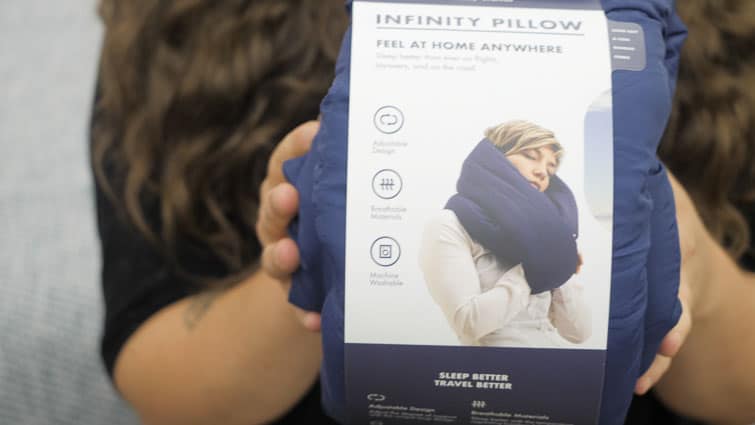 What Is The Infinity Pillow Made Of?
Okay sleepers, before we talk about how to use this pillow, let's dive into the materials.
The cover fabric of the Infinity Pillow is made from a blend of bamboo, cotton, and polyester, which combine to offer a super soft and breathable feel. Bamboo and polyester are also naturally moisture-wicking materials, which serves to draw sweat away from the body (this is extra beneficial for hot sleepers!).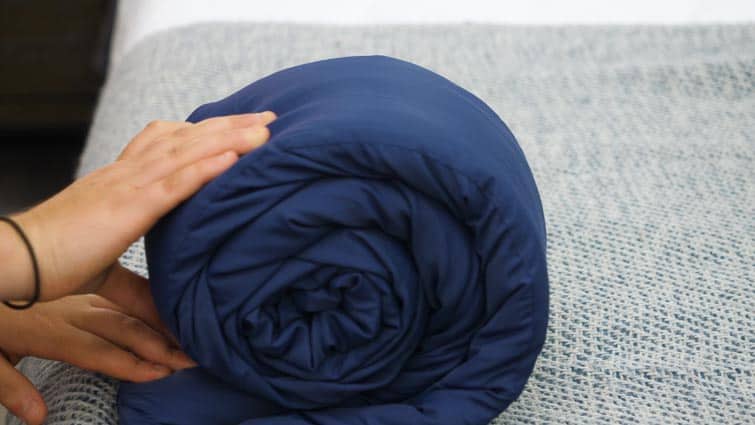 On the inside of the pillow is 100% polyester which gives you the cushy feel you might get from a lofty sleeping bag. In fact, when I first unpackaged this pillow, it immediately reminded me of a mix between an infinity scarf and a sleeping bag! Speaking of which, let's get into the main draw of this pillow — its Mobius shape.
Oh, you don't know what Mobius means? Yeah, neither did I. Essentially, a Mobius shape is one continuous loop that has no end (hence the name Infinity Pillow). It was designed like this so that sleepers can wrap it around their bodies and use it in many different ways. Of course, this versatility is meant to be particularly useful to sleepers on the go, as it's not necessarily ideal to travel with a full size pillow under your arm (or in your suitcase!)
Now, there are endless ways to use this pillow, and figuring out what works best for you is the fun part. But if you get confused, the brand offers some suggested positions to point you in the right direction:
All-Around Comfort – Loop the pillow around your neck twice (like a scarf) for cushy "all-around" support. This might be particularly useful for travelers sitting in an aisle seat with no window upon which to rest.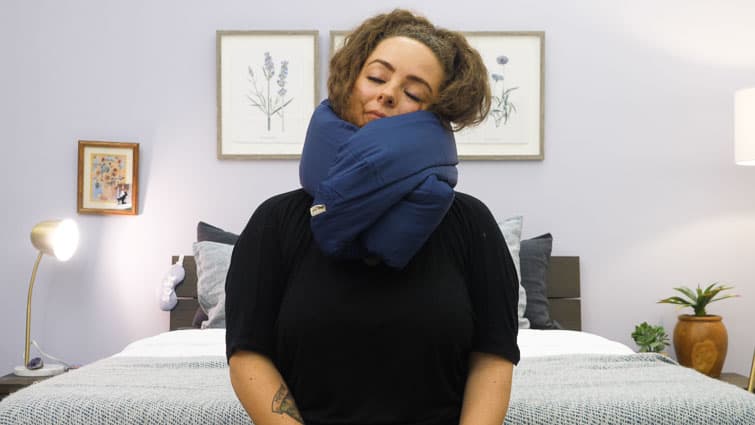 Window Pillow – If you have managed to snag the window seat, ball this pillow up into a compact sleep accessory and tuck it between your head and the window. And don't worry — you can easily loop and wrap it in a way that will prevent it from unfolding.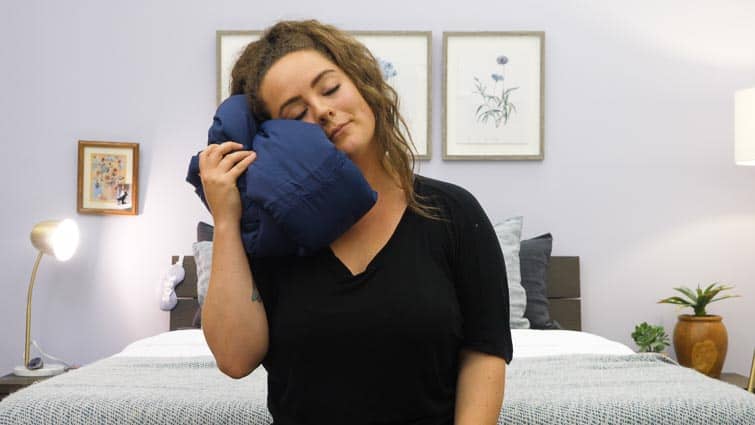 Back Cushion – Tuck this pillow behind your back for extra lumbar support, and slip your hands through the loops so it doesn't shift around while you snooze.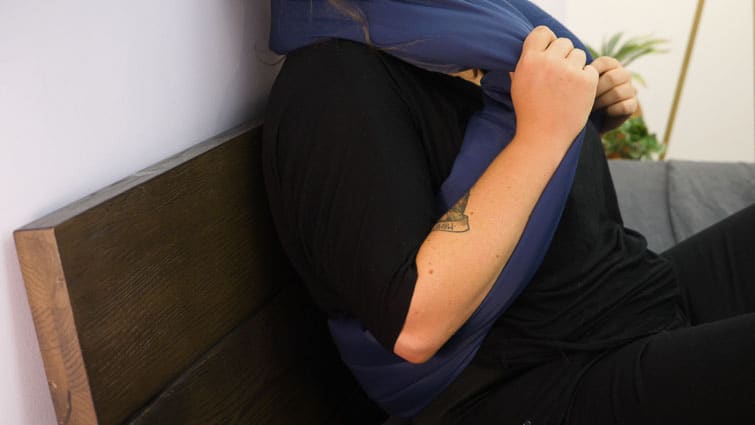 Duo Comfort – Wear this pillow like a backpack for both neck and lower lumbar support. Personally, this is my favorite position because it makes me feel like I'm completely wrapped in pillow!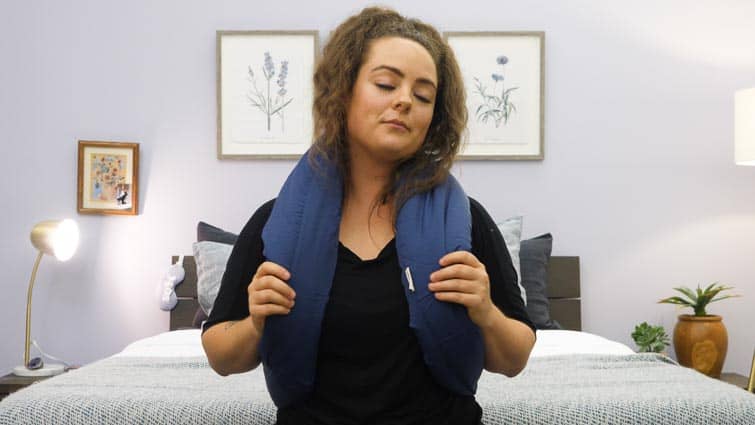 Like I said, this pillow is very versatile and you are certainly not limited to these suggestions. Take some time to play around with your Infinity Pillow so you can find the positions that suit you best.
Now that we know what this pillow is made of and how to use it, you might be wondering how cozy it actually is. So let's talk a bit more about how it feels, shall we?
Infinity Pillow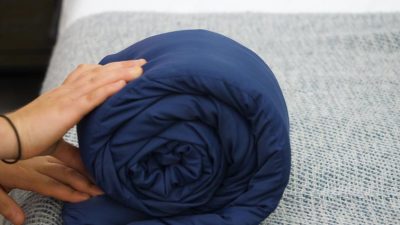 The Infinity Pillow is a great choice for those looking for a dynamic pillow to travel with!
Read Full Review
How Does The Infinity Pillow Feel?
I have to be honest — when I first unpackaged the Infinity Pillow I was a little skeptical. It looks like a pillow/scarf combo, which I thought might be more of a novelty than a sleep accessory. But after thoroughly testing it, I was pleasantly surprised!
First of all, the cover fabric feels really smooth against the skin, and it's quite breathable too. As a hot sleeper, I often look for pillows covered in bamboo-based fabric because it's great at wicking sweat, promoting airflow, and keeping allergens at bay. The pillow itself feels soft and cushiony (again, think of a sleeping bag) and I never felt like the polyester was clumping into one area.
And sure enough, I did run the gamut of every position I could think of. I wrapped it around my neck, wore it like a backpack, bunched it up on my desk, and even draped it over my ears to see how well it could block out sound. While I was impressed by this pillow's versatility, I found some positions to be more useful than others.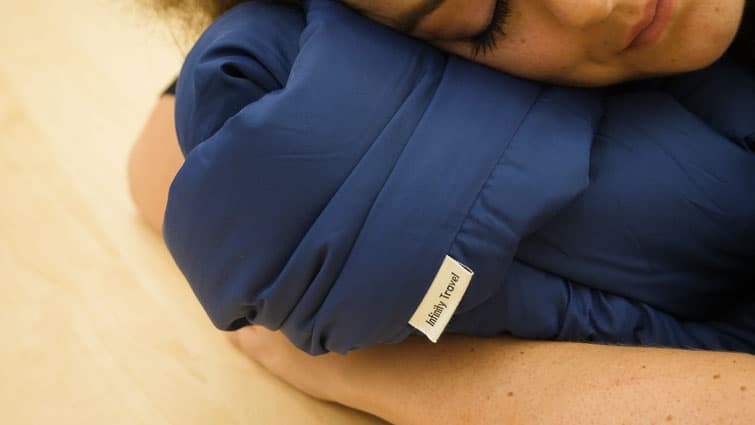 For example, rather than wrapping it around my neck twice, I decided to pull one end of the pillow through the other loop for less constricting neck support. Additionally, I didn't really find any comfortable way to use this pillow as a noise-canceling accessory as is advertised on the website. I tried pulling it over my ears, but the polyester is so light that I could still hear everything through the fabric.
As I mentioned earlier, my favorite way to use this pillow is in the "Duo Comfort" position (which I have renamed the BackPack position). Wearing this pillow like a backpack just made me feel like my whole body was being cradled by the pillow, and I could enjoy cushy support for my neck and lower back at the same time. This method is ideal for sitting on a long train or plane ride, but I enjoyed it sitting right here at my desk (writers need lumbar support too!)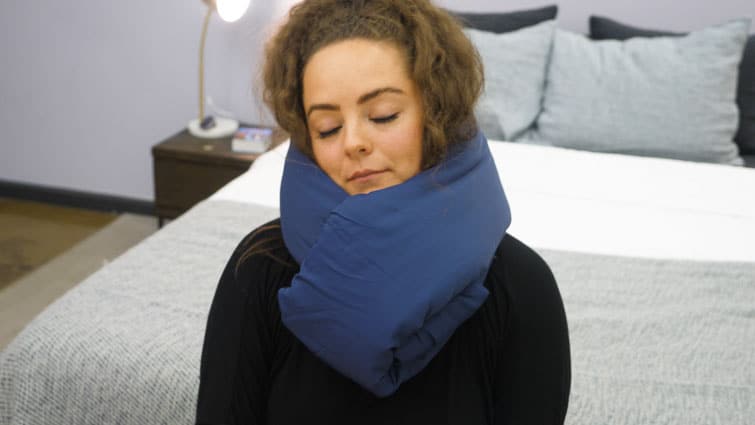 I also really appreciate how easy it is to roll this pillow into a ball and throw into a carryon bag or suitcase. Travel pillows shouldn't be big and bulky; they should be easy to store, grab, and go, and the Infinity Pillow definitely hits that mark. Ultimately, I enjoyed testing this pillow and would recommend it to anyone looking to snooze away from home.
The Verdict: The Infinity Pillow is ideal for travelers looking for a cushy pillow that's easy to carry (and fun to play with!).
Should I Buy The Infinity Pillow?
Now that we've taken an in-depth look at the Infinity Pillow, let's recap the highlights so you know if it's the best fit for you: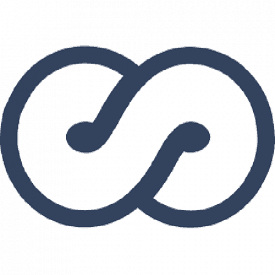 The Infinity Pillow is a great choice for those looking for a dynamic pillow to travel with!
Cover Fabric – Personally, I often aim for bamboo-based cover fabrics because they're breathable, eco-friendly, and great at wicking moisture. Bamboo is also naturally antimicrobial which helps mold, mildew, and other allergens at bay.
Versatility– The main perk of this pillow has got to be its versatility. There are so many ways to twist and wrap it, and I think it's a really clever idea for a travel pillow. Because let's be honest — not everyone is going to want to carry a full sized pillow through an airport, train station, or even inside a suitcase. Speaking of which, it's 39 x 6 inches (about the size of a scarf) and has a soft, compressible fill which makes it super easy to stuff into carry-on bag.
Price & Wash Care – When I'm pillow shopping, I always pay attention to wash care and cost. And I'm pleased to report that this pillow is totally machine washable and very reasonably priced. For wash care, just throw the whole thing in a cold, gentle cycle and tumble dry on low heat. Meanwhile, at about $40, this pillow is a great value (especially since you can use it in so many different ways).
More: Looking for a better way to catch Zzz's on the go? Check out our guide to the best travel pillows!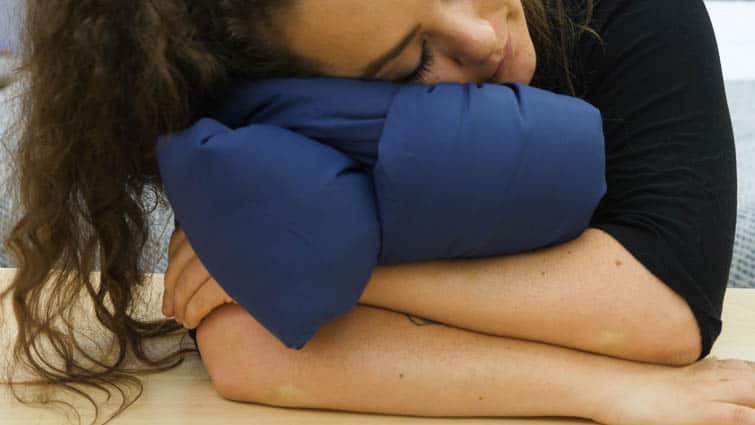 Infinity Pillow Complaints
Of course, there are a few things about this pillow that some sleepers might consider to be drawbacks.
Cover Fabric – Yes, we love that the cover fabric is bamboo-based, but some sleepers might not be thrilled that it's not removable. Personally, I don't mind it because I would hate to have a zipper poking into my skin when I'm wrapping this pillow around my neck. However, this does mean that you have to wash the whole pillow every time it gets dirty.
Constricting – Speaking of wrapping it around your neck, some folks might feel kind of claustrophobic using this pillow in certain positions. If so, I suggest experimenting with different ways to fold and loop it without wrapping it around your body. For example, bunching it up and using it as a desk pillow, or placing it behind your neck/back will still offer support without covering your neck completely.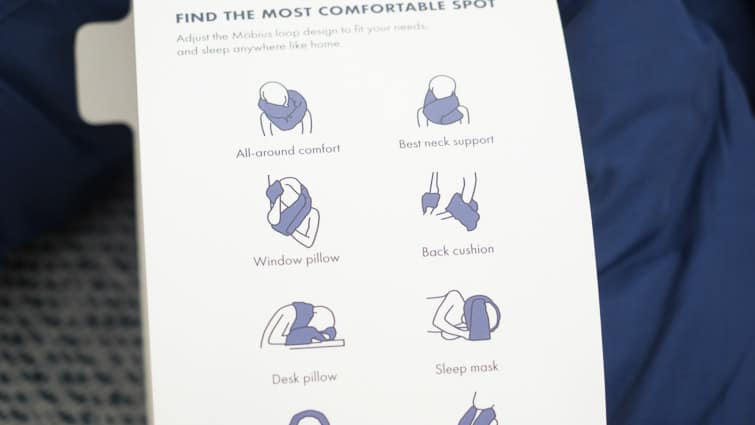 Anything Else I Should Know?
Pricing – $39
Sizing – one size, 39 x 6 inches, 1.2 lbs
Wash Care – wash entire pillow on a cold, gentle cycle with mild detergent, and tumble dry on low heat
Colors – Navy, Burgundy, Grey, Tan
Well, travelers, that's all she wrote. I hope this review comes in handy on your pillow-shopping journey, and all of your questions about the Infinity Pillow have been answered. But don't forget to like and subscribe to our YouTube channel, and follow us on Facebook, Twitter and Instagram, because we're always uploading more content with one main thing in mind — to get you some better sleep!
Sarah Riccio
Sarah is the former senior writer and bedding expert at Sleepopolis. She received her degree in Creative Writing from Brooklyn College and spends her free time doing stand-up, making pasta, and hanging with her cats.